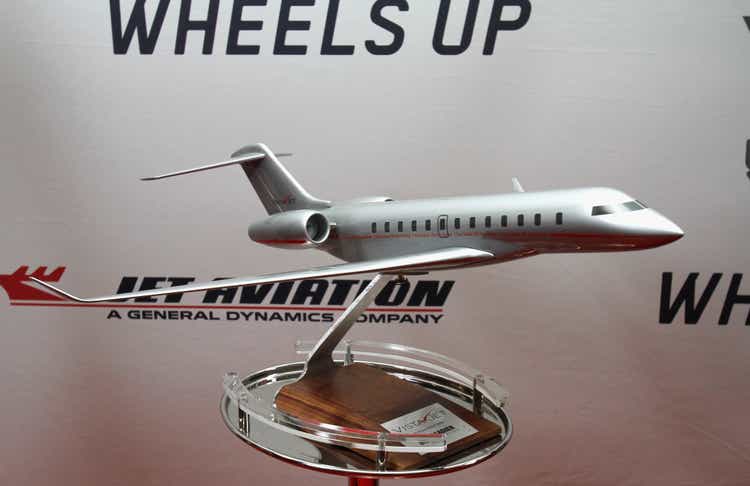 Wheels Up (NYSE:UP) is in discussions with lenders about a debt restructuring while exploring other options to try to avoid a bankruptcy filing.
The on-demand private jet company has recently started talks with Bain Capital and MSD Capital, large holders of more than $260 million in equipment financing notes, according to a WSJ report on Friday, which cited people familiar with the matter.
The report comes after Wheels Up (UP) on Wednesday that there is "substantial doubt" about its ability to continue as a "going concern" and announced it was unable to file its Q2 results, sending its shares tumbling 35%.
The private jet operator also said on Wednesday that it is actively involved in discussions around strategic business partnerships for the company. Wheels Up (UP) announced that Delta Air Lines (DAL) has provided a short-term capital infusion to the company.
Wheels Up (UP) also entered into a non-binding letter of intent with Airshare to acquire Wheels Up's non-core aircraft management business, the company announced on Wednesday.
"As previously disclosed, Wheels Up is evaluating strategic options to transform our business in close coordination with our financial stakeholders, industry participants and advisers," a spokeswoman for Wheels Up told the WSJ.
The latest updates come after the WSJ reported in June that the private jet service hired law firm Kirkland & Ellis for restructuring advice.
Shares of Wheels Up (UP) have dropped almost 90% this year, at least partly because the founder and former CEO stepped down in May. Wheels Up stock has dropped 99% since it went public through a de-SPAC in July 2021.
More on Wheels Up
Wheels Up Experience: Targeting Non-Existent Customers
Wheels Up: I Hope You Avoided This One
BTIG steps to the sidelines on Wheels Up after CEO shuffle