The Office of the President has issued a severe warning to a group of scammers recruiting people in a fake mobilization program in Busoga Sub-region.
In a May 17th,2023 letter allegedly issued by Livingston K. Luutu, a Special Presidential Assistant/Mobilization, security authorities in Busoga Sub-region are told to offer relevant assistance to a group of four people to fulfill their assignment of sensitizing the subregion about counter terrorism, extremism, radicalism and harmonization exercise under the theme: "Islam is not terrorism and development through socio-economic transformation and household income".
The perpetrator(s) also noted that the program was launched by the Minister of Internal Affairs and that the members are answerable to the National Coordination Office in Kampala.
"This serves to introduce and recommend the above-mentioned persons to you and your reputable officers, that they are well known to this office as members of the Presidential mobilization body known as Coalition of Religious/ Interfaith & Civil Societies of Uganda for peace, stability and Development," they said.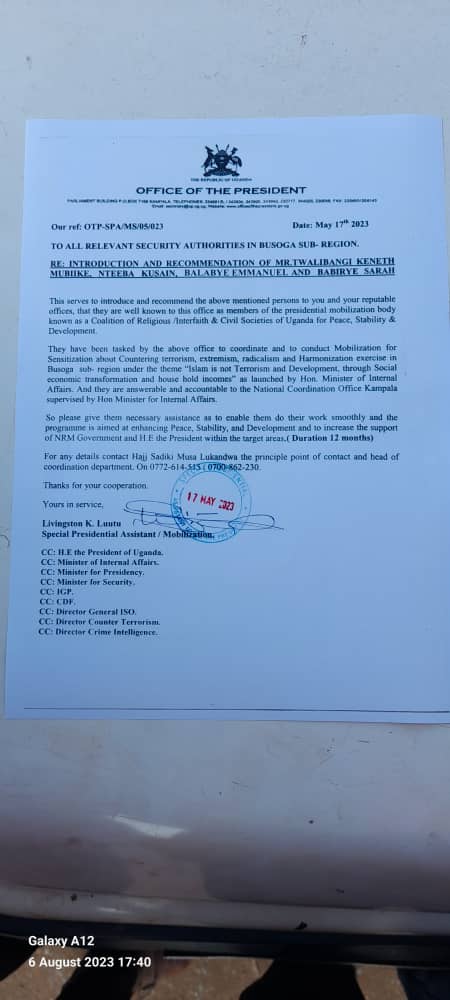 "So please give them the necessary assistance to enable them to do their work smoothly and the program is aimed at enhancing peace, stability and development and to increase the support of the NRM government and H.E the President within the target areas."
However, according to Hajji Yunus Kakande, the Secretary in the Office of the President, such a program does not exist in their office and whoever is behind it risks being arrested.
"The letter is fake and we have never had such an arrangement in the Office of the President," Hajji Kakande told this news website.
"Those recruiting people are masqueraders and once netted, they will be dealt with by law accordingly," he further warned.
Do you have a story in your community or an opinion to share with us: Email us at [email protected]