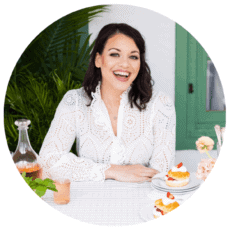 Friends, hi!
You know I love a list. Generally, I reserve my self-indulgent, fun lists to the summer months but I just… I need a little extra this year.   The Summer Bucket List has been going strong since 2015 (can you believe) and the amount of joy I get from crossing off these lists over the years? It's so much that I've decided to let those good times roll into fall.
I don't know what kind of summer you've had, but if your summer was anything like mine… it hasn't been the absolute best. It's fine. Not every summer is a banger.  I just feel like, I accidentally wished this summer away.  And whatdoyaknow – summer really did fly by without me really holding onto its little joys.
I probably didn't eat enough ice cream.  That could have been the first problem.
This fall calls for a Summer Bucket-style List.  I churn and burn through work from now until the end of the year, but I'm hoping this season's list will remind me to enjoy the days as they pass.  Also, let me just reward myself with Pumpkin Spice.
Here's this week's Sunday offering, friends.  A little autumn inspiration to make these next few months feel as special as they are.
•  My parents are in Houston (this very weekend, yay!) and I'm taking them to Space Center Houston.  Literally "Houston we have a problem"!   I need to find a way for us to watch Apollo 13 (yes, the 1995 drama staring Tom Hanks), before we hit up Mission Control.  I might be more excited than my parents.  If you don't hear from me after this week, I've gone to space. Check the moon.
•  Make an Italian feast using Dan Pelosi's new cookbook Let's Eat!  There's a recipe for Dan's grandfather's gigantic meatballs that set this whole intention in place.  And I'll make red sauce.  And I'll make garlic bread. Y'all better come hungry. Am I Italian now? (Book Larder)
•  Ride a horse – really every chance I get.
•  I decided that I'll wear thigh high boots with tights this fall.  The glory of getting older is that we get bolder.  With my boldness I choose boots and tights and cute, very short sweater dresses. I also need to find the right dark-ish lipstick.  Please advise. (DSW)
•  Go to the State Fair of Texas to take a picture of Big Tex and eat absolutely everything.
•  I googled where I can see fall foliage close to home.  Texas, come through!  On the list: Take a motorcycle ride through the Piney Forest between Palestine and Athens TX to see orange and yellow leaves. We love a spectacle!
•  Make at least one of Dad's Sweet Potato Pie  for Thanksgiving and another Sweet Potato Pie to eat cold for breakfast the week after thanksgiving.
•  Order a coffee drink with Pumpkin Cream Foam because the way that I watch people order Starbucks on TikTok is unhinged and I really just need to know what the fuss is about.
•  Watch You've Got Mail because Amy and Abby say it's the official start to fall.
Now, In things I've read and scrolled this week: 
•  Scroll through this late summer meditation To Fall In Love With The World.
•  Jason Diamond on That 1980's Bowling Alley Smell because some scents are only a memory.
•  I'm fancy; we're fancy: Pistachios Are Quiet Luxury.
•  Please watch our friend Karlee make a quilt with her grandmother and let it warm your heart.
•  This fall's firstread is from Toby's Summer Reading List: The Heaven and Earth Grocery Store.
Will you put together a fall list?   Do you need this as much as I do?
Happy Sunday!
I think you're so great.
xo Joy