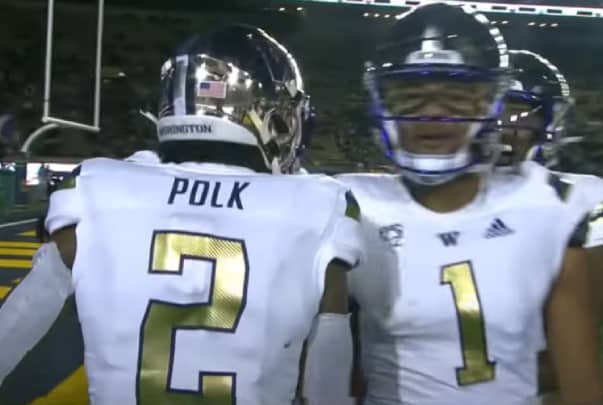 JaLynn Polk and Rome Odunze, Washington Huskies.
In the 2022 Alamo Bowl, the Washington Huskies face Texas. Pacific Northwest Sports has all you need to know.
PNWS presents what you need to know to enjoy the finale of the Washington Huskies football season. To close out 2022, UW faces Texas in the Alamo Bowl. Whether you are making the trip to San Antonio or watching on TV, we have Washington fans covered.
Details
Who: Texas Longhorns (8-4 overall, 6-3 Big 12) at Washington Huskies (10-2 Overall, 7-2 Pac-12).
Where: Alamo Dome – San Antonio, Texas.
When: December 29, 2022 – 6:00 PM PST.
TV: ESPN. Announcers: Tom Hart, Jordan Rodgers, and Cole Cubelic (awfulannouncing.com).
Radio: ESPN. Announcers: Jorge Sedano, Dustin Fox, Ian Fitzsimmons (awfulannouncing.com).
Weather: It will be an unseasonably warm day in San Antonio. Temperatures will be in the low-to-mid 60s under overcast skies with a slight northerly breeze (weather.com).
Line: Washington +3. Over/Under: 67 (Odds Shark).
Injuries
Washington Huskies
Out – S Vincent Nunley (leg), DL Armon Parker (undisclosed), DB Davon Banks (undisclosed), DB Julius Irvin (undisclosed).
Opt-Out/Portal – S Cam Williams.
Questionable – CB Jordan Perryman (undisclosed), TE Jack Westover (concussion).
Texas Longhorns
Out – DB Anthony Cook, OL Junior Angilau, WR Isaiah Neyor, DB Jaylon Gilbeau, Agiye Hall.
Opt-Out/Portal – LB DeMarvion Overshown, LB Devin Richardson, RB Roschon Johnson, QB Hudson Card, WR Troy Omeire, LB Prince Dorbah, OL Andrej Karic, RB Bijan Robinson, OL Logan Parr, DB JD Coffey III, DB Jamier Johnson, P Isaac Pearson.
Interesting Trends
The Washington Huskies have won 6 straight and 10 of 12. However, they are 3-13 as an underdog. In their last 13 games, the total has gone over 9 times.
Over their last 8 contests, Texas is 6-2. As a favorite this season, the Longhorns are 9-3. The total has gone over in 5 of 6.
Outlook
Washington Defense vs. Colorado Offense
Texas can move the football and put points on the board. They average 430.15 yards and 35.67 points per game.
UT excelled on the ground this season behind Bijan Robinson (1,854 yards from scrimmage) and Roschon Johnson (682). Both of them opted out of this game. That leaves Kellan Robinson and Jordan Brooks to carry the mail. The duo combined for 238 rushing yards in 2022.
With their running back group decimated by opt-outs, Texas will look to throw more. That puts the onus on quarterback Quinn Ewers to improve over his 201 yards per game average. He has some good receivers to work with, but they'll need to be at their best.
Additionally, Ewers needs to stay healthy. Hudson Card, his backup, who started 3 games when Ewers was out, entered the portal. That leaves untested redshirt freshman Charles Wright as the number two.
Huskies cornerback Jordan Perryman is questionable to play on Thursday.
Washington Offense vs. Colorado Defense
The Longhorns defense gives up about the same yardage as UW, but only 21.0 points per game, which ranks 30th in FBS.
While they are very stingy, Texas hasn't faced an offense as prolific as the Washington Huskies. Additionally, UW quarterback Michael Penix should have his full offense to work with. The combination of Jalen McMillan, Rome Odunze, Ja'Lynn Polk, Taj Davis, Giles Jackson, Devin Culp, and maybe Jack Westover (questionable) could prove to be too deep for UT's secondary to keep up.
Despite playing without linebacker DeMarvion Overshown, Texas has two all-conference players in their front seven, linebacker Jaylan Ford and nose tackle Keondre Coburn, who can make it tough on the Huskies when they run.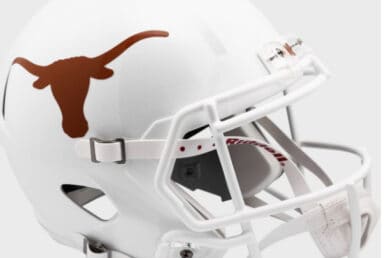 Maybe if Texas was close to full strength, they'd be worth taking as the favorite. But with all UT's opt-outs and transfers, not only will the Huskies cover, but they should win outright.
With a win over Texas, the Washington Huskies will likely end the year ranked in the Top 10.