The House Oversight Committee on Wednesday asked six members of US President Joe Biden's family and two business associates to testify in the impeachment investigation, citing "influence peddling schemes" trading on the family name.
Committee chair James Comer, a Kentucky Republican, issued subpoenas to Biden's son Hunter and brother James, as well as Rob Walker, one of Hunter Biden's business associates. Another associate, Tony Bobulinski, was asked to appear for a transcribed interview. 
The committee also wants to hear from James Biden's wife Sara, Hunter's wife Melissa, Hallie Biden – Hunter's former lover and widow of his brother Beau – and Hallie's sister Elizabeth Secundy.
"The House Oversight Committee has followed the money and built a record of evidence revealing how Joe Biden knew, was involved, and benefited from his family's influence peddling schemes," Comer said on Wednesday. "Unlike the many lies President Biden told the American people about his family's business schemes, bank records don't lie. These records reveal how the Bidens sold Joe Biden around to the world [sic] to benefit the Biden family, including Joe Biden himself, to the detriment of US interests."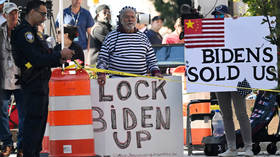 Earlier this month, the committee revealed the money trail behind a $40,000 check written to Joe by James and Sara Biden, which led to Hunter and a Chinese company he allegedly "extorted" in his father's name.
The committee has records that the Bidens set up "over 20 shell companies" while Joe Biden was Barack Obama's vice president (2009-2017) in "a concerted effort to hide payments from foreign adversaries," and received over $24 million from foreign nationals – including from China, Russia, Ukraine, Romania, and Kazakhstan – over the course of five years, Comer said.
"Subpoenaing key members of the Biden family influence peddling operation is the next logical step in this investigation," said Ways and Means Committee chair Jason Smith, a Missouri Republican. "No one should be shielded from legal scrutiny based on their last name."
Joe Biden has said that he'd never been involved in Hunter's business dealings or benefited from them personally, and the White House insists there was never any wrongdoing. However, the Republican-led committee said it had evidence that Biden met with Hunter's associates – including "a Ukrainian executive being investigated for corruption" – many times.
"President Biden and his administration have continually changed their stories throughout this inquiry," House Judiciary Committee chair Jim Jordan, an Ohio Republican, said on Wednesday. 
House Speaker Mike Johnson said last week that the Republicans were "coming to a point of decision" on impeachment very soon, but intended to follow due process, unlike the Democrats, who impeached former president Donald Trump twice in proceedings he called a "sham."