This post may include affiliate links that earn us a small commission from your purchases at no extra cost to you.
This easy Turkey Pot Pie recipe is a great way to use up those turkey leftovers. Turkey and mixed vegetables swim in a creamy sauce, all baked inside of a flaky pie crust until hot. This dish is so comforting!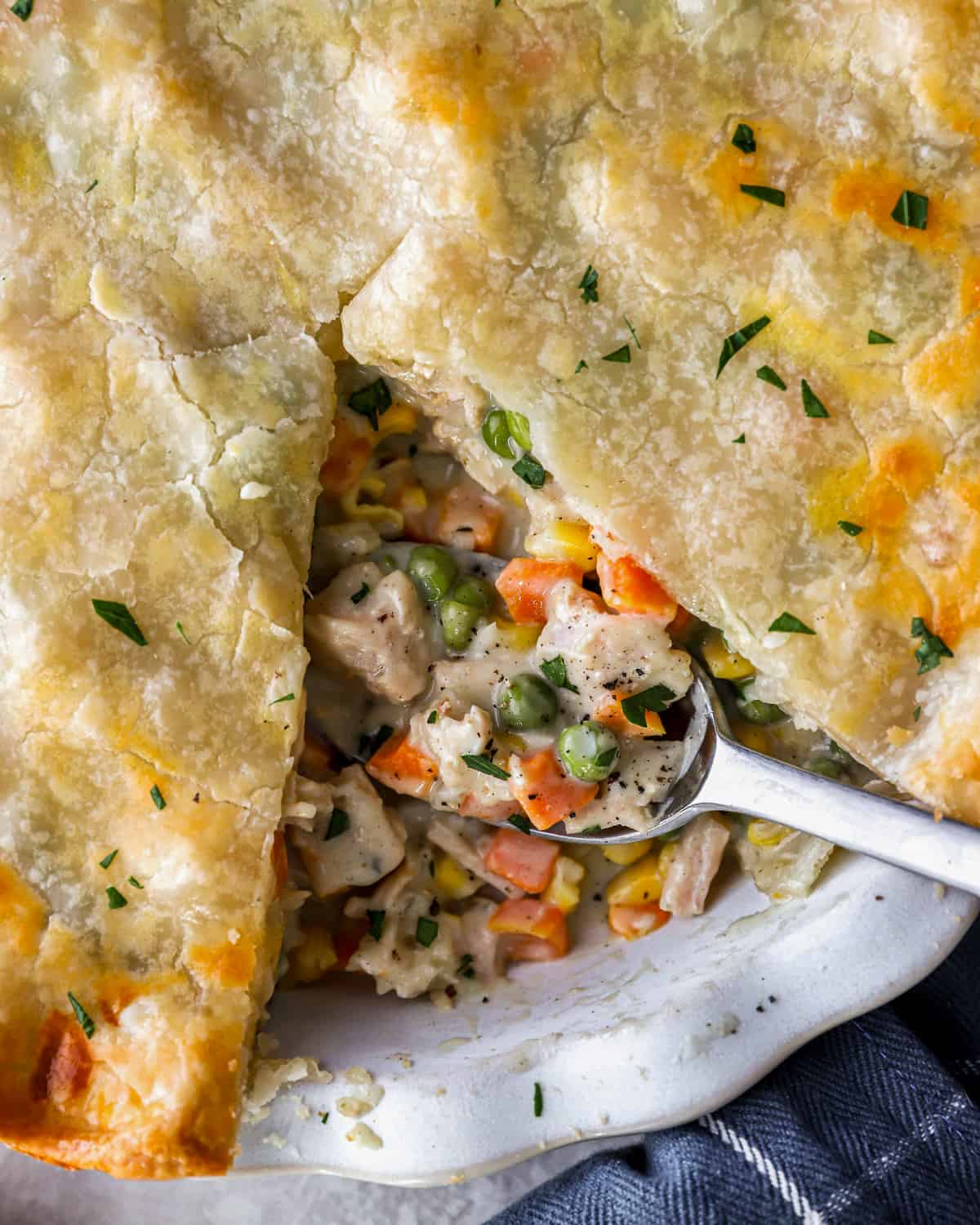 Why We Love This Turkey Pot Pie Recipe
I'm always looking for something to do with my leftover Thanksgiving turkey, and this recipe is a perfect fit. All the rich, creamy flavors of chicken pot pie, just using turkey instead–genius!
Easy. This recipe utilizes store-bought pie crusts, turkey leftovers, and frozen mixed vegetables for a simple dinner after the holidays.
Flavorful. Onion, garlic, poultry seasoning, and chicken broth add so much depth to this dish.
Creamy. Heavy cream makes the filling thick, gooey, and delicious.
Variations on Easy Turkey Pot Pie
You can use 2 cups of diced fresh vegetables in place of frozen veggies. Feel free to use the veggies of your choice for more variation. I like broccoli, mushrooms, and pearl onions!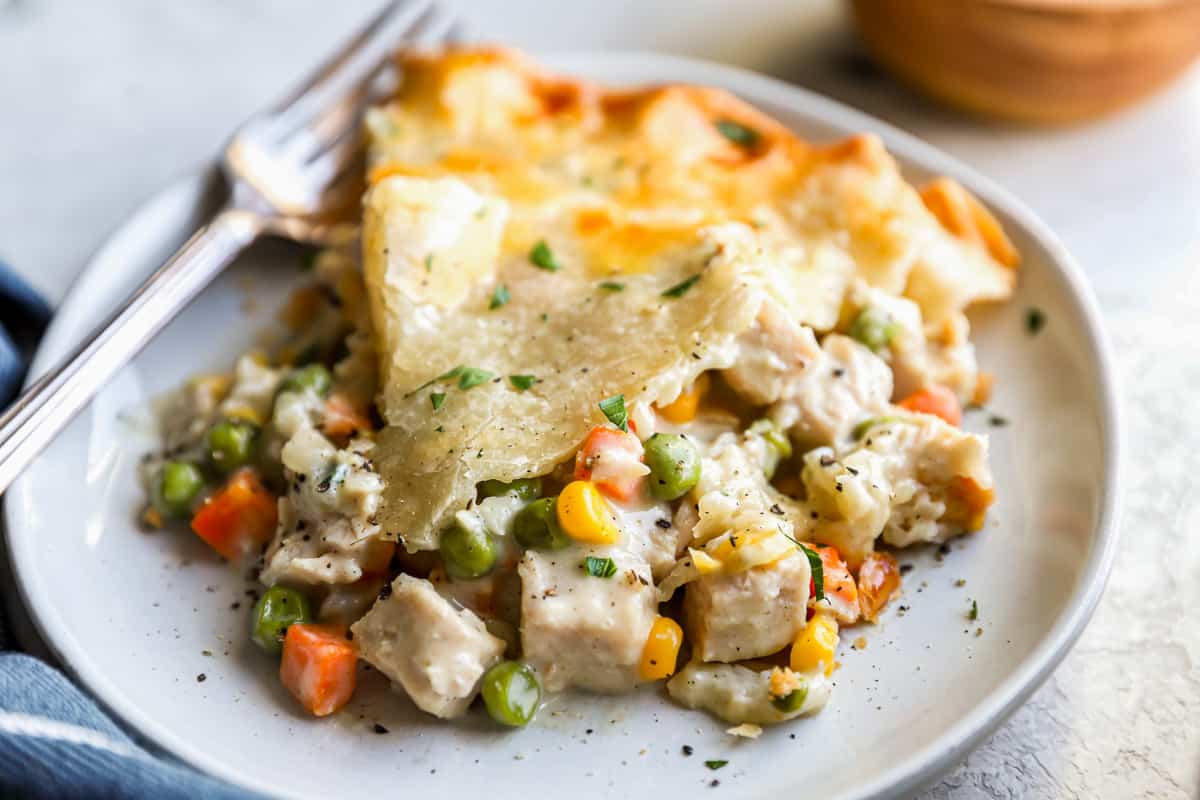 How to Store and Reheat
Store leftover turkey pot pie in an airtight container in the refrigerator for up to 3 days. Reheat in a 350°F oven for 20-30 minutes, or until warmed through.
How to Freeze
You can freeze turkey pot pie baked or unbaked. It's important to note that you should never freeze a pot pie in a glass pie dish, because it will shatter if transferred directly from the freezer to the oven. Use a metal, ceramic, or disposable aluminum pie dish for freezer storage.
Unbaked Pie: Assemble the pie completely, then tightly wrap it in aluminum foil and freeze for up to 2 months. To bake from frozen, bake in a preheated oven with the foil on for 30 minutes, then remove the foil and continue to bake for 45-50 minutes, until golden brown and 165°F internally.
Baked Pie: Let the pie cool to room temperature, then wrap tightly in aluminum foil and freeze for up to 2 months. To reheat from frozen, bake in a preheated oven for 35 minutes, or until 165°F internally.
Serving Suggestions
Serve this tasty turkey pot pie with a delicious kale salad or a side of sauteed carrots, sweet potato fries, or roasted vegetables. Or use up the rest of those Thanksgiving leftovers by drizzling your pie with turkey gravy and a smear of cranberry sauce!
What is turkey pot pie made of?
This recipe uses all the classic ingredients from a chicken pot pie. We're simply swapping out the chicken for turkey!
Is eating pot pies healthy?
Pot pies are not considered a health food, as they are high in calories, fat, carbohydrates, and sodium. However, this homemade version is a heck of a lot healthier than the premade ones from the store!
Can I use puff pastry instead of pie crust?
While you can use puff pastry instead of pie crust, I don't recommned using puff pastry for the bottom crust, as it can turn out soggy. In that case, I would add the filling to an oven-safe dish you can serve right out of and top it with a layer of puff pastry.
How do you keep the bottom crust of turkey pot pie from getting soggy?
It's important to ensure your filling has thickened sufficiently before adding it to the crust; otherwise, the crust will absorb too much moisture and turn out soggy. If you're super worried about it, you can blind bake the bottom crust for a few minutes before filling it, but I don't find that necessary.
How do you thicken turkey pot pie?
We thicken the filling of this turkey pot pie with flour!
Why does my turkey pot pie get watery?
Your pie may turn out watery if too much liquid was added to the filling or the filling was not cooked for long enough. Make sure the filling is relatively thick before adding it to the crust, and ensure you bake the whole pie long enough to thicken up the filling even more!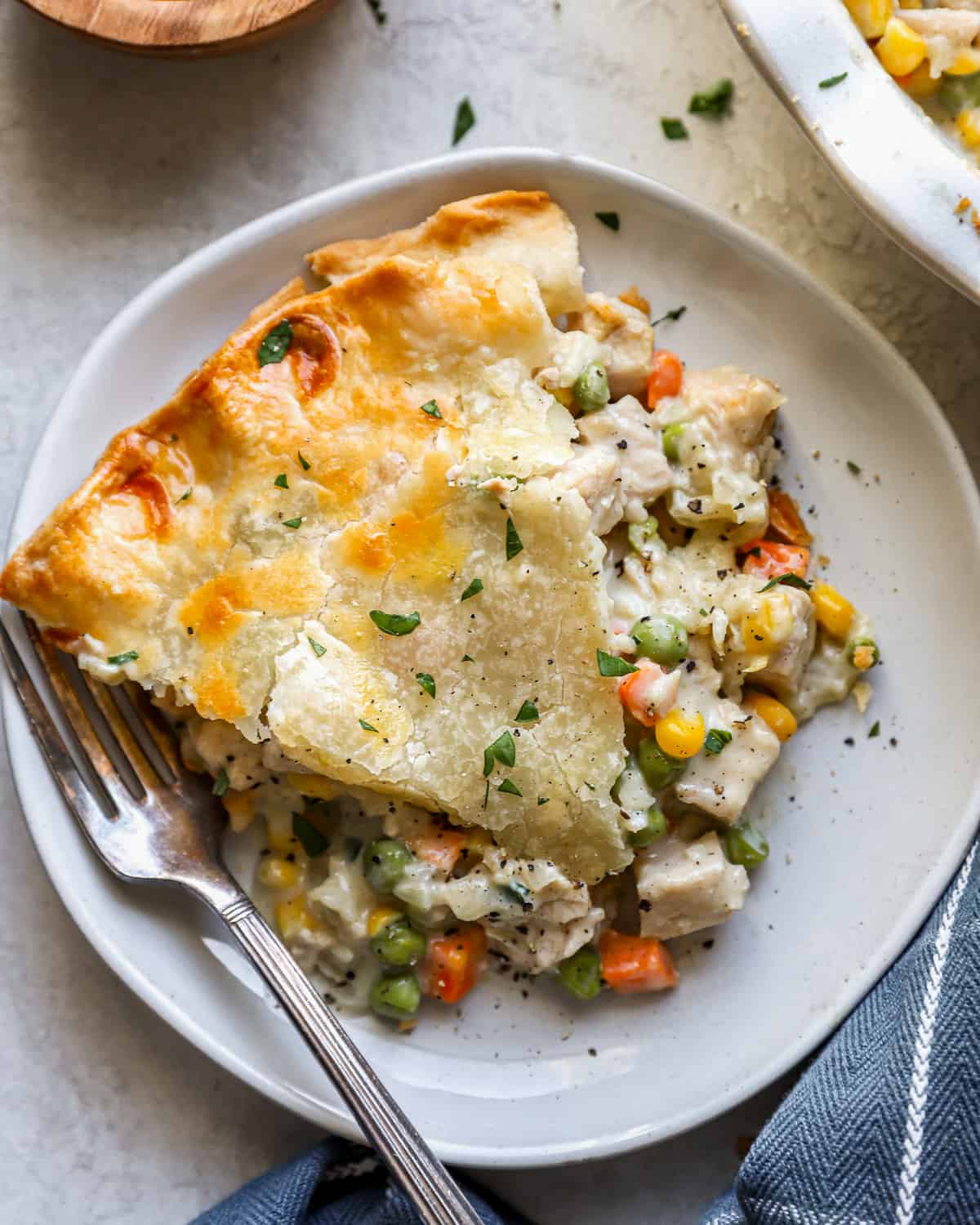 More Meat Pie Recipes To Try
How to Make Turkey Pot Pie Step by Step
Preheat the Oven: Preheat your oven to 400°F.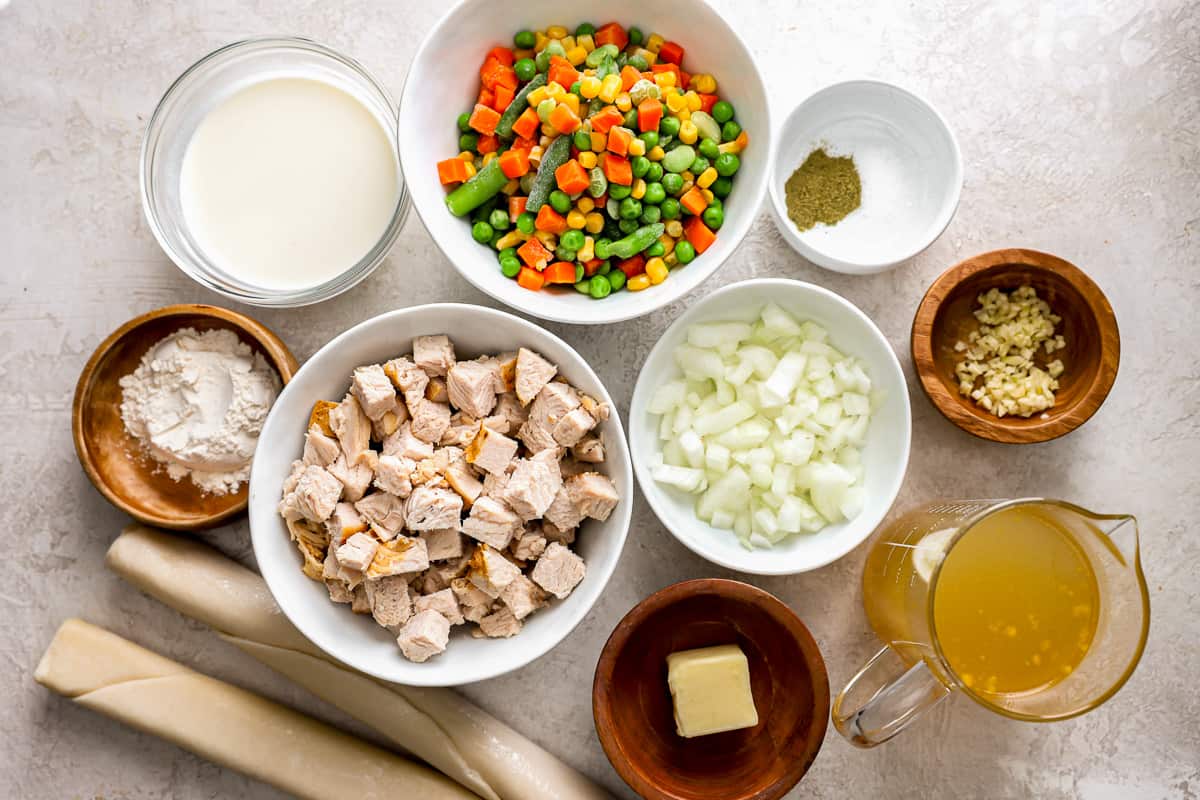 Make the Filling: Melt 2 tablespoons of unsalted butter in a Dutch oven set over medium heat. Once heated, add in ½ of a chopped onion and ½ teaspoon of kosher salt, and cook until softened. Add in 2 minced cloves of garlic and ½ teaspoon of poultry seasoning and cook for another minute. Stir in 2 tablespoons of all-purpose flour. Then, slowly pour in 1½ cups of low-sodium chicken broth while whisking. Turn the heat to medium-high. Once the mixture is bubbling, reduce to a simmer. Continue whisking until the mixture is smooth. Stir in ½ cup of heavy cream. Add in 3 cups of leftover cooked turkey and 2 cups of frozen mixed vegetables, and let the mixture simmer for a few minutes until thickened. Season with salt to taste.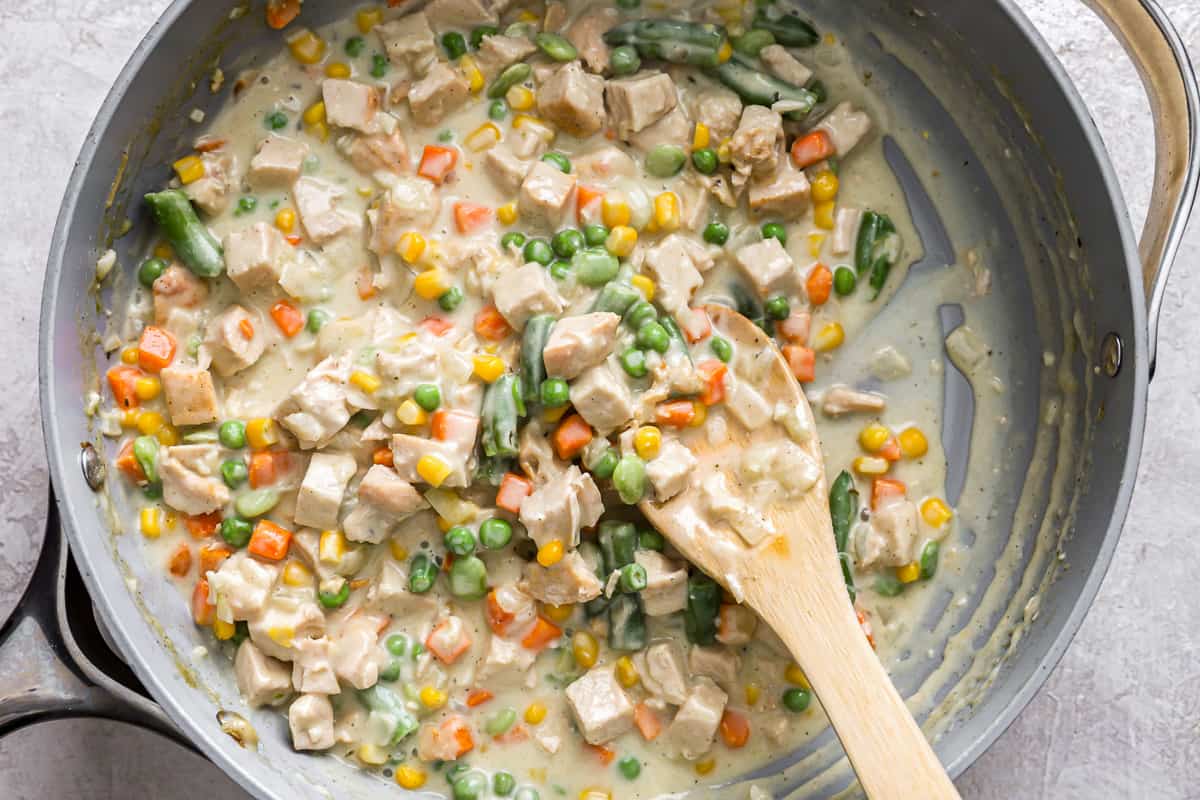 Fill the Pie: Layer one 9-inch refrigerated pie crust on the bottom of the pie dish. Trim the excess dough. Pour the turkey filling into the crust.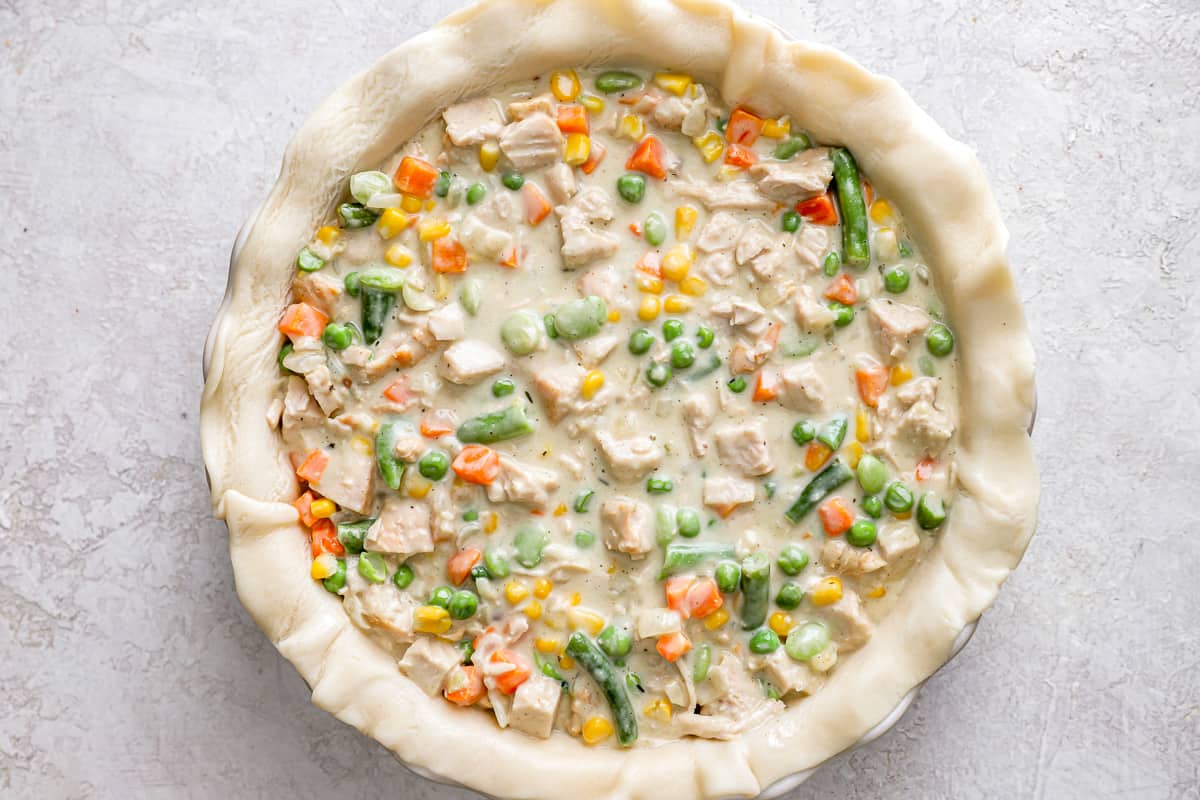 Cover the Pie: Cover the dish with the second crust, trimming the excess dough, and pinching the edges of the 2 crusts together.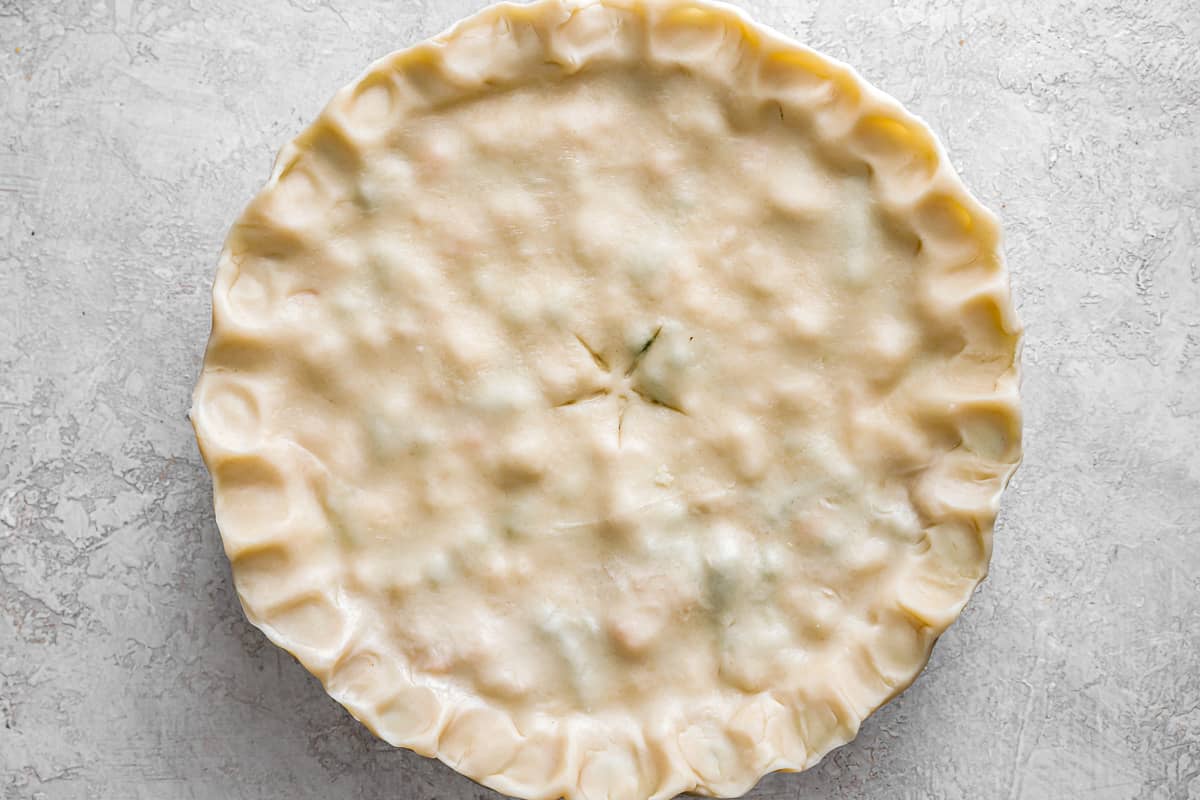 Egg Wash and Bake: Beat 1 large egg and a splash of water in a small dish. Brush the egg wash over the crust. With a knife, make a few slits in the top crust for venting. Bake in the oven for 30-35 minutes. Check pot pie halfway through and cover with tin foil if the crust is becoming too browned.