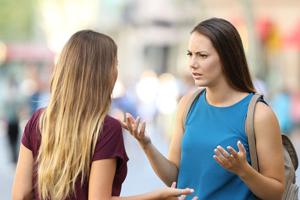 As a writer, and a mom, I've always hoped that my blogs would inspire or help another fellow parent. You want to know that when you write something and put it out there in the big wide world, someone is reading it and taking something from it.
Well, I struck quite a chord with a few moms once, and not because I inspired them.
I've been writing under the blogger name "Supermom In Training" for almost eight years now, and I'd chosen the name simply because I thought of myself as a parent who is always learning… I want to be the most super mom that I can, but I'm still working on it, and probably always will be.
I had written about throwing my son an end-of-the-year popsicle party, and suddenly, I was the talk of the town. It wasn't because fellow moms thought my little popsicle party idea was cute or fun… it was because they were upset: as one mom put it, "What, now we have to throw our kids popsicle parties to be considered 'super'?" In some moms' minds, we're all super in own rights, and we don't need to go above and beyond to call ourselves "super." Because we're all super.
Other moms were upset I hadn't acknowledged dads in my blog title, writing, "What about the superdads?!"
Now, the comments didn't upset me… in fact, I appreciated the feedback. I hadn't really thought about it that much. But the way in which I received the feedback is what stung.
It began with an insulted mom who took to our Facebook page to express her discontent. But then, the same mom went to a closed local mommy group and began a chain of comments about how ridiculous my blog was.
Now, I've got a pretty thick skin. When you're a writer you learn to take criticism with a BOULDER of salt. That being said, as a mom, I'm definitely a tad more sensitive. I've always loved Facebook for their social groups, and have found them to be super helpful since becoming a parent – I've belonged to breastfeeding groups, local groups to find nearby moms, work-from-home mommy groups, crafty mom groups, and more. They've mostly been a safe place to get advice and find like-minded parents who are going through similar phases and challenges. But I was so disappointed to see how quickly one mom's comment about my blog being insulting sparked a smear campaign against my blog, my parenting ideals, everything (imagine if they'd seen my unprotected electric outlets?!).
Again, I can take the negative feedback. No problem. You think a popsicle party is lame? That's fine – you won't get invited (and it's too bad because I'm making wine popsies for the adults!). But we are constantly lecturing our kids about bullying, we dress our kids in pink shirts in solidarity against bullying, and then we take to these parenting boards and crucify people because: they're not breastfeeding, they are breastfeeding, they use bottles, they use formula, they pump, they don't pump, they hire little tiny bunny rabbits to come and feed their children… WHATEVER it is, it's their decision! When we become parents, it doesn't give us the right to judge and look down upon other parents. We should be supporting one another and holding each other up, because parenthood is rough, and we all need some support.
So stop being a mom bully. Stop comparing your child's milestones to others to trump the next parent. It's not your story to tell. Stop beating other parents down to build yourself up. Stop taking your frustrations out on other moms and dads.
Just chill out. And have a popsicle.
A full-time work-from-home mom, Jennifer Cox (our "Supermom in Training") loves dabbling in healthy cooking, craft projects, family outings, and more, sharing with readers everything she knows about being an (almost) superhero mommy.