Fire up the pellet smoker and break out your sausage grinder, we're about to make great use of some of that wild game that you've got in your freezer or fresh from the hunt and whip up a giant batch of Smoked Wild Hog Summer Sausage!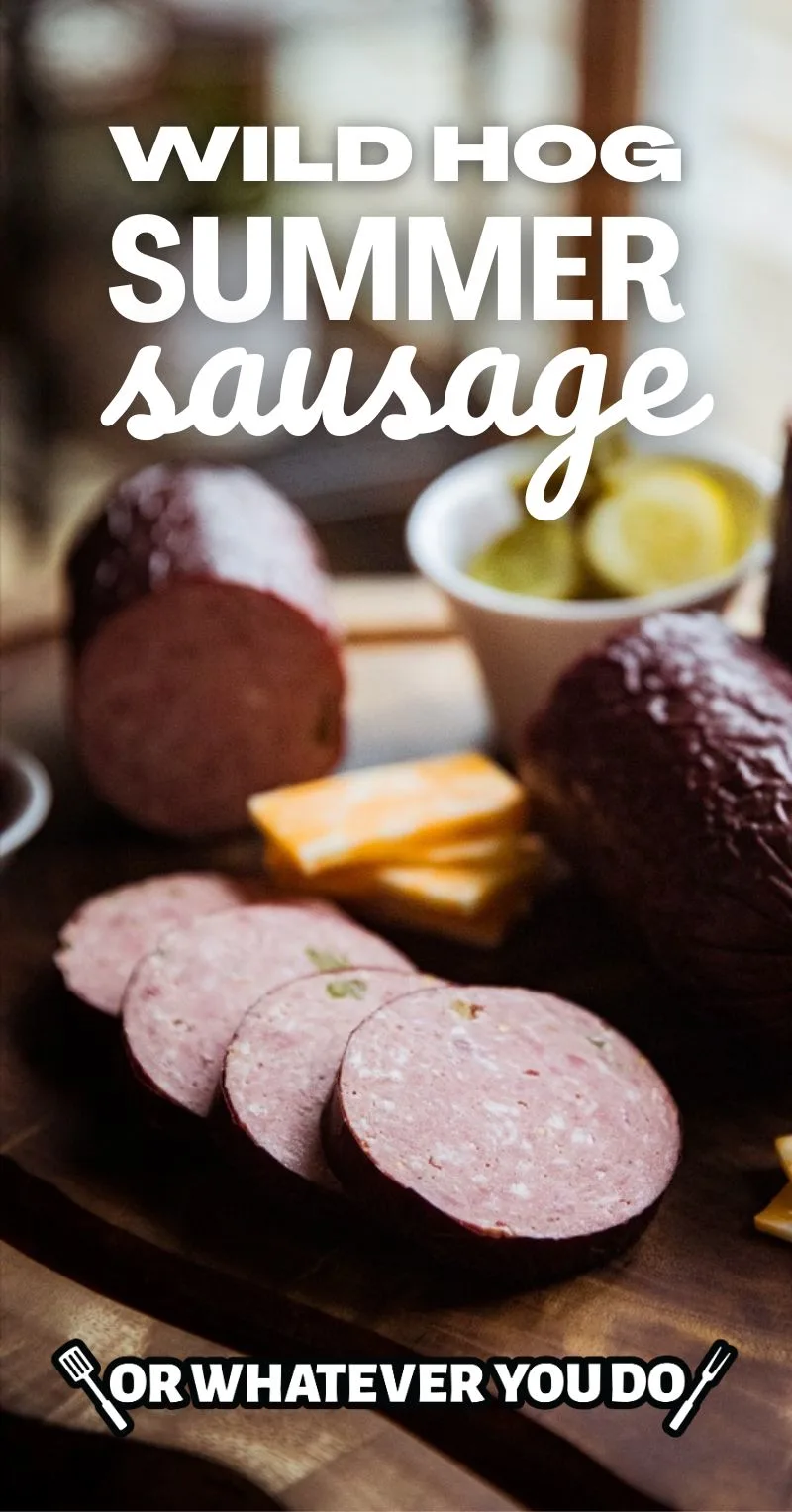 Smoked Wild Hog Summer Sausage
This year we got the chance to travel to Oklahoma to do a wild hog hunt at Prairie Fire Ranch. Well, one of us did. I'm not much of a hunter (yet), but Jeremiah grew up hunting for deer, grouse, ducks, geese, antelope, and fishing for everything that Minnesota and the Dakotas had to offer.
Last fall Jeremiah's cousin Tony came out to visit us and do some fishing (follow along with our fishing adventures on our YouTube Channel and Fishing Instagram), and this January they organized a trip out to OK to bring home some wild hog!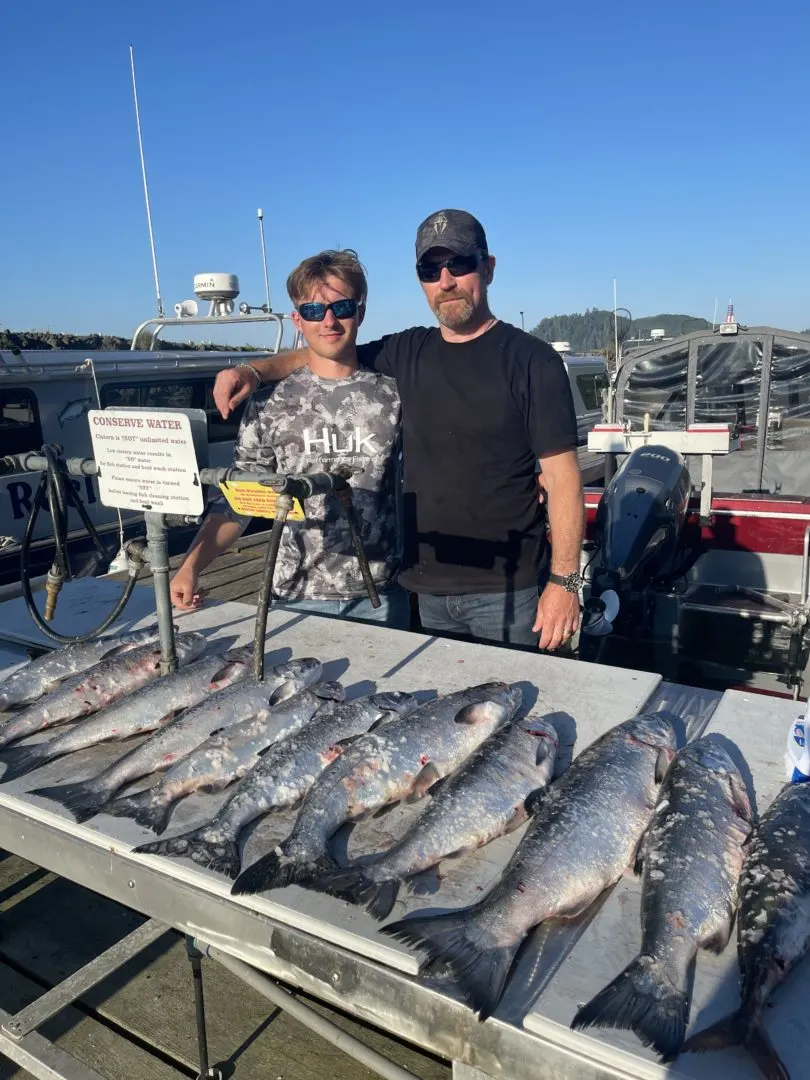 We've been wanting to do more wild game recipes here on the site (check out all of our venison recipes here), and what better way than to go out and hunt it yourself. If you're going to be a meat eater, there not a more honest way to do it.
So, what does wild hog taste like?
You might think that wild hog will taste like pig, and while it is similar, there are quite a few differences too. Wild hog has less fat than domestic pigs, and they also eat a much different diet than their farmed cousins. That means you need to make sure that you are including some additional fat when you cook with it if you want to keep it moist. This summer sausage recipe includes a fair amount of pork belly to account for that.
The wild hog that we brought home also had a slightly beefy flavor, which is a pretty common description for this type of wild game. What I didn't notice is any kind of "gamey" or strong flavor. That could very well be because we only took home sows and not boars, which can impact the flavor.
Scroll through this Instagram post if you want to see photos of the hunt! Graphic, so don't do it if you are sensitive to photos of no-longer-alive animals. 😉
Is wild hog meat safe to eat?
Like all wild game, wild hog meat can be safe to eat if it is handled, cooked, and stored properly. There are some potential health risks associated with consuming wild hog meat you should be aware of to ensure the safety of everyone who will be consuming the meat.
Wild hogs can carry diseases such as brucellosis, leptospirosis, and trichinosis, which can be transmitted to humans if the meat is not cooked to the proper temperature. Additionally, feral hogs may consume contaminated food or water sources that can lead to the buildup of toxins in their meat. Make sure to source your wild hogs from areas you know, or use experienced guides to ensure that you are not taking animals that may be contaminated.
To ensure the safety of wild hog meat, it's important to properly field dress, clean, and store the meat, as well as cook it to an internal temperature of at least 160°F. It's also important to avoid consuming meat from wild hogs that appear sick or have any abnormal physical symptoms.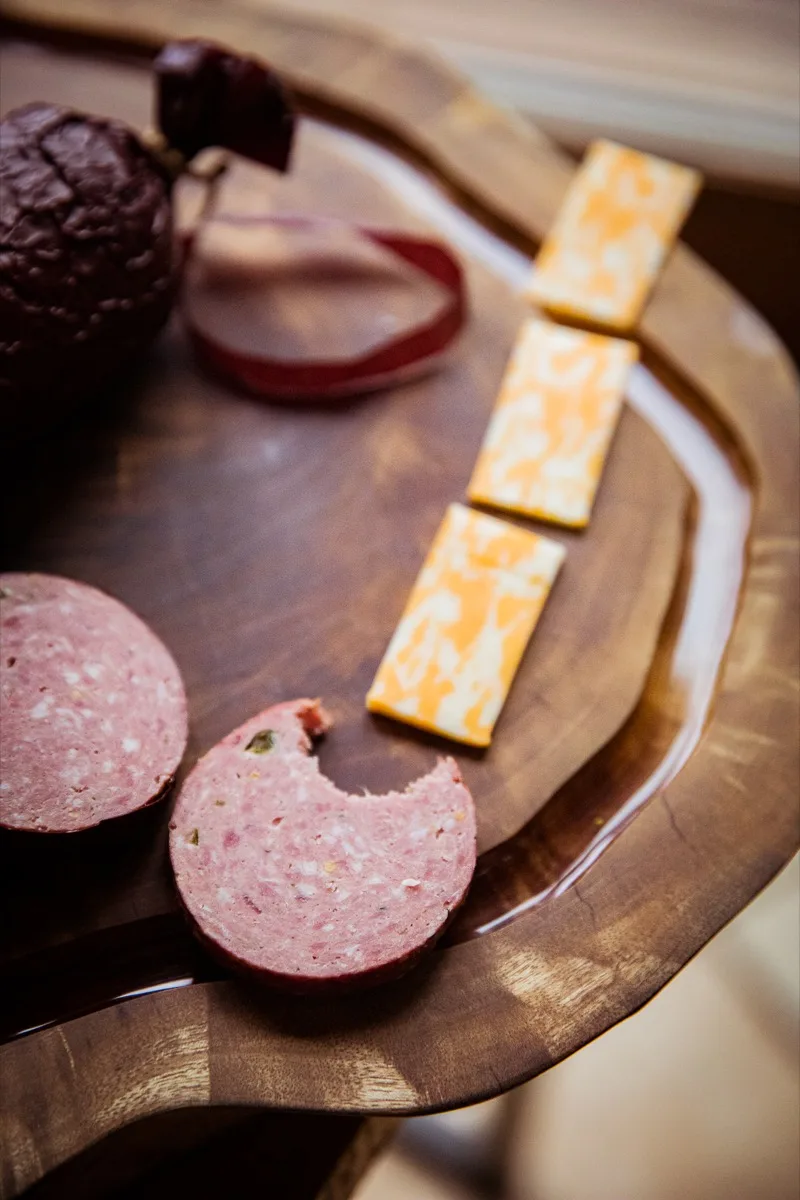 Wild Hog Summer Sausage shopping list
Wondering if you have to hit the store? Here's the list of items you'll need to make this recipe. For specific amounts, please refer to the printable recipe card at the bottom of the post.
wild hog meat
pork belly
ribeye or New York steak
aged white cheddar cheese
jalapeño pepper
kosher salt
dextrose
curing salt
mustard seeds
dry mustard
garlic powder
onion powder
ground black pepper
ground ginger
Fermento
summer sausage casings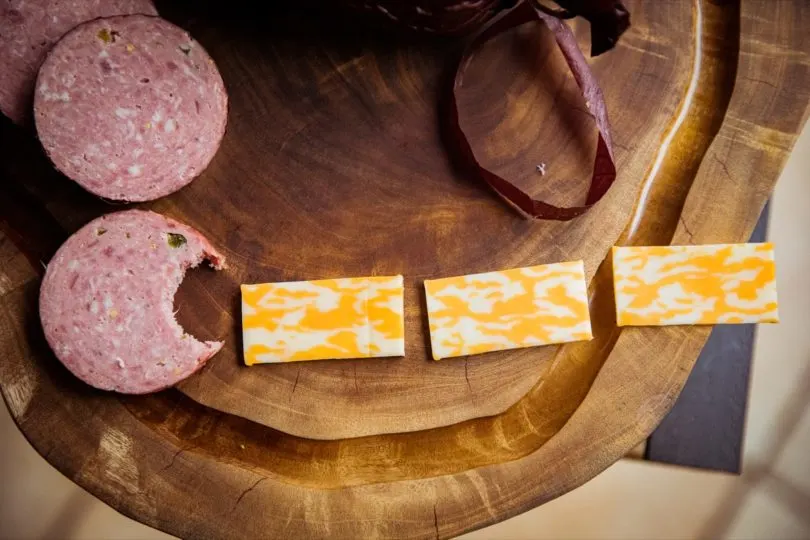 Equipment & Tools (and other things that'll make your life easier)
Meat Grinder
If you're going to make sausage, you need a good grinder and some good grinder discs. We use the LEM Meat Grinder similar to this. It is pretty hard core, so you might be able to get away with a smaller model if you aren't planning on doing a lot of grinding.
Kitchen Aid and Bosch also make meat grinder attachments for their mixers that have good reviews.
Grinder Plates
You need a 1/4″ plate and a 3/16″ plate too.
Sausage Stuffing Tubes
These stainless sausage stuffing tubes are going to make your life SO much easier when it comes time to stuff the sausages! Just make sure and check the sizes to make sure they'll fit your grinder.
Tips for success with sausage stuffing
When it's time to start the stuffing process, be sure that the mixture is ice cold. The colder, the better.
Using two people to stuff the sausage makes things go a lot easier; especially if it's your first time. Use one person to keep the hopper full and the meat going down without any air getting in, and the other person to hold the casing tightly to the meat tube while it is filling.
Check for any air getting into the casing while it is being filled and make sure to get all the air out before cooking.
Make sure the casings are tight and full. This will make for a better overall look to the finished product.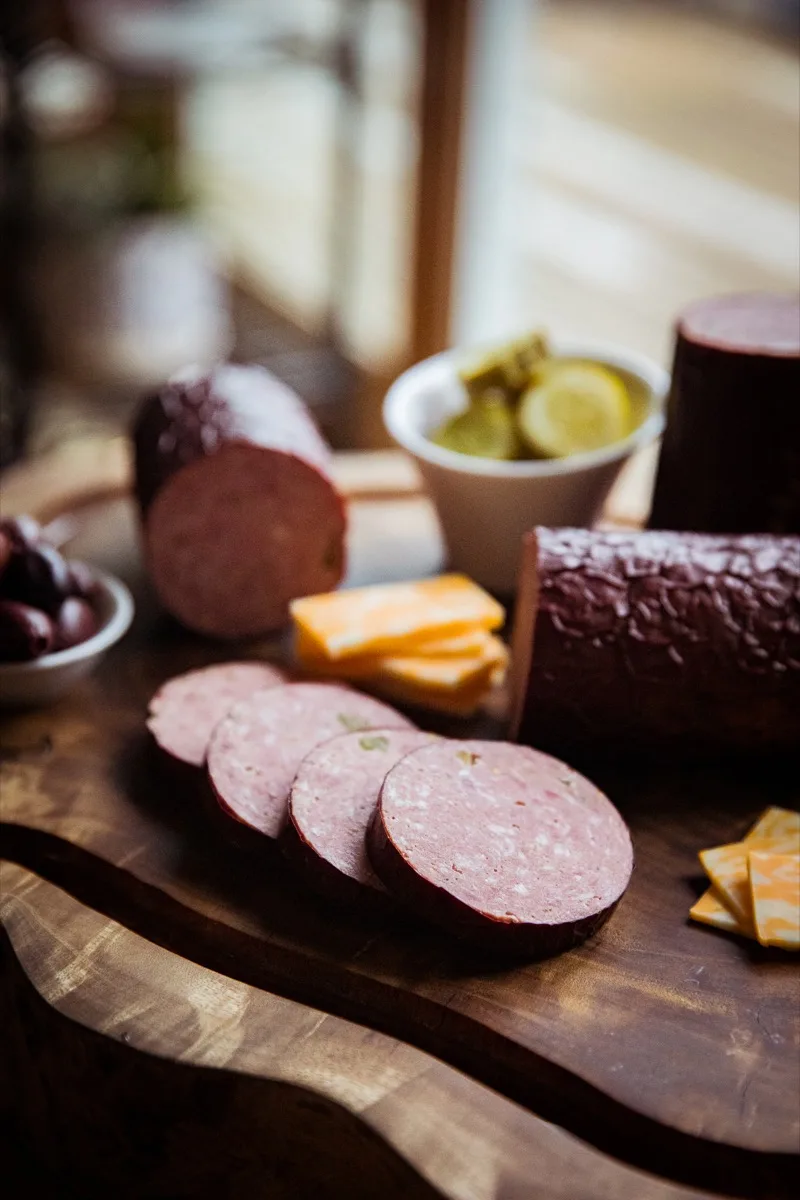 How to make Smoked Wild Hog Summer Sausage
This is just the overview so you can see what you're actually getting into here. When you are cooking, you'll want to use the full recipe at the bottom of the page.
Grind
There are too many steps to mention in this quick summary, but this is the part where you grind the meat. Keep it cold! It works much better that way.
Mix
Mix it together well. Put it into a big bowl (or several), remove all the air. Cover.
Ferment
You need 48 hours to let the magic happen! Don't rush it!
Stuff
Stuff your casings with the fermented meat mixture. Don't let air pockets ruin your day!
Smoke
Smoke your sausages for about 3 hours. Submerge them into an ice bath to get them chilling, and then finish the chill in the fridge.
Enjoy
Remove the casing before enjoying! This sausage can be frozen for longer storage.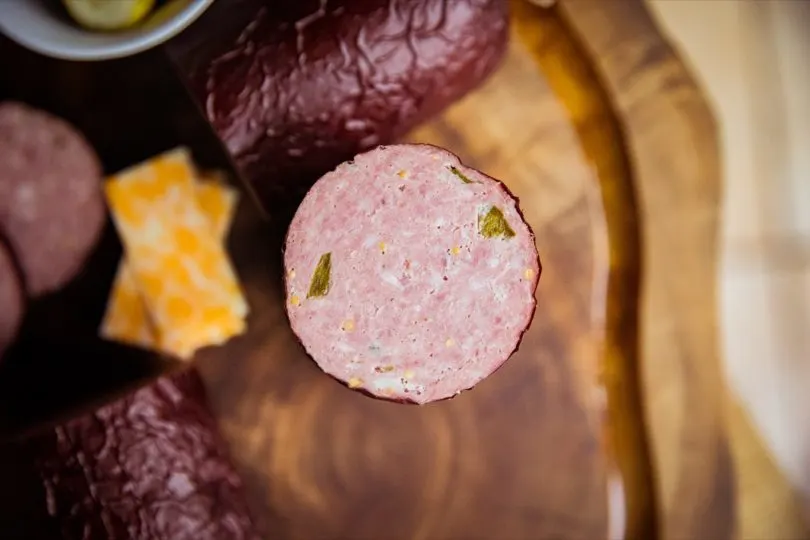 Smoked Summer Sausage FAQ
Can you use another type of meat in this recipe?
Yes! If you don't have wild hog, you can substitute in another type of wild game or even beef or pork if that's what you have on hand.
What's the best way to store summer sausage?
Store your cooked summer sausage in the fridge. It can also be frozen for longer storage. It should keep in the fridge for several weeks, and in the freezer for several months without issue. I recommend vacuum sealing for the best results for longer storage.
Can you omit the cheddar and jalapeño?
Sure, but I don't know why you'd want to. This jerky isn't super spicy at all, and the cheese and peppers add great flavors to the mix! BUT – if you are set on it, you can leave them out and you'll still have delicious summer sausage at the end of the day.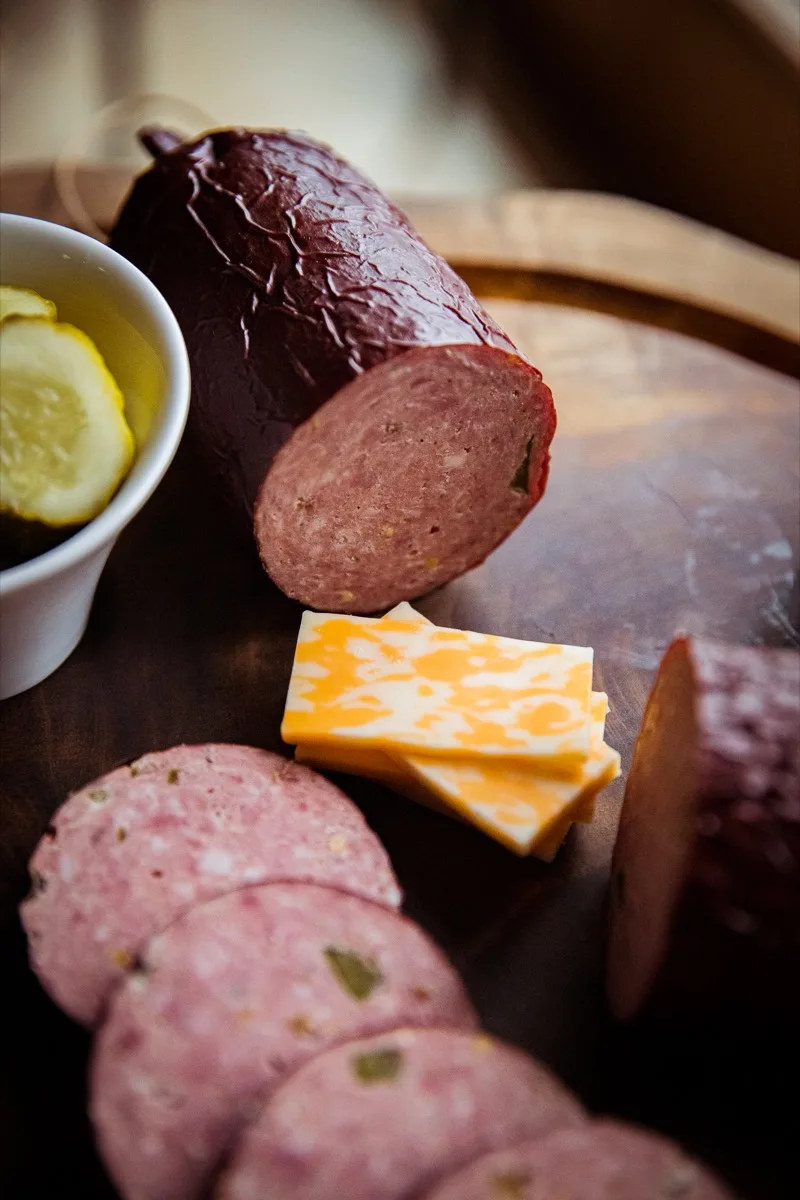 More great recipes for your charcuterie board!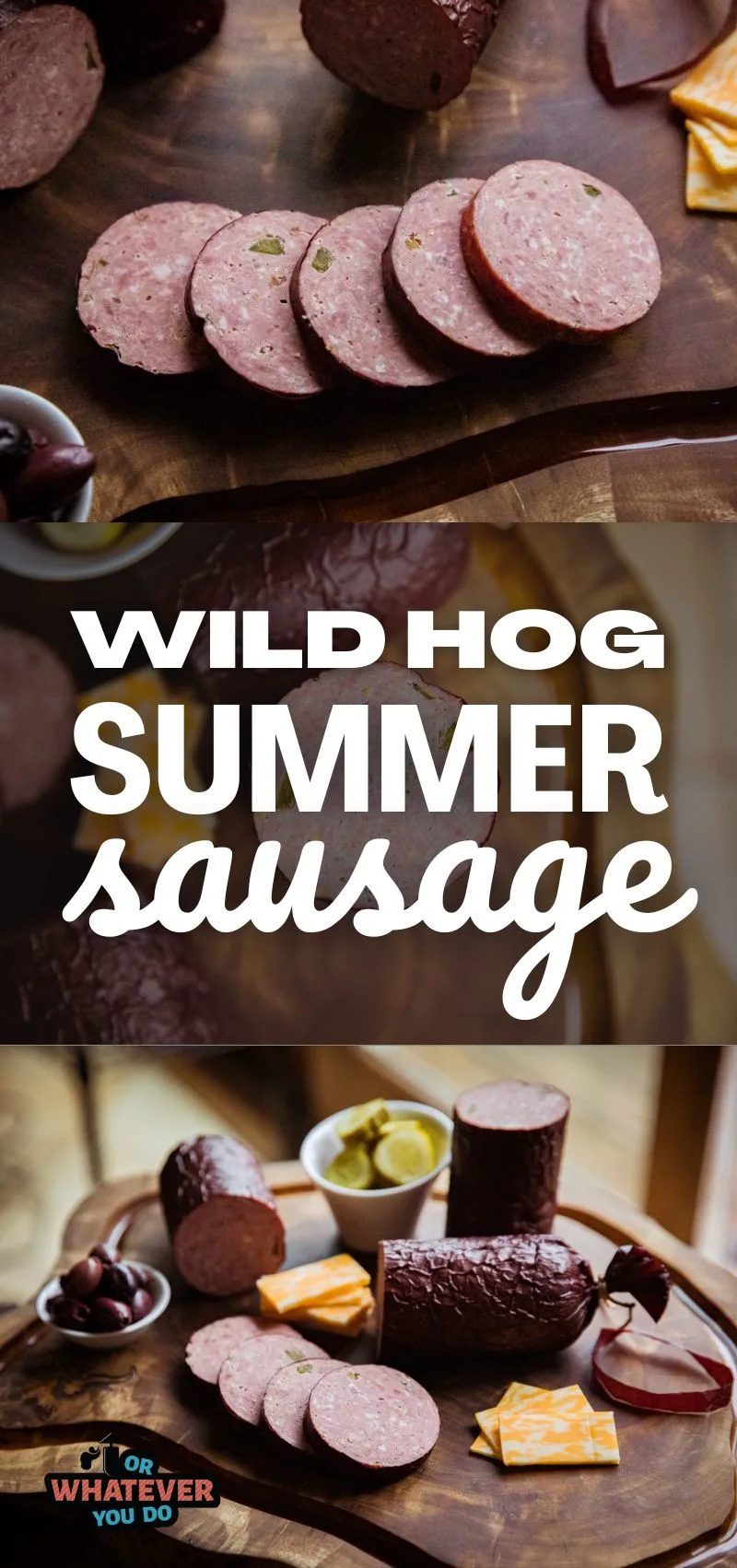 Prep Time
2 hours
Fermenting Time
2 days
Cook Time
3 hours
Total Time
2 days 5 hours
Ingredients
14 pounds wild hog meat, cut into 1-inch cubes
4 pound pork belly, cut into 1-inch cubes
2 pounds ribeye or New York beef steak, cut into 1-inch cubes
1 1/2 cups 1/4" cubed aged white cheddar cheese
1 cup jalapeño pepper, chopped into 1/4" pieces
10 tablespoons kosher salt
8 tablespoons dextrose
4 teaspoons curing salt
4 tablespoons mustard seeds
2 tablespoons dry mustard
4 teaspoons garlic powder
1 tablespoon onion powder
1 tablespoon freshly ground black pepper
4 teaspoons ground ginger
1 cup Fermento
2 cups water
4 large summer sausage casings
Instructions
Place the game meat, pork belly, steak and all of the other ingredients except for the Fermento, water, cheese, jalapeños and casings in a large bowl.

Mix all of the ingredients in the bowl completely. You can use your hands or a spoon, just be sure to mix them thoroughly.

If you notice the temperature having gone up at all during the mixing process, just put it back into the refrigerator for an hour or so. Everything needs to stay as cold as possible throughout the whole process.

Using the 1/4-inch plate on your grinder, grind the meat mixture into a bowl. I placed my bowl into a larger bowl with ice at the bottom to ensure my meat stayed cold.

Add in your cheese and jalapeños to the ground meat and mix it together thoroughly by hand.

Change out your 1/4" grinder plate for your 3/16" grinder plate and pass your mixture through the grinder again.

Stir the Fermento into the water, and then mix it into your meat by hand.

Pat your mixture down into your bowl. Make sure to get any trapped air out. Cover the top of your mixture with plastic wrap, making sure that there isn't any air underneath, and place into your refrigerator for 48 hours.

Make a small one or two ounce patty of the mixture and sauté it in a pan to taste the mixture. If you need to adjust your seasonings, this is your last chance.

Stuff your casings tightly with your meat mixture and tie the ends off with butchers string.

Preheat your smoker to 180 degrees and place your cased meat directly onto the rack, or hang them from the top if you have a vertical smoker.

Let smoke until your internal temperature reaches 165 degrees and then remove.

Place your summer sausage sticks directly into an ice bath for 20 minutes to stop the cooking process.

Remove from the ice bath and place them in your refrigerator for several hours to finish cooling down.

Peel back the casing before eating.
Recommended Products
As an Amazon Associate and member of other affiliate programs, I earn from qualifying purchases.
Nutrition Information:
Yield:
80
Serving Size:
1
Amount Per Serving:
Calories: 298Total Fat: 18gSaturated Fat: 7gTrans Fat: 0gUnsaturated Fat: 10gCholesterol: 106mgSodium: 700mgCarbohydrates: 1gFiber: 0gSugar: 0gProtein: 31g
Nutrition data provided here is only an estimate.