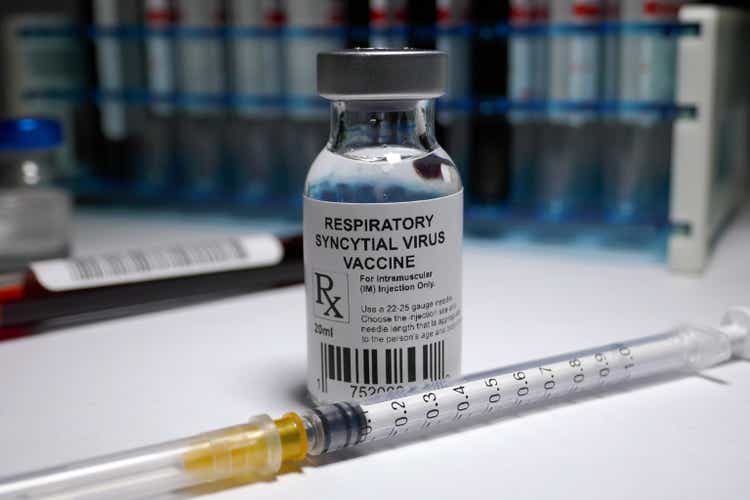 Ahead of the world's first immunization drive against respiratory syncytial virus (RSV), a new report from the London-based health analytics firm Airfinity suggests RSV vaccine sales for older adults could exceed $10B by 2030 in G7 countries.
For years, RSV was an unmet medical need until GSK (NYSE:GSK) and Pfizer (NYSE:PFE) developed vaccines against the virus. RSV infects the lungs and respiratory tract, causing about 60–160K hospitalizations and 6K–10K deaths among older adults in the U.S. annually.
In May, GSK (GSK) won U.S. FDA authorization for Arexvy, designed with an adjuvant licensed from the U.S. biotech Agenus (AGEN). Weeks later, Pfizer (PFE) followed up, winning approval for its RSV vaccine, Abrysvo, for the same age group.
While the EU cleared Arexvy in June, Pfizer's (PFE) shot is on track to receive approval in the region after an expert panel of the EU drug regulator endorsed it in July.
The recombinant shots are indicated for people aged 60 years and older to prevent lower respiratory tract disease caused by RSV.
After the CDC cleared the shots for eligible older adults in consultation with a healthcare provider, the drugmakers are gearing up for the first-ever U.S. RSV vaccine rollout this fall for the 2023–24 immunization drive.
Ahead of rollout, Airfinity projects GSK (GSK) and Pfizer (PFE) could generate $900M this year from RSV vaccine sales to older adults in the world's most industrialized nations, represented by the G7 bloc.
According to the firm, GSK (GSK) is set to dominate the RSV vaccine market this year with 500M sales, implying a 56% market share for Arexvy, and Pfizer (PFE) is expected to account for the remainder with $400M sales for Abrysvo.

Source: Airfinity
However, the RSV vaccine space will not remain a duopoly, with Moderna (NASDAQ:MRNA) planning to launch its messenger-RNA-based RSV vaccine, mRNA-1345, in 2024.
The biotech is also in early-stage development for vaccine candidates mRNA-1230 and mRNA-1045, designed as single shots for multiple viruses, including RSV. Other developers of RSV vaccines include Icosavax Inc., (ICVX).
However, Airfinity's forecasts suggest that RSV vaccine sales could plateau at the end of the decade after hitting $10.5B by the end of 2030. The U.S. is expected to account for the lion's share of RSV vaccine sales among G7 nations, with a 45% contribution.
Despite a late start to its RSV program, Japan is set to dominate except the U.S. within three years of the rollout, which is, however, unlikely to happen until 2026, Airfinity projects.

Source: Airfinity
"Country-level vaccine rollout and uptake won't happen overnight and our modeling estimates coverage will grow over the next seven years before plateauing," Airfinity's Health Economist Salvini Datta said.
"We expect GSK, Pfizer and Moderna's vaccine will dominate the market for the foreseeable future until potential combination shots targeting COVID, flu and RSV progress to approval," Salvini added.
However, given its higher efficacy and being the first RSV shot to win regulatory nod in the U.S., U.K., and EU, GSK's (GSK) Arexvy is expected to lead the market through the end of the decade, closely followed by Moderna (MRNA) and Pfizer (PFE).
Airfinity projects Arexvy to generate $3.7B annual sales by 2030, ahead of $3.6B and $3.1B sales estimated for mRNA-1345 and Abrysvo, respectively.
More on RSV vaccine makers
GSK RSV vaccine now available at major US pharmacies
GSK sues Pfizer over patents in RSV vaccine
RSV treatment market to surge past $9B by 2029
Pfizer's Vaccine-Plus-Treatment Strategy For RSV
Moderna: Potential To Get Second Product To Market