This easy pupusa recipe teaches you how to make bean and cheese-filled tortillas. These pupusas come together in under 10 minutes and they are easy to customize with your favorite fillings.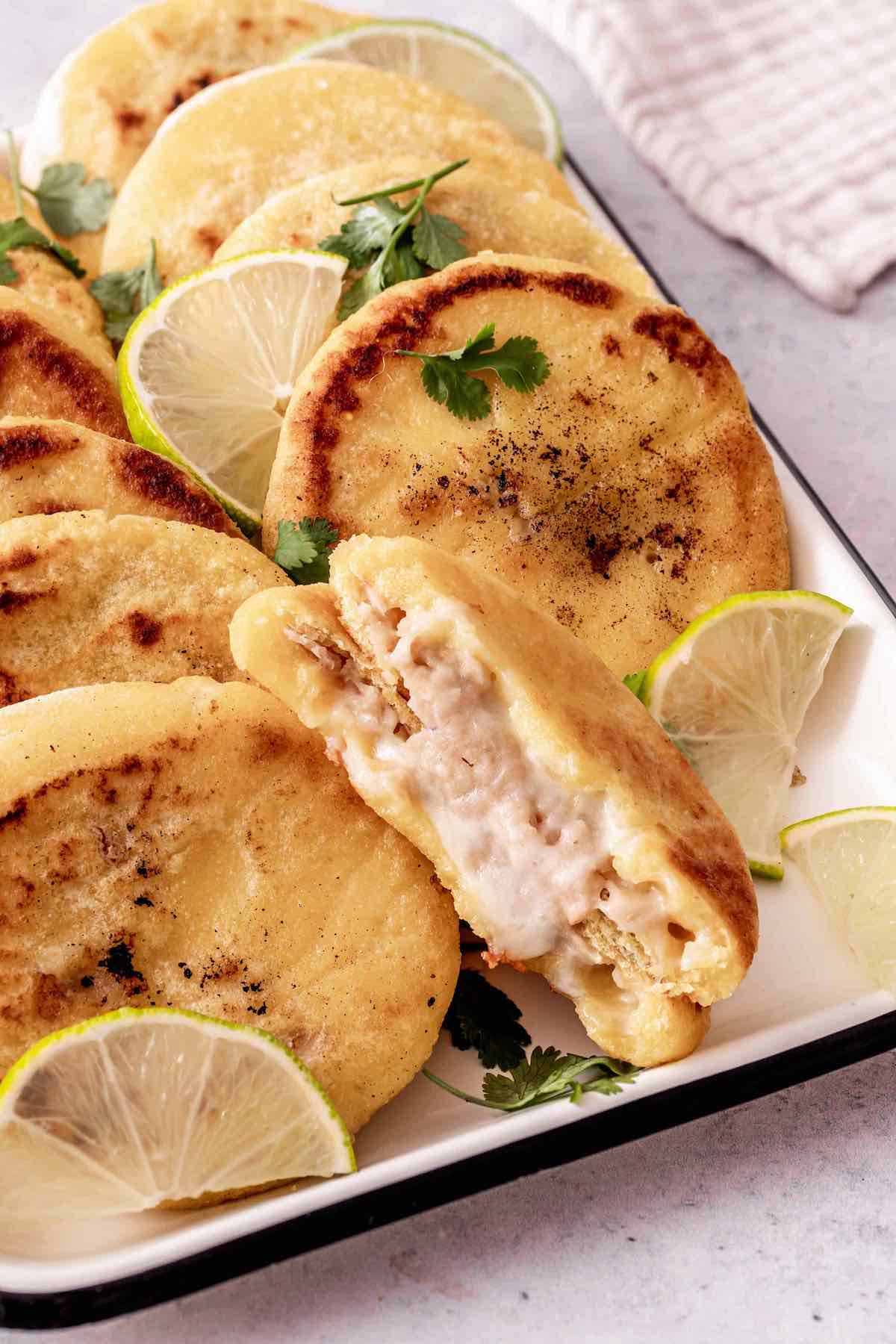 If you love our tacos dorados or Mulitas, you will surely love Pupusas. This popular street food makes the best snacks or a meal in itself.
Growing up, mom used to make her version of these but called them stuffed tortillas. It was only recently when I asked her for the recipe that she informed me they were the infamous pupusa! Fun to say, even more fun to eat!
What are pupusas?
Popular in Salvadoran cuisine, pupusas are thick corn pancakes that are filled with refried beans, cheese, or some form of protein (usually in the form of carnitas or skirt steak).
They are commonly made with corn flour though rice flour may be used too. Usually served with curtido, a twist on the classic coleslaw, they are a popular street food but also make a fabulous lunch or dinner.
Recipe highlights
We like to use a cast iron pan to cook them, and our homemade recipe is a game changer. You'll love it, too, because:
Customizable fillings. What makes this dish so good is that you can make them with any filling of your choice, including meat, beans, cheese, mashed potatoes, chorizo, etc.

 

Great side dish or appetizer. Served with salsa and sauces is an amazing appetizer or side dish. You can make them with different fillings to fit everyone's preferences.

 

Freezer-friendly. Uncooked pupusas freeze quite well. Double this recipe and freeze part of the pupusas for later use.

 
How to make pupusas
Making authentic Salvadoran pupusas is a great way to up your appetizer game. Considering how little time they take to make and how delicious they turn out, these stuffed tortillas are certainly worth a try. 
Ingredients needed
These beans and cheese-stuffed pupusas call for only six simple ingredients. Here's everything you will need to make them. 
Masa harina. Known as dried corn dough, masa harina is the key ingredient you need to make traditional pupusas.

 

Water. Warm water is needed to mix with masa harina and make the dough.
Cheese. Any shredded cheese will work so long as it melts well. Mozzarella and queso fresco are two of your best options.

 

Refried beans. Use canned refried beans or make them yourself.

 

Oil. Sunflower oil or any neutral-flavored cooking oil of your choice.

 

Salt. To taste.

 
The instructions
While making pupusas implies making dough, the process is fairly simple if you follow a few simple steps. 
Step 1- Prepare the dough
For the dough, combine masa harina with warm water and salt. Mix with a spoon until it thickens and proceed to knead with your hands until smooth dough forms. Cover the dough and let it rest for 5 minutes.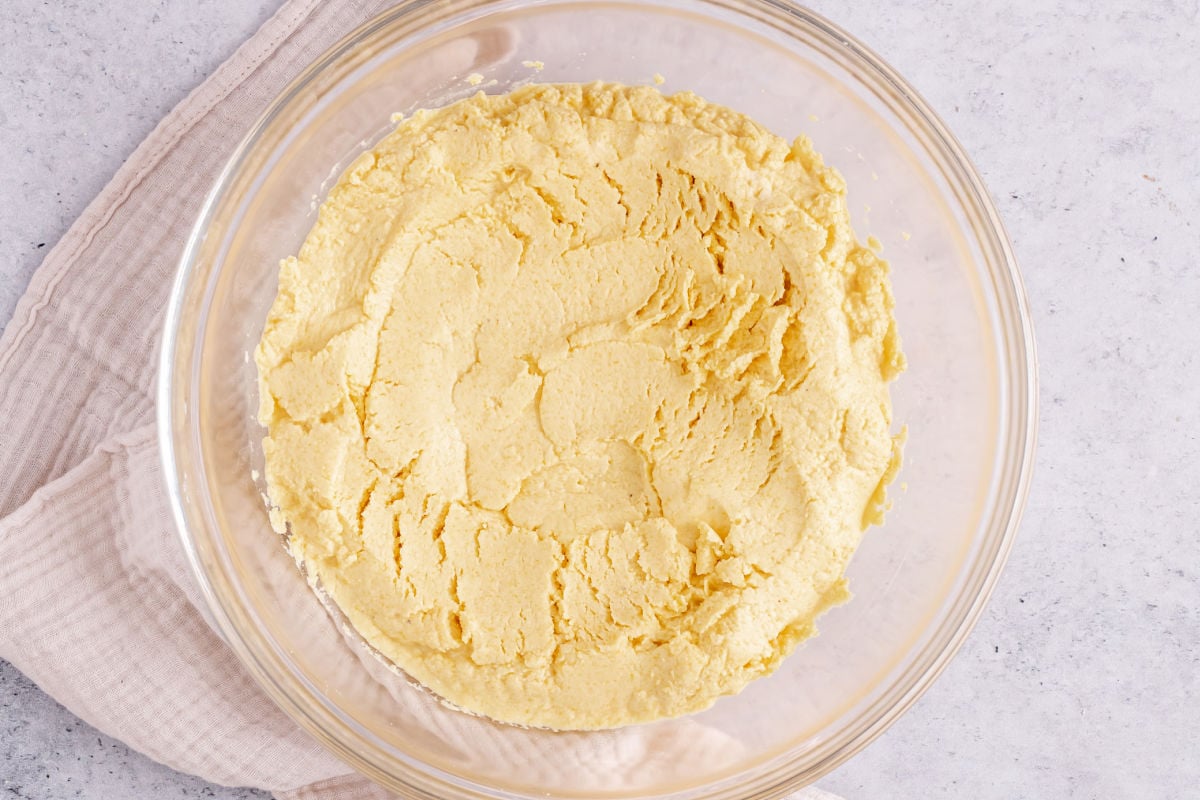 Step 2- Shape and stuff the pupusas
Divide the dough into 14 even balls. Use your hands to form a pocket in the middle of the ball. Place a teaspoon of refried beans and a teaspoon of shredded cheese in the pocket. Bring over the edges to cover the fillings and form a ball again. Use your hands to gently flatten the pupusa ball into a thick disk.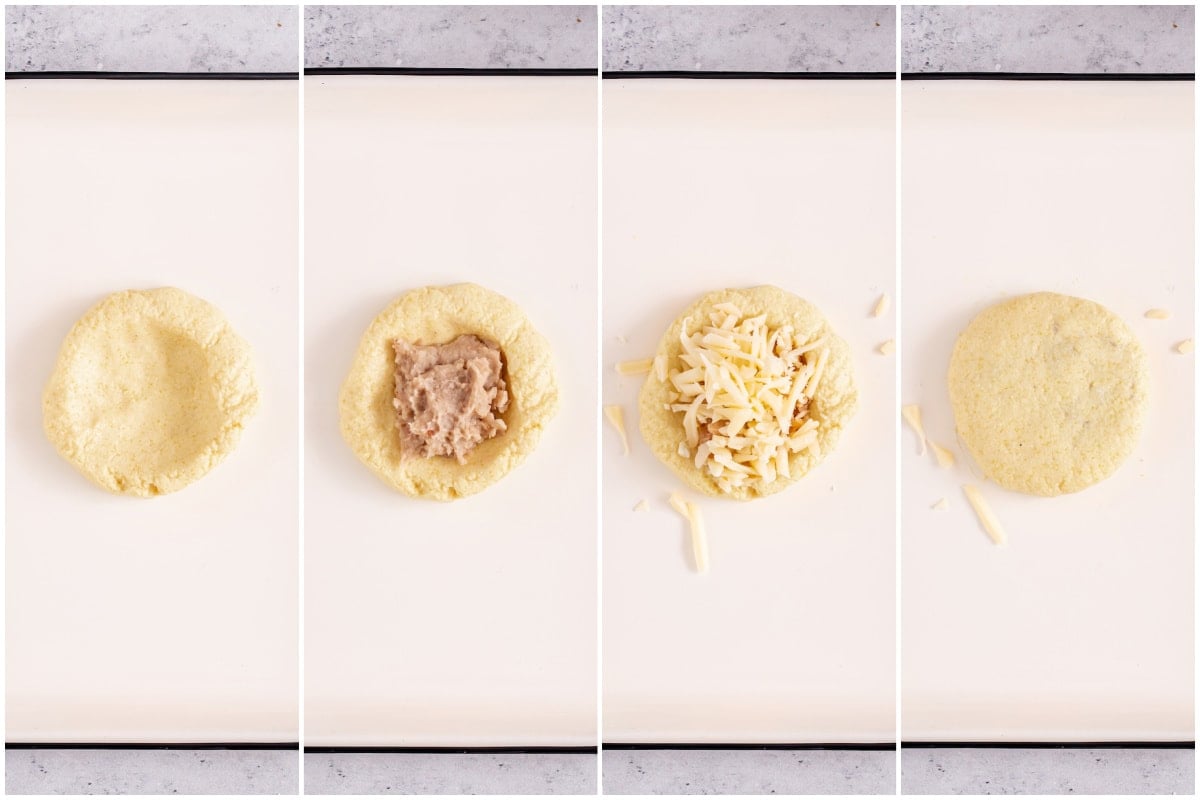 Step 3- Cook 
Add a small amount of cooking oil to a non-stick pan and heat it. Cook the pupusas in the pan for 3 minutes per side until lightly browned.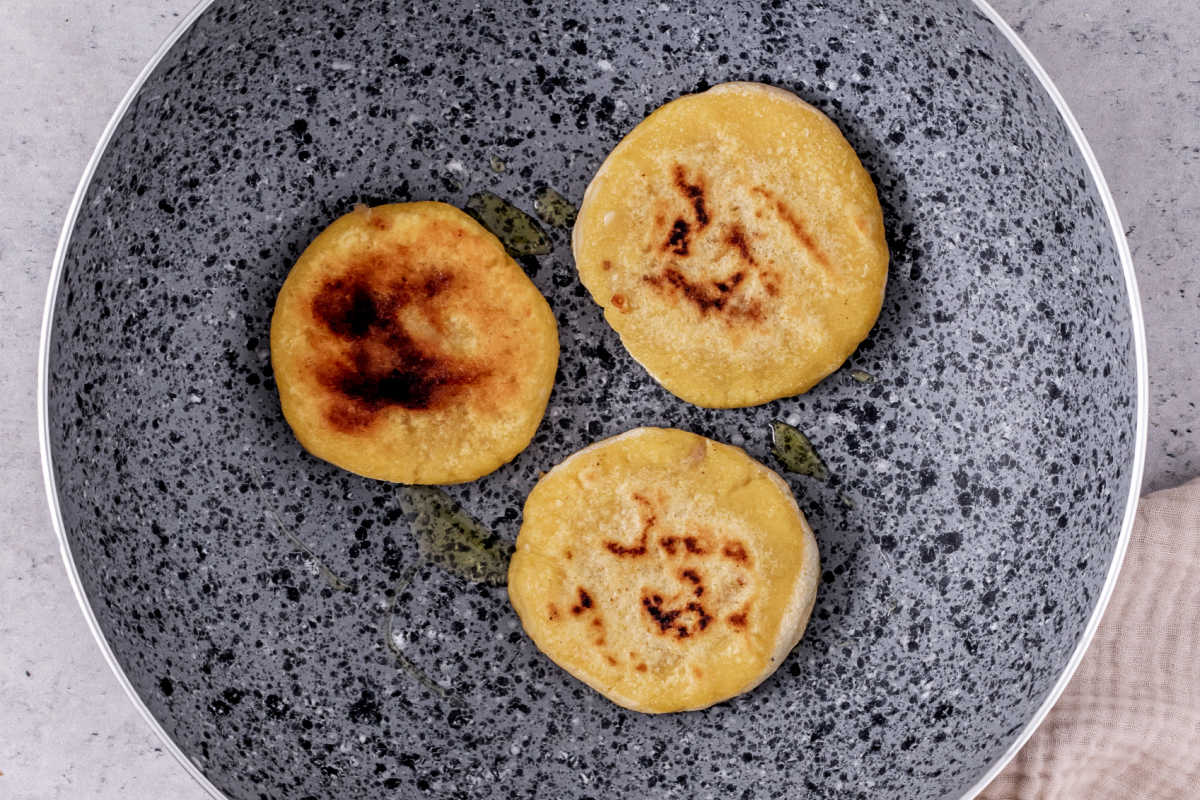 Tips to make the best recipe
Use an ice cream or a cookie scoop to portion the dough evenly and make even-sized pupusas.

 

For an authentic Salvadoran experience, serve these with salsa and curtido. The latter is a traditional Salvadoran cabbage slaw.

 

Oil your hands lightly to prevent the dough from sticking to them.

 

If the dough tears while forming the pupusa, simply pinch it back together.

 

If you are making a big batch of them and need to keep them warm while you finish cooking all of them, turn on the oven to 200F degrees and keep the cooked ones there until it's dinner time.

 
Storage instructions
To store. Store leftovers in an airtight container in the fridge for up to 3 days. 
To freeze. Freeze them on a baking sheet first until they are solid. Then put them in an airtight bag or container and freeze them for up to 3 months. We typically don't keep them any longer because they are easy enough to make fresh,
To reheat. Reheat them in a skillet over medium heat or in the microwave at 15-second intervals until they are heated through.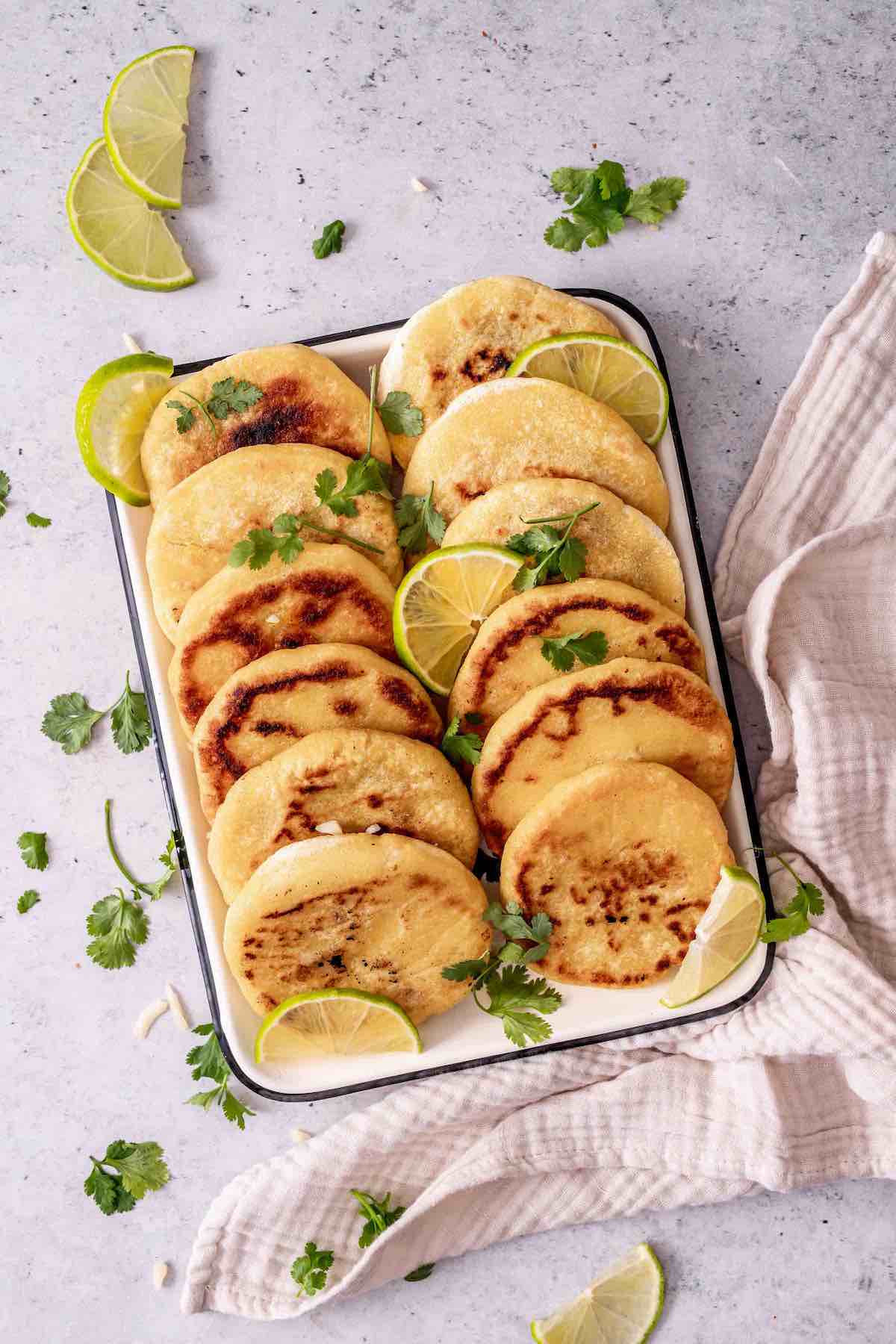 What to serve with this dish
While we typically make curtido (fermented cabbage salad), anything fresh and green pairs well with it, so here are some suggestions.
Frequently asked questions
What do pupusas taste like?
The flavor of pupusas depends on the fillings you use for them. The flatbread itself tastes pretty much like a corn tortilla. 
Is this recipe gluten-free?
Yes, pupusas are gluten-free so long as you don't use wheat flour to make them. Additionally, when using canned ingredients, such as refried beans, check the ingredient list to make sure they don't have any gluten-containing additives.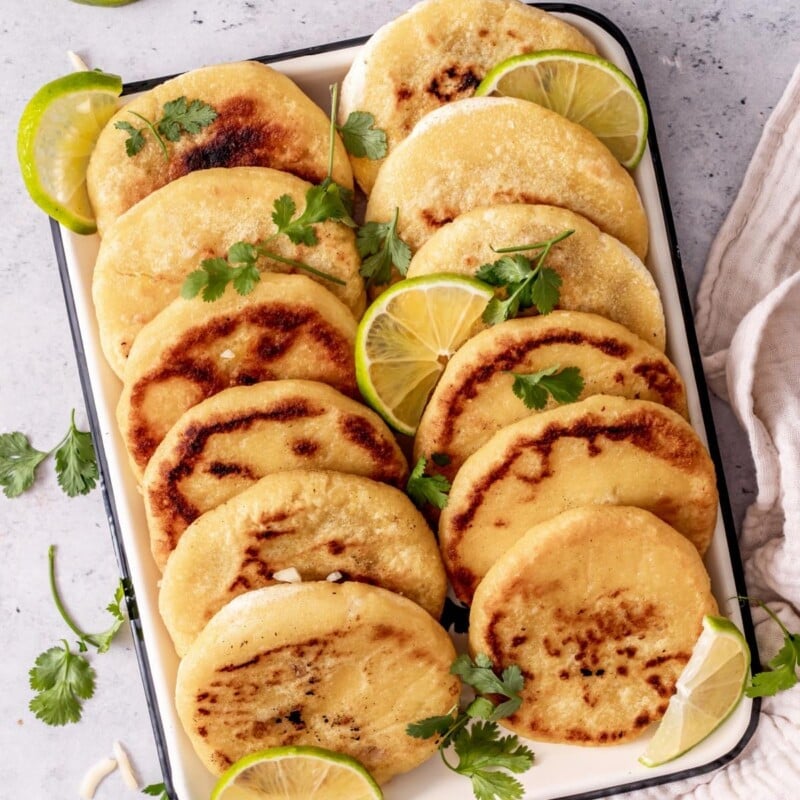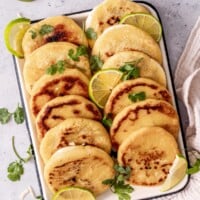 3

cups

masa harina

2

teaspoons

salt

2 3/4

cups

warm water

1

cup

mozzarella cheese

shredded

1/2

cup

refried beans

2

tablespoons

oil
In a mixing bowl, combine masa harina and salt. Add the water and mix with the spoon until it thickens. Start kneading with your hands until a smooth dough forms. Let it rest for 5 minutes.

Divide the dough into 14 balls. With your hands form a pocket in the middle of the ball. Place one teaspoon of refried beans and one tablespoon of shredded cheese in the pupusa dough. Using the edges, cover the filling and form a ball once again. Flatten each filled ball into a thick disk shape.

Add oil to a non-stick pan and place over medium heat. Once hot, add the pupusa to the pan and cook for 3 minutes per side until it starts browning.
Serving: 1pupusa | Calories: 124kcal | Carbohydrates: 20g | Protein: 5g | Fat: 3g | Sodium: 443mg | Potassium: 73mg | Fiber: 2g | Vitamin A: 98IU | Calcium: 114mg | Iron: 2mg | NET CARBS: 18g