If you have fresh salmon and are looking for a fun new way to use it, try our amazing Poke Salmon Cakes! Our salmon cakes have all the flavors of poke in a fun appetizer version. These are not your grandma's salmon cakes, folks!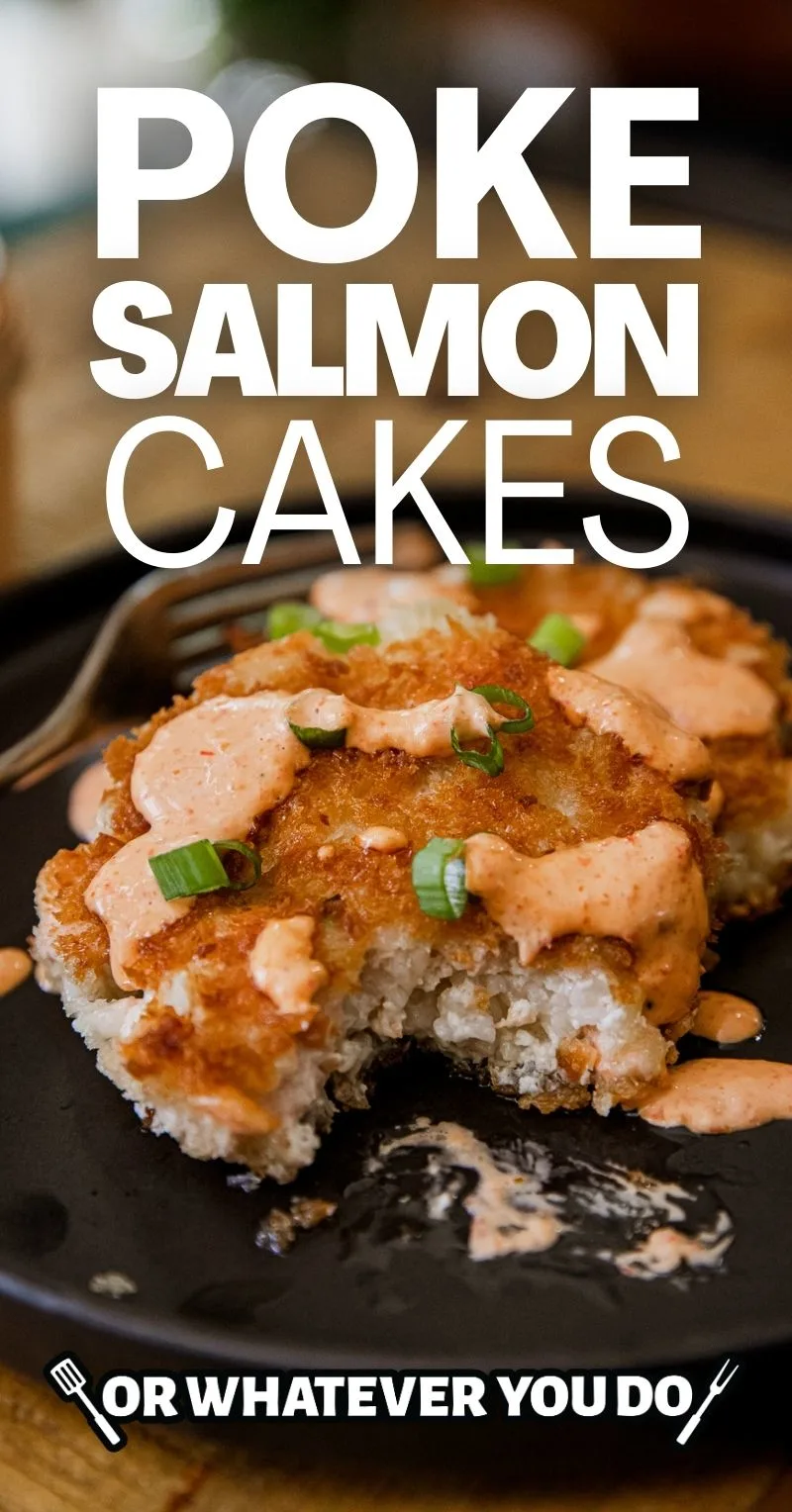 Poke Salmon Cakes
We catch a LOT of salmon around here. So much, we are always looking for ways to Bubba Gump it into something new and fun. We've done Smoked Salmon, Grilled Salmon, Salmon Benedict, Salmon Chowder, Salmon Dip, Cedar Plank Salmon, Foil Packet Salmon, WHOLE salmon, Salmon Pasta Salad, and everything in between too.
These particular salmon cakes were inspired by my love of poke bowls. I wanted to make a killer salmon cake recipe but I wasn't really in the mood for a regular run-of-the-mill salmon cake.
Poke Salmon Cakes are a little finicky to put together. You can really grab them and shape them. They are too loose and the mixture is pretty wet and sticky. That's okay though, because that's also what keeps them from being bready, dried-out messes.
Have a Traeger Crab-Stuffed Mushroom!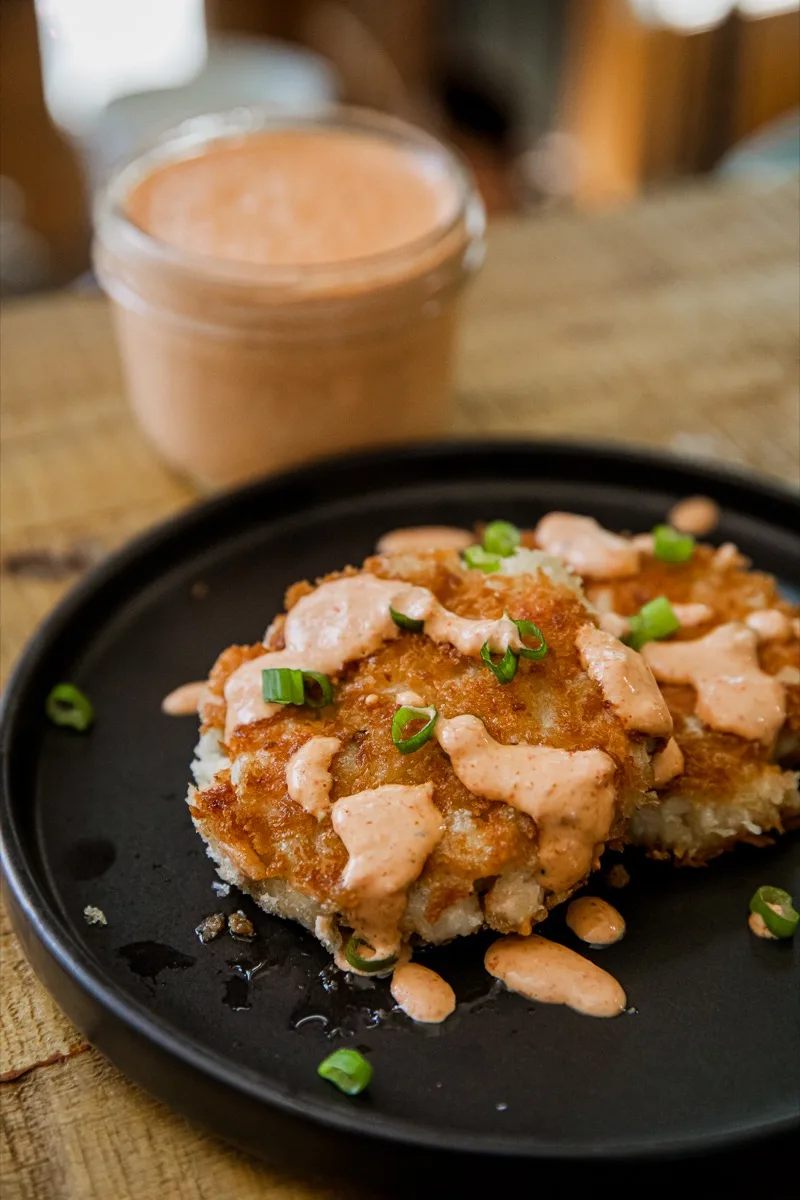 Poke Salmon Cakes shopping list
Wondering if you have to hit the store? Here's the list of items you'll need to make this recipe. For specific amounts, please refer to the printable recipe card at the bottom of the post.
Mayo
Sesame oil
Soy sauce
Egg white
Cooked white rice
Salmon
Scallions
Panko bread crumbs
Oil
Try our Smoked Armadillo Eggs!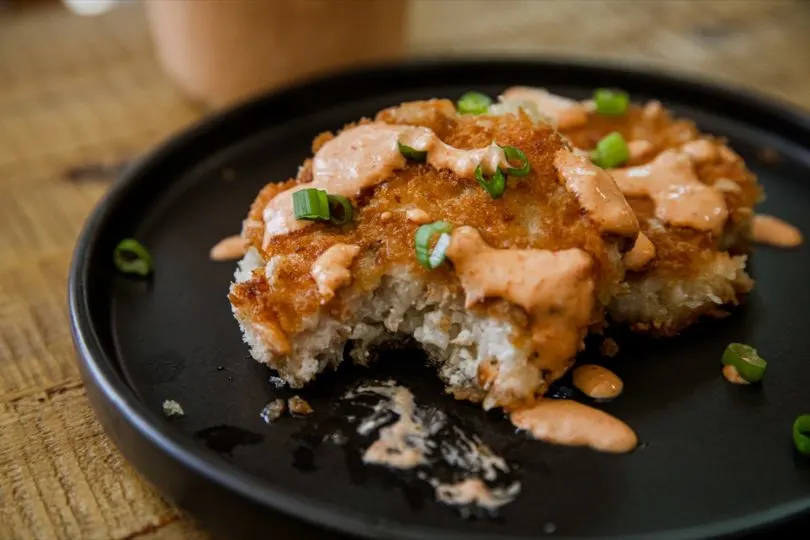 How to make Poke Salmon Cakes
This is just the overview so you can see what you're actually getting into here. When you are cooking, you'll want to use the full recipe at the bottom of the page.
Mix
Mix the cubed salmon and rice together gently. In a separate bowl, whisk together the sauce ingredients.
Gently combine the two until everything is evenly incorporated.
Heat
Get your oil preheating on the stovetop over medium heat.
Patty time
This part is tricky, but if you are patient and careful it'll work out just fine.
You put a tablespoon or so of the panko bread crumbs on a plate with low sides. Then, SPOON some of the salmon mixture on top of the panko. It'll naturally flatten out a little in the mixture. Then you put some panko on top and slide the patty into the hot oil.
Cook
Repeat the patty process, slide the patties into the hot oil and cook on both sides until they are golden brown.
Enjoy
Serve with sriracha mayo or our togarashi aioli!
Our Crab Cakes are popular apps too!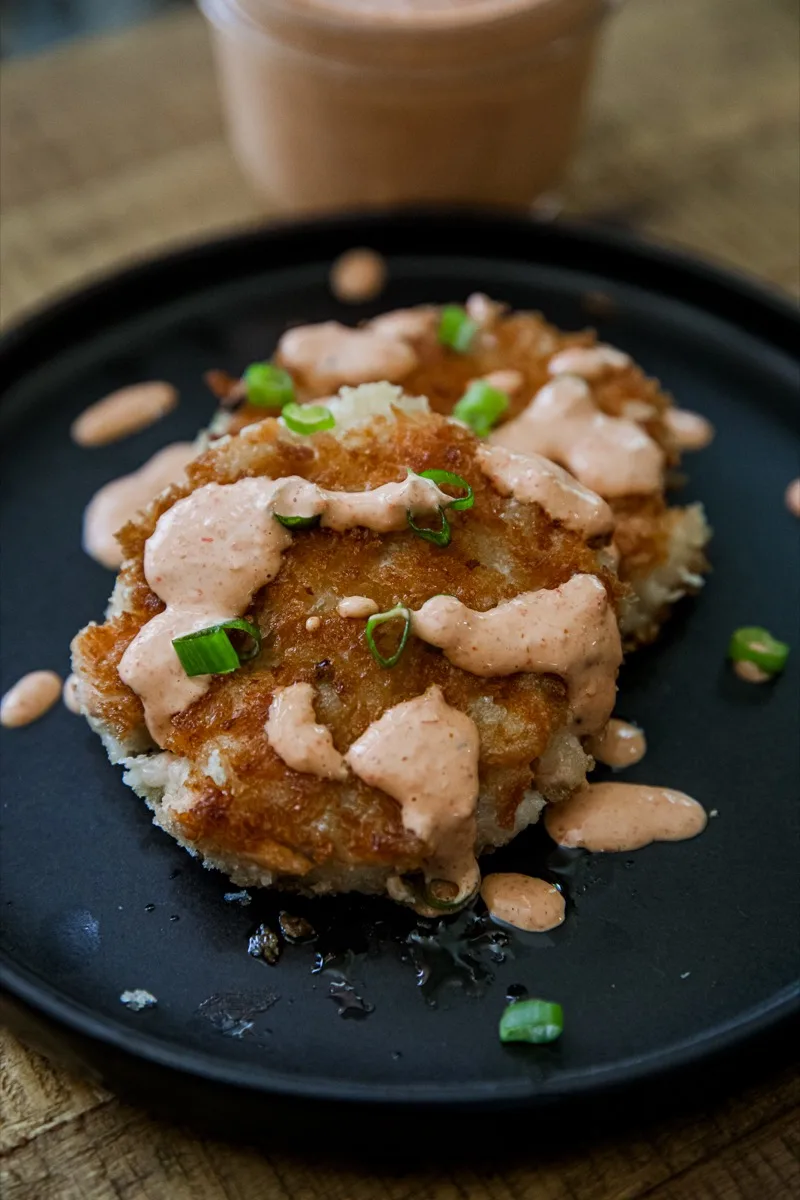 Poke Salmon Cakes FAQ
Help! They just fall apart when I try to form cakes with my hands!
Yeah, these cakes are kind of finicky to get into the pan, but the end result is worth it. The key is, DO NOT USE YOUR HANDS. You have to use a spoon, gently place a heap of the salmon mixture into the panko crumbs, lightly coat with panko, and then kind of slideeeeee the cake gently into the hot oil. The heat will help these to stay together after they are cooked.
Can these be made in advance?
They can, but they are best served right after they are fried. If you do make them ahead of time to bring somewhere, they can be served cold. They are poke-style, which isn't typically served warm (or cooked, for that matter).
What's the best way to store and reheat leftovers?
Store these in an airtight container in the fridge for a day or two, max. Personally I'd skip the reheat and just serve them cold if you made too many for one sitting, but if you prefer them warm, gently reheat in an air fryer or in a pan on the stove, covered.
Can you substitute canned salmon in this recipe?
Please, for the love of all that is good food, no. There are some things that canned salmon works well for, this does not happen to be one of them. Use fresh cubed salmon for this recipe for the best results.
Get all of our Appetizer Recipes here!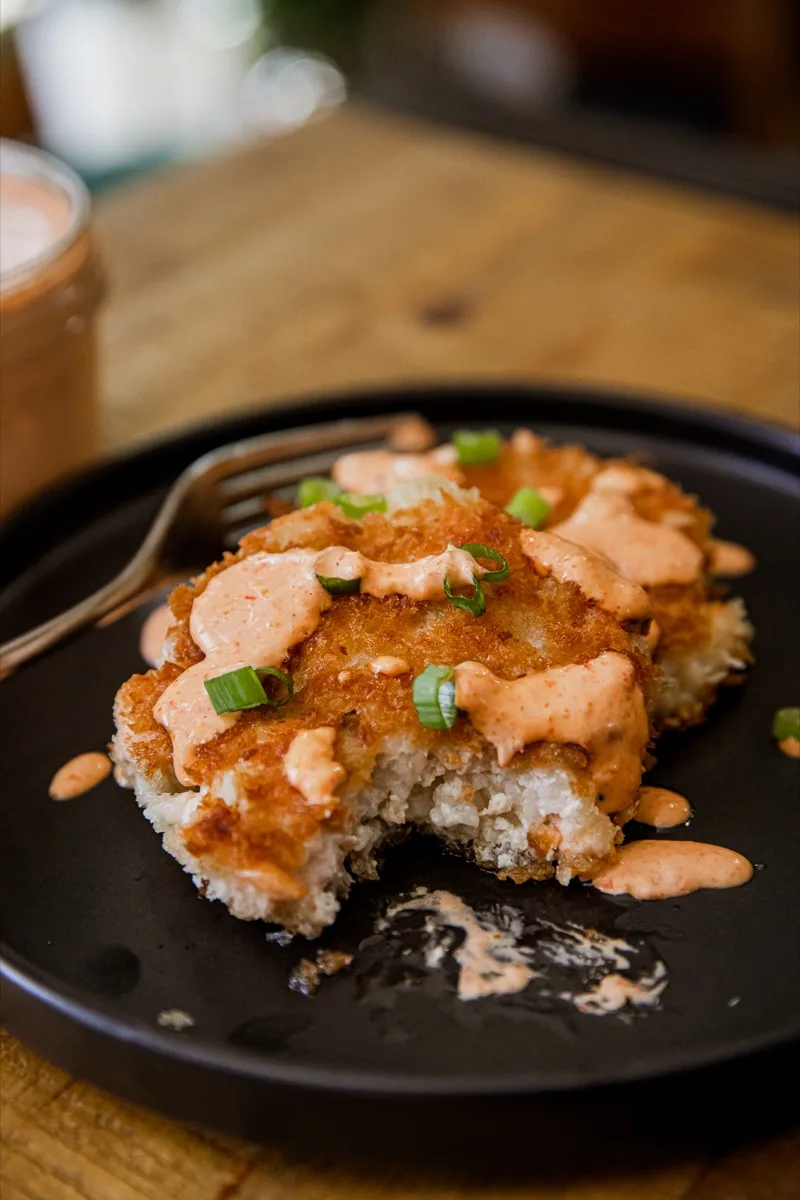 More great salmon recipes to love!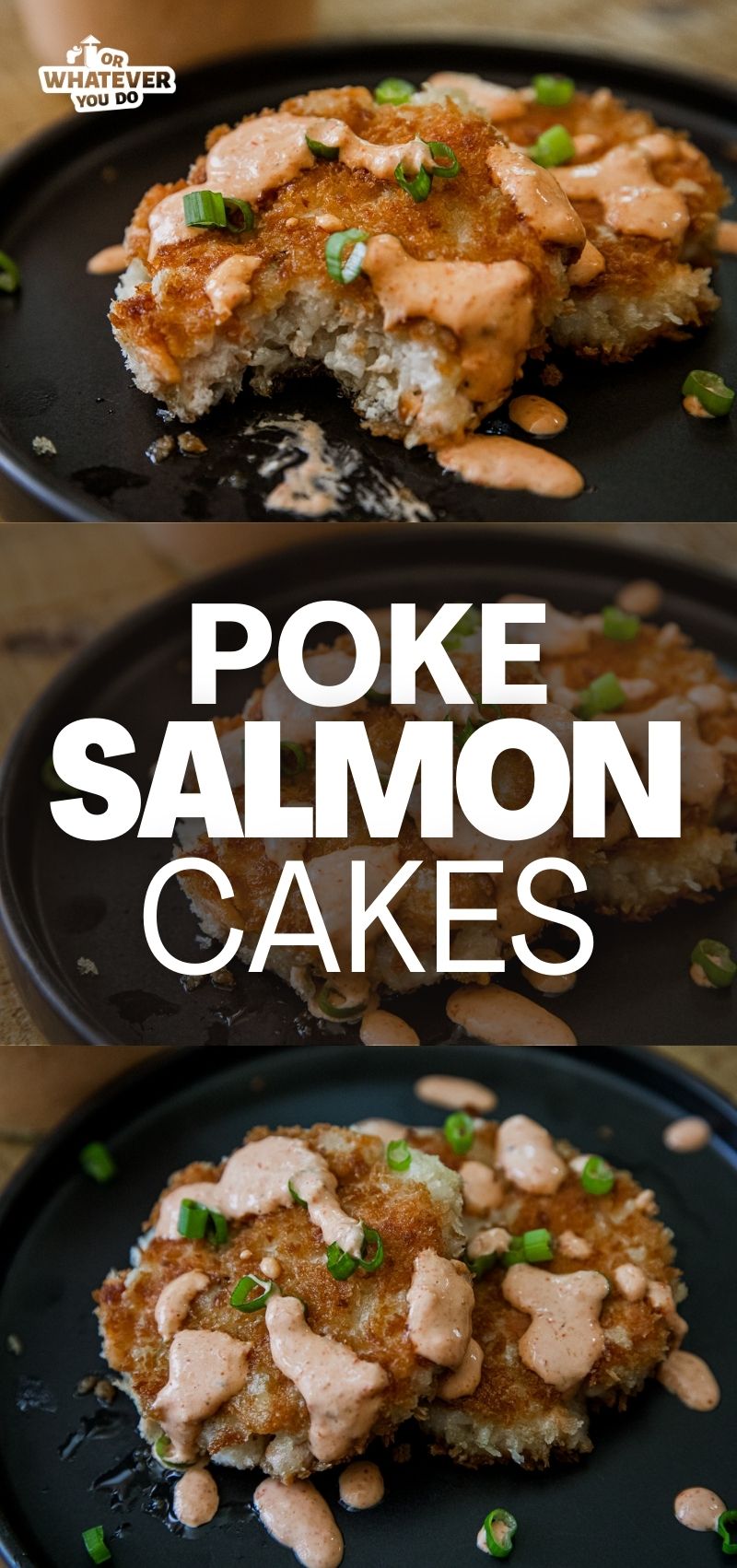 Prep Time
10 minutes
Cook Time
10 minutes
Total Time
20 minutes
Ingredients
1/4 cup mayo
1/2 teaspoon sesame oil
1 teaspoon soy sauce
1 egg white
1 cup cooked white rice (cold)
2 cups fresh cubed salmon
2 tablespoons chopped scallions (or green onions)
1/2 cup panko bread crumbs
1/3 cup oil
Instructions
Take your fresh cubed salmon and put it into a bowl. In a separate bowl, mix together the mayo, sesame oil, soy sauce, and egg white. Whisk until fully combined and you can't see any of the egg white in the mix.
Put the salmon and rice into the bowl with the sauce and gently stir so everything is evenly incorporated. The mixture will be VERY wet.
Place a non-stick skillet on the stovetop over medium-high heat and put the oil in it to preheat.
While the oil preheats, place a couple of tablespoons of the panko bread crumbs onto a plate. You only want enough to coat one cake at a time.
Using a large spoon, take a heap of the salmon mixture and put it onto the panko. This part is messy and you will not be able to form "cakes" in your hands, so don't try. That's by design. Coat the outside of the cakes with panko, use the spoon to gently keep the cake together, and then slide the cake carefully into the hot oil from the plate.
Repeat with the rest of the mixture, while watching the cooking salmon cakes and carefully flipping with a spatula once the bottom is browned. It is okay if they aren't fully cooked all the way through. You just want it warm in the middle and heated enough to set the egg white, which helps keep the salmon cakes together.
Promptly remove from the pan once both sides are golden brown.
Serve with our togarashi aioli or some sriracha mayo.
Recommended Products
As an Amazon Associate and member of other affiliate programs, I earn from qualifying purchases.
Nutrition Information:
Yield:
6
Serving Size:
1
Amount Per Serving:
Calories: 404Total Fat: 29gSaturated Fat: 4gTrans Fat: 0gUnsaturated Fat: 24gCholesterol: 51mgSodium: 229mgCarbohydrates: 14gFiber: 1gSugar: 1gProtein: 19g
Nutrition data provided here is only an estimate.