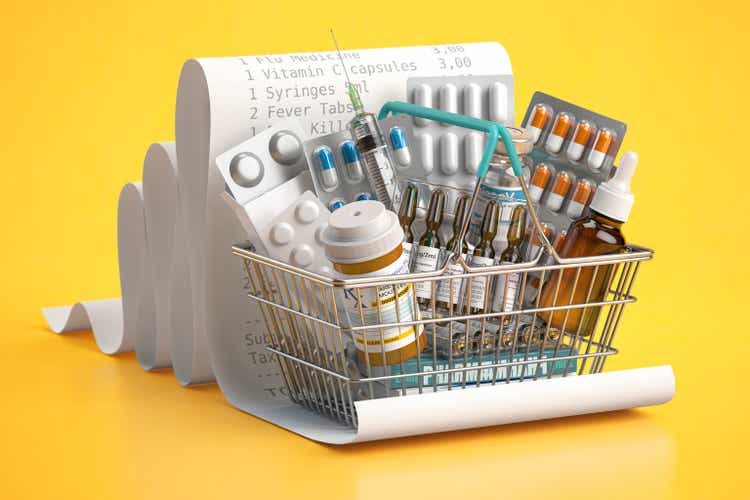 A recently introduced piece of legislation in the House that would allow drug price negotiations and inflation rebates on behalf of those with private insurance could potentially harm pharma companies' bottom line.
The Lowering Drug Costs for American Families Act (H.R. 4895), introduced by a trio of Democrats — Frank Pallone (N.J.), Richard Neal (Mass.), and Robert Scott (Va.) — in late July aims to expand drug cost relief measures for Medicare seen in the Inflation Reduction Act to those insured privately.
If passed by the House and Senate and signed into law, it could potentially benefit 164M people who receive health coverage through their jobs and more than 16M individuals who have coverage through heath insurance marketplaces.
In a news release, the congressmen note that the drug rebate savings alone for those in private insurance plans would be as much as $40B over the next 10 years.
The bill is aggressive in terms of the number drugs that would be subject to negotiation — 50. The Inflation Reduction Act calls for just 10 drugs to be negotiated for Medicare Part D starting in 2026, though that number would increase in subsequent years.
The drug industry trade group, Pharmaceutical Research and Manufacturers of America (PhRMA), as well as several drugmakers, including Johnson & Johnson (NYSE:JNJ), Merck (NYSE:MRK), and Bristol-Myers Squibb (BMY), are challenging Medicare drug price negotiations in the courts.
Despite the litigation, Democrats appear undeterred in their efforts. "It shows that far from being scarred by recent litigation from the pharma industry against the original legislation, the government is aiming to go even further in cutting US drug prices, which are typically the highest in the world," said Gustav Ando, VP, pricing and market access, at analytics firm GlobalData.
However, the legislation could have a hard time passing the House given the chamber is controlled by Republicans.
"Many Republicans had voiced opposition to the Inflation Reduction Act last year and the House Democrats will have difficulties passing the [new] legislation through the House," noted GlobalData pharma analyst Cyrus Fan. "Any successful legislation that builds off from the Inflation Reduction Act could signal further policy changes for US drug pricing."
The list of the first 10 drugs subject to Medicare price negotiation for 2026 will come from CMS by Sept. 1. Drugs from the following pharmas, based on Medicare Part D spend, could be on it: Pfizer (NYSE:PFE), Eli Lilly (LLY), Merck (MRK), Bristol-Myers Squibb (BMY), AbbVie (NYSE:ABBV), Regeneron Pharmaceuticals (REGN), Amgen (AMGN), and Roche (OTCQX:RHHBY).
More on drug pricing reform
Medicare Part D drug price increases far exceed inflation – AARP
Medicare revises guidance on drug price negotiations amid lawsuits
Pfizer, AbbVie, BMS among firms at risk of U.S. drug price negotiations – report
Prescription drugs make up a rising share of Medicare spending – study