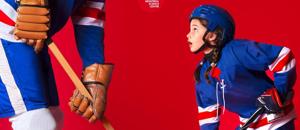 From April 7 to September 10, follow the action as it moves from the ice to the Montreal Science Centre during the new feature exhibition Hockey: Faster Than Ever, where new and seasoned hockey fans alike can rediscover their favorite sport from a whole new angle and better understand how it became, and remains, our national sport.
Over two dozen interactive games to enjoy with the whole family
The very first interactive exhibition to explore the history, science, technology, and innovation of ice hockey, the exhibition Hockey: Faster Than Ever reveals some of hockey's best kept secrets to audiences big and small.
This new exhibition invites visitors to explore the world of hockey and discover why our national sport is one of the fastest in the world. The exhibition's different zones allow visitors to visit a locker room of the stars, get behind the wheel of a Zamboni, explore equipment from the sport's early beginnings to the state-of-the–art equipment of today, test their performance in the Hockey Lab, experience the tunnel walk and feel all the pregame excitement just like players before they step onto the ice… and more!
Hockey: Our national passion
Hockey is an inseparable part of our cultural fabric. So, where does this profound love for this sport come from? Developed by the Montréal Science Centre's own team in collaboration with Flying Fish, this new exhibition was designed to give audiences a chance to explore the origins of hockey and learn how it has evolved to become one of today's biggest sports.
Looking above and beyond what happens on the ice, audiences can also learn how Canada has left its mark on the game's history and took part in its evolution and innovation, learn about the first official hockey game — which took place in Montréal — and learn how the very first hockey sticks were made by the Mi'kmaq, Indigenous peoples who were among the original inhabitants of the Atlantic provinces, including parts of what's known today as Québec's Gaspé Peninsula.
After enjoying breakaways through all of the exhibition's zones, family members big and small will have learned:
— What makes for a good slap shot?
— Why a hockey helmet is a player's best ally?
— What the first hockey sticks and pucks were made of?
— What the first Stanley Cup looked like?
— Why the Zamboni resurfaces the ice, and the ideal conditions for the best hockey ice?
— Why hockey equipment is so stinky after a game?
For more info, visit their website.
– Jennifer Cox