Made from mostly pantry items, these one-pot curried chickpeas, spiced with Thai red curry paste and coconut milk, come together in a snap and are so flavorful and satisfying.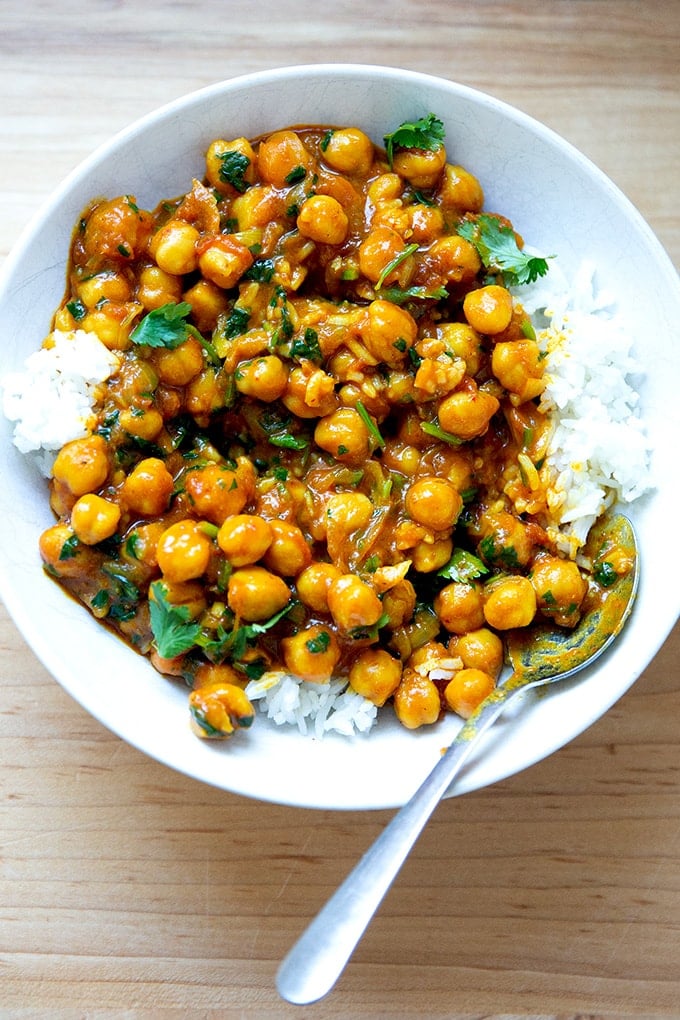 A few weeks ago, I set out to make this one-pot Thai chicken curry for dinner but discovered I had received boneless skinless chicken thighs (as opposed to bone-in, skin-on) in my grocery delivery.
Lacking the creativity to pivot, I made the curry anyway, reducing the cooking time in the oven from 1 hour to 30 minutes.
My plan mostly worked: the chicken thighs emerged moist and tender, and the sauce, while less concentrated than usual, did its job of flavoring the mounds of rice my children would be happy eating without any chicken at all.
Due to the abbreviated cooking time, however, I was left with a skillet full of sauce, and as I began cleaning up the kitchen, I pondered my options: saving it and cooking more chicken in it the following evening? Returning it to the oven filled with cauliflower florets or cubes of tofu or both? Saving the sauce to poach some fish in it later in the week?
All of those options likely would have worked but I decided to throw in a can of chickpeas instead and return the skillet to the oven.
Friends! The chickpeas were so tasty! I had planned on saving them for lunch the next day, but Ben and I polished them off. Suspecting the children would approve, too, I made them the following evening, and when my pickiest eater asked if there would be leftovers for her to pack in her thermos for lunch the next day, I knew I had a keeper.
The beauty of this recipe is that it's made from nearly all pantry items (see photo below). The one item you might not have is the Thai red curry paste. I buy it at my local Asian market, but you can find it online as well. All of the other items are easy to find and, as noted, might already be in your pantry.
How to Make One-Pot Curried Chickpeas, Step by Step
Gather your ingredients. You'll also need cilantro (if you like it).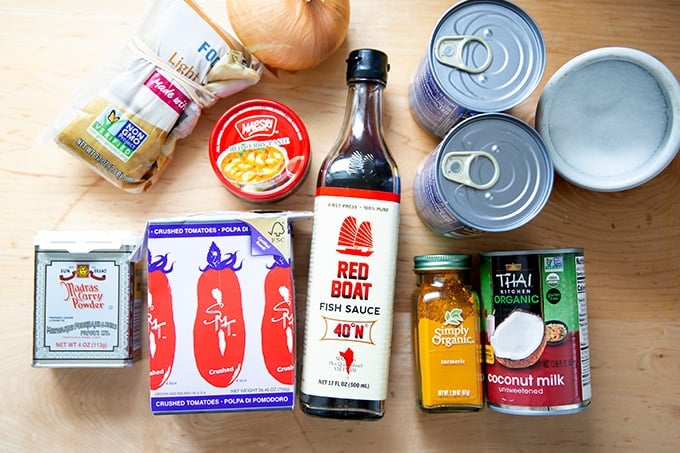 First, sauté an onion in olive oil for about 5 minutes.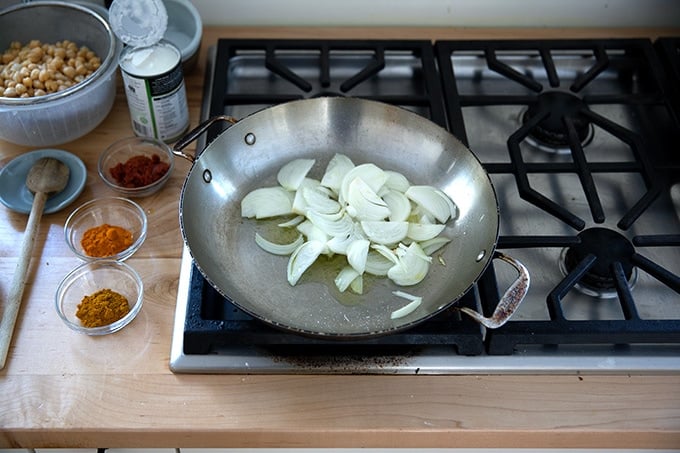 Add spices: curry powder, turmeric, and Thai red curry paste.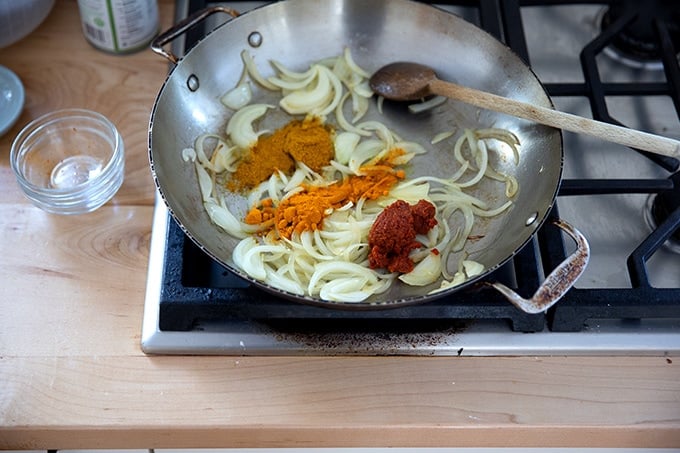 Stir until the onions are coated in the spices, then add crushed tomatoes — I'm using canned (boxed), but you can use fresh in the summertime.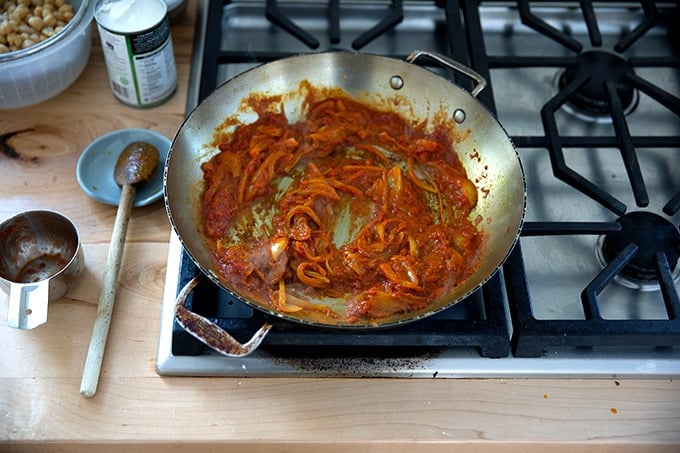 Add 1 can of unsweetened coconut milk, then fill the empty can with water and add it to the pot as well.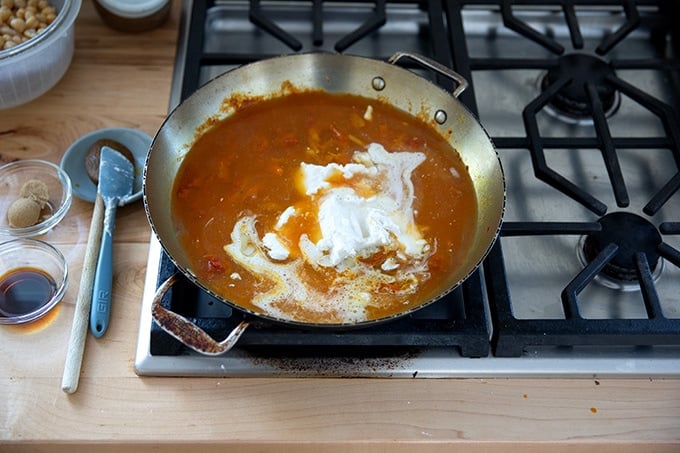 Stir to combine, then add brown sugar, fish sauce (optional), and salt.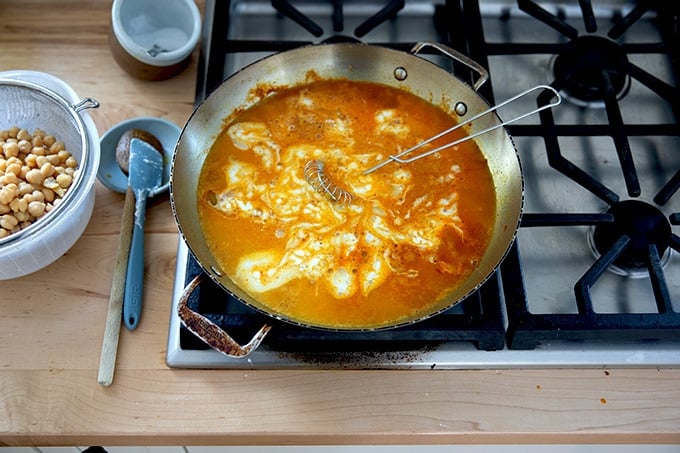 Add two cans of drained chickpeas, then bring to a simmer.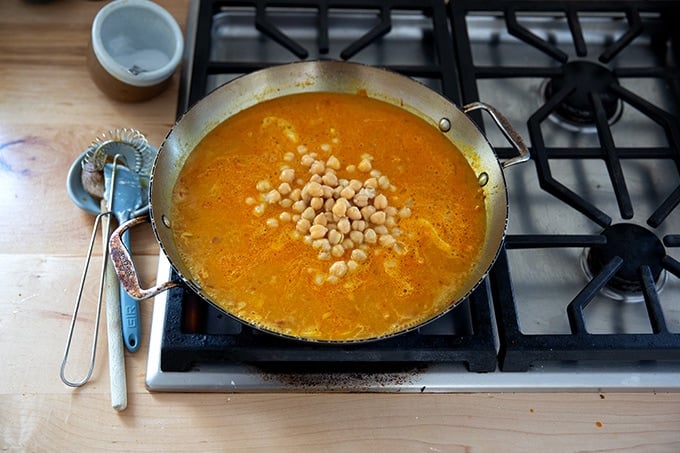 Transfer to the oven for 35 to 40 minutes.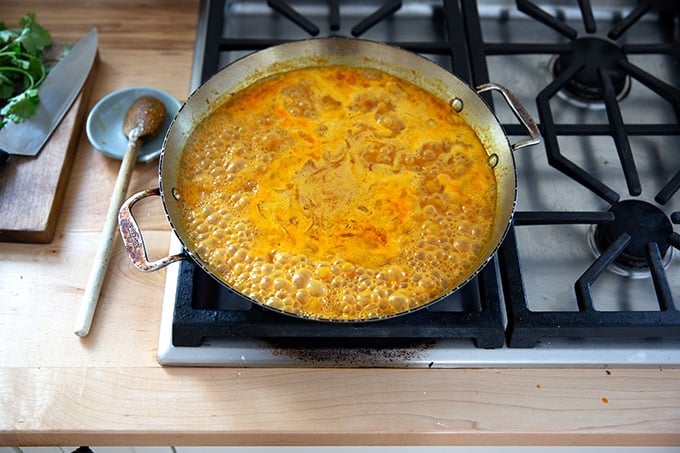 Depending on how saucy you like it, you can cook the chickpeas for more or less time. Chickpeas are thirsty, so they'll continue to soak up the sauce as they sit, and if you have leftovers, you'll likely need to add water when you reheat.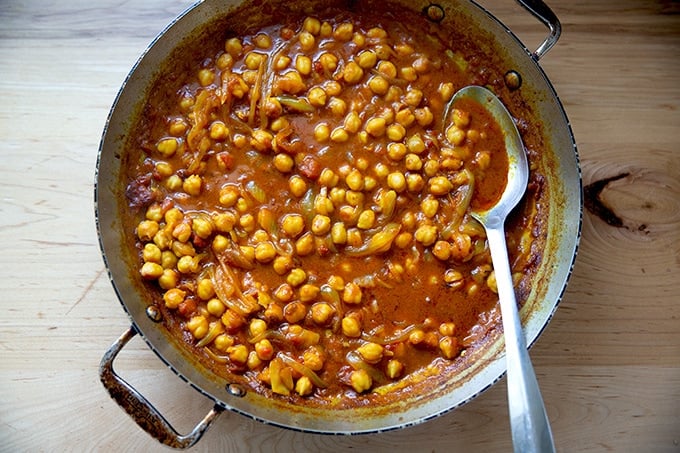 Add cilantro, if you wish. With the chicken variation of this recipe, I wilt in spinach at the end, which would be nice here, too.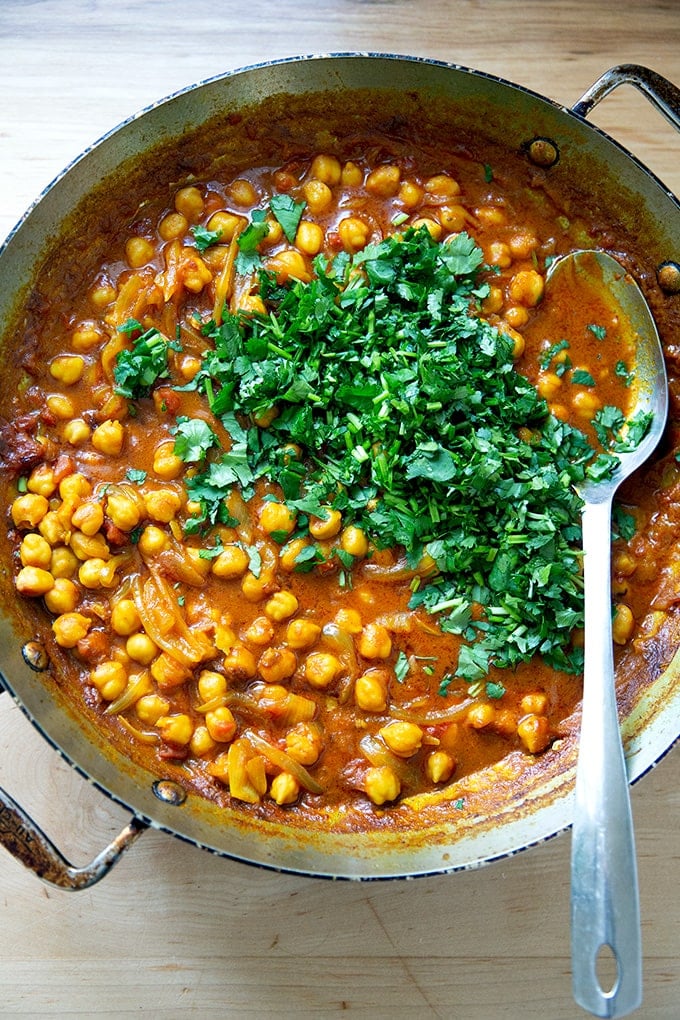 Stir to combine, then serve with…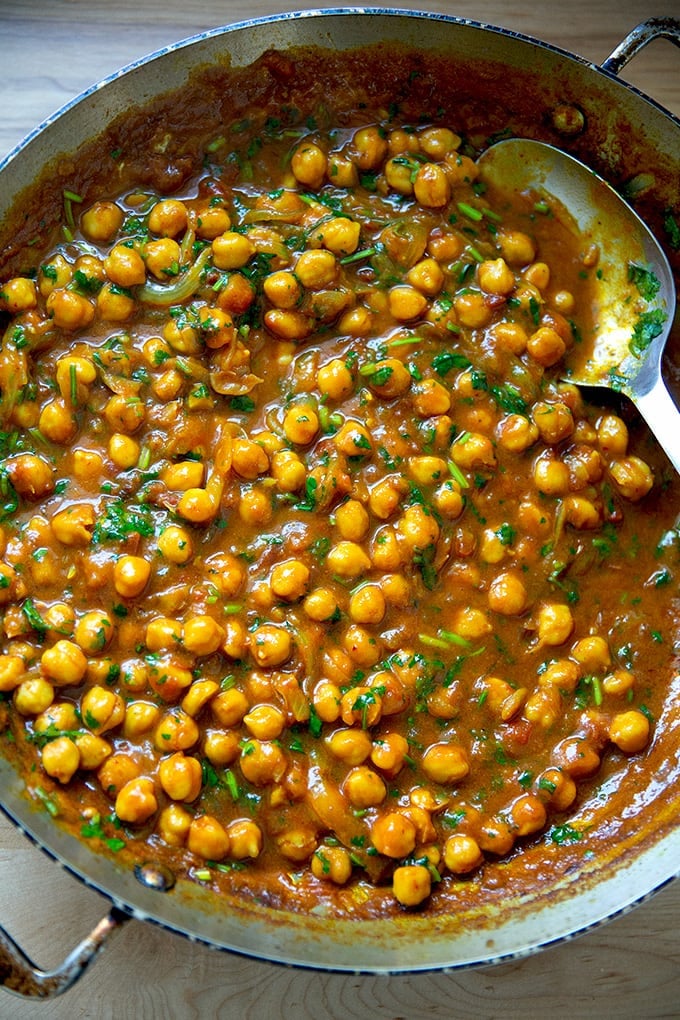 … rice or bread or whatever you wish. I've been serving it with basmati rice, made in my Instant Pot, and everyone has been loving it.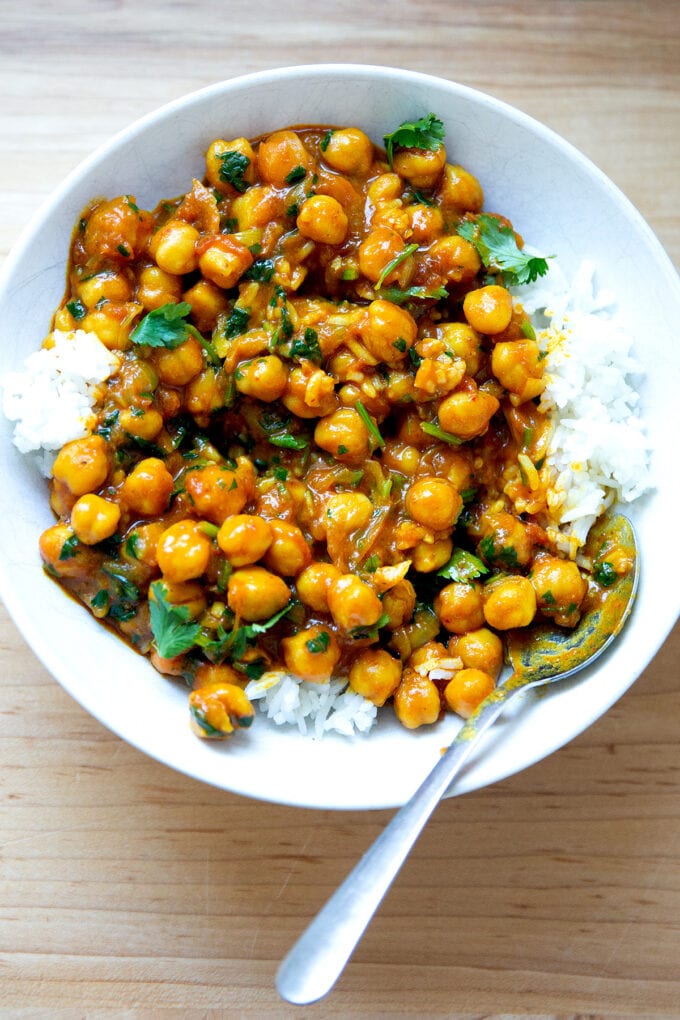 Print
Description
This chickpea curry is an adaptation of this chicken curry recipe I learned to make while working at Fork in Philadelphia many years ago. In place of 8 bone-in chicken thighs, I've swapped in two cans of drained chickpeas. 
A few notes:
I have only ever made this recipe with canned chickpeas, but if you wish to cook the chickpeas from scratch, here are two methods I love: Simple Slow Cooker Chickpeas (I make these often) and How to Cook Chickpeas From Scratch. 
Thai red curry paste. Maesri is the brand I buy at the Asian market. You can find it online, too. I use roughly 1.5 tablespoons for this recipe, which makes the curry spicy but not outrageously so. If you are sensitive to heat, start with a tablespoon and adjust the sauce with more at the end.
Fish sauce: To keep this recipe vegetarian (vegan actually), simply omit it. You'll likely need to add a bit more salt to the cooking liquid.  
---
1 tablespoon

olive oil

1

onion, sliced
kosher salt

2 teaspoons

turmeric

2 teaspoons

curry powder

1

to

3

tablespoons Thai red curry paste (see notes above)

1 cup

crushed tomatoes (canned) or 3 to 4 plum tomatoes, chopped

1

can (13.5 oz) unsweetened coconut milk

1 tablespoon

fish sauce, optional, see notes above

2 teaspoons

brown sugar

2

cans (15 ounces each) chickpeas, drained and rinsed or

3 cups

cooked chickpeas, see notes above

1/2 cup

cilantro, roughly chopped, or more or less to taste
For serving:
cooked Basmati or Jasmine rice (or any rice you like)
---
Heat oven to 400ºF.
In a large sauté pan over hight heat, heat 1 tablespoon of olive oil. Add the onions and a pinch of salt, and immediately turn the heat to medium-low. Stir every so often, and cook until the onions soften and begin browning at the edges, about 5 minutes.
Add the curry powder, turmeric, and Thai red curry paste to the onions, and stir until the onions are coated in the spices, about a minute. Add the crushed tomatoes and stir to combine. (If you are using fresh tomatoes, cook until they just begin to soften, about a minute.) Add the can of coconut milk. Fill up the empty can of coconut milk with water and add to the pan. Add the fish sauce, if using, and brown sugar to the pan and whisk to combine. At this point, I've been adding 1/2 teaspoon kosher salt, but you may need more or less to taste depending on if you are using the fish sauce and the brand of curry paste you are using. I suggest bringing the mixture to a simmer, tasting it, then adding salt to taste. You can always add more at the end, too. 
Add the chickpeas and bring to a simmer. Transfer the pan to the oven uncovered and cook for 35 to 40 minutes — the liquid will reduce considerably but depending on how saucy you want it, you may want to cook it for more or less time. Note: If you make this ahead, you will need to add more water upon reheating. 
Add cilantro and stir. Taste. Adjust with salt to taste. Spoon rice into bowls. Top with the chickpeas and sauce, and serve immediately.
Prep Time:

15 minutes

Cook Time:

35 minutes

Category:

Dinner

Method:

Stovetop, Oven

Cuisine:

American, Thai
Keywords: chickpeas, curry, red curry paste, coconut milk