By New Parent Smell
originally published: 07/24/2020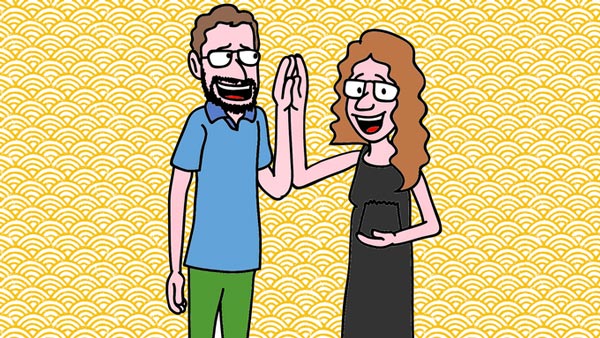 What happens when a pair of professional stand-up comedians become new parents? Jokes in their set are bound to be influenced by parenting and may become harder hitting between the spouses.  When Rutgers alum Ben Rosenfeld and his wife Michelle Slonim Rosenfeld found themselves in that situation, the jokes led to an illustrated guide to pregnancy and parenting that is very different from your usual baby books. Their book, New Parent Smell, gives both comedians the spotlight as it bounces back and forth with jokes by each.  
For Ben, this is his second illustrated book (first was Russian Optimism: Dark Nursery Rhymes To Cheer You Right Up) and comes a few months after his fourth comedy album, Don't Shake Your Miracle was released.  A live comedy special was later made available on Amazon Prime.
Michelle, a member of the Friars Club, has performed stand-up throughout New York City and has appeared on web shows for Comedy Central and HBO, and has been on SiriusXM Radio.  She is also a seasoned producer, having worked on 24 Hour Celebrity Plays on Broadway and has produced shows at Webster Hall and Le Poisson Rouge.
The pregnancy jokes started about four or five months into pregnancy after Michelle began showing and they had started telling people the news.
"I think we started having pregnancy jokes around the same time," recalled Ben.  "While our two comedic styles are different – I'm darker, she's wackier – we both talk about our personal lives on stage, so whatever is happening that month or year is gonna be in the act.  And the pregnancy, birth and baby, was definitely the biggest event of the year for us."
---
The article continues after this ad
---
---
"We don't ask each other for permission first," he continued.  "We operate on an ask for forgiveness basis. If it's funny enough, the other person has to suck it up.  Unless they really hate it, then it'll stop being said.  But we haven't had that happen yet.  Plus usually we'll run new ideas by each other asking, 'Do you think this is funny?' And if the other says, 'It's just mean about me,' we will rewrite it or not do it – unless we're in an argument, then we might do it once to get it out of our system.  Our only 'hard' rule is each of us will only talk about their own parents on stage, but not about their in-laws."
For Ben, his upbringing is based on his native Russia and growing up in America after the big move.  He has long joked about being a double major at Rutgers University in both Economics and Philosophy – a combination that proves he knows how to make money, but just doesn't see the point.
Michelle jokes about her upbringing in the book by noting she was born in New York City and has a wide acting range that allows her to play a New York Jew, Long Island Jew, New Jersey Jew, Upper East Side Jew, or an Upper West Side Jew.
"We were inspired to create the book because we liked our pregnancy and new baby jokes, but as our daughter is now a full-blown toddler, we couldn't keep talking about being pregnant and a newborn," said Ben.  "So we thought a  book was a cool way of letting our pregnancy jokes live on and creating something that's a fun gift to give to your newly pregnant/new parent friends.  Michelle had us read a bunch of books when she was pregnant, but even the 'funny' ones weren't particularly funny.  So when you combine her research and my 'we can do better' – you get our book.  We have a lot of new material about toddlers, so if this does well, sequel!"
The book takes you on a journey into the world of parenthood with jokes and over 100 illustrations.  All of the jokes found in the book were actually performed on stage first, so they know the jokes work.
Jokes run the gambit from parenting to drugs and sex.  There's Michelle showing a pair of construction workers cat calling her in the city. "Dude, I'm due in one month," she says.  "Call me in two." And Michelle admitting that she loves playing the pregnancy card because it lets her cut lines: "The cafeteria, the bathroom, cocaine" and sending her mother pictures of the ultrasound which she says are "dick pics" for her (sort of a private joke that's explained in the book.)
Ben talks about being banned from the prenatal unit for cracking jokes; the way babies resemble guys on heroin; giving his daughter a cheap Disney Land experience with the car wash; and his simple, but effective, tip of attaching his cell phone on a holder around her neck so he will never leave her in the car by mistake.
Obviously, the jokes are not for everyone, but the book – and its illustrations by Jonkimpoy – will undoubtedly hit home with many.  And it's a relief to see that Ben hasn't fallen prey to dad jokes, at least not yet.
"I made two or three dad jokes early on when I was sleep-deprived," noted Ben.  "I wrote them down and performed them, while making fun of myself for knowing they were total dad jokes.  But I haven't become a lame dad joke machine, nor do I plan to.  Or maybe it is inevitable, and I have a horrible blind spot that your readers will tell me about."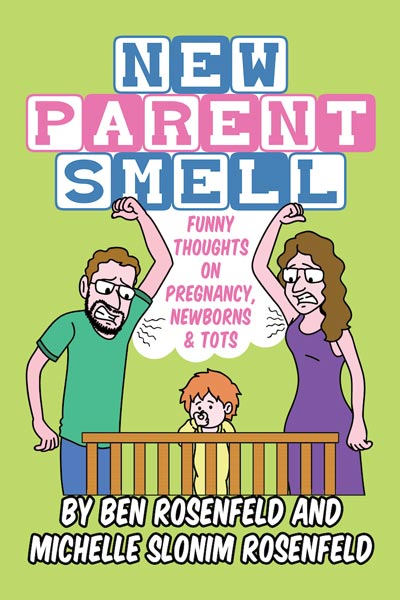 At least one thing is sure, Ben and Michelle will likely be able to promote the new book more than Ben was able to promote his last concert video special.  His book was released about five weeks before the pandemic hit America and had a nice run (reaching #1 on Amazon Music and #2 on Apple iTunes) before dropping out of the charts before the virus hit.  But the video version came out on Amazon Prime in March right as the virus was beginning to hit America.
"The upside is people were more home, so it may have gotten more views than it otherwise would've, but the downside is I didn't promote it because it felt tone deaf given the state of the world," explained Ben.  "Either way, I put out albums every couple of years, it's more of a 'body of work' situation for me than a 'this is my big break,' so I didn't have any 'why me?' type moments about it."
In July, Ben did his first live show in four months at The Stress Factory in New Brunswick.  The performance was outdoors with a pretty full audience.  Ben thinks regular, indoor comedy club shows will take a while to return, comparing them to Broadway theatres which are closed for the rest of 2020.
"As much as I'd love to be back at it in person, it's bad optics to okay people drinking and laughing indoors when schools and other more important indoor activities are not yet back to normal," he added.
Even still, both Ben and Michelle remain busy with their comedy careers as well as with parenting.  They both avoided performing stand-up virtually for the first two months, but eventually gave in and wrote a duo act.  They've also done a bunch of video comedy sketches.
"I've been testing a virtual game show as well that I want to sell as a TV show," said Ben.  "I wrote an actual children's book about being a bilingual child.  And I managed to get very slightly TikTok famous – meaning any video I post there gets thousands of views, but I'm still eligible for Medicaid."
The book is available at NewParentSmell.com