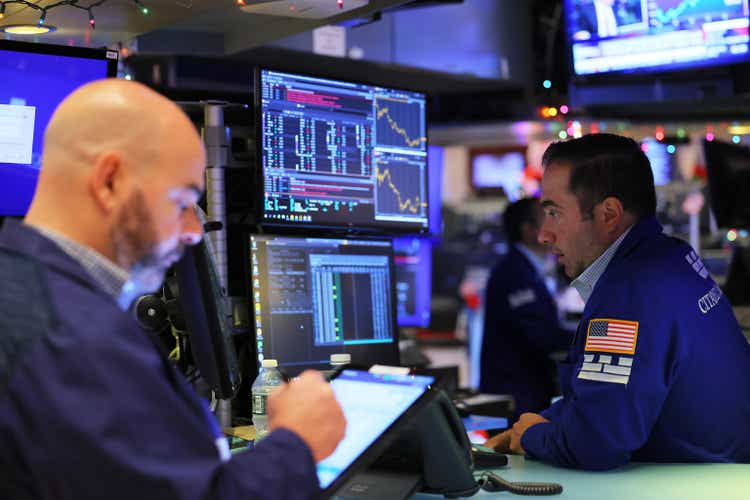 Wall Street indices traded slightly lower on Friday, with surging Treasury yields taking a breather, as sentiment was dampened by the turmoil in China's property sector and the growing likelihood of U.S. interest rates staying elevated for longer than expected.
The Nasdaq Composite (COMP.IND) fell 0.2% and the S&P 500 (SP500) slipped 0.1%. At the same time the Dow (DJI) traded near even. The S&P 500 (SP500) and Dow (DJI) were both on track to end the week ~2% lower, while Nasdaq Composite (COMP.IND) looks set to post a near 3% weekly loss.
China Evergrande (OTC:EGRNF), the world's most indebted property developer, filed for bankruptcy in the U.S., sparking fears of the ripple effects on China's economy that is already bucking under deflationary pressure.
Rates retreated, but remained near recent highs. The 10-year Treasury yield (US10Y) fell 5 basis points to 4.25% and the 2-year yield (US2Y) was down 3 basis points at 4.93%.
"After ignoring weeks of warnings intended to dampen enthusiasm, it feels like retail traders are finally getting the message," said Randy Frederick, managing director of trading and derivatives at the Schwab Center for Financial Research.
"Yields are too high, stock prices have gotten ahead of themselves, earnings are flat and China is stalling," he said. "This is not an ideal environment for unfettered bullishness."
The recent rise in yields have also led 30-year fixed-rate mortgages to top 7% this week, with affordability concerns leading to some potential headwinds for the housing sector.
Of the 11 S&P sectors, four were trading in the red, led by Communication Services. Meanwhile, energy stocks rose on the back of higher oil prices.
Among active stocks, Keysight (KEYS) was the top loser on S&P 500 (SP500) after a disappointing earnings report. Ross Stores (ROST), on the other hand, led gains on Nasdaq (COMP.IND) and S&P 500 (SP500) after a strong quarterly show.
More on the markets