This post may contain affiliate links. Please read my disclosure policy.
Lemony orzo and chickpeas are simmered in a lightly-spiced broth and tossed with spinach.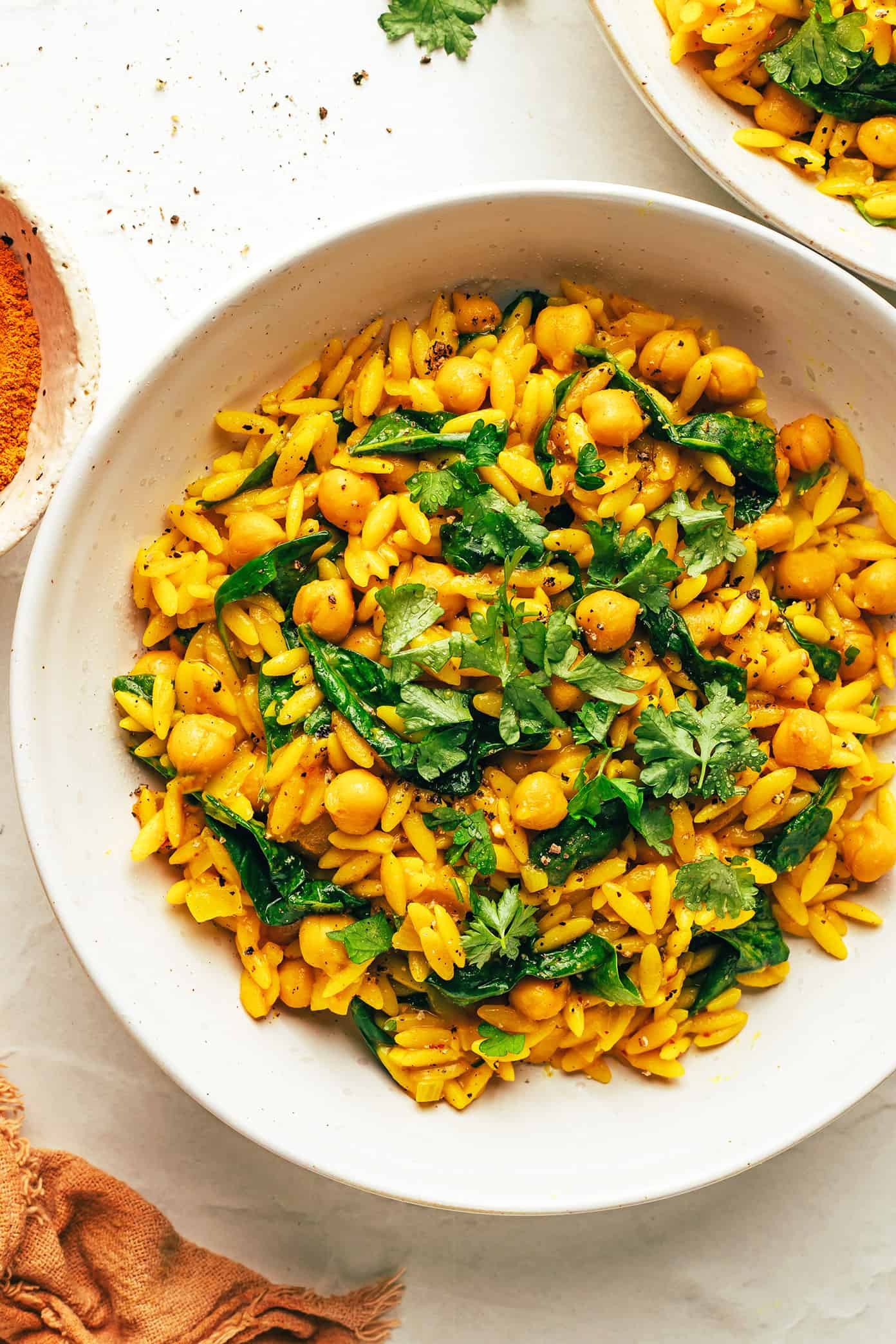 A new favorite 1-pan, 10-ingredient, 30-minute meal here in our house. ♡
Orzo and chickpeas are simmered in a golden broth with turmeric, cumin, onion, garlic, lemon zest and a hint of hot chili flakes until tender. Then just wilt in a few handfuls of baby spinach, add one final big splash of lemon juice, and sprinkle on some fresh cilantro (if that's your thing). And this gorgeous, flavorful, simple dinner will be ready to serve in no time!
We've enjoyed serving this one on its own for a simple vegetarian dinner, or adding some pan-seared salmon or shrimp on the side. Or we've found that this recipe also tastes just as delicious served cold as a pasta salad, making it a great option for picnics, potlucks, or grill nights this time of year.
However you serve these orzo and chickpeas, I hope you love them as much as we do!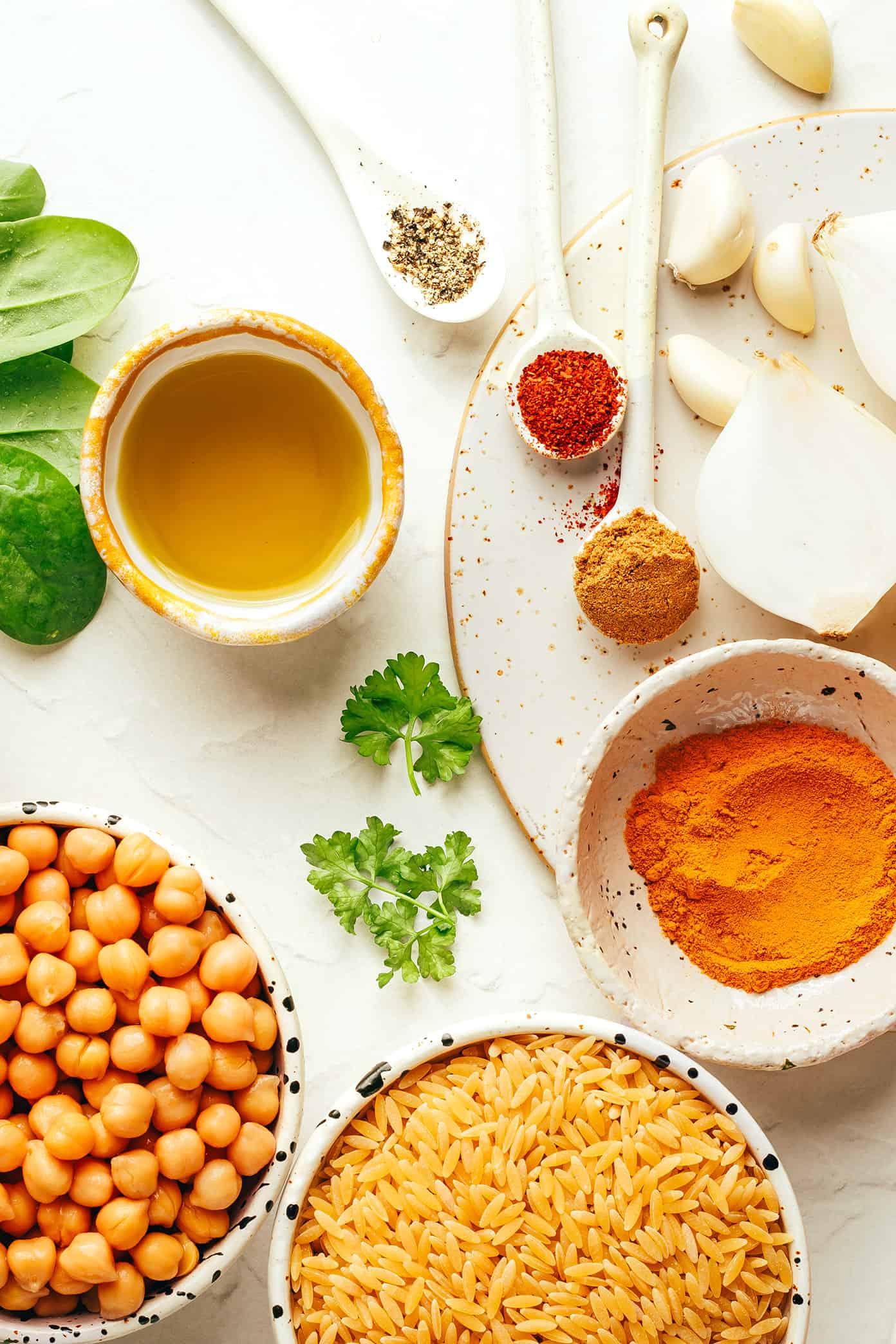 Lemony Spiced Orzo and Chickpeas Ingredients
Here are a few brief notes about the ingredients you will need to make this orzo and chickpeas recipe:
Orzo: The lovely al dente texture of orzo pairs beautifully with the chickpeas and soaks up all of that deliciously spiced broth while cooking. I love using orzo in this dish because it cooks quickly, but you're welcome to substitute in any other small pasta shape that you may have on hand.
Chickpeas: A can of chickpeas adds delicious nutty flavor, creamy texture, and extra protein to this dish.
Greens: We love stirring in a few handfuls of fresh baby spinach or chopped kale at the end for an extra pop of color and nutrients. The hot orzo and chickpeas will wilt the greens after just a minute or so of stirring.
Lemon: Fresh lemon brightens up the flavor of this dish and its tanginess perfectly balances the warmth of the spices. We'll use both the zest and juice of one small lemon to maximize its flavor.
Onion and garlic: Fresh onion and garlic serve as our base aromatics in this recipe, which we will sauté in a drizzle of olive oil.
Spices: A simple blend of ground turmeric, ground cumin, and crushed red pepper flakes add a delicious earthiness, rich golden color, and subtle hint of heat to the orzo and chickpeas. Don't forget to also taste and season the dish before serving with sea salt and freshly-ground black pepper.
Broth: We typically use vegetable broth to cook the orzo, but chicken broth could work as a substitute too.
Cilantro: Finally, we love topping this dish with a generous sprinkling of chopped fresh cilantro. But if cilantro isn't your thing, chopped fresh chives, mint, or parsley would be delicious too, or you could just skip the extra herbs all together.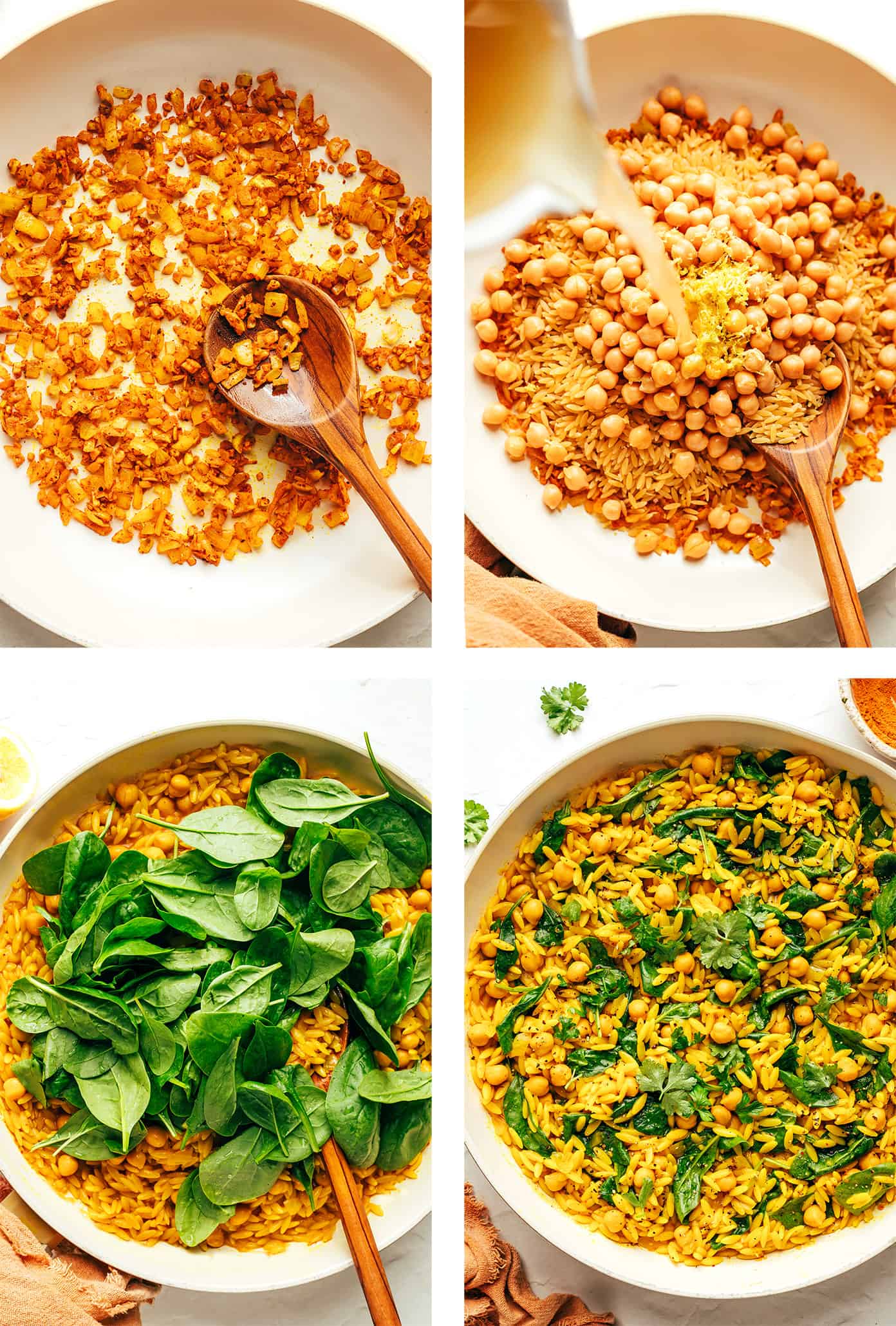 Tips For Making This Recipe
Full instructions are included in the recipe card below, but here are a few extra tips to ensure success with this recipe!
Keep stirring. Orzo can have a tendency to stick to the bottom of the pan if left unattended for too long, so be sure to give it a good stir every few minutes.
Adjust the amount of broth as needed. Likewise, keep an eye on the amount of broth in the pan. If the broth is running low and the orzo still needs more time to cook, just add in an extra 1/4 cup at a time as needed.
Taste and season. Once you've added the lemon and spinach, don't forget to taste and season the dish with salt and pepper as needed. Feel free to add in any extra lemon or spices too.
Enjoy hot or cold! This recipe is equally delightful fresh off of the stove or chilled as a pasta salad, so please enjoy both!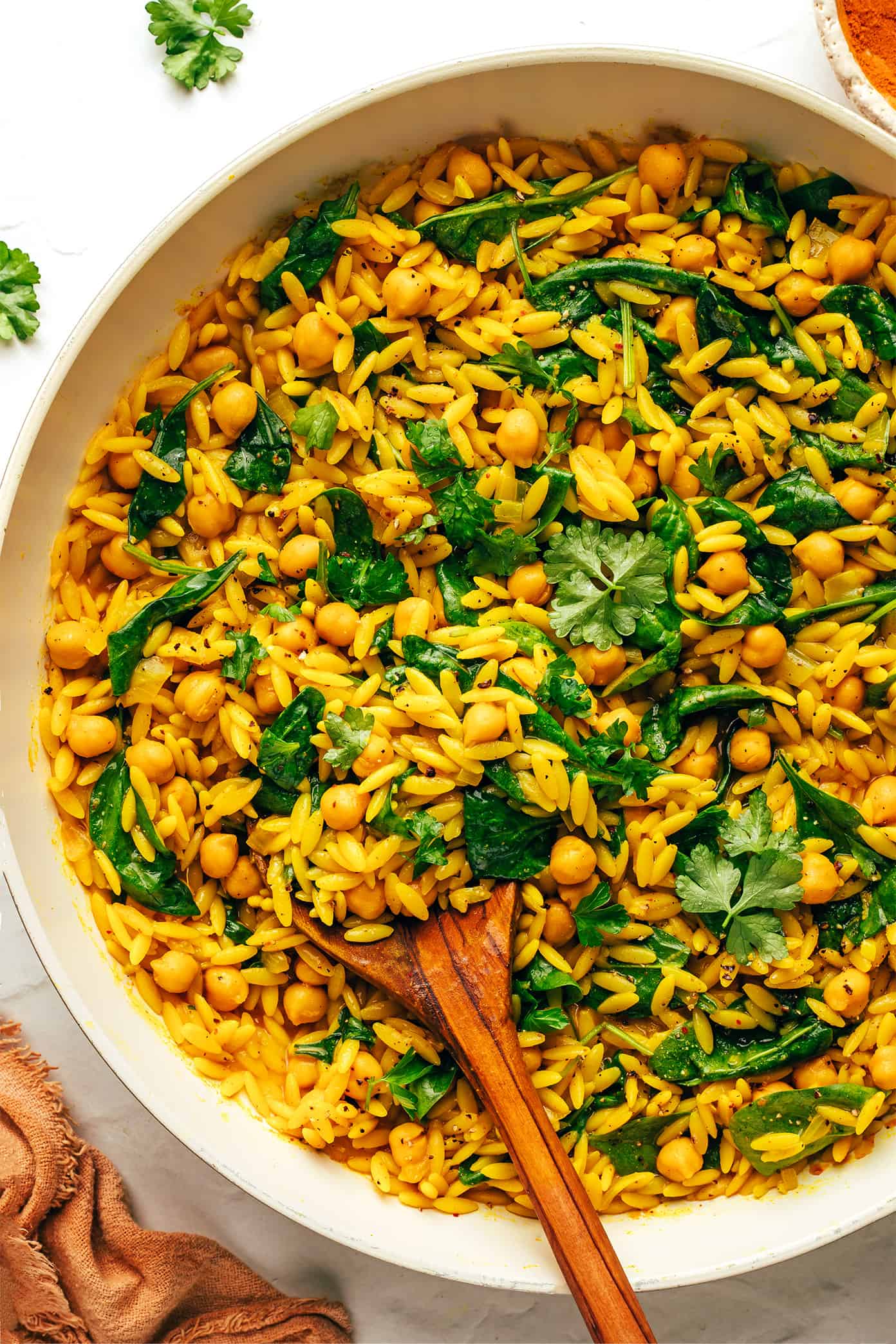 Recipe Variations
Here are a few more variations on this recipe that you're welcome to try:
Add coconut milk: Add one (14 to 15-ounce) can of coconut milk in place of part of the broth to give the pasta an even creamier coconut base.
Add ginger: A few teaspoons of grated fresh ginger would also be delicious here!
Add extra veggies. Sauté some additional veggies in with the onion and garlic, such as bell peppers, broccoli, carrots, mushrooms, or zucchini. (You'll likely need to add some extra broth and seasonings to compensate for the extra volume.)
Add a protein: Sauté ground beef, pork, or chicken in with the onion and garlic. Or (my favorite) cook some salmon, chicken, steak or shrimp to serve alongside the dish.
Adjust the spices: There are all sorts of warming spices that would be delicious here, so please feel free to play around with different spices and/or adjust the amounts of those included here.
Make it spicy: Add in some chopped fresh chiles or increase the amount of crushed red chili flakes to amp up the heat.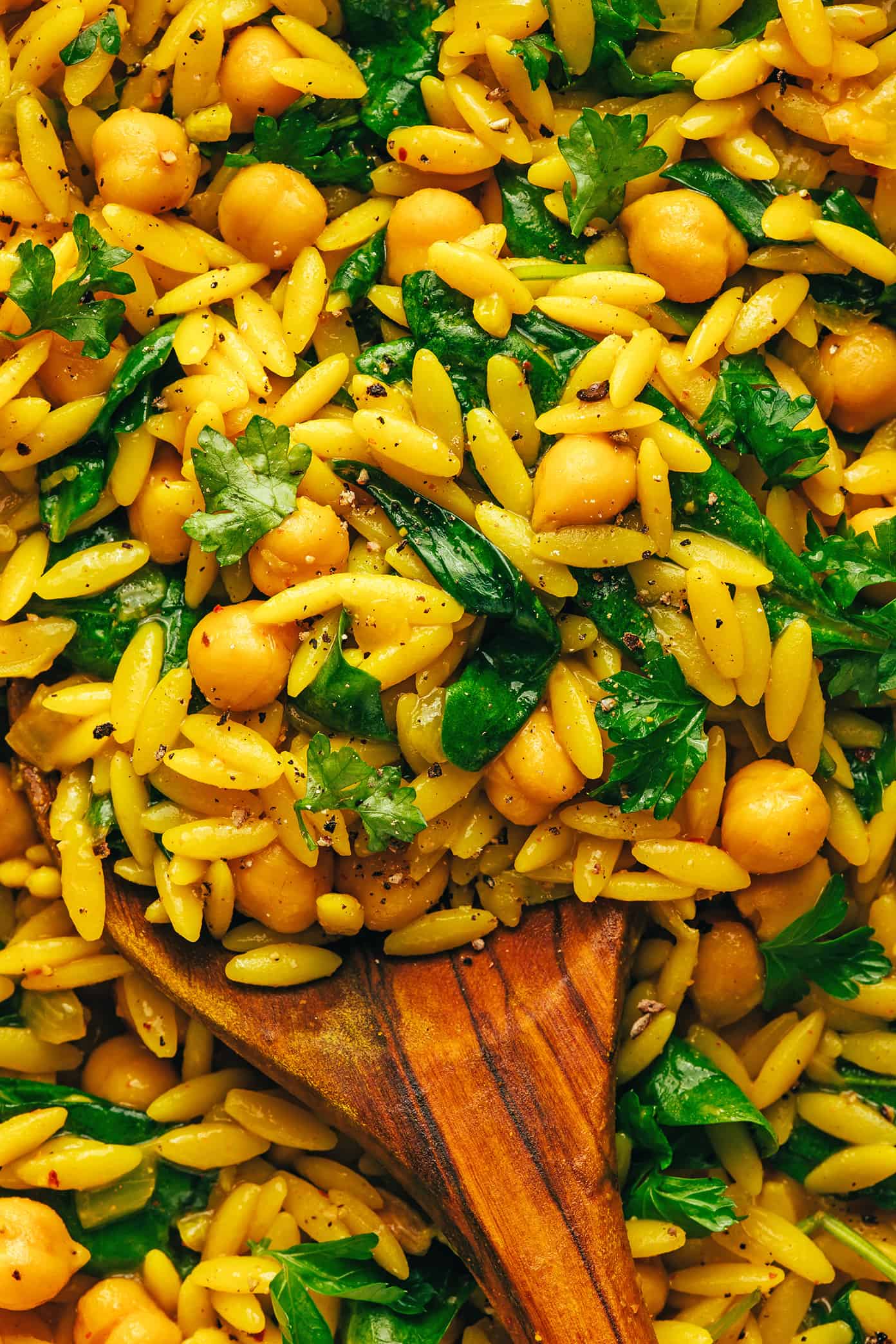 More Chickpea Recipes
Looking for more vegetarian chickpea recipes to try? Here are a few of our favorites:
Print
---
Description
Lemony orzo and chickpeas are simmered in a lightly-spiced broth and tossed with spinach.
---
1 tablespoon

olive oil

1

small white onion, diced

4

cloves garlic, minced

1 teaspoon

ground turmeric

1/2 teaspoon

ground cumin

1/2 teaspoon

crushed red pepper flakes

3 1/2 cups

vegetable broth

1

(15-ounce) can chickpeas, rinsed and drained

1 cup

uncooked orzo pasta

1

small lemon, zested and juiced

2

large handfuls fresh baby spinach

fine sea salt and freshly-ground black pepper

chopped fresh cilantro, for topping
---
Sauté the aromatics.

Heat oil in a large non-stick sauté pan over medium-high heat. Add the onion and sauté for 5 minutes, stirring occasionally, until softened. Add the garlic, cumin, turmeric, red pepper flakes, stirring frequently.

Simmer.

Add vegetable broth, chickpeas, orzo, sea salt and lemon zest and stir to combine. Continue to cook until the mixture reaches a simmer, stirring occasionally. Reduce heat to medium-low, or whatever temperature is needed to maintain a low simmer. Continue cooking, stirring fairly frequently so that the orzo does not stick to the bottom of the pan, until the orzo is al dente. If the orzo needs more liquid to cook, just add in ¼ cup of extra broth anytime needed. 

Season.

Once the orzo is al dente, remove the pan from the heat and stir in the spinach and lemon juice until the spinach has wilted. Taste and season with salt and pepper as needed.

Serve.

Serve the orzo mixture warm, topped with a sprinkling of chopped fresh cilantro, and enjoy!
---