Karwa Chauth is a unique Indian festival that is majorly associated with women of North India. This is a fasting day, which is essentially observed by married women, for the well-being, good health and longevity of their husbands. There are various parts of this festival, amongst which, food also plays a significant role. At the end of the day, women break their vrat or fast. Here, I have shared a collection of popular Karwa Chauth Recipes. Also, the Puja Vidhi (procedure) and rituals like Sargi, Baya, Group Pooja, Song and how to break the Karwa Chauth fast.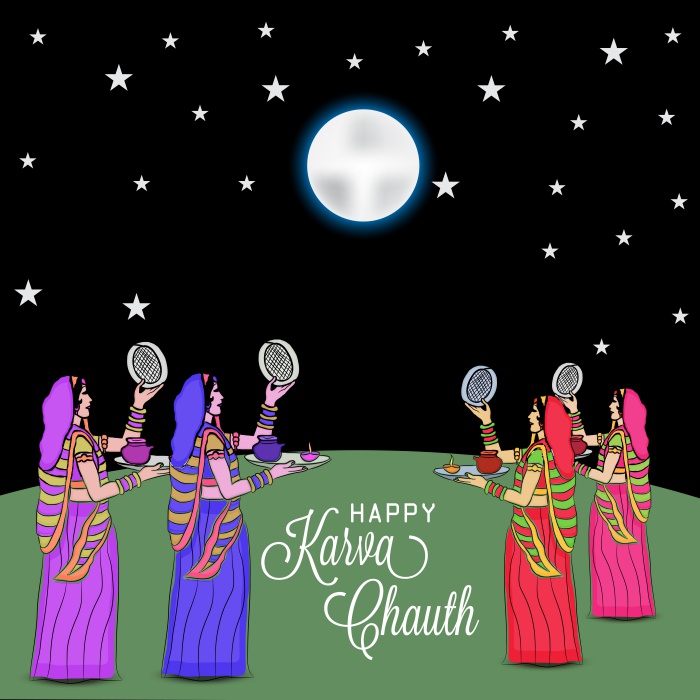 Karwa Chauth is on November 1, 2023. I am sharing this recipes list, so that it is easier for you to decide your menu in advance. Ensure not to add onions and garlic in any recipe you prepare during the fasting of Karwa Chauth.
What is Karwa Chauth
The word 'karwa' is equivalent to the Hindi term 'diya,' which means 'a small earthen lamp' or 'a pitcher or pot.' 'Chauth' means 'fourth.' Since, this festival falls on the 4th day after the full moon in the Kartik month, it is named as Karwa Chauth.
As I mentioned in the beginning, Karwa Chauth is a special day of fasting or vrat observed by women in North India for the health, well-being, prosperity and long life of their husbands.
After the Karwa Chauth rituals and puja are over during the day, the women wait for the moon to come up. It is customary of this day that the sky is cloudy. Thus, the moon is often visible late.
Once the long wait is over, the women finally get to see the moon through a sieve and offer water to the moon while seeking its blessings.
Post this, the wives are first given a sip of water and then a morsel of food, usually a Mathri by their husbands. To know more about this procedure, don't forget to read the sections below.
Once all these rituals and procedures are completed, there is more food that women, their husbands and the their families feast on together.
These dishes are typically made keeping in mind the nature of the festival, that is fast-friendly and also are nutritious and filling at the same time.
You can refer to my compilation of Karwa Chauth Recipes on this post to get an idea about the same and plan your menu for that day, accordingly.
Karwa Chauth Festival
The day begins at the break of the dawn and in my family, we usually have Gobi Paratha, Aloo Paratha with Raita and a sweet dish like Sooji Halwa, Vermicelli Kheer or pheni. Sometimes we have some chaat dishes too. If not Paratha, then we have Aloo Gobi with phulka.
All these delicious dishes are consumed before sunrise or better to say, when the stars are still there in the sky. I also have tea and then lots of water too because the whole day goes in the Karwa Chauth fasting, without eating anything or even drinking water.
At home, we usually have a dinner meal of Chana Masala or rajma masala, dal makhani or mah ki dal with rice or roti and some vegetable side dish. This is how we celebrate this festival at our home.
With my signature compilation of Karwa Chauth Recipes on this post, even you can plan your Karwa Chauth menu in advance.
So that, your entire day goes smooth and hassle free, and you are able to focus on the vrat and rituals' part with ease. You can even make any Chutney a day before. Also, mathri can be made a day or two before.
Karwa Chauth Vrat Vidhi
The below mentioned rules or procedure are followed at my house for Karwa Chauth vrat or fasting. These may vary from family to family. If in doubt, kindly consult the elders or your pandit to be able to follow the rules according to your family.
Karwa Chauth vrat can also be kept by unmarried girls, if the engagement ceremony is already done.
Onion and garlic are strictly not consumed throughout the day, even after breaking the fasts. So, all the Karwa Chauth Recipes that I also have mentioned here need to be prepared sans any garlic or onion in them.
For this day, women dress up in their best clothes. Some also wear the dress they wore on their wedding day. Mostly red, orange, golden or bright colored clothes, sari or ghagra-choli is worn. White or black colored clothes are avoided as these colors are not considered auspicious for this occasion.
Women are not supposed to do perform any household work on this day. Instead, they apply henna or mehndi on their hands, dress up and get ready with make-up.
What is Sargi
Mostly done in Punjabi families, Sargi is given by the mother-in-law which includes mathri, coconut (must), fruits like banana, apple, etc. and sweets or as per your wish. Usually, dish made from pheni and milk is also a part of the sargi.
Money is also given by the mother-in-law one day in advance, so that the daughter-in-law can purchase cosmetics or shringar items like bangles, bindi, mehendi, lipstick, hair band, chunri, clothes etc. If the mother-in-law is not staying together, then she can send/transfer the money.
On the morning of Karwa Chauth, before consuming sargi, the daughter-in-law touches 7 items, that she has decided to donate or offer to the religious priestess (panditani) after the pooja in the evening. These 7 items usually are mehendi, fruits, almonds or cashews (nuts and dry fruits), mathri, coconut and money.
While having sargi, the dish made with pheni and milk or sweets is consumed first. It is to start the day on a sweet, positive note. After this, coconut is eaten and then the main course meal. The coconut is usually broken by the husband. Since after the sun rises, it is not allowed to eat food or drink water, women must consume a lot of water that would suffice them for the entire day.
Before eating sargi, women put bindi and take the red color chunri on their head. Head bath is taken one day before the Karwa Chauth vrat, in the evening to have a clean head ('sucha' in Punjabi language).
The daughter-in-law also offer clothes and nuts like almonds or cashews to her in laws after the vrat is over, before a meal of traditional Karwa Chauth Recipes is consumed to end the day.  
Karwa Chauth Puja Vidhi
Before you head to the list of Karwa Chauth Recipes, here's some scoop on the puja vidhi of this day. Some people worship Bhagwan Shiva and Parvati Maa in the morning. In our home, we only worship Goddess Parvati in the form of Gauri Maa in the group puja which takes place in the evening around 4.00 PM or 5.00 PM.
Before the sunset, all ladies from the locality gather in one place for the group puja. In their thali (plates), they carry sweets, mathri, fruits, sari and clothes. These items are called as 'baya.' It is brought from the money the daughter-in-law receives from her mother or father.
Apart from baya items, there are other things in the thali like mustard oil, sindur, surma and all the 7 items which have been kept for the religious priestess.
A glass (or kalash) of water is also brought, which gets offered to the moon in the night. This water has rice grains and sugar added to it. A mauli or red string is tied around the lotta.
All the ladies sit around Gauri Mata with their items and worship her. The ladies also offer surma, lipstick, sindur to the goddess. It is like doing her shringar.
One elderly lady or panditani recites the Karwa Chauth katha or story and the thali containing the baya is rotated 7 times. While rotating the thali, a traditional song is also sung.
Karwa Chauth Ka Gana (Song)
For first six rotation or feri the song is "veero kudiye karwara, sarv suhagan karwara, aye katti naya teri naa, kumbh chrakhra feri naa, aar pair payeen naa, ruthda maniyen naa, suthra jagayeen naa, ve veero kuriye karwara, ve sarv suhagan karwara"
After every rotation, once the thali comes back, then it is first kissed and then kept it along with kalash (or glass) containing water.
And for the 7ᵗʰ thali rotation the song is "veero kudiye karwara, sarv suhagan karwara, aye katti naya teri nee, kumbh chrakhra feri bhee, aar pair payeen bhee, ruthda maniyen bhee, suthra jagayeen bhee, ve veero kuriye karwara, ve sarv suhagan karwara"
The Gauri Maa puja is to pray for the well being and long life of your husband.
You can offer the 7 items (which you have touched in the morning before eating sargi) to the panditani or religious lady in this puja after hearing the Karwa Chauth katha.
In some families, after the group pooja is completed, one is allowed to drink a cup of tea or cold drink (but not both). This is usually a modern-day alteration to make the procedure of fasting little easier. As per rules, whatever beverage is chosen on the first Karwa Chauth is the one that you must consume during all vrats on this day, for the rest of life.
Baya items which are worshipped (Mansana) with the help of panditani or priestess is later given to the mother-in-law and father-in-law.
Breaking The Fast
When the moon is visible, then we take a thali, where we place one diya made with wheat flour (atta). In this diya, we pour mustard oil placing a cotton wick inside which is lit. Some mathris are also kept in this thali. The water from the evening puja of Gauri Maa is also taken in a small kalash pot .
Then, the red color chunri is taken on the head. Slippers/sandals are removed from the feet. One wooden stick or piece is kept below the feet. The lit diya is placed in a sieve and the woman then sees the moon indirectly from the sieve.
At our home, we repeat the following lines 3 to 4 times while seeing the moon indirectly via the sieve – 'haath khari phair chari main suhagan argh den khari,' which means, 'my hands are spread, I am standing with a wooden stick below my feet and I am a married woman standing here to offer water to you.'
After repeating these lines, the diya is thrown backwards. Then, the moon is seen directly and all the water is poured downwards in the direction of the moon. With this, 5 to 6 mathri pieces are also thrown towards the direction of the moon. The entire water from the kalash is emptied. You can't drink this water.
Then, the husband is seen through the sieve. Many women also touch the feet of their husbands at this stage and internally pray for their well-being. After this, to break the vrat, the husband offers water and mathri to the wife. With this, all can sit for the dinner meal, for which you can refer to my list of Karwa Chauth Recipes here.
Dos and Don'ts
Few activities to be avoided during fasting on this day are:
Don't weave or stitch any cloth.
Do not use scissors and needles.
One must not go to the fields.
Don't wake up any person who is sleeping.
Avoid pleasing anyone with whom you have or had a conflict.
Karwa Chauth Recipes
I have shared Karwa Chauth Recipes that you can make for dinner (after breaking your vrat) and the recipes that are included in the sargi. The dishes that make up the sargi platter are consumed before beginning with the fast.
Sargi is the meal which is had before dawn and before taking-up the vrat. In this section, you will find breakfast dishes that can be made easily. I have also added some sweet recipes.
You can prep some of the dishes a day before and refrigerate them. The sweets can also be made a day before and refrigerated.
Note that some of the recipes listed below have onion and garlic in them as I did not make them on the occasion of Karwa Chauth but on some regular days.
So, when using them as Karwa Chauth Recipes, just skip the onion and garlic from them. You can add a pinch of asafoetida (hing) in the dishes to mimic the flavors of onion and garlic.
For more such recipes, you can check this collection of No Onion No Garlic Recipes too.
Sargi Recipes
Sargi is the meal which is had before dawn and before taking up the karwa chauth fast. In this section you will find the breakfast dishes that can be made easily.
I have also added some sweets recipes. You can prep some of the dishes a day before and refrigerate them. The sweets can also be made a day before and refrigerated.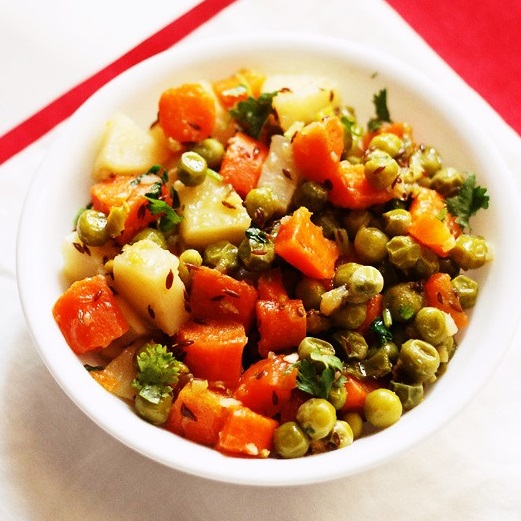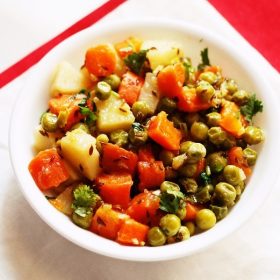 Moderate
30 minutes mins
Aloo Gajar Matar ki Sabji is an easy Punjabi style dry preparation made with potatoes, carrots and peas. The recipe is made without onion, garlic and has minimal spices. Pairs nicely with roti or paratha and can be packed in lunch box.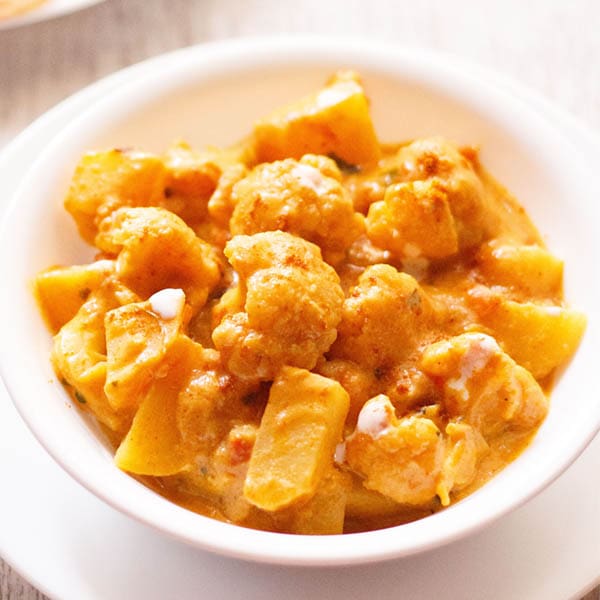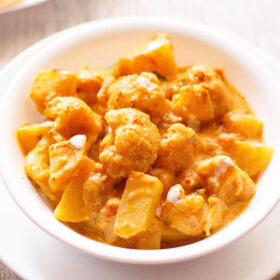 Easy
1 hour hr
Aloo gobi is a comforting, delicious North Indian dish made with potatoes and cauliflower. Here I share two unique but equally tasty aloo gobi recipes: A creamy restaurant style version, and a simple home style dry variation.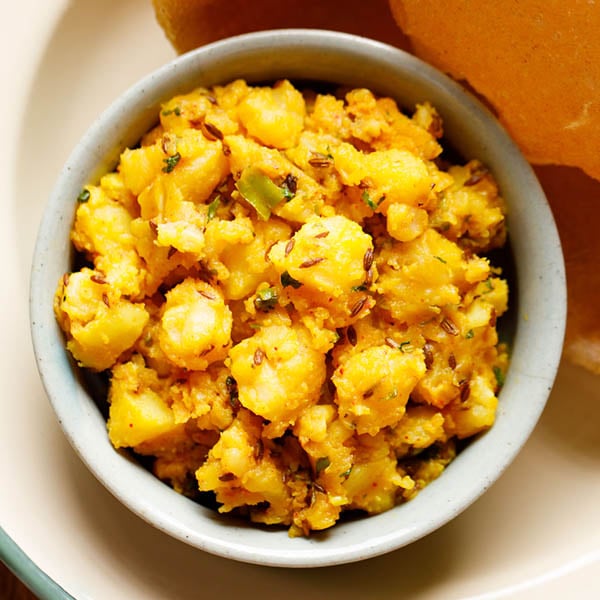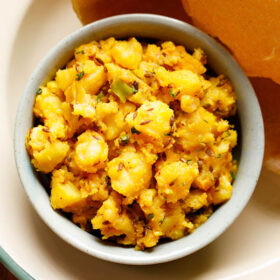 Moderate
30 minutes mins
Jeera aloo is classic potato side dish loaded with cumin and fresh herbs, and is naturally gluten-free and vegan. It gets ready in less than 30 minutes from start to finish.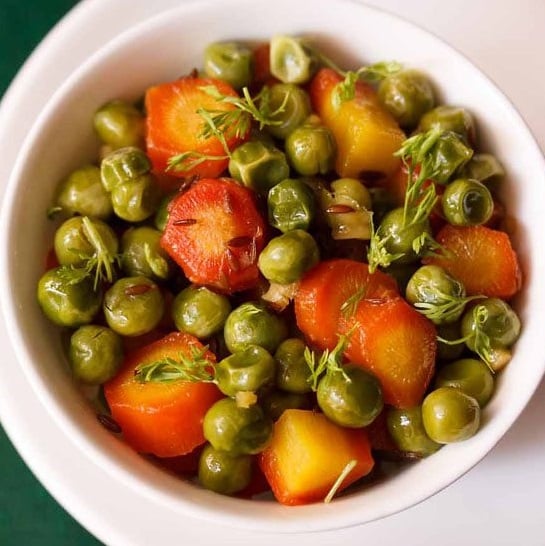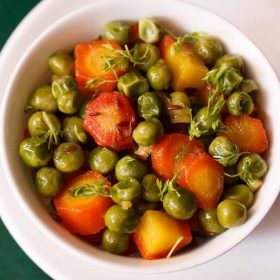 Moderate
30 minutes mins
This gajar matar sabzi is a delicious dish of dry sauted carrots and fresh green peas.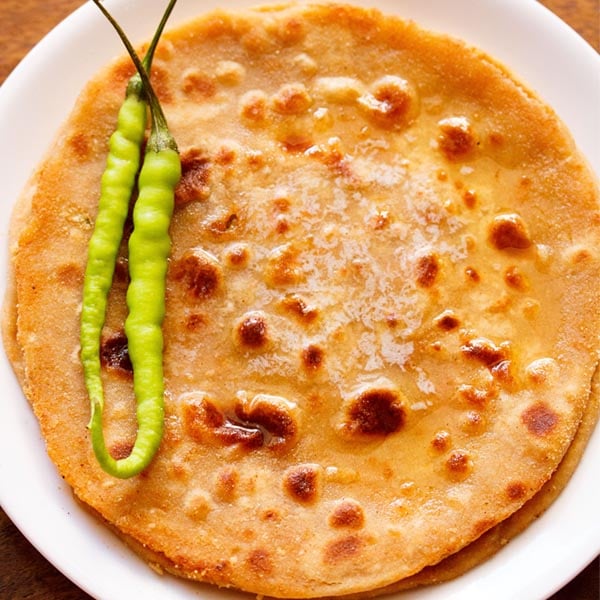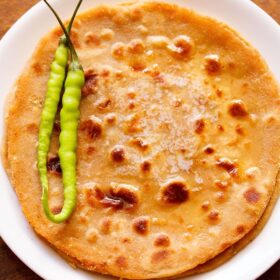 Moderate
50 minutes mins
Cauliflower paratha is unleavened whole wheat flatbread stuffed with a spiced grated cauliflower filling. Gobi paratha is often made for breakfast in Punjabi homes as well as served in restaurants and Punjabi dhabas.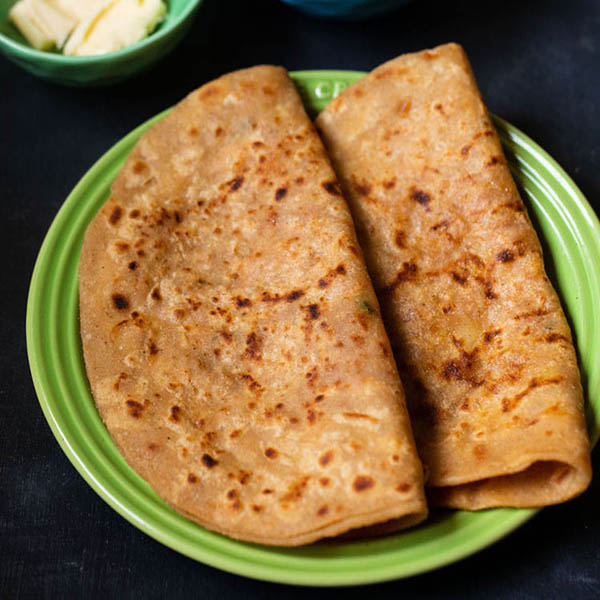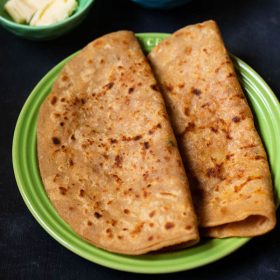 Moderate
50 minutes mins
Punjabi aloo paratha is a popular Indian breakfast of unleavened whole wheat flatbread stuffed with a spiced potato stuffing. Learn to make these flavorful and tasty aloo paratha with my tried and tested family recipe.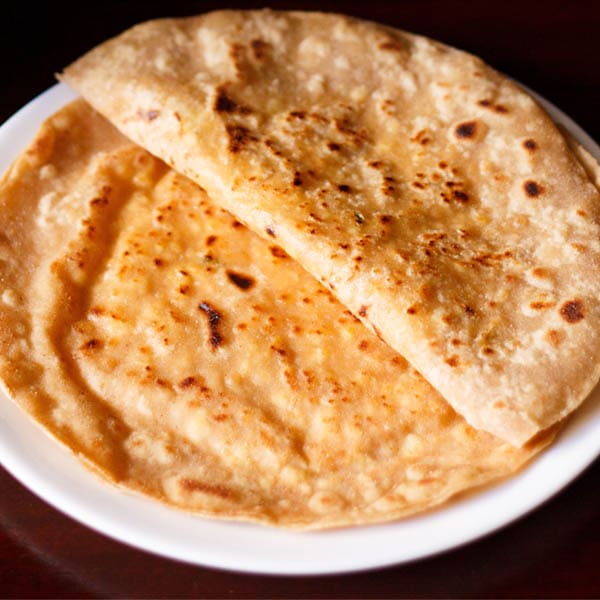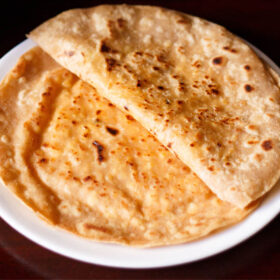 Moderate
45 minutes mins
Paneer paratha is a popular North Indian flatbread made with whole wheat flour dough and stuffed with savory, spiced, grated paneer (Indian cottage cheese) stuffing. Paneer paratha is one of the most popular stuffed paratha varieties from Punjab and usually made for breakfast.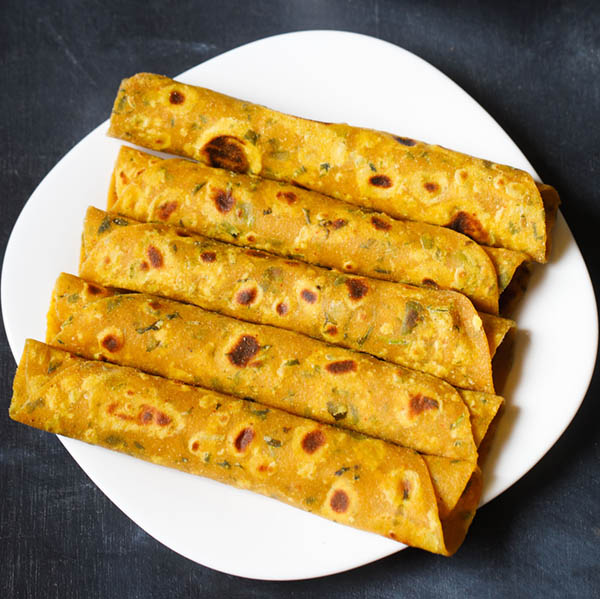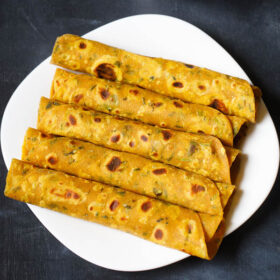 Easy
50 minutes mins
Thepla recipe comes from the Gujarati cuisine and are popular flatbreads made with whole grain flours. Spiced and savory methi thepla are healthy flatbreads made with fresh fenugreek leaves and multi grain flours.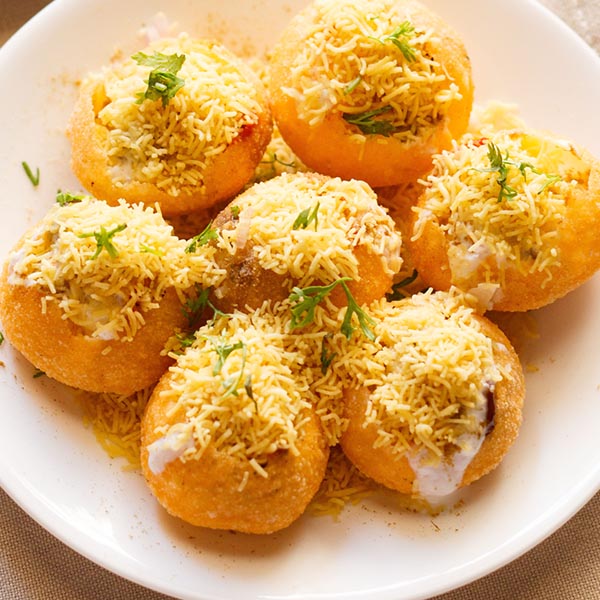 Moderate
45 minutes mins
Dahi puri also known as dahi batata puri is a delicious, yummy, chatpata chaat snack from Mumbai. It is sweet, sour, tangy, spicy and crispy chaat.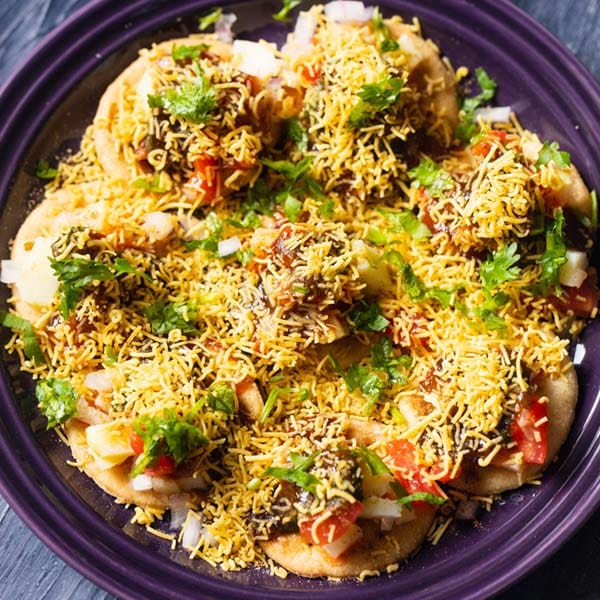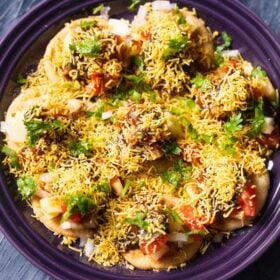 Moderate
45 minutes mins
Sev puri recipe is a canapé like snack -where crispy fried flour discs are topped with flavorful condiments, veggies, herbs, ground spices and more. Spicy, sweet, tangy, savory, crunchy, crispy flavors – all bursting in your mouth in each bite. Learn to make this mouthwatering snack with my authentic Mumbai style recipe.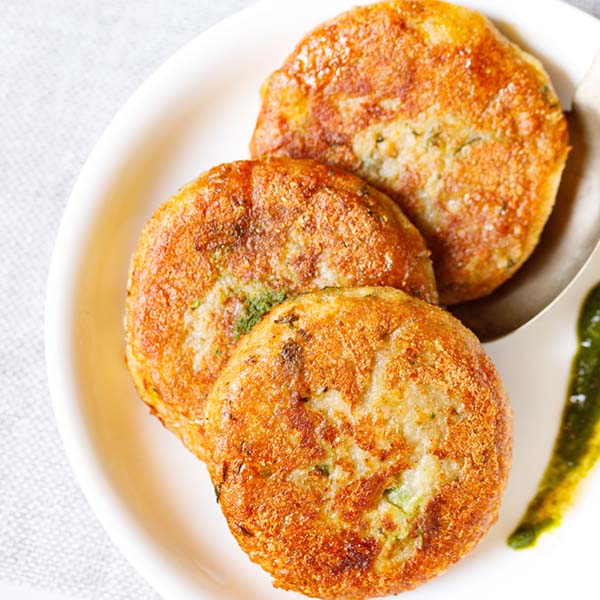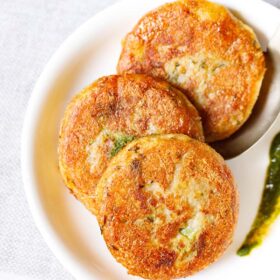 Moderate
40 minutes mins
Aloo Tikki is a popular North Indian street food snack of savory, spiced and crispy potato patties. A basic Aloo Tikki Recipe is made with potatoes, spices, herbs, breadcrumbs or a binding flour and can be stuffed with a filling of mashed cooked green peas or cooked chana dal or paneer.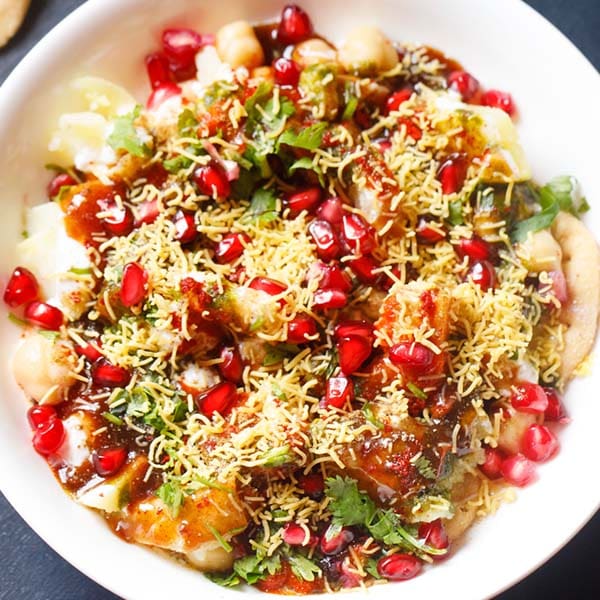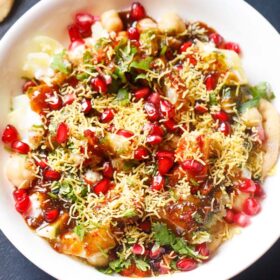 Moderate
9 hours hrs 20 minutes mins
Papdi chaat is a popular North Indian street food snack filled with a variety of mouth-watering textures, flavors and consists of papdi (fried flour crackers), boiled chickpeas, potatoes, chutneys and curd (yogurt.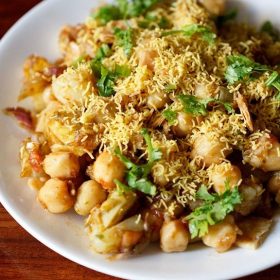 Moderate
30 minutes mins
Aloo chana chaat is a spicy, tangy, sweet chaat made with boiled potatoes, white chickpeas, onion, tomatoes, herbs and spices.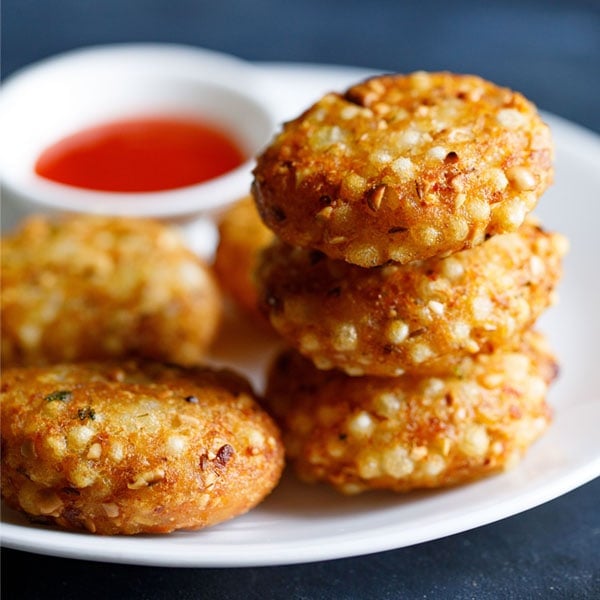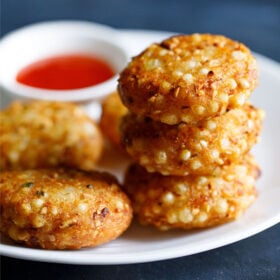 Moderate
5 hours hrs 30 minutes mins
Sabudana Vada is a popular savory deep fried snack made during Hindu fasting days, featuring tapioca pearls (sago), potatoes, peanuts and herbs. They are naturally gluten-free and vegan. This fool proof sabudana vada recipe gives you a super delicious crispy vada with a soft and light interior.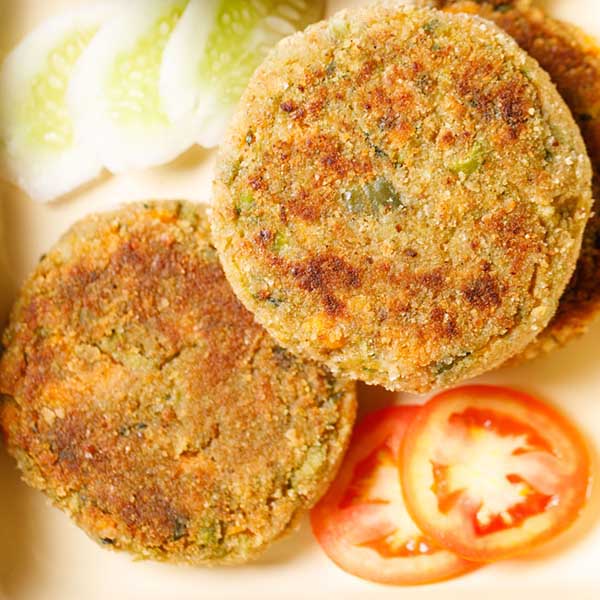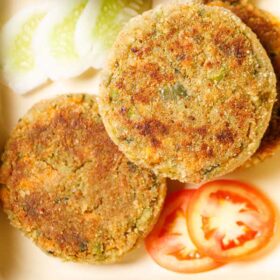 Moderate
45 minutes mins
Vegetable Cutlet are crisp, savory, tender patties made with a mix of hearty veggies, savory spices, fresh herbs and crispy breadcrumbs. Cutlet is a popular snack in Indian cuisine.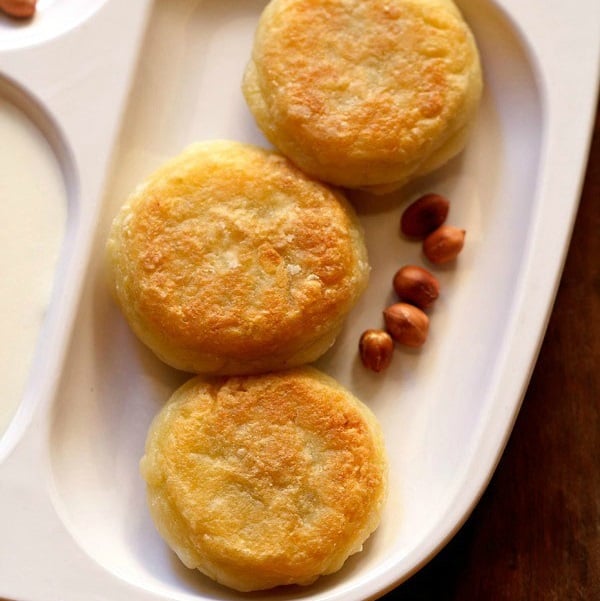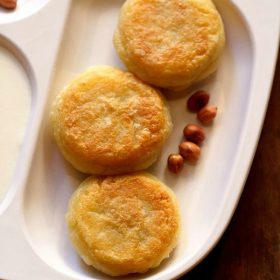 Moderate
1 hour hr
Farali pattice is an easy snack of crispy and tasty patties made with potatoes and stuffed with a sweet filling of coconut, nuts and raisins. This dish is from the Gujarati cuisine that is made during fast or upvas.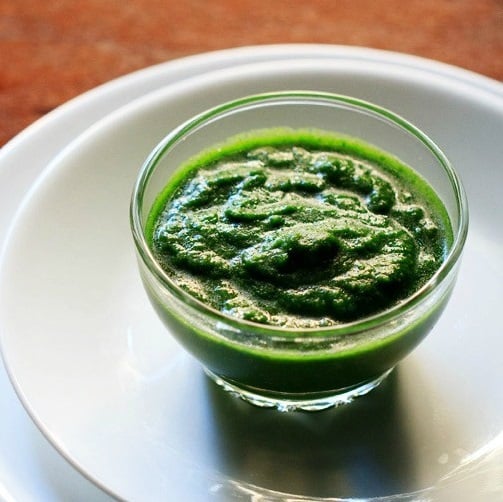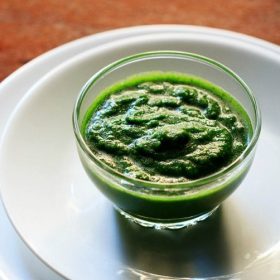 Moderate
15 minutes mins
This spicy, piquant Green Chutney recipe (also called Hari Chatni) is made with coriander leaves, spices and seasonings. It is added to chaat food like aloo chaat, dahi vada, sev puri, samosa chaat, ragda patties, papdi chaat, dahi puri, etc or served with Indian snacks like pakoda, samosa, vada, kachori etc.
Sweets & Desserts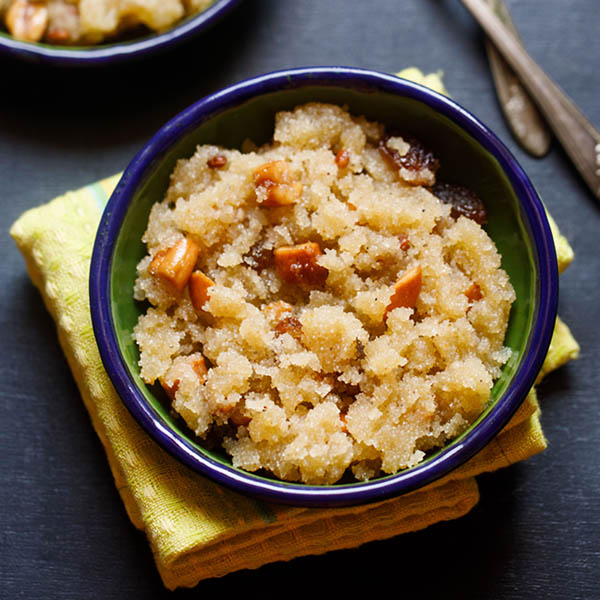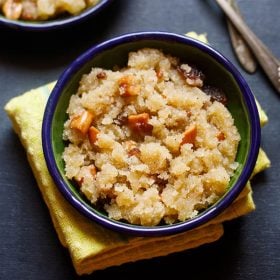 Easy
15 minutes mins
Suji ka halwa or Sheera is a classic Indian semolina pudding made with sugar, ghee and dry fruits. The recipe I have shared is a family heirloom recipe. We have been making this suji halwa recipe for decades during family get togethers, special occasions & festivals. The sooji halwa recipe can be easily halved, doubled or tripled.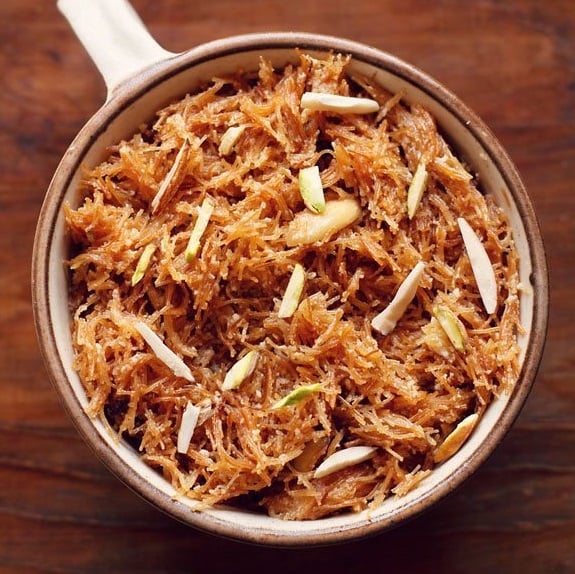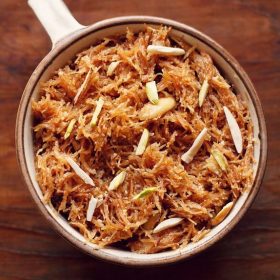 Moderate
25 minutes mins
Meethi seviyan is a sweet dessert made from whole wheat vermicelli, ghee, milk, sugar and dry fruits.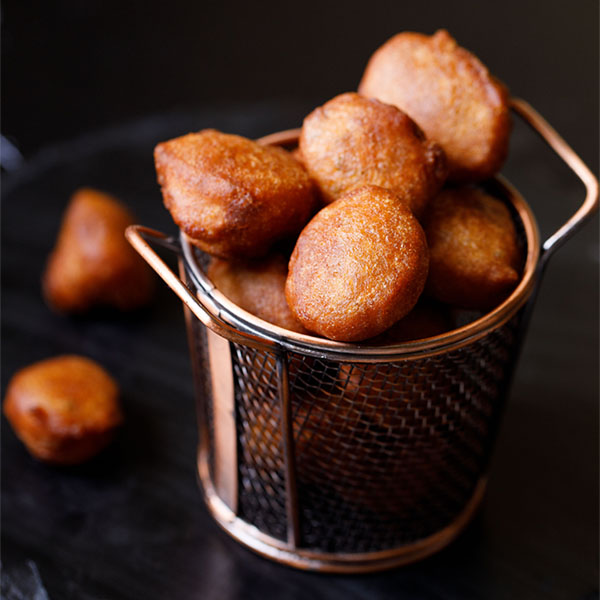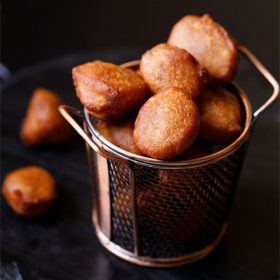 Easy
25 minutes mins
Gulgule are crispy, soft fried Indian doughnuts made with whole wheat flour, banana, sugar or jaggery and fennel seeds. A North Indian special sweet.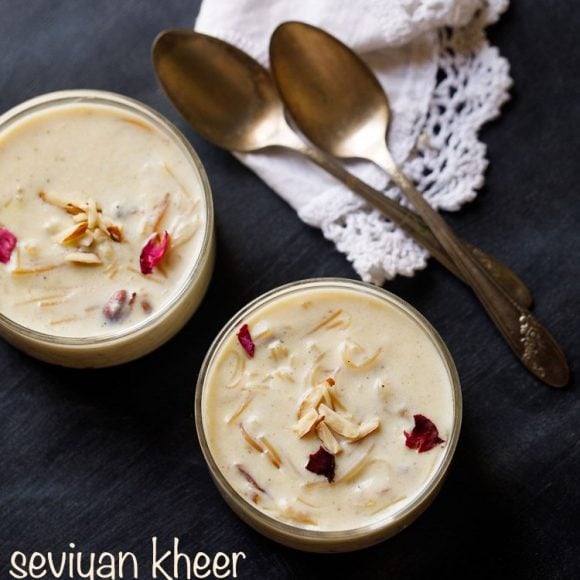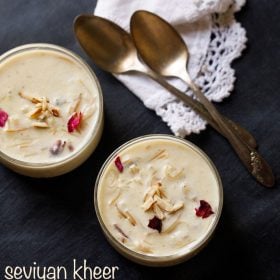 Easy
20 minutes mins
This creamy seviyan kheer is a North Indian sweet made with wheat vermicelli, milk, sugar, dry fruits and flavored with spices. This incredibly easy recipe of semiya kheer comes together in 20 minutes and makes for an excellent dessert or sweet.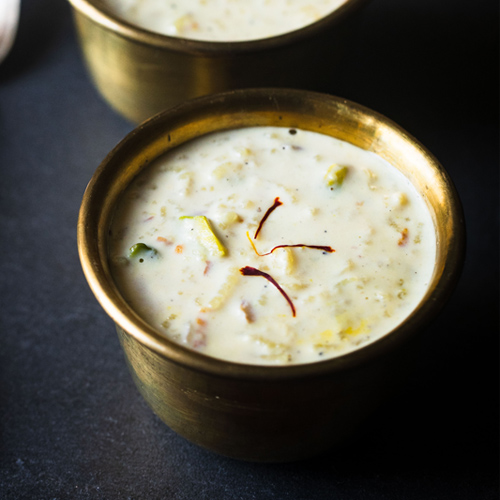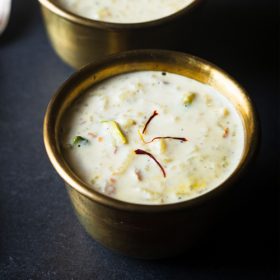 Moderate
50 minutes mins
Rice Kheer is a popular Indian sweet dessert made with basmati rice, whole milk, nuts and saffron. Kheer recipe is easy and is made with a one pan or one pot method. Rice Kheer is basically Indian rice pudding and makes for a creamy delicious sweet dessert.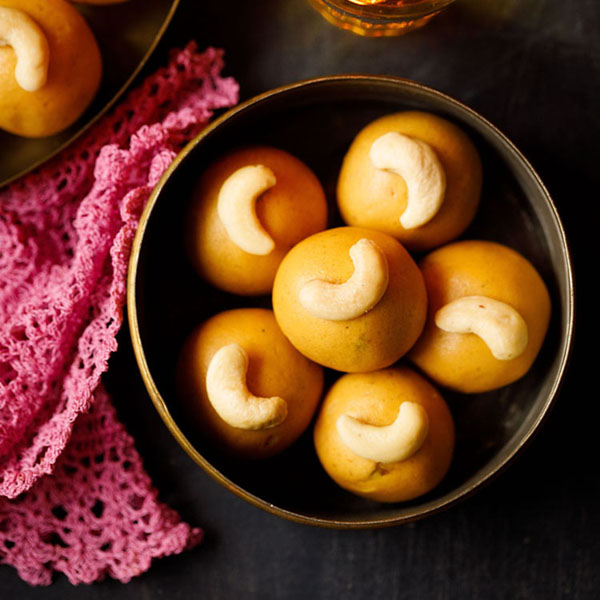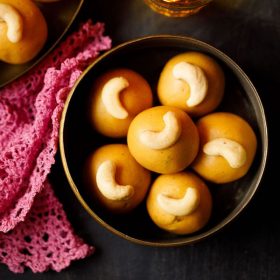 Moderate
30 minutes mins
Besan Ladoo or Besan ke Laddu is a popular Indian sweet made during festivals. These are round sweet balls made with gram flour a.k.a besan, powdered sugar and clarified butter (ghee).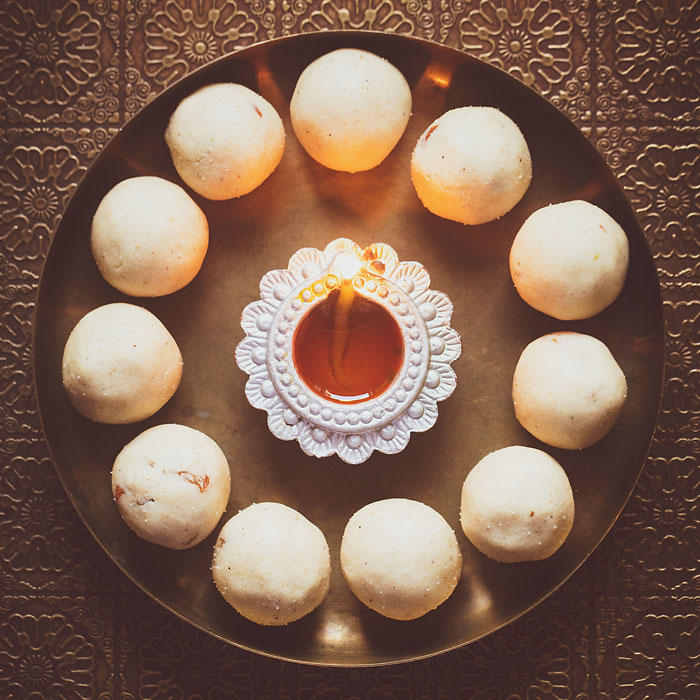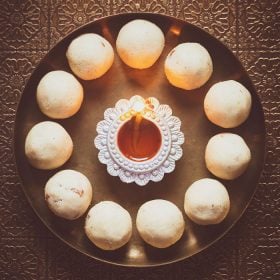 Moderate
30 minutes mins
An easy peasy method to make Rava Laddu for Diwali or any festival. This Rava Ladoo also known as Suji ke Laddu are sweet balls made with rava (sooji or semolina), coconut, powdered sugar, dry fruits, nuts and ghee.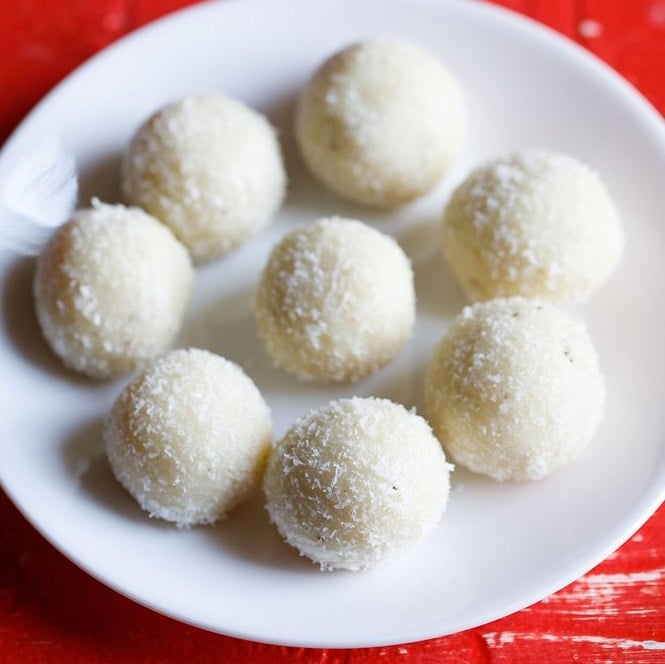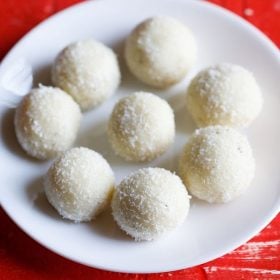 Moderate
15 minutes mins
Make coconut ladoo with three recipes. The first one is a quick 3 ingredient recipe made with fresh coconut, milkmaid and cardamom powder. The second recipe has 2 ingredients – desiccated coconut and condensed milk. The third recipe is made with desiccated coconut and sugar.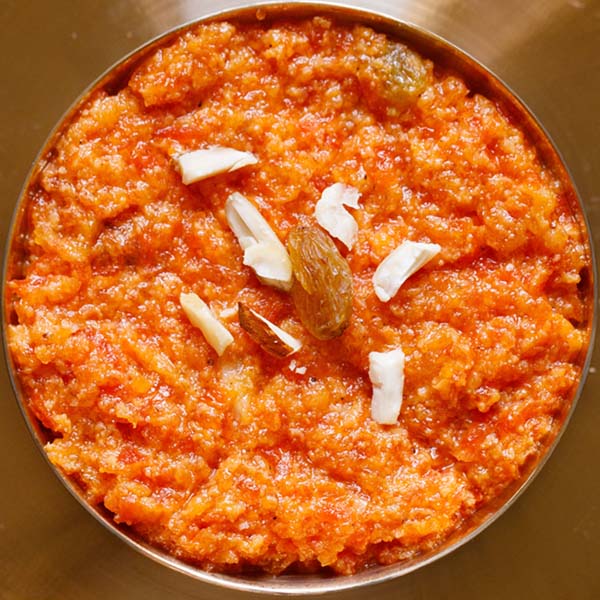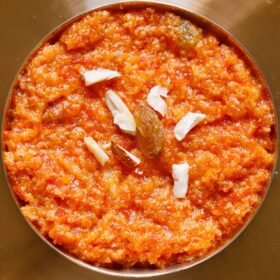 Moderate
1 hour hr 10 minutes mins
A Carrot Halwa recipe made in the traditional way and slow-cooked – with just grated carrots, whole milk, ghee, sugar and some nuts. You will love this evergreen and popular Gajar ka Halwa recipe. Make this rich sweet for special occasions or during festivals.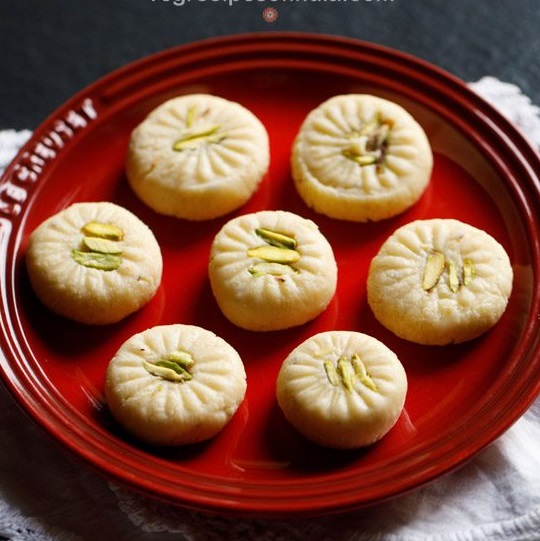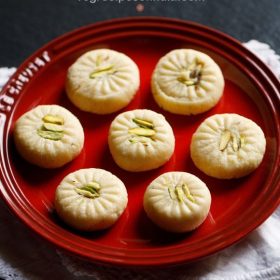 Moderate
15 minutes mins
This rich peda recipe is a delightfully sweet fudge-like confection made with khoya (dried milk solids), sugar, nuts and fragrant spices. Make this simple and quick doodh peda recipe (milk peda) for any festival or celebrations.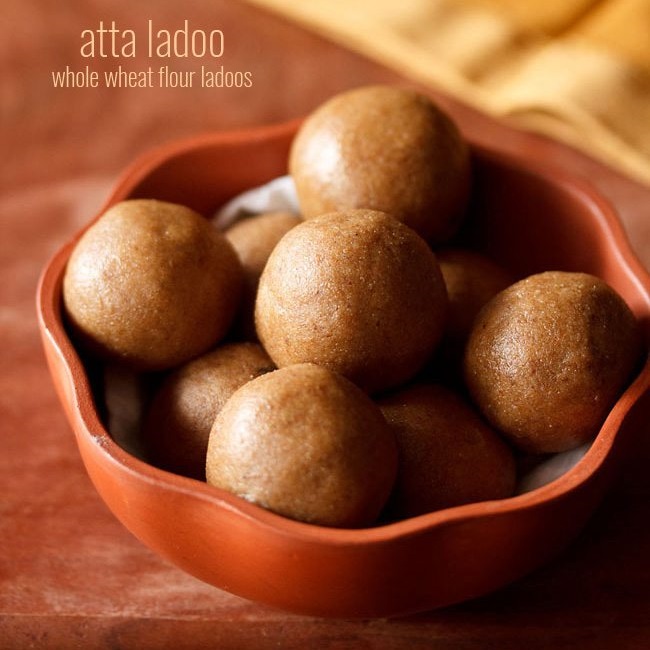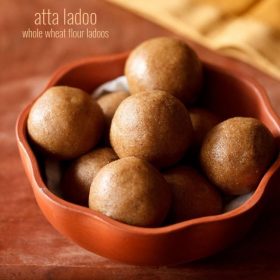 Moderate
15 minutes mins
These wheat ladoo make for a good sweet snack for kids as well as for the whole family. Easy and quick to prepare delicious ladoo made with whole wheat flour, sugar and ghee.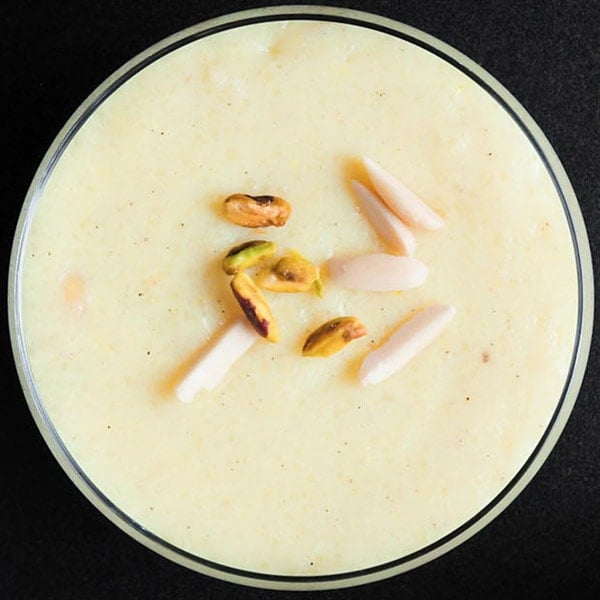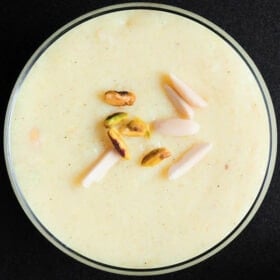 Easy
30 minutes mins
Phirni is a classic creamy slow-cooked sweet pudding made with ground rice, sugar, milk, almonds, saffron and cardamom powder. It is a popular North Indian sweet made during festive occasions.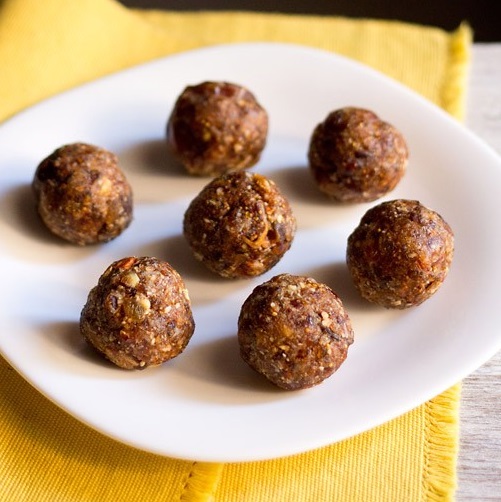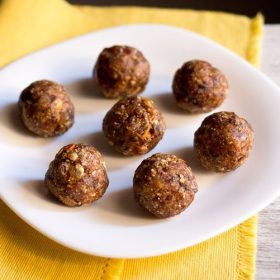 Easy
20 minutes mins
Easy Dry fruits laddu recipe without any added sugar or fats like ghee or oil. Packed with nutrients, good fats and fibre, these energy balls are made with dates, figs and various nuts. Dry fruit laddu recipe gets done quickly and comes together under 20 minutes.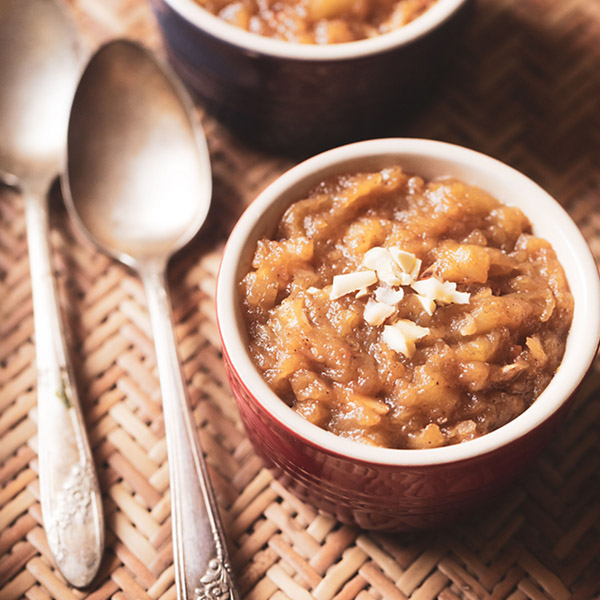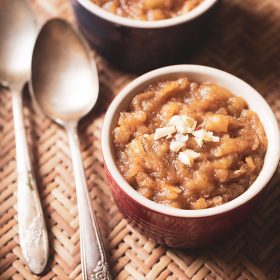 Moderate
45 minutes mins
Apple halwa recipe made with apples, sugar, cinnamon and vanilla. Apple halwa is a delicious halwa that is easy to make. This apple halwa does not use sooji (rava), milk, khoya or milk powder. Just apples, sugar (optional) and ghee. Flavorings and nuts of your choice can be added to the halwa.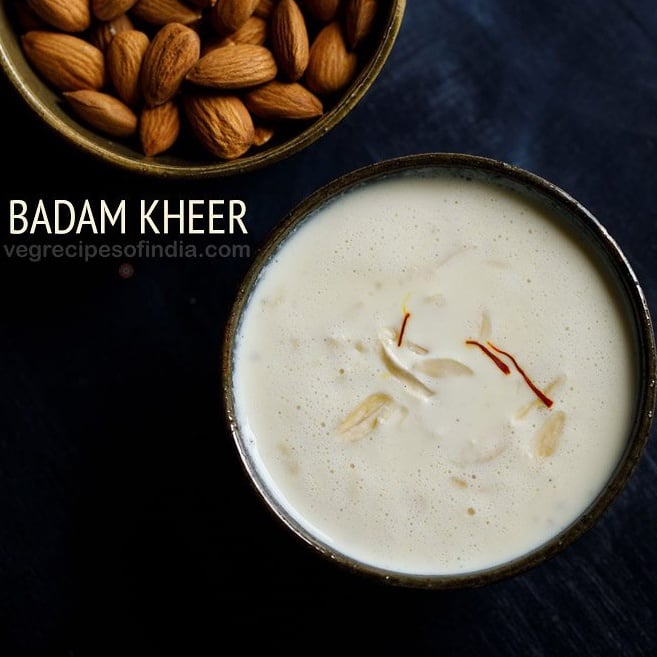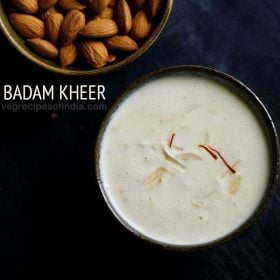 Moderate
50 minutes mins
Badam kheer or almond payasam is a delicious creamy kheer made with blanched almond paste, milk and saffron.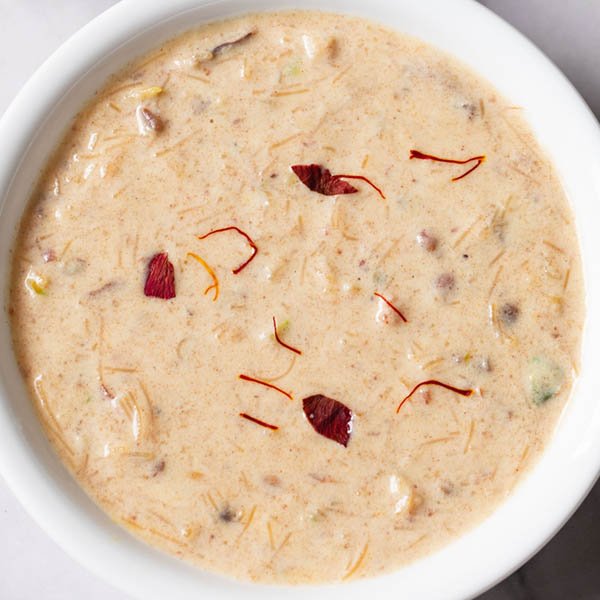 Moderate
30 minutes mins
Sheer khurma is a rich creamy pudding made with vermicelli, milk, dates, nuts, dry fruits, sugar and ghee. 'Sheer' means milk and 'khurma' refers to dates in Persian language.
Dinner
Included in this section, is food that you can have after breaking the fast. I have listed mostly Punjabi recipes and the ones which we make in our family.
You will also find some starters and appetizers in this section. You can serve the dal or the curries with roti or steamed rice. Pulao can be served with raita or a side salad.
Lentils & Beans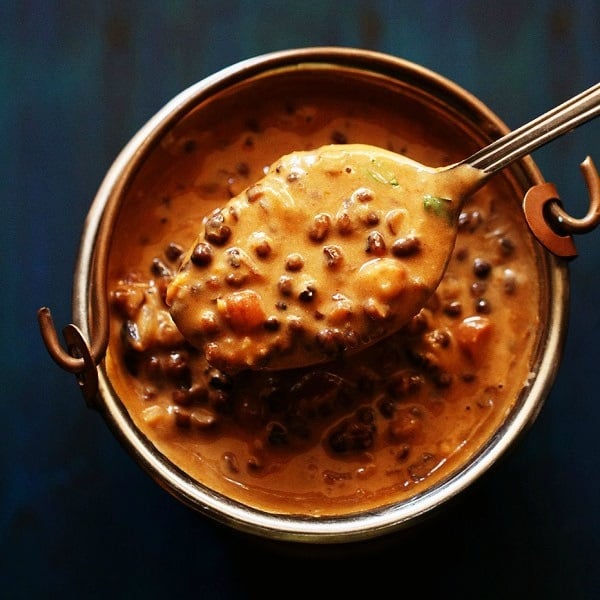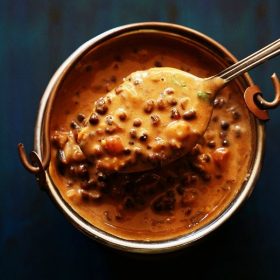 Moderate
9 hours hrs
This Dal Makhani recipe is a restaurant style version with subtle smoky flavors and creaminess of the lentils. Dal Makhani is one of the most popular lentil recipes from the North Indian cuisine made with whole urad dal (black gram) and kidney beans.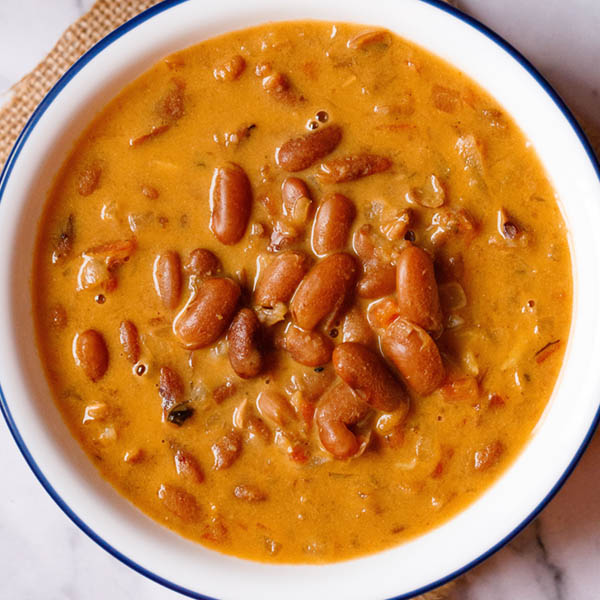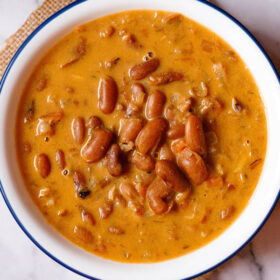 Moderate
9 hours hrs 45 minutes mins
This Rajma recipe is a creamy, tangy and spiced curry made with dried kidney beans. This restaurant style Rajma Masala is made in a base of sautéed onions, tomatoes, spices and cream making it truly delicious. Best served with steamed hot rice (called chawal) or soft roti or flaky paratha.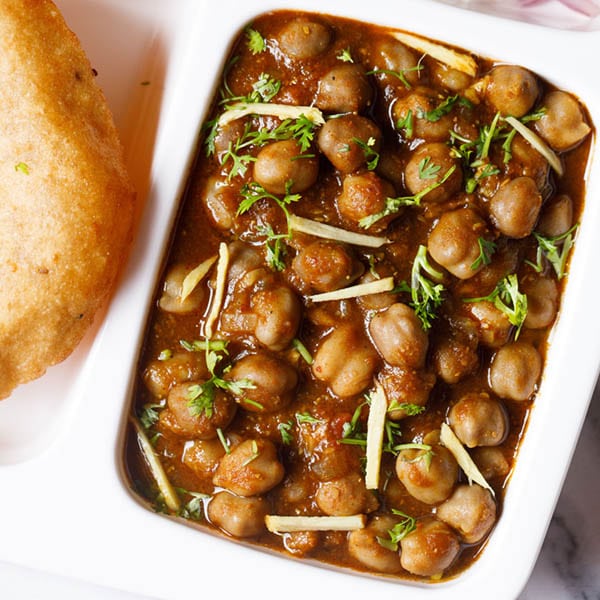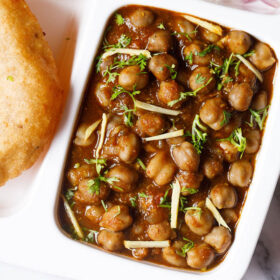 Moderate
9 hours hrs 45 minutes mins
One of the best chana masala recipe that you can make. This chole masala is made with freshly powdered spices, onions, tomatoes, herbs making the curry taste like the ones you get on the streets of Delhi.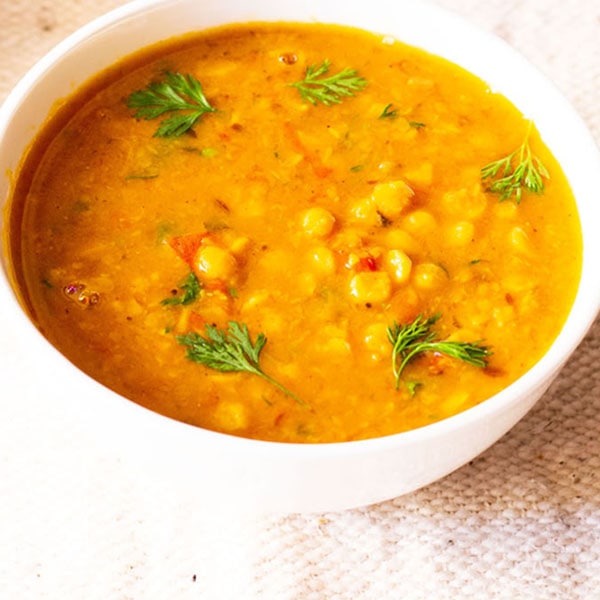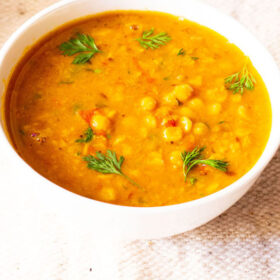 Moderate
1 hour hr 30 minutes mins
This chana dal fry is Punjabi style recipe of bengal gram lentils or hulled and spilt black chickpeas tempered and flavored with onions, tomatoes, herbs and spices.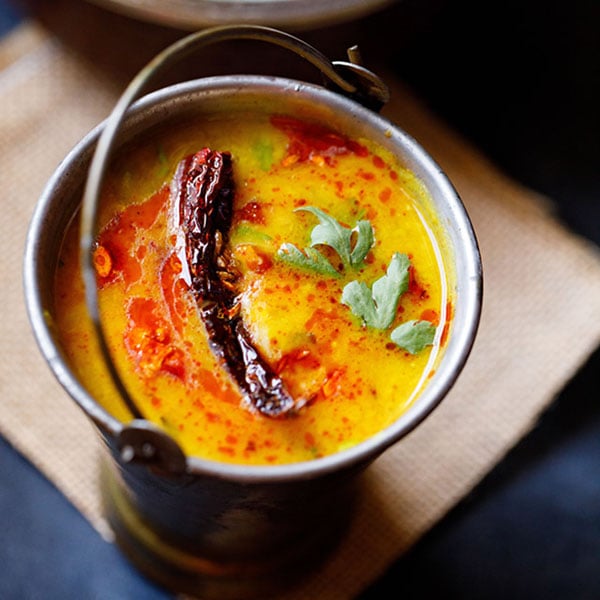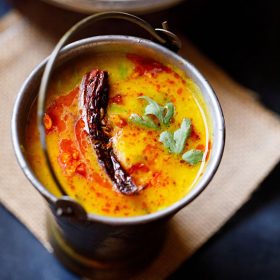 Easy
30 minutes mins
This restaurant style dal tadka is a smooth and creamy dal tempered with Indian spices with a smoky charcoal flavor.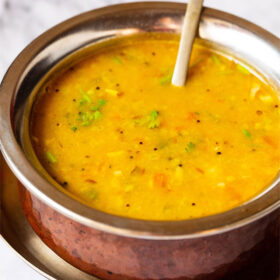 Moderate
25 minutes mins
Dal Fry is a delicious lentil or dal recipe popular in India that is made with tuvar dal (pigeon pea lentils), onions, tomatoes and spices. I share both the stovetop and Instant pot method to make this dal fry recipe.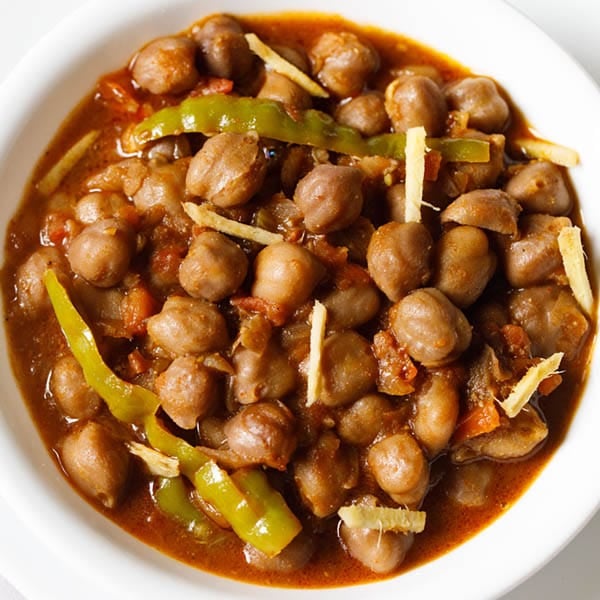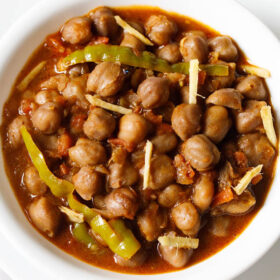 Moderate
8 hours hrs 45 minutes mins
Amritsari Chole is a delicious variation of the Indian chickpea curry from the city of Amritsar. This recipe of Amritsari Chole is vegan and gluten-free.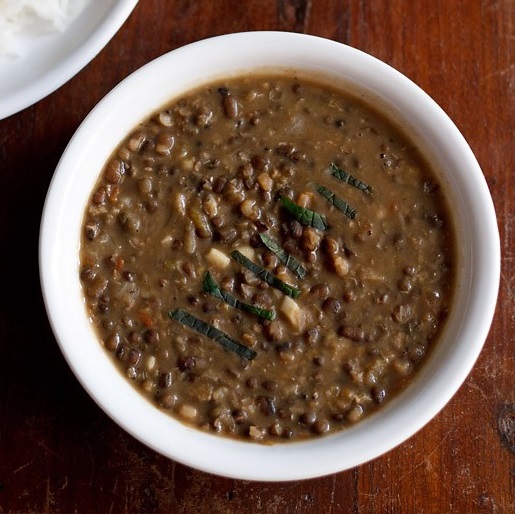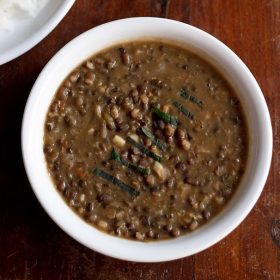 Moderate
4 hours hrs 55 minutes mins
This Dal Amritsari is simple and tasty lentil curry from the Punjabi cuisine made with whole black gram and split black chickpea (chana dal).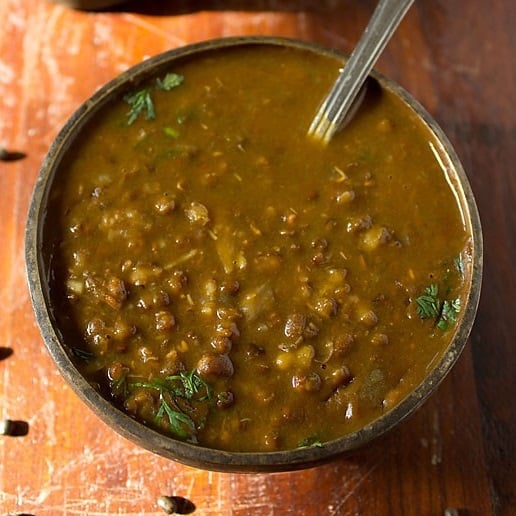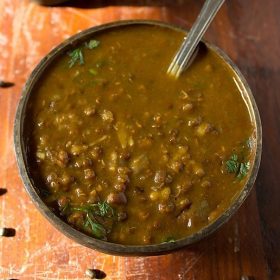 Moderate
1 hour hr
Black gram dal or kali dal or maa ki dal is a popular and delicious Punjabi lentil dish made with sabut urad dal, onions, tomatoes, herbs and spices.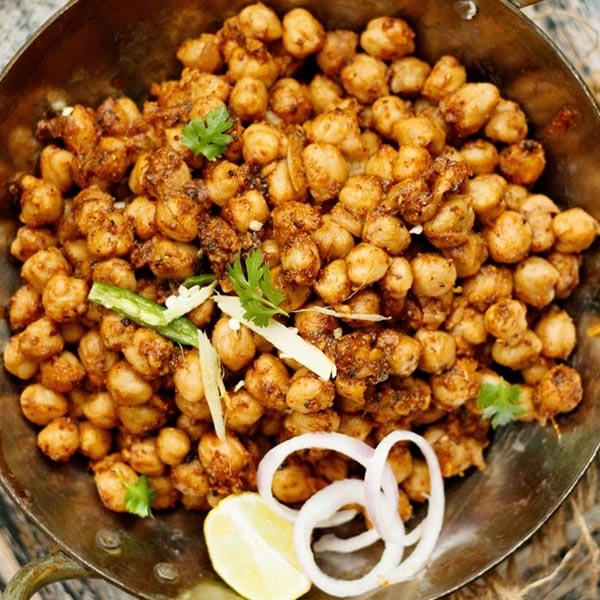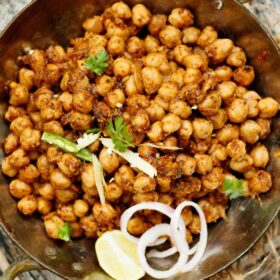 Moderate
8 hours hrs 30 minutes mins
Pindi chana is a delicious and super easy chickpea dish made in Punjabi style with chole masala powder. It is made without onions and tomatoes and thus a dry dish.
Curries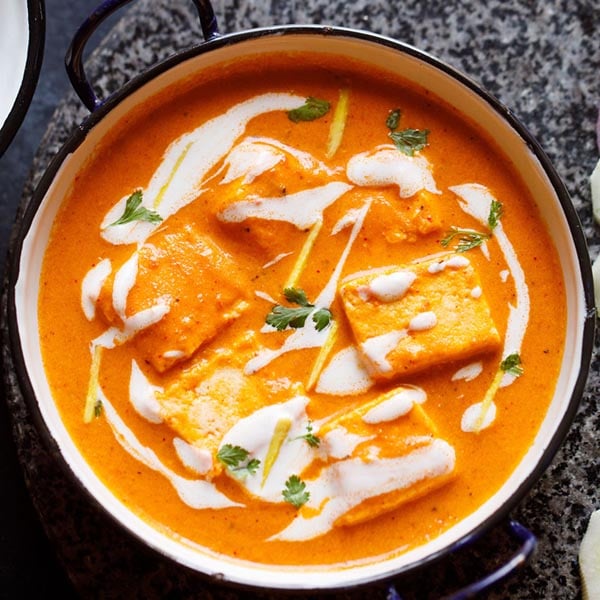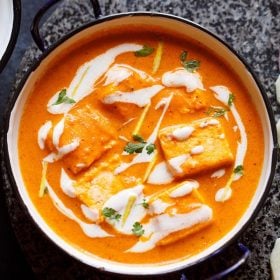 Moderate
40 minutes mins
Paneer Butter Masala Recipe is one of India's most popular paneer preparation. This restaurant style recipe with soft paneer cubes dunked in a creamy, lightly spiced tomato sauce or gravy is a best one that I have been making for a long time. This rich dish is best served with roti or chapati, paratha, naan or rumali roti.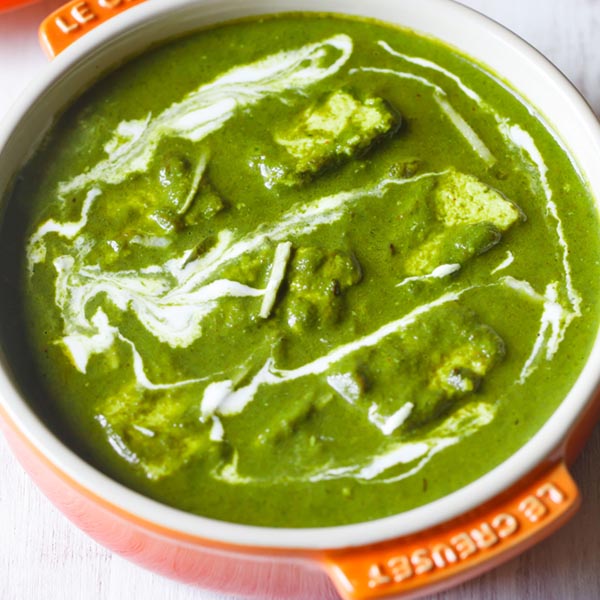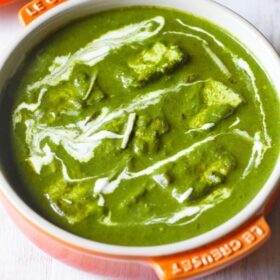 Moderate
40 minutes mins
Palak Paneer that is delicious, smooth and creamy. This easy palak paneer recipe is made with fresh spinach leaves, paneer, onions, tomatoes, herbs and spices. This is one of the most popular North Indian dish.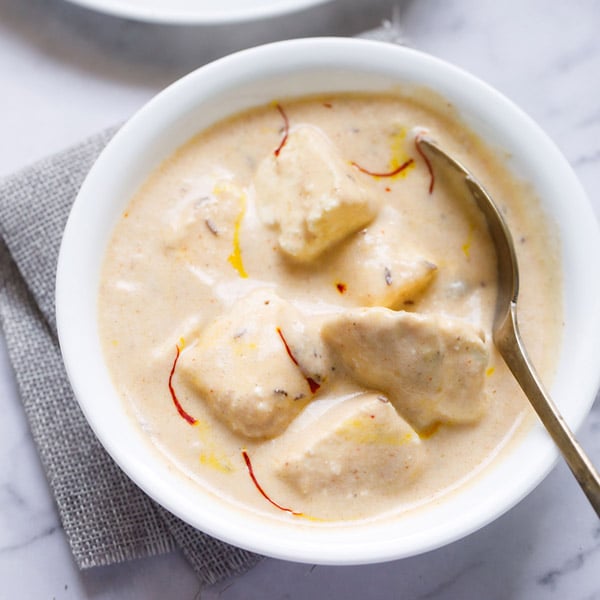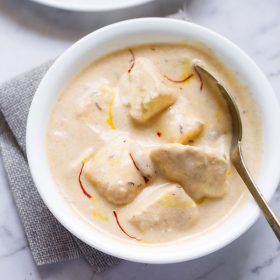 Moderate
40 minutes mins
This Shahi Paneer is deliciously rich and creamy, making it one of the most popular recipes in Mughlai cuisine.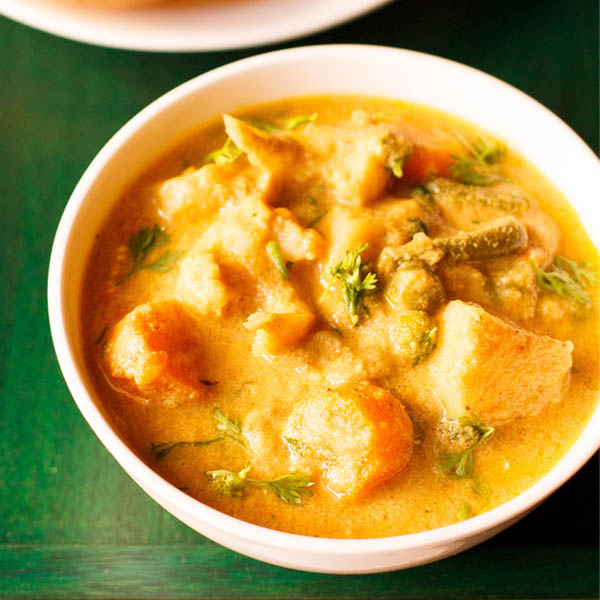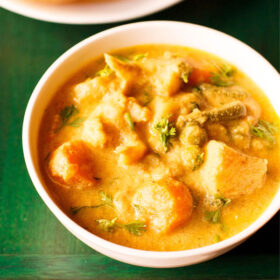 Moderate
45 minutes mins
Absolutely flavorsome and delish is this Vegetable Kurma – a warming, spiced and complexly flavored curry from the Indian Cuisine made with nuts, seeds, spices and mix vegetables.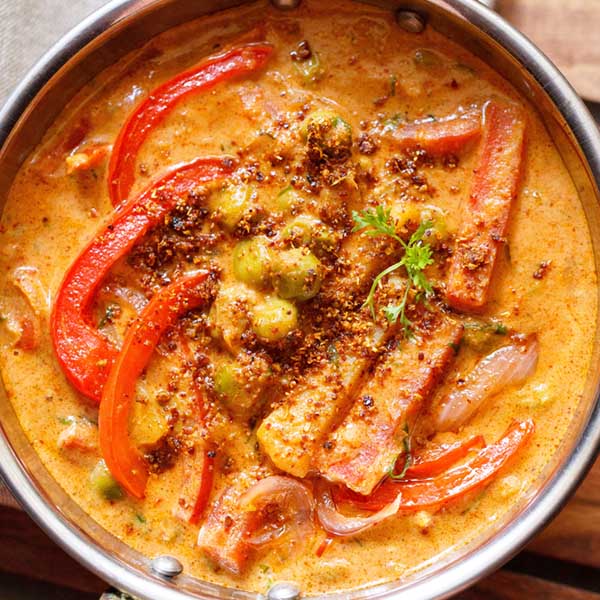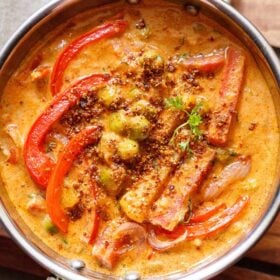 Moderate
1 hour hr
This delicious, vibrant Veg Kadai gravy is filled with rich flavors, aromatic spices and vegetables. Made in a kadai (Indian wok) this dish has a medley of onions, tomatoes, bell peppers and various assorted veggies together with spices and cream for a finger-licking restaurant style gravy!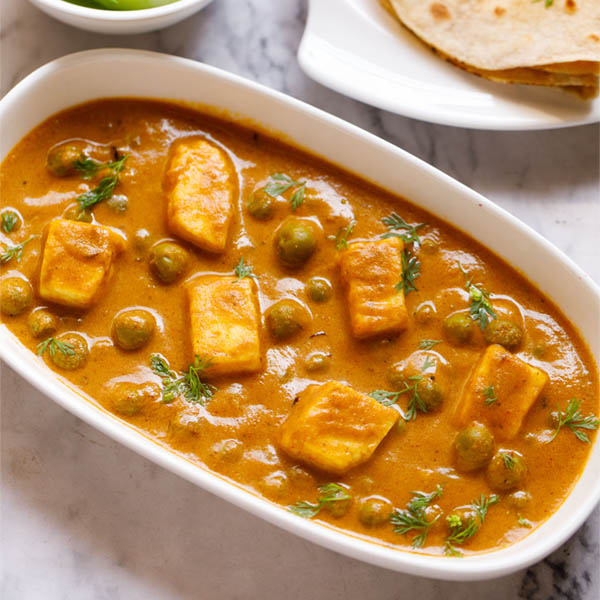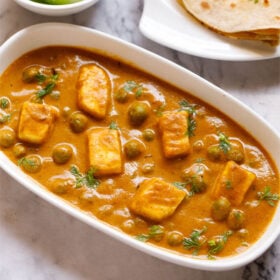 Moderate
30 minutes mins
Matar Paneer is a popular North Indian curried dish featuring green peas and paneer (Indian cottage cheese) in a masala base of onions, tomatoes, cashews, spices and herbs. I'm sharing our family recipe of a flavorful and simple home-style Mutter Paneer. I have also shared making Matar Paneer in the Instant Pot and in a pan or pot on the stovetop.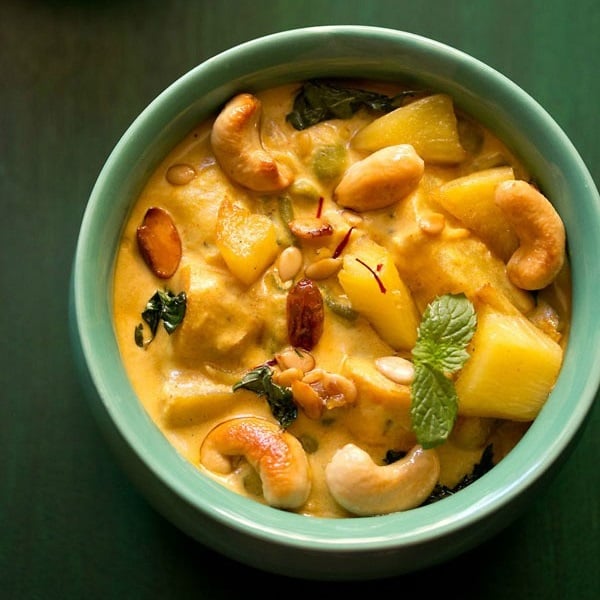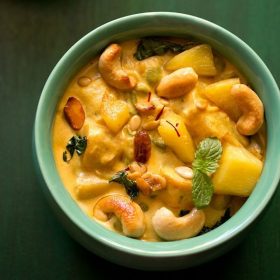 Moderate
1 hour hr 10 minutes mins
Navratan korma is made with 9 ingredients and consists of plenty of nuts, dry fruits, assorted vegetables, fruits, cream, a lot of spices and a few herbs.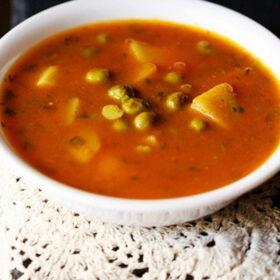 Moderate
30 minutes mins
This Aloo Matar (also spelled Aloo Mutter) is a simple, delicious, comforting curry recipe of potato and green peas in an onion, tomato, spice laden gravy base. It makes for a healthy and comforting meal when paired with Indian breads or steamed rice.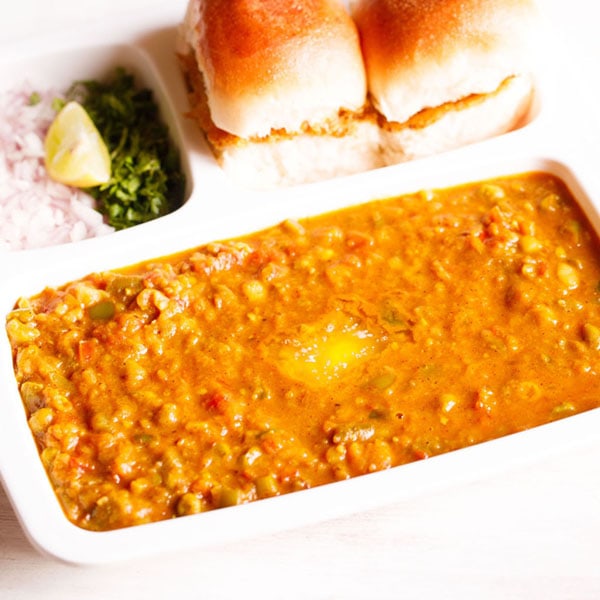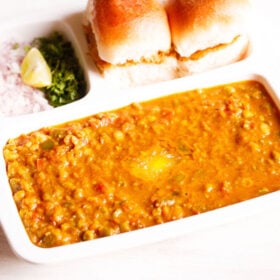 Moderate
40 minutes mins
Pav Bhaji is a hearty, delightsome, flavorful meal of mashed vegetable gravy with fluffy soft buttery dinner rolls served with a side of crunchy piquant onions, tangy lemon and herby coriander. You will love this pav bhaji recipe for its Mumbai style flavors. I share the traditional method of making Mumbai street style Pav Bhaji recipe and a quick Instant Pot recipe.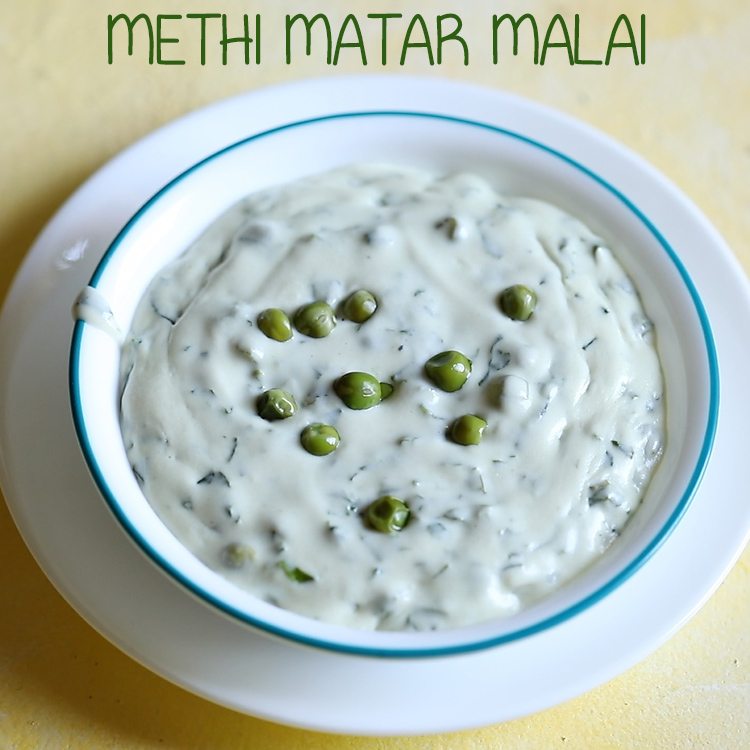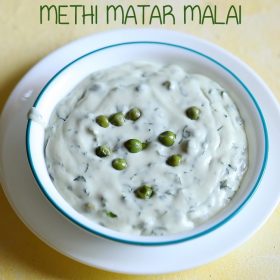 Moderate
30 minutes mins
Methi Matar Malai is a rich and delicious North Indian curry made with fenugreek leaves, green peas and cream. Smooth and creamy this recipe is a surefire winner with kids and adults alike.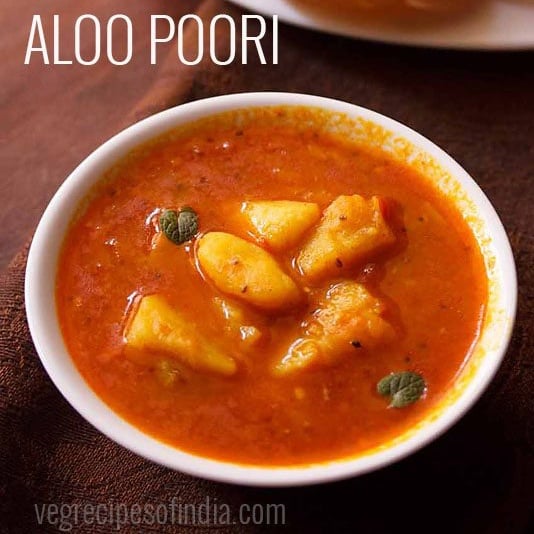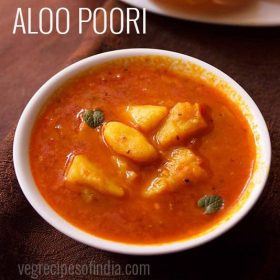 Moderate
1 hour hr 15 minutes mins
This Punjabi Aloo Puri recipe is a traditional dish of a spiced Potato Curry (Aloo Sabzi) served with Puri. Both the Aloo Curry and the Puri (Indian fry bread) served together makes for a filling and satisfying meal.
Rice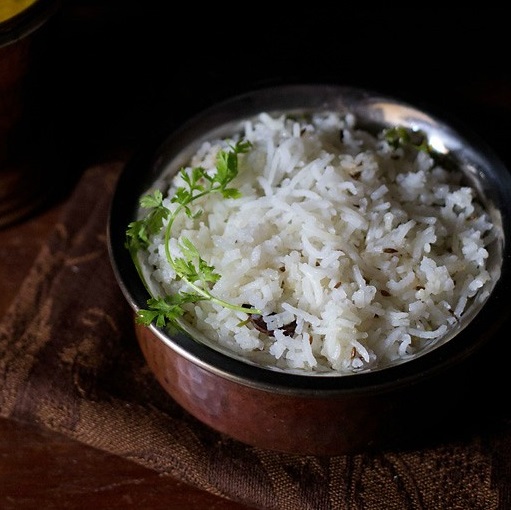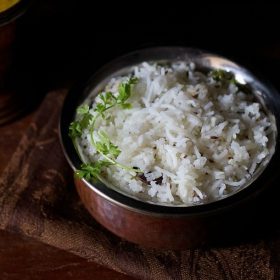 Moderate
55 minutes mins
Give a makeover to the simple steamed rice by adding cumin (jeera) and some fragrant spices. This restaurant style Jeera Rice recipe is mildly spiced, fragrant and tastes too good.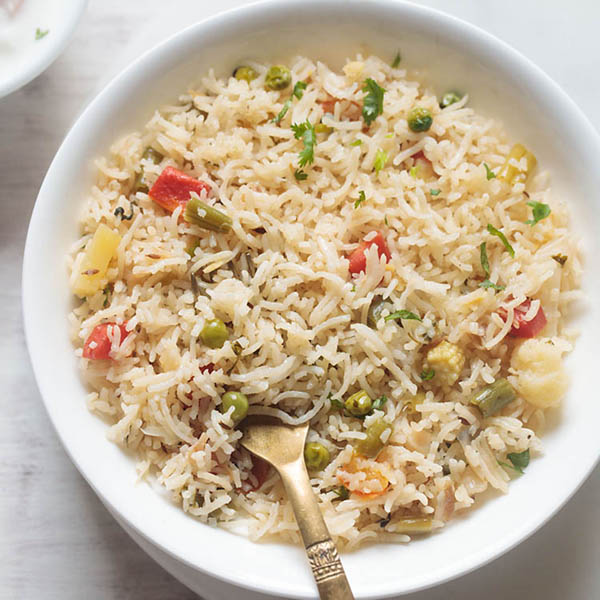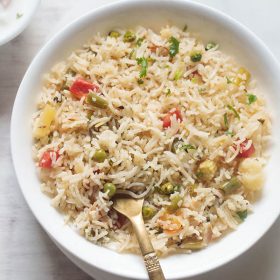 Moderate
40 minutes mins
Trying to get more vegetables in your diet? Try this vegetarian one pot meal of Pulao or Pulav made with basmati rice, mixed veggies, spices and herbs. Use the vegetables that you like most, like peas, potatoes, and green beans. Make this simple Veg Pulao recipe that packs a punch of flavor!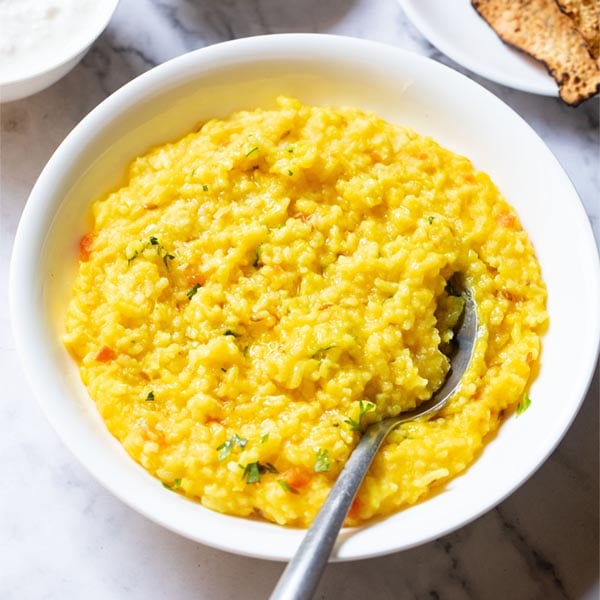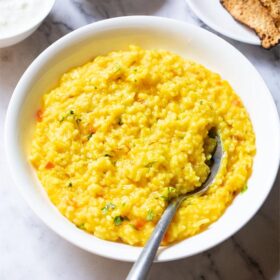 Moderate
40 minutes mins
Khichdi recipe is a delicious one pot meal of rice and moong lentils. Moong Dal Khichdi is light and easy to digest healthy food. Stove-top pressure cooker, Instant Pot and Stove-top Pan instructions are included in the recipe card.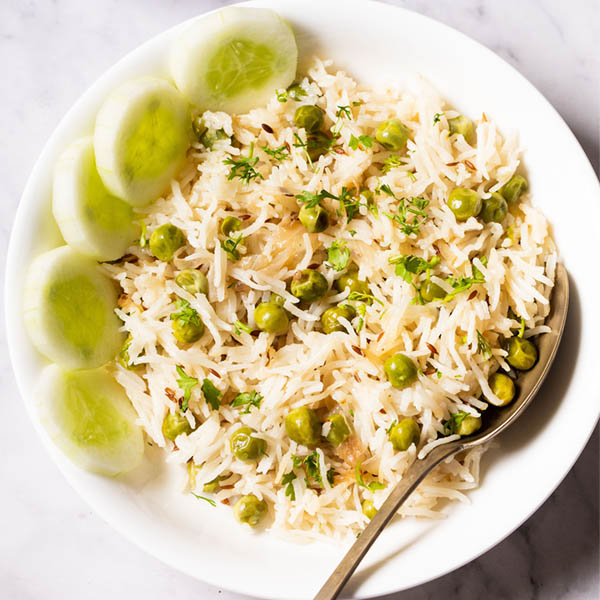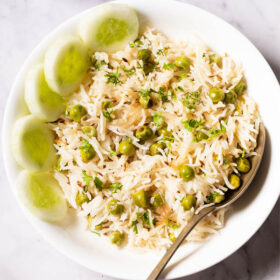 Moderate
25 minutes mins
Peas pulao also known as matar pulao is a tasty rice and green peas dish made with caramelized onions and aromatic spices. It can be prepared entirely in a stove-top pressure cooker or in a pan or in the Instant pot. I share all three ways to make this delish peas pulao.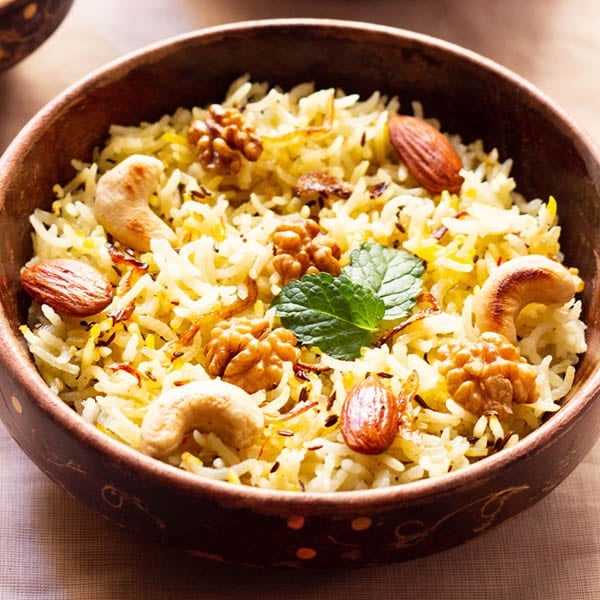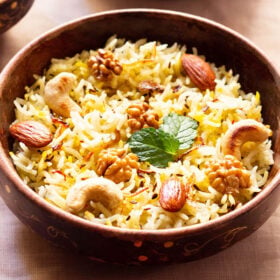 Moderate
45 minutes mins
Kashmiri pulao is a delicious variant of rice pulao from Kashmiri cuisine made with nuts, dried fruits, saffron and fresh fruits. It is aromatic, mild and faintly sweet in taste.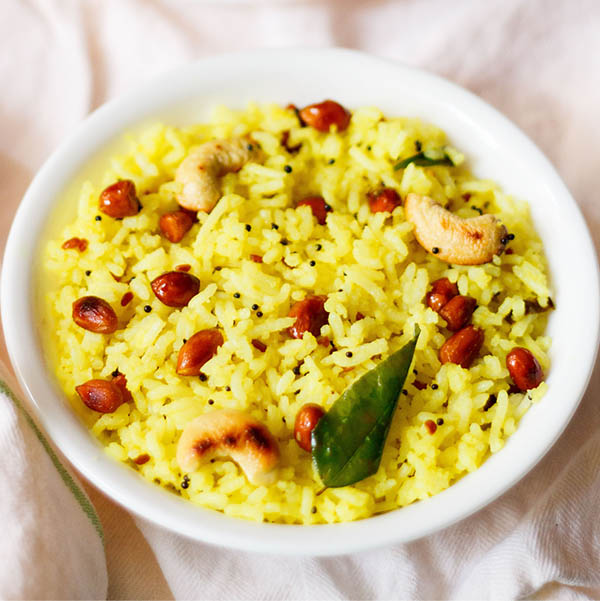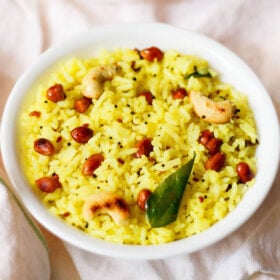 Easy
25 minutes mins
Lemon Rice also referred to as Chitranna or Nimmakaya Pulihora is a crunchy, flavorful and tangy rice dish that is easy to make and tastes so good. Fresh lemon juice, fried nuts, fragrant herbs and spices combine perfectly to give this steamed rice an amazing spicy, tangy and nutty flavor.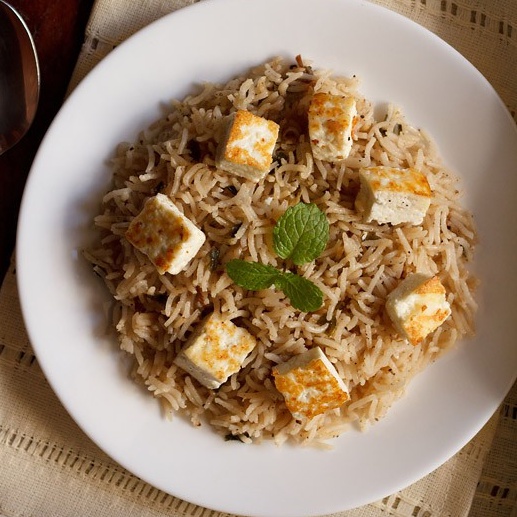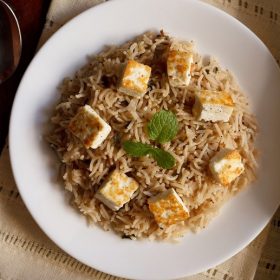 Moderate
50 minutes mins
This is a fragrant and lightly spiced paneer pulao made with freshly ground pulao masala which really brings in a lot of flavor and aroma in the recipe.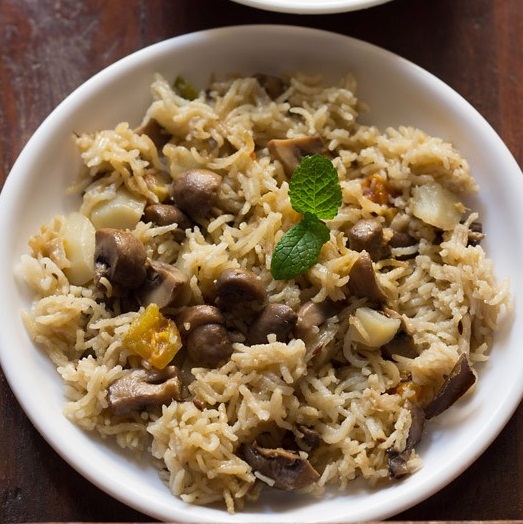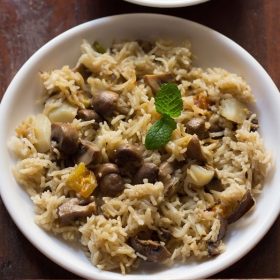 Moderate
45 minutes mins
This is a mild, flavorful mushroom pulao made with white button mushrooms, basmati rice, thick coconut milk, aromatics and herbs. It makes for an easy and quick lunch or dinner.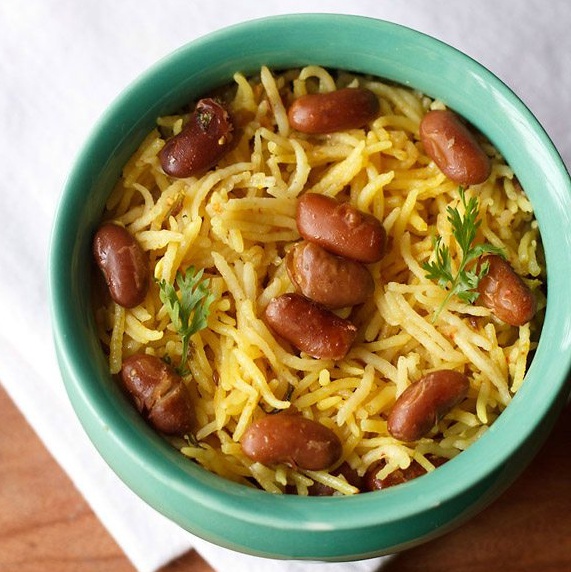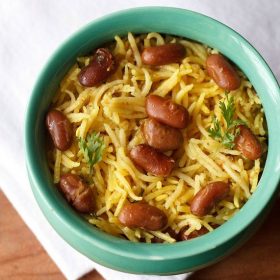 Moderate
9 hours hrs 35 minutes mins
Aromatic spiced kidney beans pulao made with kidney beans, basmati rice, onions, herbs and spices.
Indian Breads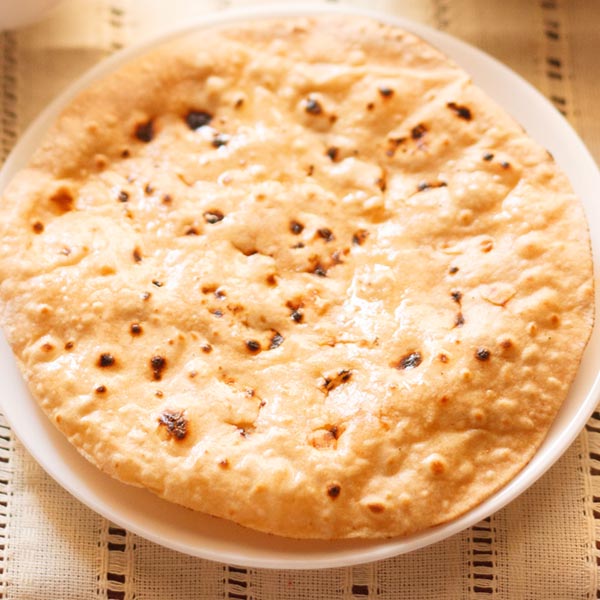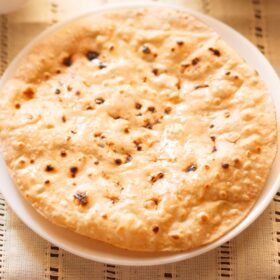 Moderate
1 hour hr 10 minutes mins
Roti or Phulka or Chapati is an everyday staple Indian flatbread that is made in nearly every part of India. This roti or chapati recipe of an unleavened flatbread is made with basic ingredients – whole wheat flour, ghee, salt and water.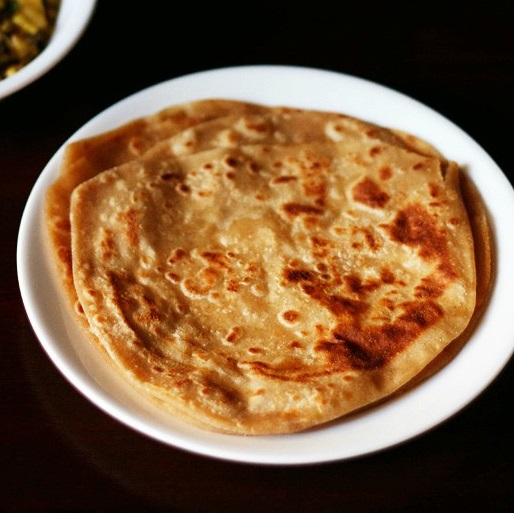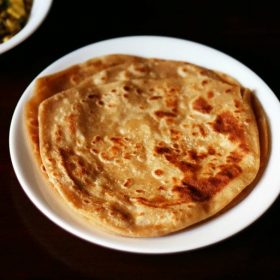 Moderate
1 hour hr 5 minutes mins
Crisp as well as soft unleavened whole wheat flat Indian bread. Plain paratha are popular breakfast or tiffin recipe that can be served with pickle or any side veggie dish.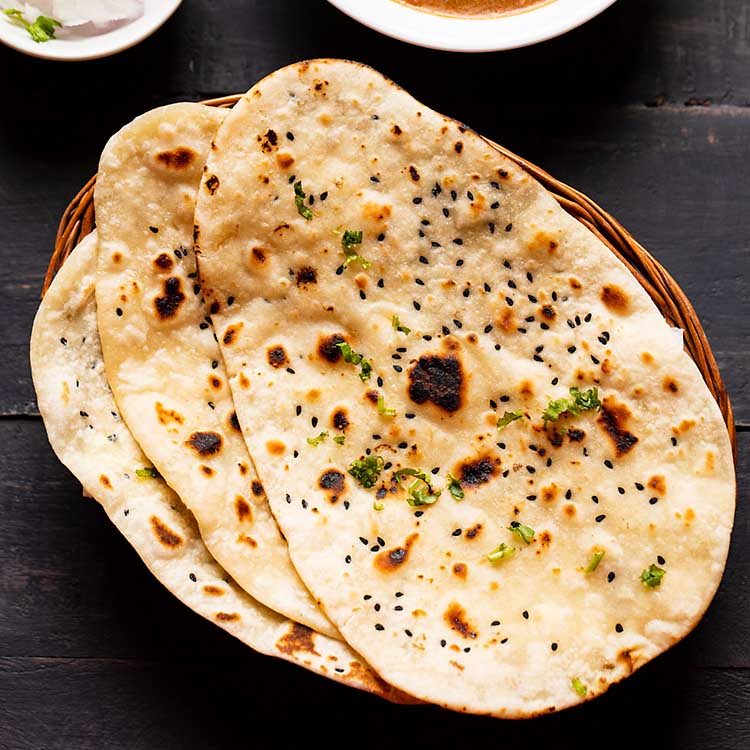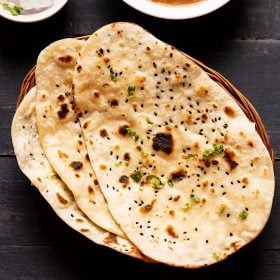 Moderate
2 hours hrs 50 minutes mins
Easy naan bread recipe without yeast on tawa or stovetop – soft, chewy and delicious naan bread made on stove-top and on a griddle.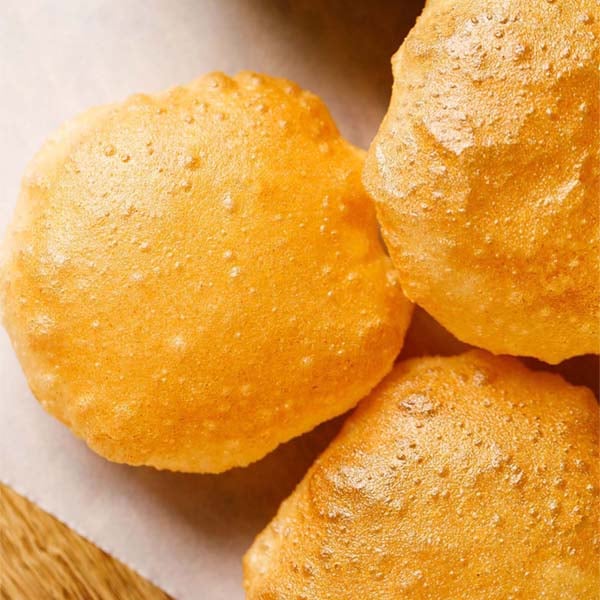 Moderate
40 minutes mins
Poori or Puri is a traditional Indian fried unleavened bread made with only whole wheat flour, salt, and water. Make crispy, fluffy, and soft poori to enjoy with your favorite meals.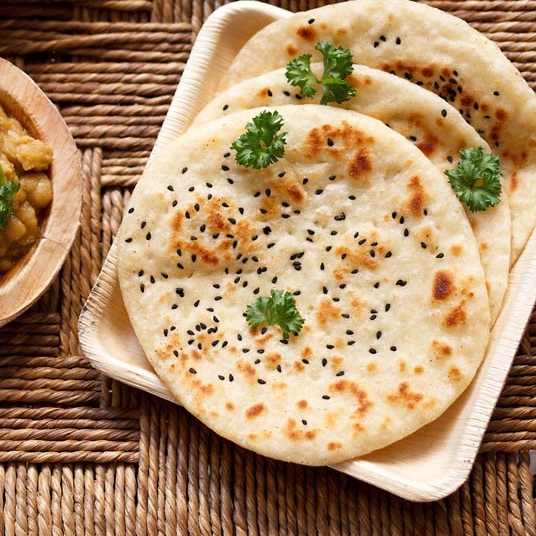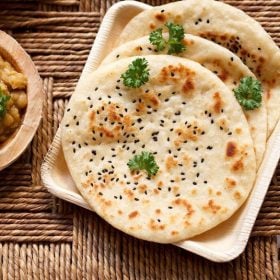 Moderate
2 hours hrs 45 minutes mins
Kulcha is a popular soft leavened North Indian flatbread. It can be made in the tandoor as well as on a tawa or skillet. Serve Kulcha with a robust and spicy Chana Masala or Chickpea Curry.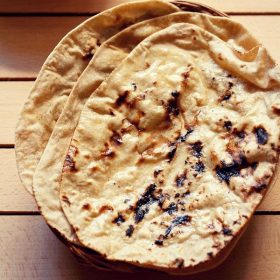 Moderate
1 hour hr 10 minutes mins
This simply delicious, soft, chewy Tandoori Roti is one of my favorite Indian flatbread of all time. I share 2 different methods to make this yummy butter roti without tandoor.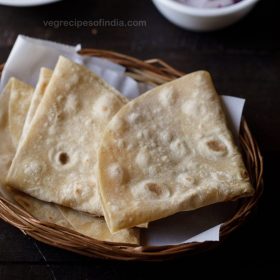 Moderate
1 hour hr
Rumali Roti is one of the unleavened Indian breads that is made traditionally in the Awadhi, Mughlai and Hyderabadi cuisines. Roomali roti are thin soft rotis and can be folded like a handkerchief. Hence the name Rumali or Roomali roti. The word 'rumal' means handkerchief in Hindi language.
Snacks, Starters & Soups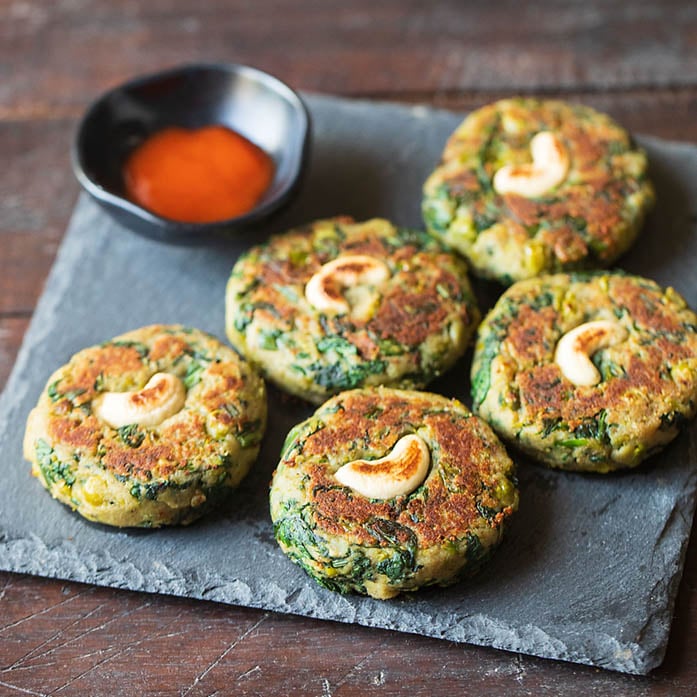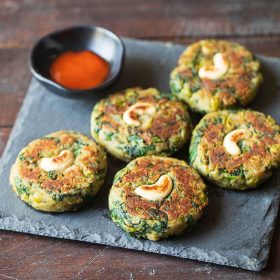 Moderate
50 minutes mins
Hara bhara kabab is made with fresh spinach leaves, green peas and potatoes. So they are nutritious as well as delicious. Hara bhara kebab makes for a good Indian starter or snack. This green kabab can also be stuffed in burger buns or sandwiches can be made from them.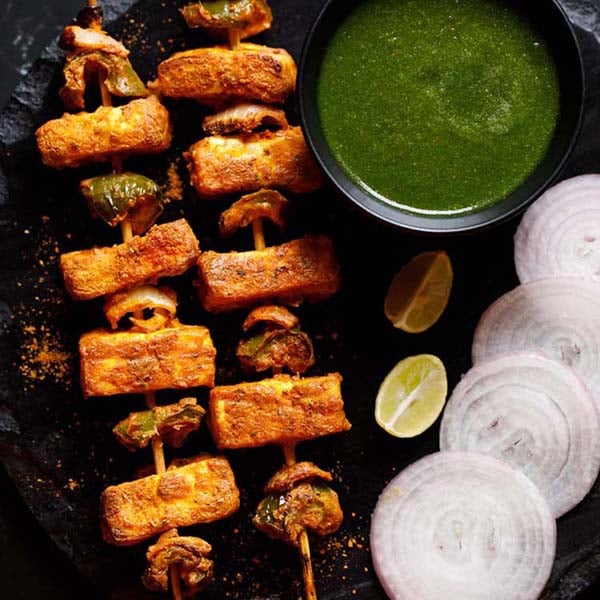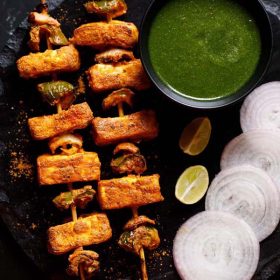 Moderate
2 hours hrs 30 minutes mins
This Restaurant Style Paneer Tikka is a popular and delicious tandoori snack where paneer (Indian cottage cheese cubes) are marinated in a spiced yogurt-based marinade, arranged on skewers and grilled in the oven.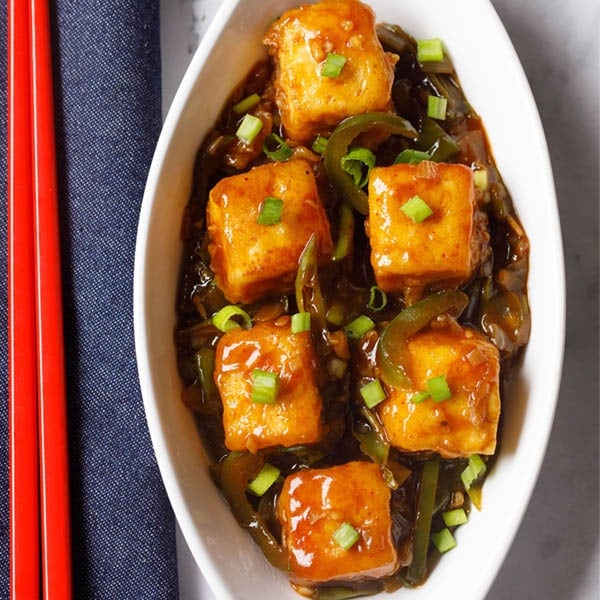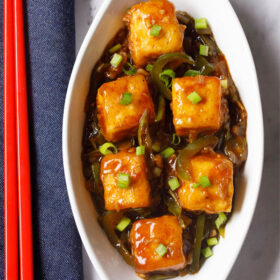 Moderate
30 minutes mins
Chilli Paneer is one of the popular recipe from the Indian Chinese made with batter coated, crispy fried paneer cubes tossed in a spicy, salty, tangy and sweet sauce made with green bell peppers, garlic, ginger, green chillies and seasonings. This Chilli Paneer recipe has a restaurant style taste and flavor.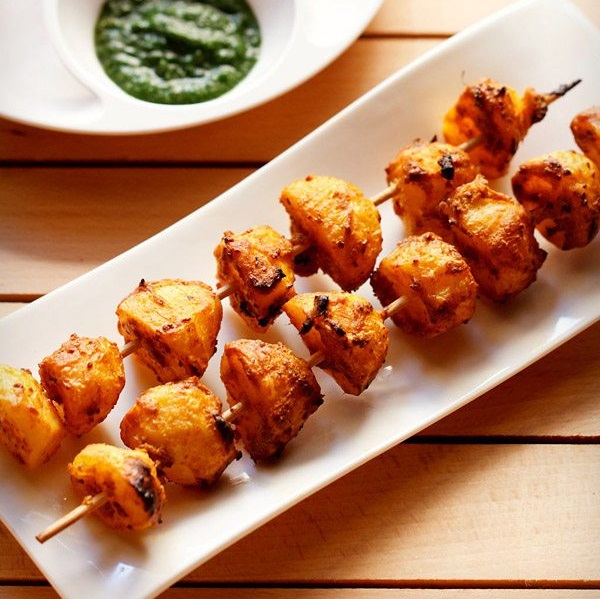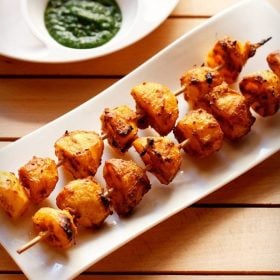 Moderate
40 minutes mins
Tandoori Aloo also called Tandoori Aloo Tikka is a flavorful appetizer or starter snack of marinated, spiced potatoes that are usually grilled in a Tandoor – a clay oven. My recipe of Tandoori Aloo is easily adaptable to grill in an oven or pan-fry in a skillet or frying pan.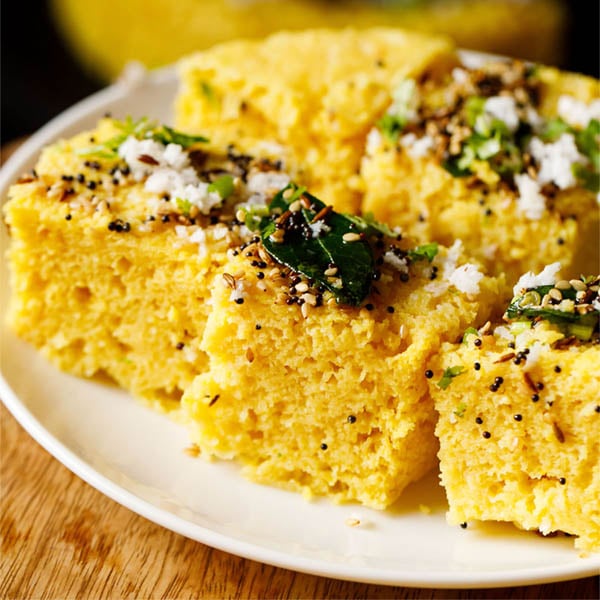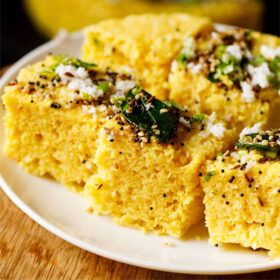 Easy
20 minutes mins
This khaman or khaman dhokla recipe makes a wonderfully soft and fluffy, lightly sweet and savory cake that's perfect to enjoy anytime of the day. It's easy to prepare steamed on the stovetop or even in the Instant Pot with my instructions.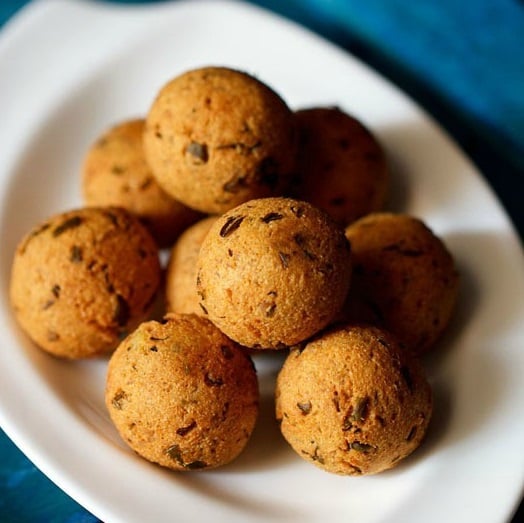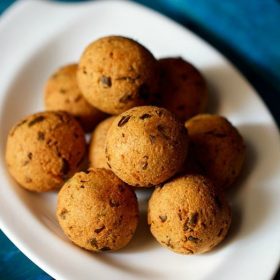 Moderate
45 minutes mins
Easy to prepare tasty recipe of cheese balls made with potatoes, gram flour and cheese. This popular snack is vegetarian and gluten free, making it the perfect appetizer to share.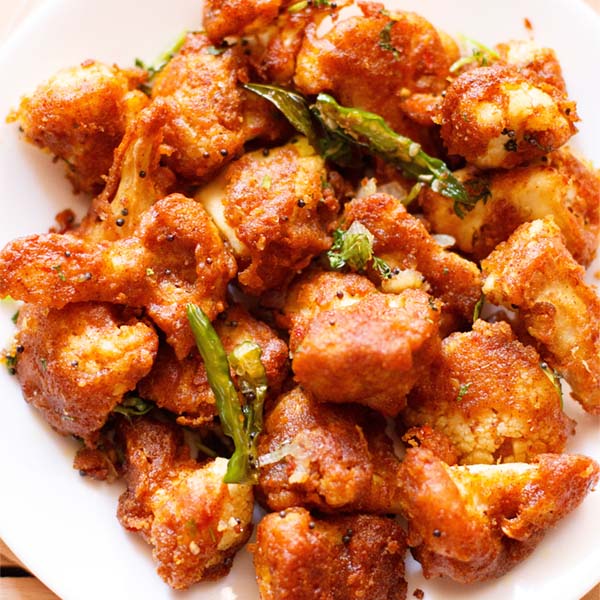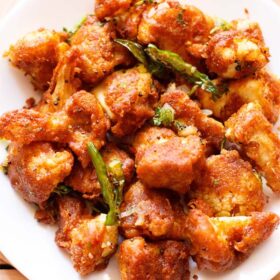 Moderate
1 hour hr 10 minutes mins
Spicy, crispy, vegan Gobi 65 is a fried cauliflower appetizer or snack that everyone will love. Crunchy and savory cauliflower 65 is perfect to serve with tomato ketchup, red chili sauce, chutneys, or your favorite condiment to dip.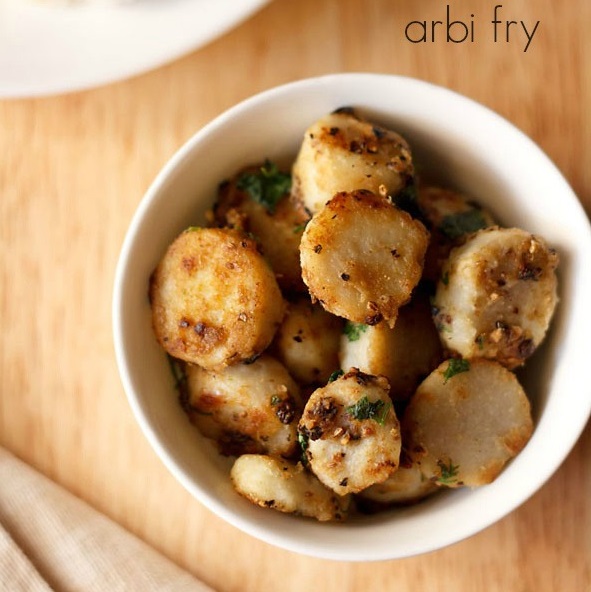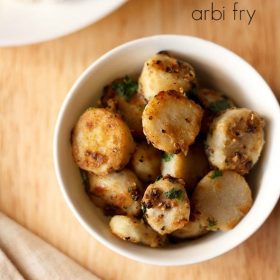 Moderate
32 minutes mins
This arbi fry also called as Seppankizhangu Fry in Tamill language is a dry preparation of colocasia or taro roots with spices and herbs.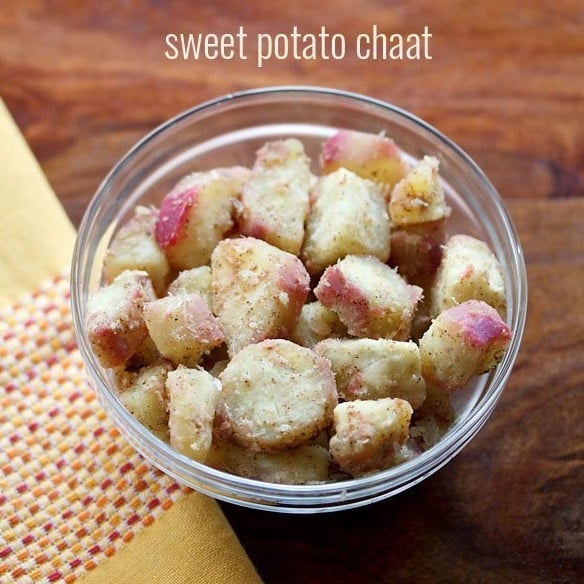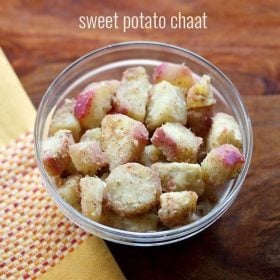 Easy
15 minutes mins
Sweet potato chaat is one of the easiest to prepare chaat recipe with sweet potatoes or shakarkandi and a few spice powders.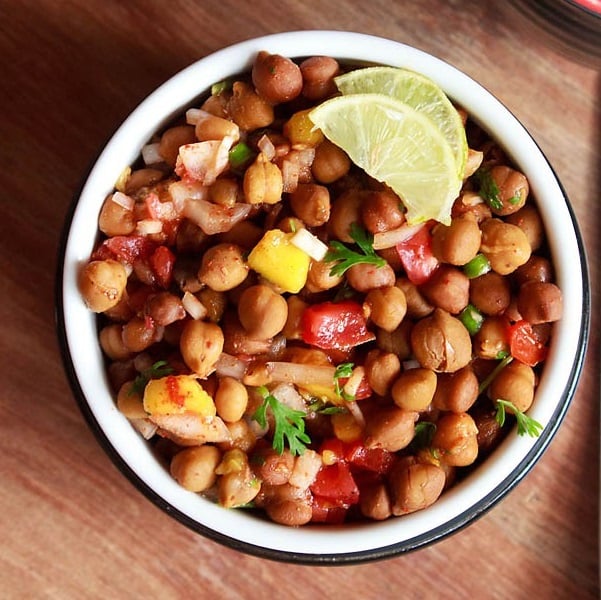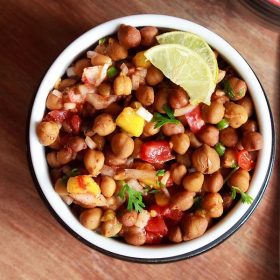 Easy
30 minutes mins
Kala Chana Chaat is a tangy and tasty snack made from black chickpeas. This recipe is supremely easy to make. Just prep up the ingredients and mix everything together in a bowl.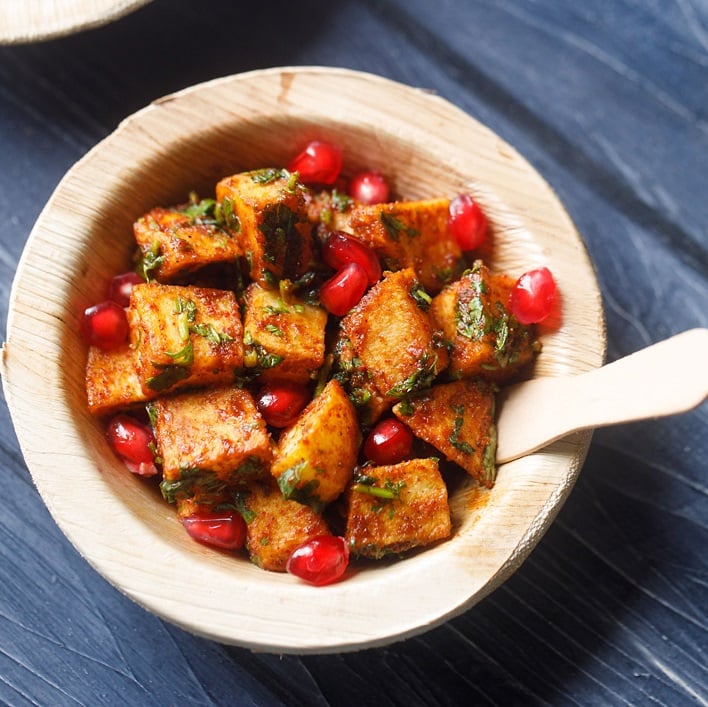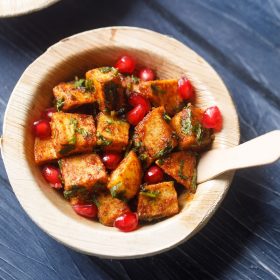 Easy
15 minutes mins
Aloo chaat is fried crisp potatoes tossed in spicy and sweet chutneys, a few ground spice powders and then topped with curd, pomegranate arils and sev. It is a popular street food snack.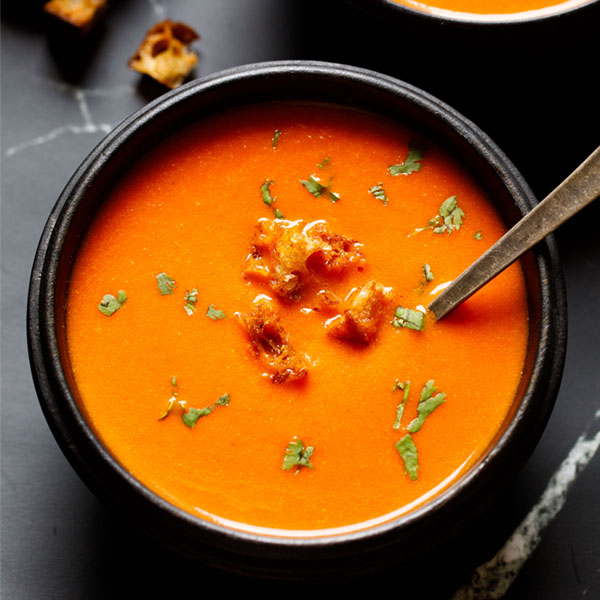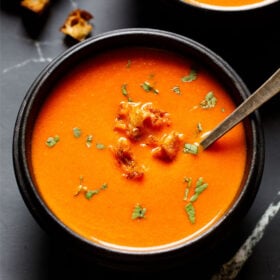 Easy
25 minutes mins
Comforting, velvety smooth tomato soup recipe from scratch perfect for enjoying as a hearty lunch or light dinner.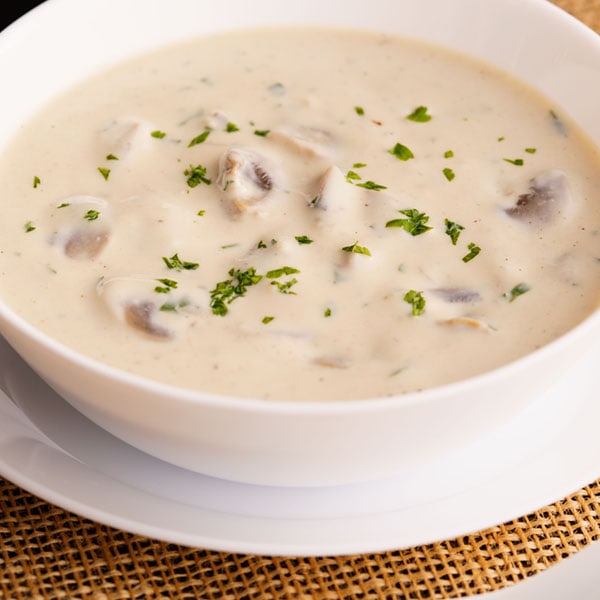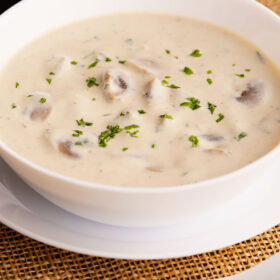 Moderate
30 minutes mins
This rich, creamy and delicious mushroom soup recipe is wonderfully satisfying to enjoy any time of the year. It's a hearty soup prepared in just one pot, and is perfect to make even on a busy weeknight in only 30 minutes.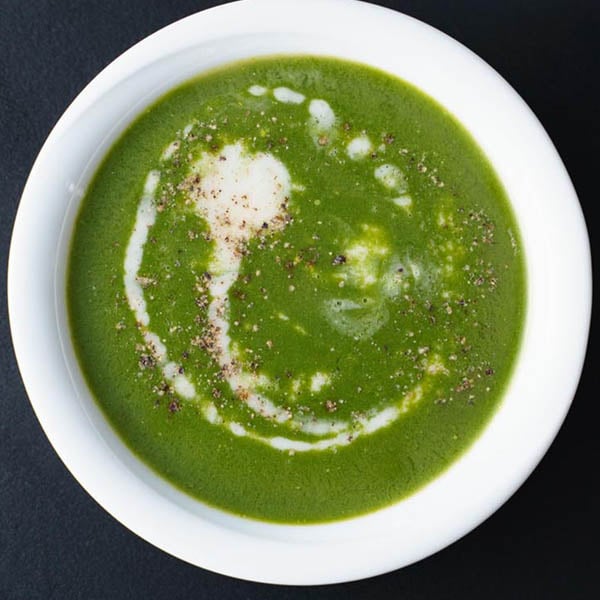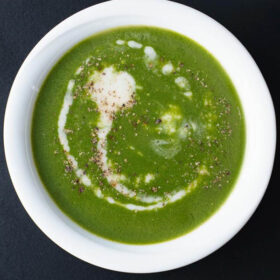 Moderate
30 minutes mins
Spinach soup is a wonderfully flavorful, comforting, and healthy dish. It's made with simple, wholesome ingredients for a highly nutritious soup.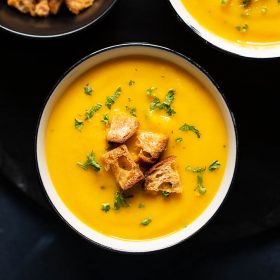 Easy
30 minutes mins
A delicious one pot, creamy and thick carrot soup that you will be making again and again. The recipe is also vegan.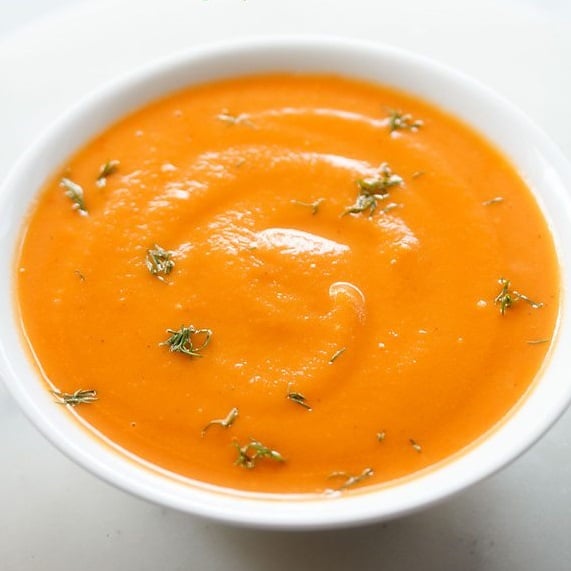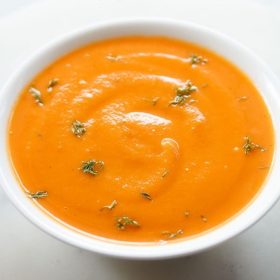 Easy
30 minutes mins
A Carrot Ginger Soup that is made with 8 ingredients and in just 30 minutes. An easily adaptable recipe that is a perfect option for any busy weeknight. Light, bright, healthy and filled with vegetable goodness.
This Karwa Chauth Recipes and Karwa Chauth Puja Vidhi post from the archives was first published in October 2011. It has been updated and republished in October 2023.