Northern lights roaring above overnight. Dog-sledding through a pastel-colored landscape as the sun sets below the horizon at 2 in the afternoon. Reindeer feeding from your hand at local Sami camps. All these and much more are possible in Tromso, also written Tromsø, in Norway. But the questions are:
How much does it cost to travel to Tromso?
Is it possible to travel to Tromso on a budget and still have fun?
Well, Norway and the northern lights are synonymous with an expensive holiday. But the truth is that you can enjoy the Arctic without going bankrupt.
We're gonna answer these two questions and much more in this guide. Tromso is just one of those bucket-list places, and from my recent trip to Tromso in the winter months, I can tell you: for me, it was worth every penny!
Is Tromso Expensive? Can we visit Tromso on a budget?
Yes and Yes! If you're planning a trip to the Arctic North of Norway, you're probably a bit concerned about budgeting for your trip to Tromso (and probably to any other Norwegian cities).
Many people think Tromso is expensive, and they're not entirely wrong. Norway has a high cost of living and it is one of the most expensive destinations to travel in the world, as a result, Tromso is not the first place that comes into the mind of budget travelers.
Keep in mind that visiting Tromso on a budget will be still relatively high compared to other destinations. However, I found many things in Tromso to be more reasonably priced than I expected.
That said, at the end of the day, I would never call it a budget destination. I do, however, think you can smartly plan your travel expenses so that you don't minimize your experience, but you do minimize your costs in Tromso!
So, how much does it cost to visit Tromso?
I'm breaking down Tromso prices below, from accommodation to activities, food and transportation. So you can plan your Tromso travel budget and make the most of your trip and money.
Tromso Travel Cost Breakdown
I'm kicking off our Tromso trip costs with accommodation and what you can expect to pay for hotels and hostels there.
Tromso Accommodation Costs: hotels, hostels and Airbnb prices
Let's get this out of the way first since you'll inevitably end up staying in a sort of accommodation while exploring Tromso and its surroundings!
While Norway does have a law that guarantees the right to wild camping (allemannsretten, or everyman's right), you have to be at least 150 meters away from an inhabited house – hard to do in a city as compact and busy as Tromso!
Plus, if you're visiting Tromso in winter, you're likely not in the mood for camping, anyway.
If you want to save money while visiting Tromso, Airbnb is a great option. I stayed in a room in a family's house with lots of privacy for about USD 57 a night – an absolute steal in Norway! This is the Airbnb I stayed in. 
Meanwhile, Tromso hotels tend to range from USD 200-300 USD/night and the average price for hostels is from USD 50 to 80 USD per bed/night. 
At the end of the day, it is all about the experience you want to have and how much money you can spend on your trip.
I know accommodation is one of the biggest worries of any traveler, to help you choose where to stay in Tromso that fits your pocket I made a list of hotels. All of them are among the best hotels in Tromso.
I'm going to start with luxury stays because, you know, you might want to splurge a bit. Then you will find affordable hotels and a hostel. It doesn't matter which one you choose, a good night of sleep is guaranteed.
Best mid-range/luxury hotels in Tromso, Norway:
This is one of the best places to stay in Tromso for travelers who want to sleep under the Northern lights and experience all the raw beauty of Sommaroy Island. Technically it's not in Tromso, it's one hour of scenic drive to the city. You will be a bit far from Tromso but in the middle of the wild.
All rooms and one/two bedroom apartments are in Scandinavian style and some of them have incredible sea views.
When planning your travel itinerary and expenses, don't forget to add the extra cost of getting from/to the hotel.
It's a really nice hotel with a beautiful design, and most of the tours you can book depart from here, so it's great if you want to do a lot of activities and have it be convenient. Great location.
Clarion Collection Hotel Aurora 
This hotel has a cool hot tub on the roof (great for trying to spot the aurora over the city, which is rare but not unheard of) and is near the Hurtigruten cruise terminal, so it's great if you're taking a cruise through Norway which stops in Tromso.
Plus, when booking a room you get an afternoon coffee with waffles, and a light evening meal included. What a deal!
---
Best budget hotel in Tromso, Norway:
This is a popular budget hotel in Tromso. It's right by the main shopping street, so it has a central location, but the rooms are a bit on the smaller side, so it's more affordable.
---
Best hostel in Tromso, Norway: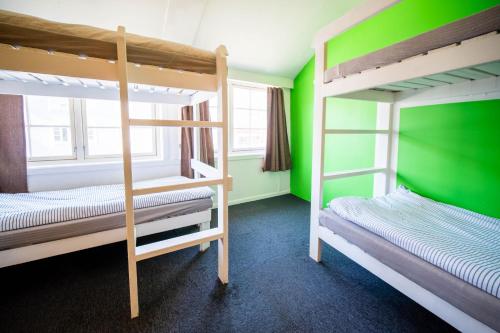 If you are looking for a cheap hostel in Tromso without giving up the comfort, Tromso Active Hostel is the place to put your head at rest. It's a cozy house-style hostel with bunk beds, shared bathroom and kitchen facilities, and close to Tromso attractions.
If those suggestions don't fit your daily vacation expenses, you can find more hotels and hostels in Tromso on Booking.com or Agoda websites. Use the platforms' price range filter to find the perfect match for you.
Also, read our Accommodation Guide here for more tips on how to choose and book the best accommodation for any trip.
Costs of Getting Around Tromso: local and airport transportation
One great place to save money in Tromso is on transportation. The city is very walkable, so if you stay within 10 minutes of the city center, you can walk just about everywhere you need to go.
The bus in Tromso is rather expensive. Tromso bus pass price is 50 NOK (about USD 6) for a single ride and 100 NOK (about USD 12) for a 24-hour pass.
So, if you are trying to decide between staying in a hotel in Tromso city center and a place outside the center where you will need to use public transport, be sure to factor transport into your budget as well.
You don't need to have cash to use the buses in Norway. You really don't need cash for anything, frankly! You can pay with a credit card or you can download the app TFT Mobillett to pay for your tickets. If you use the app, I believe you can get a discounted rate for 33 NOK per ride (USD 4).
The good news is that transportation to and from the airport in Tromso is rather affordable. You can take one of several city bus lines, or you can take the Flybuss Airport Express Coach for 70 NOK (about USD 8) one way, and 100 NOK (about USD 12) return.
Compared to many European destinations' transit costs between airports and city centers, this is a downright deal!
If you are up for a road trip in Norway, you can rent a car in Tromso from 60 to 100 USD per day. Not cheap, but it might be a good option if you are traveling with friends or family and want to plan some Tromso day trips by yourself.
You can find the best deals for car rentals in Tromso at Rentalcars and Auto Europe.
Cost of food in Tromso: how to eat well and cheap
Here is another place where you can make a huge variety of choices that will impact the overall outcome of your Tromso budget.
If you go to one of the Norwegian supermarkets, the cost of groceries is rather affordable. Frankly, I find Norwegian grocery costs to be roughly on par with most European supermarkets.
However, the cost of fruit and vegetables beyond basic veggies like spinach and broccoli are often relatively high due to the distance they must travel to arrive North of the Arctic Circle. So if you rely a lot on salads, you may end up finding groceries a bit on the pricy side.
One great thing about grocery stores in Tromso is that there are so many options for vegan, gluten-free, etc., and the prices for specialty diet products are not drastically higher than other groceries. So if you are worried about finding the type of food you need for your diet, I wouldn't be concerned!
You can drink tap water in Tromso, which means that the money you would spend on bottles of water can be used on a nice meal.
You can also dine out for your meals in Tromso, and I do recommend this!
Tromso is a vibrant university city of 50,000+ people and the dining scene here is delicious. I love Nordic food because it's simple, focuses on local and seasonally available ingredients such as seafood, and it's creative. 
I mean, where else can you get a dish of fried codfish tongues which taste like delicious chicken nuggets, or reindeer burgers? I do suggest staying the hell away from the lutefisk, though, unless you have a stomach that belongs in Fear Factor.
Here are my tips for eating out in Tromso: 
Most restaurants have a good deal for lunch which is dramatically cheaper than dinner. Most of the time, I was able to get a two-course lunch for around USD 20. I had a great cheap hot meal at Mathallen for lunch, where my special was less than USD 10.
I also had an amazing two-course meal at the fanciest restaurant in the city, Fisketcompanie, for USD 40 with a table overlooking the harbor! However, those same meals at dinner could easily be double the price. So if you are looking for cheap eats in Tromso, keep an eye on the lunch deals.
If you are trying to save money, I would strongly recommend eating breakfast at home or grabbing just a small coffee and pastry from a coffee shop (this can be done for about USD 8), eating out your meals at lunchtime, and then cooking dinner at home.
Do note, as well, that many activities include a meal, such as trips to Sami reindeer camps and dog-sledding adventures, especially if they are evening activities. These can reduce your overall costs and take a bit of sting out of the cost of activities in Tromso… easily your biggest expense when traveling to Tromso!
Another tip for saving money is to skip alcohol during your stay. A glass of wine is easily USD 15, and the price of beer in Tromso is not far off, around 10-12 USD. Stay dry on your trip to Tromso and you'll save a fortune!
And if you must drink, pick up some beers at the Kjeller 5 to enjoy at home – the beers here are a reasonable price. Any stronger drinks must be purchased at a government liquor store, Vinmonopolet (literally, wine monopoly!). The prices there are slightly reasonable, better than buying in a restaurant, though tax is high.
Cost of Activities in Tromso and how to save:
This is really where most of your budget will go. I spent a lot of money on activities while I was in Tromso for 7 days, but honestly, I don't regret a thing!
The reason you go to Tromso is to get involved in the local wilderness, strongly preserved Indigenous and Northern Norwegian culture, and see the magic of Tromso Northern Lights.
Here are a few Tromso activities I did and the costs associated with each; click on names to see all the details.
All in all, I spent USD 937 on activities in Tromso on a one-week trip. However, my whale-watching tour was canceled, so it ended up being a little less.
If you have to narrow it down to just three things to do in Tromso, I would pick the aurora chasing tour, the dog-sledding adventure, and either the Tromso Ice Domes or the reindeer farm tour with a Sami guide.
You also could cut back significantly by viewing museums such as the Polar Museum, Northern Norway Art Museum, and the Arctic Cathedral – all with entrance fees of around USD 10 – but I do think you should do some activities as well, even if you are visiting Tromso on a budget.
Another option is instead of planning a 7-day trip as I did, you opt for a 5 days which will be cheaper as you have fewer days of accommodation.
How to get to Tromso on a budget – flights best prices
To wrap up our post about how much it costs to travel to Tromso, let's talk about getting there.
My flight to Tromso from Sofia via Frankfurt was USD 500 roundtrip, so not outrageous, but not cheap either.
The cheapest flights to Tromso leave from Oslo and London. Flights from Oslo to Tromso can be as cheap as USD 40, and you can find flights from London to Tromso for as little as  USD 150.
Use Skyscanner to search for the best prices for flights to Tromso, Norway.
You can also travel from Oslo to Tromso by train or bus. They will take longer than flying and most of the time it won't be cheaper either. But in case you want to check the prices and timetables, OMIO website can help you with that.
If you like train trips, check out this guide to travel in Scandinavia with Eurail Pass. You can use the train pass to visit Norway, Denmark, Sweden and Finland.
The Total Cost of a Trip to Tromso, Norway
It's hard to predict the exact costs of visiting Tromso as it depends on many factors and the type of vacation you want to have. But here is what I think a budget range would be and a mid-range budget would be.
For visiting Tromso on a budget:
You will spend about USD 60 on accommodation per day, USD 150 on activities a day, and USD 30 on food a day. That totals up to USD 240 per person per day.
For a mid-range budget:
You will spend about USD 200 on accommodation a day, USD 200 on activities a day, and USD 100 on food a day. That totals up to USD 500 per person per day.
Of course, this doesn't factor in smaller costs like inter-city transit or incidental purchases, optional things like shopping, your travel insurance, or your cost of getting to Tromso.
Travel Advice:
Don't forget your Travel Insurance! You don't want anything to ruin your trip, right? So don't take the risk! Reliable travel insurance can help you in case of travel issues, from accidents to health problems, travel delays, and lost luggage.
There are many insurances in the market, our picks are HeyMondo and SafetyWing. We used both and always had a good experience. Click on the insurance names to get a quote.
The total cost of my trip to Tromso was about USD 2,500 including airfare, for a week there. For me, it was a fair price for a bucket list trip of a lifetime, but for others, I know it sounds expensive.
Rovaniemi in Finland is another great Arctic destination, it's also an expensive place to visit but worth the investment. Read this Guide to Rovaniemi Northern Lights and Activities and be inspired to visit the land of Santa Claus.
Now that you know how much money you need to travel to Tromso on a budget, check the dates on your calendar and start planning this dream trip. It might not be the cheapest trip of your life, but it will be worth every penny, that's for sure. 
Love this Tromso Travel Costs Guide? Pin it for later!!
---
Author: Allison Green
Allison is a passionate traveler who left her teaching job at the age of 26 to see as much of the world as she could. She visited 60 countries before the age of 30 and decided to move back to her beloved hometown of San Francisco. She blogs about international travel at Eternal Arrival and also podcasts about living and traveling with anxiety on her podcast, I'm Anxious About. You can follow her adventures on Instagram and Facebook.