*This post may contain affiliate links which implies that I may receive commission if you purchase through the links that I have provided (this happens at no extra cost to you). Here is my full affiliate disclosure.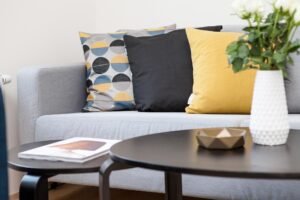 If you own (or are looking to buy) an investment property, you might already be thinking about alterations you can make to appeal to renters. A few repairs, modifications or amenities can provide great ROI and help your property to stand out on the market – here are some to consider.
Repairs
In the modern era, renters are increasingly savvy when it comes to finding functional properties.
For this reason, it's often a good idea to carry out repairs on plumbing and electricity before listing your property. Be sure to observe National Standard Plumbing Code (NSPC) requirements, abiding by minimum health, safety, and welfare standards.
You can also enlist an expert to help you meet the NFPA 70 National Electrical Code, which ensures safe electrical design and installation within American households. If you've met standards, you can then mention this on your listing.
If you're on a budget and looking for the most cost-efficient repairs, fixing windows is believed to represent an 89.6% ROI, adding to curb appeal and improving energy efficiency.
If you have one, you may also want to consider replacing your garage door – believed to represent a 94.5% ROI, improving the cohesiveness of your home's exterior, as well as providing a useful function for renters who drive.
Renovations
When you're looking to rent out your property, calculating ROI on renovations becomes a little more complicated. As a rule, you should look to subtract your annual rental income from any annual operating costs, you can then divide this number by your mortgage value.
Unsurprisingly, this calculation benefits renovations with low operating costs and long-term effects. You may also find the long-term survivability of any house renovations depends on the tenants in residence – remember, not everyone is clean or well-behaved.
When deciding where in the house to upgrade, a good place to start is with the kitchen – in properties with multiple tenants, this space is going to serve an important, communal purpose.
Given the advent of remote working, it may also double up as a home office. The smart way to go about kitchen renovations is to focus on improving 'eye appeal' – that means refinishing cabinets, replacing flooring or adding new countertops.
Outdoor spaces should also receive some focus. The pandemic has brought about a renewed interest in backyards, pools, patios and outdoor kitchens.
Adding manufactured stone veneer to the exterior of a home is believed to provide a 92% return, for example. Gardens/yards may also appeal to renters in hot areas of the country, who want an outdoor hosting space for the summer or simply an area where they can chill out after a hard day at work.
Amenities
The appliances and facilities in your home make up an important part of its appeal. If you're making purchases for the house, pay close attention to the needs of potential renters – washers and dryers are often counted amongst the most appealing amenities, but, in hot areas, only one of these devices may be necessary and a washing line is much cheaper.
If your renters are likely to be of the younger generation, high-speed wifi is of the utmost importance – allowing tenants to connect with work, family and friends seamlessly.
Management
Although not directly linked to the house itself, correct property management can represent a great way to save money and manage your business more efficiently. For example, consider protecting yourself and your assets from litigation by establishing a Limited Liability Company (LLC). You can do this by using a formation service, which may save you on costly lawyer fees.
If you are strapped for time or located away from your property, it can also make sense to bring in a property manager to help with administration and daily running – the right service will be able to handle any tenant queries, carry out necessary maintenance and handle minor bureaucratic issues if/when they arise.
Another area of focus should be on marketing your property to potential tenants. Social media is imperative for any aspiring landlord.
An Instagram account will allow you to upload photos, boost awareness and showcase your property's assets. Using an Instagram story template tool, you can customize your posts by editing text, font type, image size and color.
There is always a balancing act involved in trying to appeal to potential renters and spending cautiously on home renovations.
If you want to make repairs, modifications or any other major purchases, make sure you first carry out research ahead of time and commit only when you're sure of profitable returns.
Pizzchzz is the right site to seek information that is related to sinks and faucets. We have a team of experts who give high-quality reviews that are based on the trials on the products. This site aims to reach a broad spectrum of individuals who are struggling to understand the best sinks and faucets that they can use for both their kitchens and bathrooms. Learn more, at: www.pizzchzz.com