The next stage of the French government's step-by-step plan to reopen the economy has come into effect.
The major loosening of restrictions includes relaxing the national curfew to start at 11 p.m. and allowing indoor dining at cafes and restaurants. 
The curfew was running from 9 p.m. until 6 a.m. local time and it has now been loosened to allow people more time to meet friends, go to a restaurant, or play sport in the long summer evenings. 
Sports halls, swimming pools, bowling alleys and theme parks can also reopen from Wednesday. 
On May 19, the outdoor areas of bars and restaurants reopened. 
The terrasses are the famous outside areas of cafes that typically spill out into the parks and onto the sidewalks. 
From June 9, restaurant owners are now able to serve customers inside as well, although their establishments must only open at 50 percent capacity for now. 
To access the inside areas of restaurants and sports centers, patrons will have to scan a QR code on the government's track-and-trace app to register in case someone else who was eating inside later tests positive.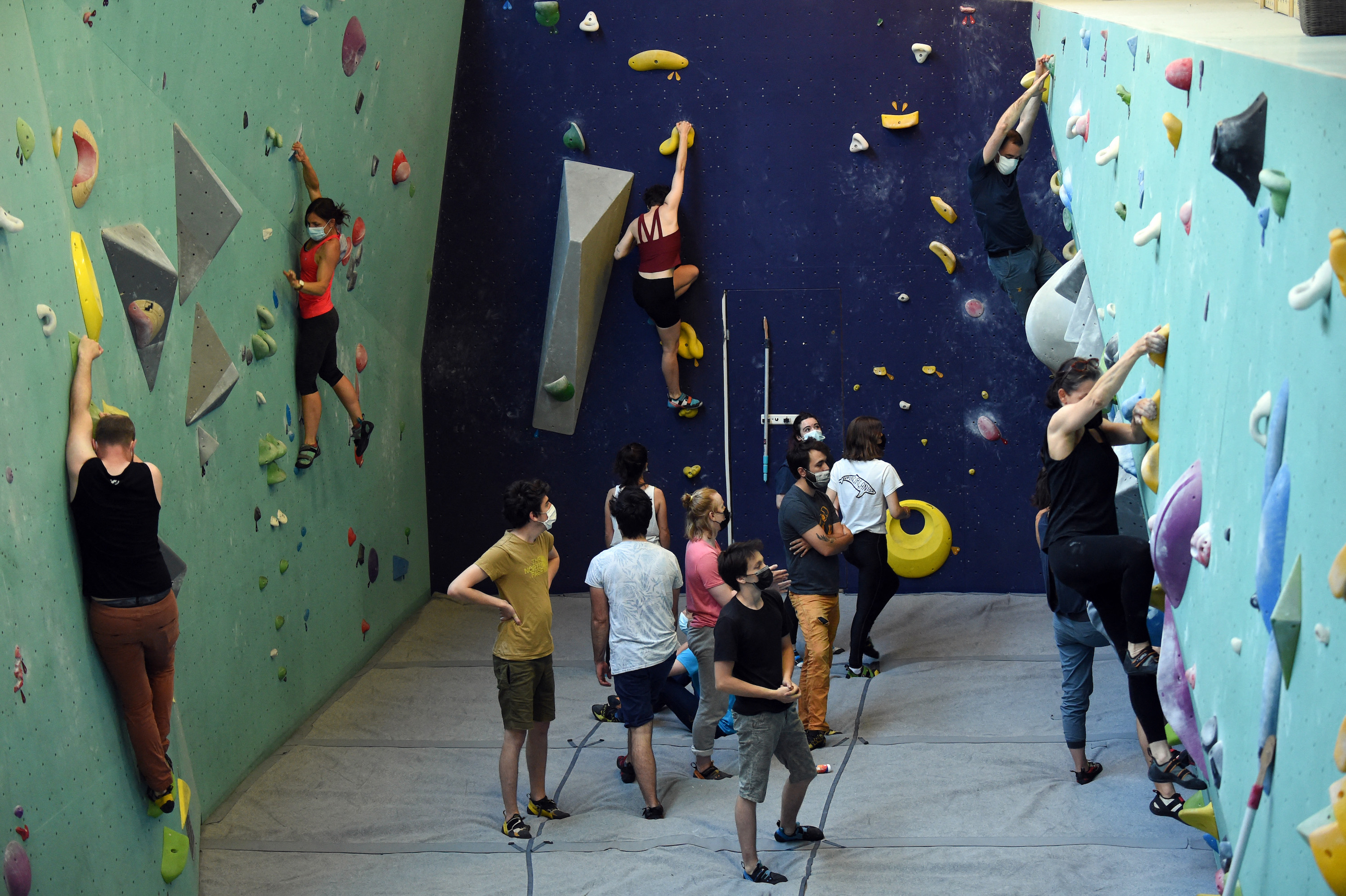 Climbers take part in the reopening of a climbing club in Paris early on June 9.
/Eric Piermont/ AFP
Climbers take part in the reopening of a climbing club in Paris early on June 9.
/Eric Piermont/ AFP
Non-essential travel to France will also be allowed from certain countries but all incoming visitors must be fully vaccinated. 
EU travelers and those from countries such as Australia and New Zealand, which are on the French government's green list for travel, can come in without a negative PCR test. 
Visitors from a country on the amber list, such as the UK and the U.S., must provide proof of a recent negative test along with their vaccination certificate. 
A digital "health passport" is now needed in France to access major events, such as the French Open tennis tournament which being held currently in Paris, or for long domestic travel, such as to Corsica or the French Caribbean. 
You can either show the passport to authorities on your phone via the track-and-trace app or by presenting a printed certificate. 
The pass sanitaire will demonstrate that a person is either fully vaccinated, has had a recent negative PCR test, or has had (and recovered from) COVID-19 at some point in the last six months. 
The government has felt able to continue with its progressive déconfinement strategy as the numbers of COVID-19 cases, acute cases, hospital admissions, and deaths continue to fall. 
At the same time, more than 28.5m people have had one coronavirus vaccination and nearly 13m have had two jabs, further underlining the improving health picture in France.