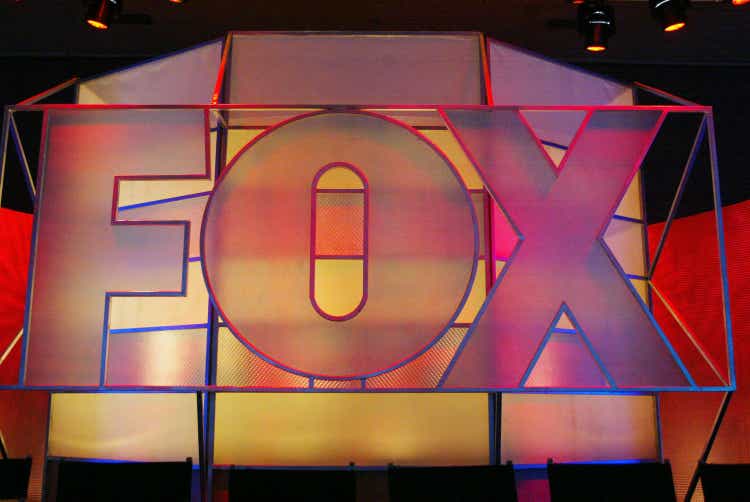 Fox stock is higher Tuesday — (NASDAQ:FOX) +5.8%, (NASDAQ:FOXA) +5.7% — after the broadcaster topped expectations on profitability in its fiscal fourth quarter, and moved to boost its dividend and stock buybacks.
Profits got a boost from a recovery in the advertising market, leading to a less-than-expected drop in ad revenues mitigated by a 3% gain in affiliate fee revenues.
Revenues overall were flat at $3.03B, in line with expectations.
Attributable adjusted net income jumped to $443M from a year-ago $413M, and adjusted earnings before interest, taxes, depreciation and amortization fell to $735M from $770M amid higher expenses (notably increased digital investment at ad-supported channel Tubi, and higher programming rights amortization and programming costs at Fox Sports).
"Fiscal 2023 showcased the very best of Fox's portfolio while achieving record annual revenue and EBITDA," Executive Chair/CEO Lachlan Murdoch said. "We enter fiscal 2024 with a focused strategy and best-in-class balance sheet as we continue to drive shareholder value."
Revenues by segment: Cable Network Programming, $1.41B (down 3.4%); Television, $1.59B (up 4.1%).
Revenues by component: Affiliate fee, $1.77B (up 2.6%); Advertising, $1.01B (down 4.5%); Other, $253M (up 0.4%).
EBITDA by segment: Cable Network Programming, $585M (down 6.8%); Television, $227M (up 0.4%).
The company raised its semi-annual dividend to $0.26 per share, up 4%. It also authorized a stock repurchase program for up to $7B in shares. To date, the company says, it's bought back about $3.7B in Class A common stock and about $1B in Class B stock.
Net cash from operations was near flat at $1.8B. After using cash on investment and financing activities (including buybacks), liquidity stood at $4.27B at year-end.
It's a "strong finish" to the company's fiscal year as Fox "handily" best expectations for earnings and free cash flow, Wells Fargo noted, pointing also to the increased buyback.