The Toyota Land Cruiser is in line to be radically reinvented for the electric era, as previewed by a striking new concept the Japanese firm is taking to the Tokyo motor show next week.
Called the Land Cruiser Se, this rakish, futuristic three-row SUV will be one of several high-profile debuts on Toyota's stand in Tokyo, alongside the keenly anticipated FT-SE sports car and FT-3E crossover. 
In every sense, the concept's design represents a departure from the established hallmarks of the Land Cruiser nameplate, which have been exacerbated and celebrated for the latest generation of the production Land Cruiser, due on sale in early 2024.
While that car – which retains a ladder chassis, combustion power and a rugged, upright silhouette – adopts a retro look inspired by Land Cruisers of old, this new concept clearly places more of an emphasis on aerodynamic efficiency and is defined by cues that bring it into line with Toyota's new-age design language.
Its rakish roofline, angled bonnet and heavily sculpted sides are the most obvious departures from its 70-year-old namesake, while the slimline wraparound light bars, rear-view cameras and low-profile tyres hint at a more overtly luxurious billing.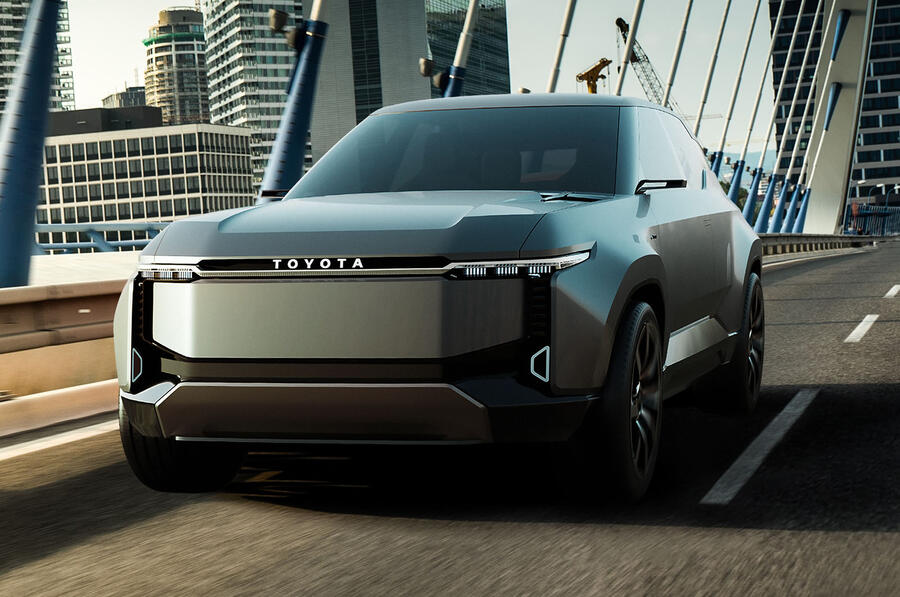 Various cues – like the creased haunches, kinked window line and contrasting lower trim – look to be shared with the "lifestyle"-oriented FT-3E SUV concept Toyota previewed last week, suggesting that the two will be technical siblings with shared styling cues, interior arrangements and performance statistics. 
A prevailing theme of Toyota's Tokyo show stand will be looking ahead to its next-generation line-up of electric cars, arriving from 2026, and it is expected that the Land Cruiser Se, FT-SE and FT-3E will evolve into production cars that form part of this range.
The brand has previously said its next-generation cars will have slimmer battery packs, which free up interior space while promoting more aerodynamic styling while still offering a claimed 621 miles of range, courtesy of advanced, energy-dense lithium-ion technology.