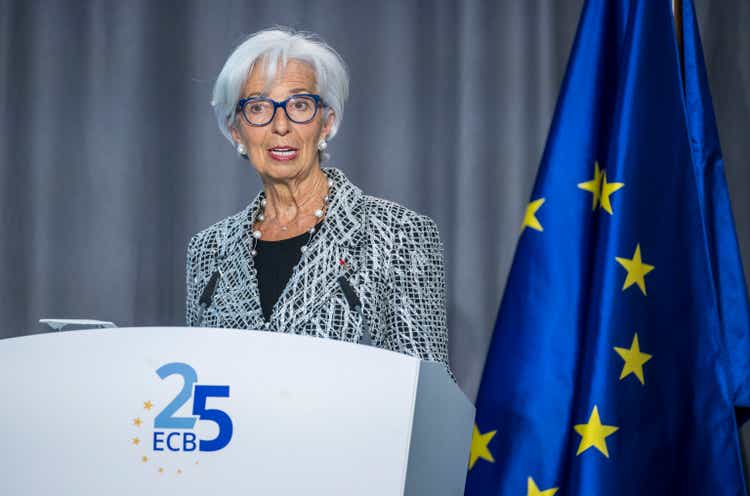 Like her U.S. counterpart, European Central Bank President Christine Lagarde isn't yet declaring victory in the central bank's fight against inflation.
"While progress is being made, the fight against inflation is not yet won," she said in a speech on Friday at the Kansas City Fed's Jackson Hole Economic Symposium.
Similar to Federal Reserve Chair Jerome Powell's speech earlier, Lagarde communicated that the ECB will set interest rates "at sufficiently restrictive levels for as long as necessary to achieve a timely return of inflation to our 2% medium-term target."
Shifting dynamics may be complicating the fight against inflation. "Since our policies operate with lags, we cannot wait for the parameters of this new environment to become entirely clear before we act," she said.
She outlined three changes: historically tight labor markets as some workers left the workforce during the pandemic; an energy transition as the world moves away from fossil fuels; and a deepening geopolitical divide with the global economy separating into competing blocs.
"These shifts – especially those related to the post-pandemic environment and energy – have contributed to the steep rise in inflation over the last two years," Lagarde said.
To deal with these shifts, whether they're permanent or not, she suggests three key elements are needed when approaching monetary policy: clarity, flexibility, and humility.
"We must be clear that price stability is a fundamental pillar of an investment-friendly environment," Lagarde said. "Faced with a changing world, monetary policy should not itself become a source of uncertainty."
Flexibility is required for central bankers to analyze the data. "We cannot make policy based on simple rules or intermediate targets in an uncertain economy."
And regarding humility: "If we are to maintain our credibility with the public, we will need to talk about the future in a way that better captures the uncertainty we face," she said.
The euro (EUR:USD) was little changed after the speech at $1.081. iShares Core MSCI Europe ETF (NYSEARCA:IEUR) rose 0.8% in late Friday trading.
Other relevant tickers: [FXE], [VGK], [EZU].