This easy recipe for chicken salad is delicious. As the chicken sits in the creamy herbed dressing, it gets better and better, making this a fantastic make-ahead meal. We love serving it on top of salads, stuffed into lettuce cups for a low-carb option, or in sandwiches. Jump to the Creamy Chicken Salad Recipe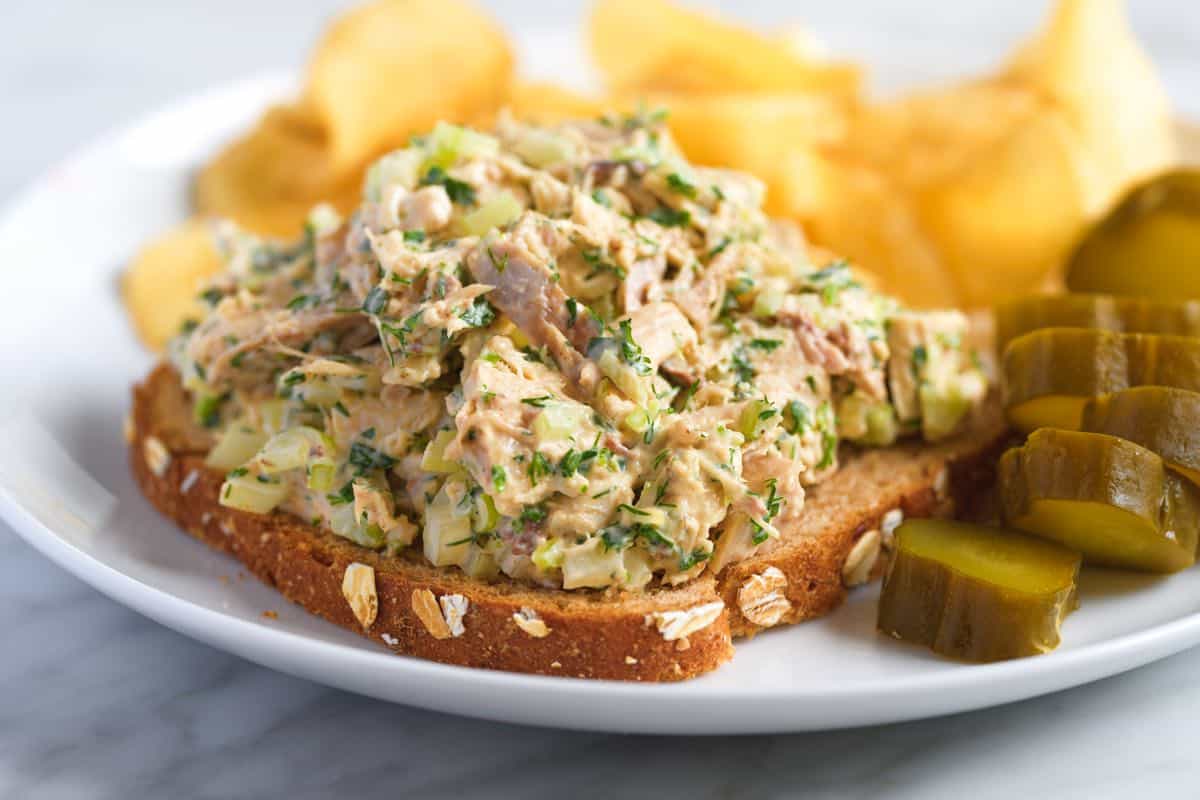 How to Make the Best Chicken Salad
Chicken salad is one of our favorite lunches. We often make it using leftover chicken from the night before. This chicken salad recipe features tender chicken, a creamy herbed dressing, and the perfect amount of crunch from celery.
Chicken Salad Ingredients
The full recipe is below, but I'll quickly walk you through our tips here.
Chicken — This salad is perfect when made with leftover chicken. I always make chicken salad after making this simple chicken broth (it calls for a whole chicken, which leaves me with lots of tender cooked chicken). I also love how easy it is to poach chicken. It only takes 20 minutes or so. I use both white and dark meat for this salad.
Celery and green onions — I like my salad made of mostly chicken, but I love adding a bit of crunch to the party. Celery and sliced scallions are perfect. We use celery when making this popular chicken salad, too.
Creamy herby salad dressing — I love this dressing. It's simple to make and made with mayo (try homemade mayo), dry mustard powder, paprika, and the perfect blend of fresh herbs. If you've been following us for a while, you know how much we adore fresh herbs. They liven everything up, and this recipe is no different. We stir in fresh dill, tarragon, parsley, and chives. The combination is excellent and reminiscent of a chicken salad served during an afternoon tea at a fine restaurant.
Can I make chicken salad without mayonnaise? While we both love this salad when made with mayonnaise, you can substitute the mayo for plain Greek yogurt or sour cream.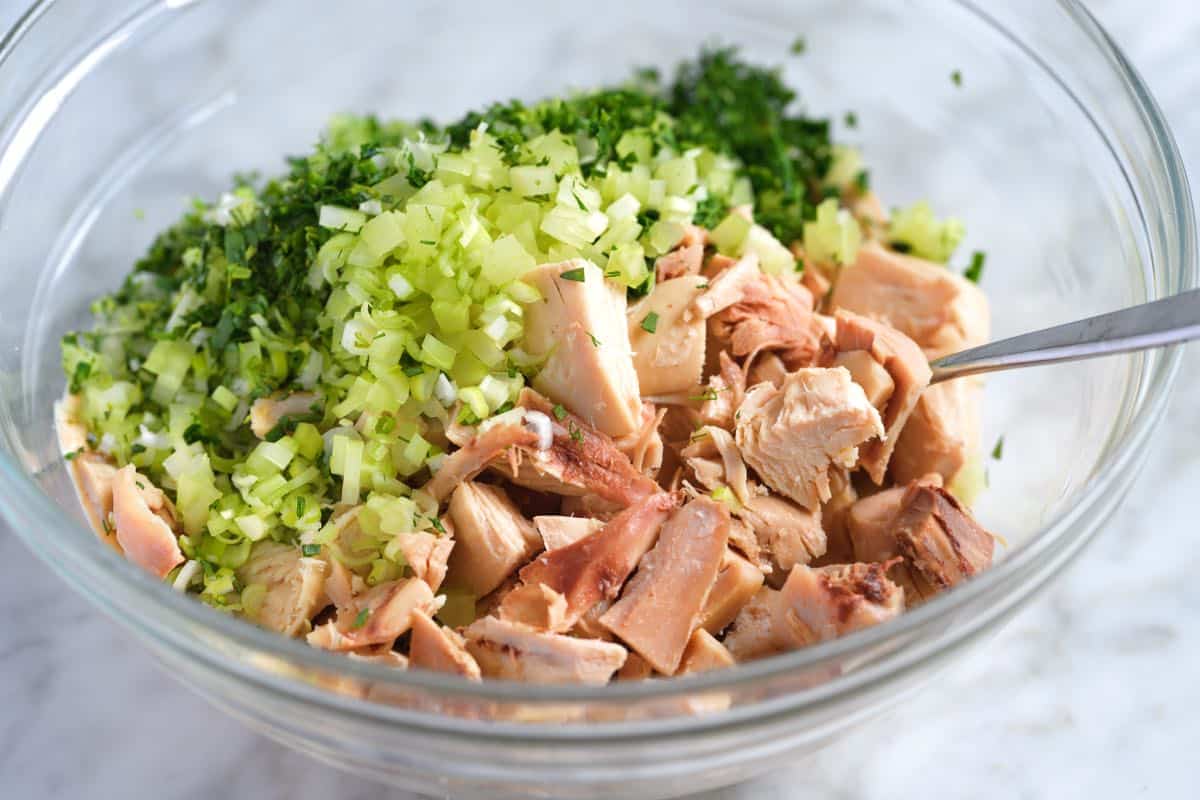 Making the Salad
To make chicken salad, you need a bowl, a spoon, and about 10 minutes. Make your dressing first. Simply stir the spices and herbs into the mayonnaise until well blended. Then toss in cubed cooked chicken. I love using leftover chicken from making this homemade chicken broth, but use what you have on hand. As you stir the chicken into the dressing, some will break apart.
You can enjoy the salad right away, or if you have the time to wait, store it in the refrigerator for a few hours. As it sits, it gets better and better.
Serve this chicken salad in a variety of ways. Try it on top of your favorite salad for a lighter meal, or use lettuce cups for a low-carb option. And if you're in the mood for something heartier, why not make a chicken salad sandwich or wrap it up in flour tortillas?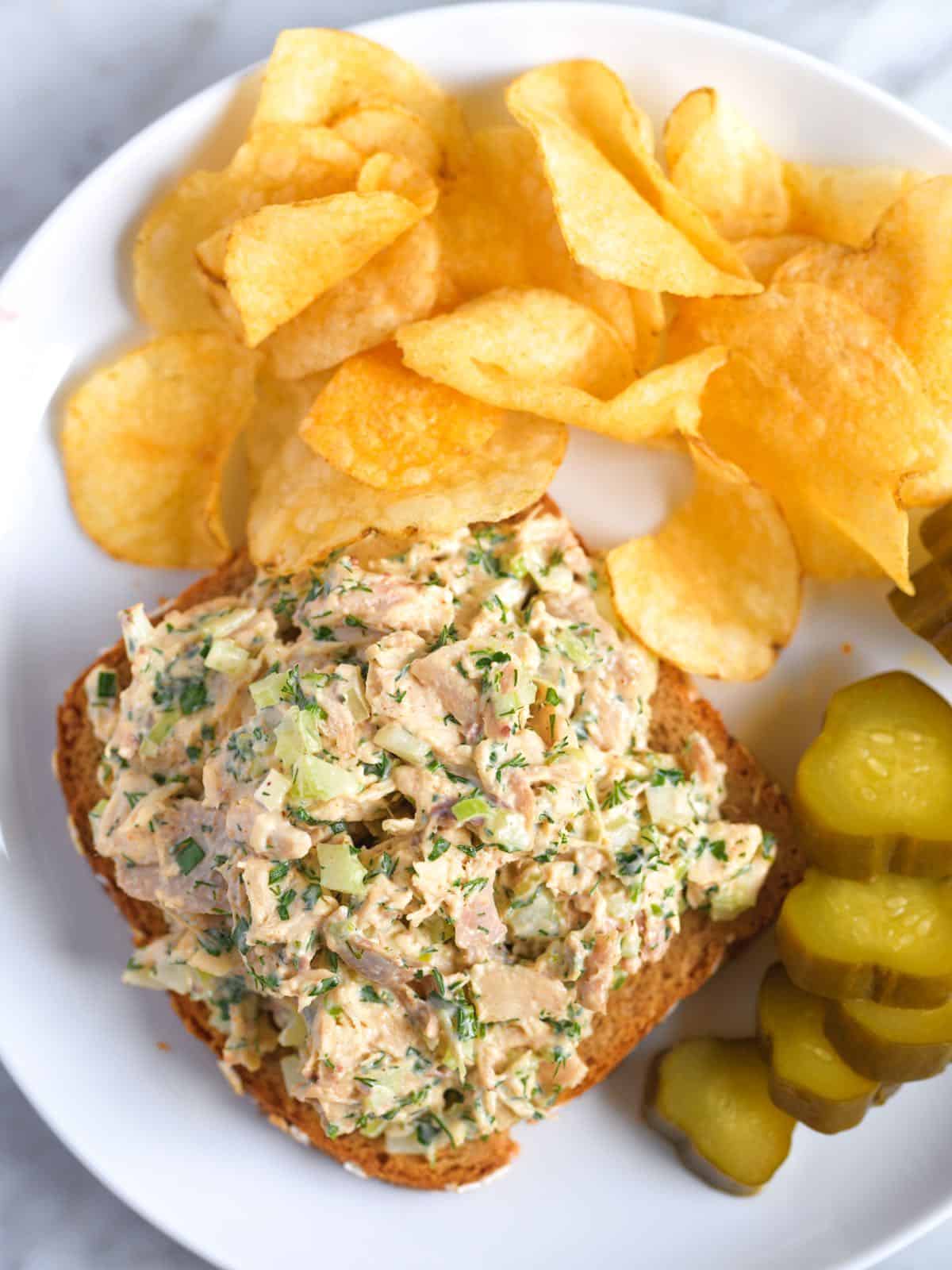 Related: Our Favorite Tuna Salad
Make-Ahead and Storage Tips
Chicken salad is perfect for making ahead of time and lasts in the refrigerator for up to four days. I love using glass jars or food-safe containers, and like to press a piece of parchment paper down onto the salad to prevent it from drying out. This recipe makes about 3 ½ cups of salad or four generous 3/4 cup servings.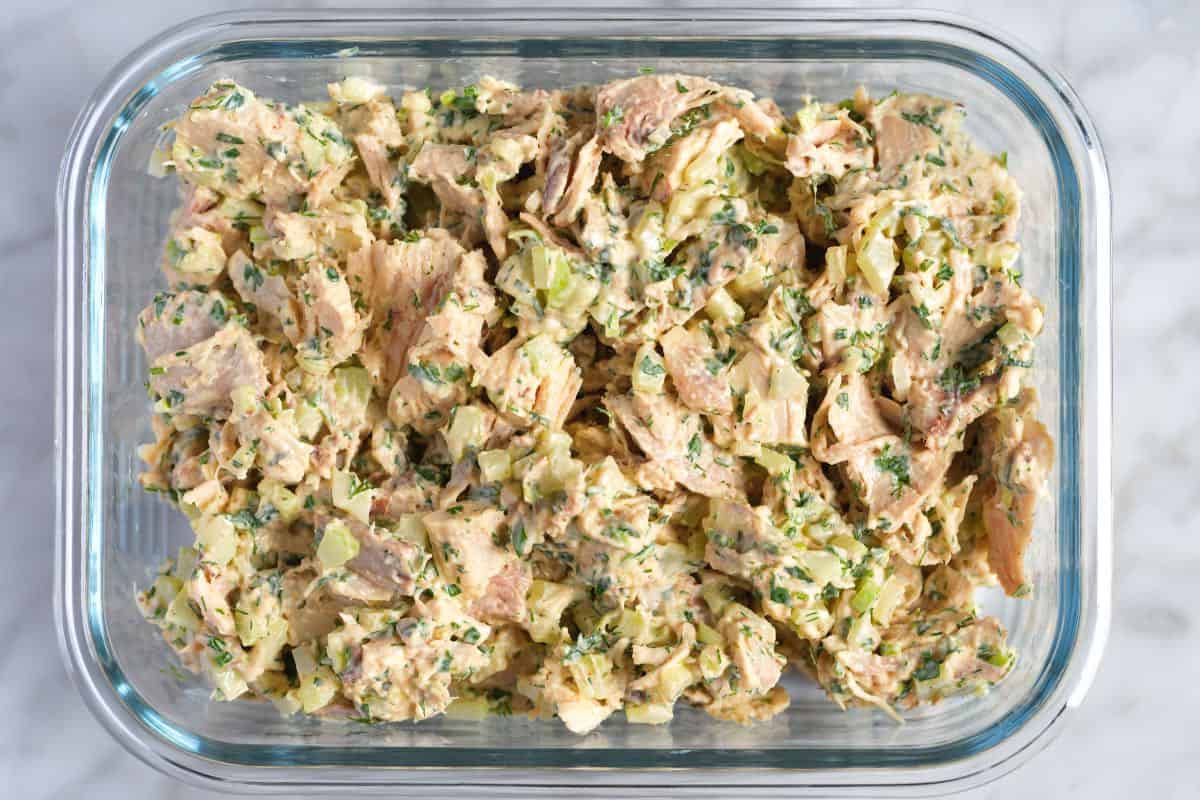 Can you freeze chicken salad? Unfortunately, since we call for mayonnaise in this recipe, we do not recommend freezing the salad. Mayonnaise does not freeze well and often separates when thawing. You can, however, freeze the cooked chicken without the dressing for up to a month.
This chicken salad recipe is part of our chef series, where we share recipes from our friend and renowned chef, Richard Hattaway. Trust us, once you try his recipe, it will quickly become one of your favorite go-to lunch options.
For more easy salad recipes, try our creamy potato salad, this herby (mayo-free) potato salad, and our easy chickpea salad.
Easy Chicken Salad with Herbs
This easy recipe for chicken salad is delicious. As the chicken sits in the creamy herbed dressing, it gets better and better, making this a fantastic make-ahead meal. We love serving it on top of salads, stuffed into lettuce cups for a low-carb option, or in sandwiches.
Makes three and a half cups (about 4 servings)
You Will Need
3 ½ cups cubed cooked chicken
2 green onions, white and light green part only
1 stalk celery, finely chopped, about 1/2 cup
7 tablespoons mayonnaise, try homemade mayonnaise
1/4 teaspoon Coleman's dry mustard powder
1/8 teaspoon sweet paprika
1 tablespoon chopped fresh dill
1 tablespoon chopped fresh tarragon
1 tablespoon chopped fresh parsley
1 tablespoon chopped fresh chives
1/4 teaspoon fine sea salt, plus more to taste
1/8 teaspoon fresh ground black pepper
Directions
In a medium bowl, stir the mayonnaise, mustard powder, paprika, dill, tarragon, parsley, chives, salt, and pepper together.

Next, fold in the chicken, celery, and green onion; the chicken will break up a bit as it mixes into the dressing.

Transfer the salad to a resealable container. Press a piece of parchment paper down on top so it does not dry out, then cover it with the lid of the container. Refrigerate for up to four days. The salad tastes better over time, so if you can wait, allow the salad to sit for at least four hours before serving.
Adam and Joanne's Tips
For a lighter chicken salad, swap the mayonnaise for light mayo or use plain or Greek yogurt.
Substitute 1 teaspoon prepared Dijon mustard for the mustard powder.
Nutrition facts: The nutrition facts provided below are estimates. We have used the USDA database to calculate approximate values.
If you make this recipe, snap a photo and hashtag it #inspiredtaste — We love to see your creations on Instagram and Facebook! Find us: @inspiredtaste
Nutrition Per Serving: Serving Size 1/4 servings, about 3/4 cup / Calories 375 / Total Fat 26.3g / Saturated Fat 5.1g / Cholesterol 102mg / Sodium 404.8mg / Carbohydrate 1.2g / Dietary Fiber 0.5g / Total Sugars 0.5g / Protein 31.2g
AUTHOR: Adam and Joanne Gallagher