Sun Valley Waste Management in California is dedicated to maintaining a high standard of environmental responsibility, particularly in its odor control and dust suppression programs. Recognizing the importance of these issues to ensure the well-being of the surrounding community, Sun Valley Waste Management has implemented comprehensive strategies to effectively manage and mitigate odors and dust generated by its operations. By employing state-of-the-art technologies and best practices, such as advanced odor control and dust suppression systems, the company actively works to minimize any potential nuisance caused by its activities. Through regular monitoring, rigorous maintenance, and ongoing research and development, Sun Valley Waste Management demonstrates its commitment to reducing the impact of odor and dust, ultimately fostering a cleaner and healthier environment for all.
Sun Valley Waste Management employs mist or fog systems as part of its efforts to mitigate dust and odor. These systems are designed to suppress airborne particles and control odors by dispersing a fine mist or fog of water. The mist or fog acts as a binding agent, capturing dust particles and preventing them from becoming airborne, thus reducing dust levels in the surrounding area. In addition, mist systems can help to neutralize odors by effectively dispersing odor-neutralizing agents into the air, helping to mask or eliminate unpleasant smells.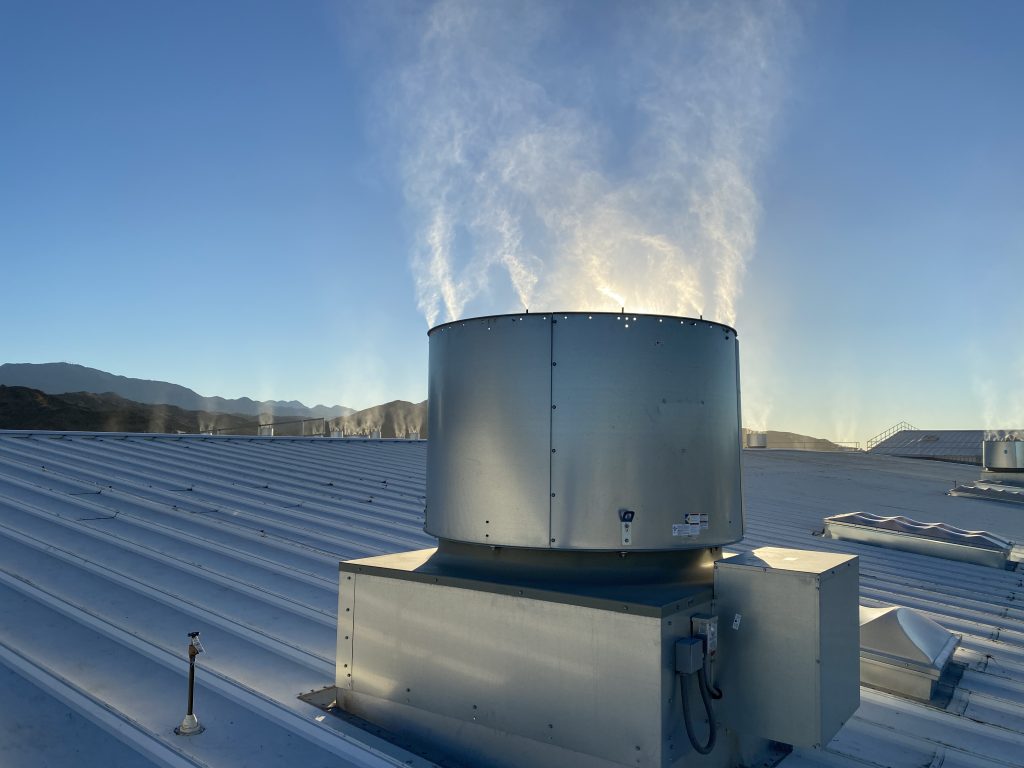 Koolfog Odor Control & High-Pressure Dust Suppression Systems Prove Highly Effective
Employing high-pressure misting techniques with automated controls can eliminate atmospheric odors and compound dust effectively. The process involves operating a Koolfog odor control and/or dust suppression system at pressures of 1000 psi+ to produce micron-sized water droplets. These aerosol droplets are distributed within the facility to trap particulate matter (dust) to clean the surrounding air. When such a system is combined with odor neutralizers, odors are, also, trapped, effectively eliminating vile smells. The concentration of the odor neutralizer, as well as the release frequency, can be customized to site requirements and may be integrated into facility management systems. Odor neutralizers can be accurately measured during this process and automatically delivered where it is needed. This is extremely valuable in waste management transfer stations as the diversity and combination of smells is often overwhelming.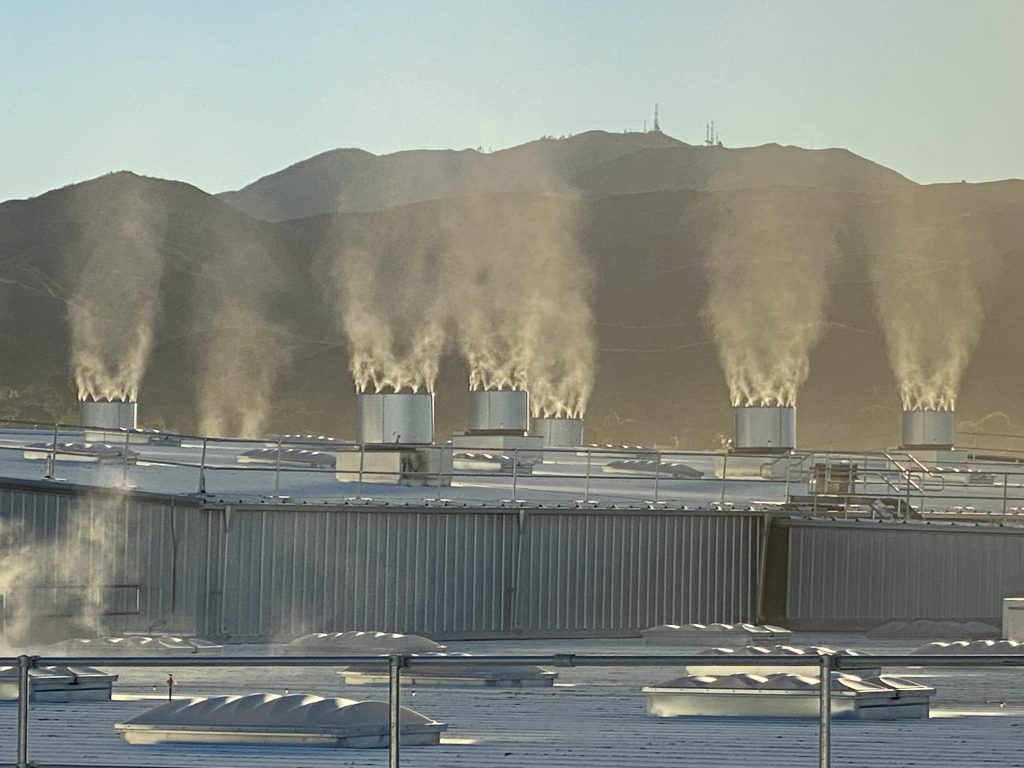 For the Sun Valley Waste Management project, Koolfog worked with Facility Builders & Erectors, Inc. a construction management company to successfully design and deliver the odor control and dust suppression mist systems. Our team conducted extensive site reviews and produced specific build requirements, layout schematics, design plans, and installation plans. Custom drawings outlining pump location and fan placement schematics were critical components to deploy a comprehensive multi-fan-based odor control system with a rooftop release and dust suppression system surrounding the facility doorways. A comprehensive materials and equipment requirements document included components such as high-pressure distribution lines, mist nozzles, nozzle extensions and pump recommendations.
By utilizing mist or fog systems for odor control and dust suppression, Sun Valley Waste Management aims to maintain a cleaner and healthier environment for the community while effectively managing dust and odor concerns.

Latest posts by Michelle Roe
(see all)