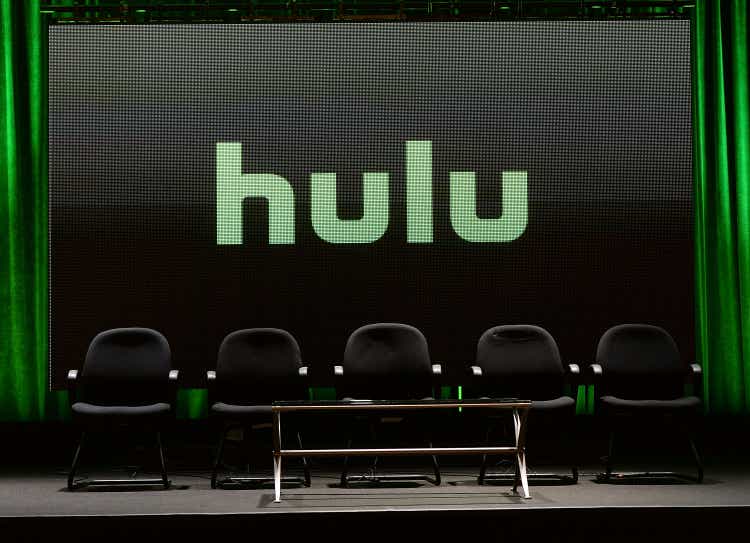 Citi now believes that Walt Disney (NYSE:DIS) might sell out of its majority stake in Hulu, transferring it to minority partner Comcast (NASDAQ:CMCSA) – running against some conventional wisdom suggesting a planned Hulu/Disney+ combination.
Disney holds a 67% stake in Hulu after the buyouts of previous partners Fox and Time Warner, while Comcast holds the other third – and a deal between the two sets up a potential buyout by spring 2024.
Before earnings season, Citi believed there were two paths for Disney's direct-to-consumer business: Either "raise prices to narrow the [earnings before interest/taxes] gap (potentially relegating its service to niche status)," or merge Disney+ and Hulu into a single app, boosting the content schedule and leaving price increases to the future.
Now, analyst Jason Bazinet says, "we believe the company is less interested in a mass market DTC offering." In commentary after fiscal Q1 earnings, Disney CEO Bob Iger noted that in chasing both profitability and growth for the streaming business, "we will focus even more on our core brands and franchises, which have consistently delivered high returns."
What's more, Disney might trade its "Hulu" for a "Hulk" instead, Bazinet suggested. While Disney owns all of Marvel's intellectual property, Universal (CMCSA) has distribution rights for a pair of the comic name's characters: The Incredible Hulk and Namor – and so if Disney makes a film based on those characters, Comcast can distribute that film on Peacock.
In a sale out of its Hulu stake, Disney might take the opportunity to secure those distribution rights, Bazinet said.
From here, though, there are a wide variety of outcomes amid some jockeying for position between Disney and Comcast about what Hulu is worth.
Disney doesn't report Hulu's financials on a stand-alone basis, and that leads analysts to estimate their own value. Bazinet and Citi figure Hulu will generate 2024 EBIT between -$0.5B and $1.25B, leading to a valuation between $19.8B and $27.5B.
For Comcast (CMCSA), acquiring Hulu would be a net positive if it pays below $27.5B, as a way to "accelerate DTC scale with potential financial synergies, accelerate its push into live streaming aggregation, & improve its strategic positioning within the media category," Bazinet said.
If Disney sells, there are two potential uses of proceeds, he said: Disney pays down debt, which translates to -$0.18 to $0.37 in incremental earnings per share (a range of $3/share downside to $7/share upside); or Disney retires shares (an incremental EPS of $0.04 to $0.74, or $1/share to $13/share upside).
In December, NBCUniversal chief Jeff Shell said he saw "no indications that anything else is going to happen than Disney writing us a big check" for Hulu in 2024.