This delicious creamy avocado roasted vegetable flatbread is 5-star restaurant food at home! So fast and easy! The veggies can be roasted or grilled, and chicken makes a great addition as well.
I love roasted vegetables with my whole heart. But pile them on top of flatbread layered with the most incredible avocado cream sauce, and you have a meal I would gladly eat every day for the rest of forever.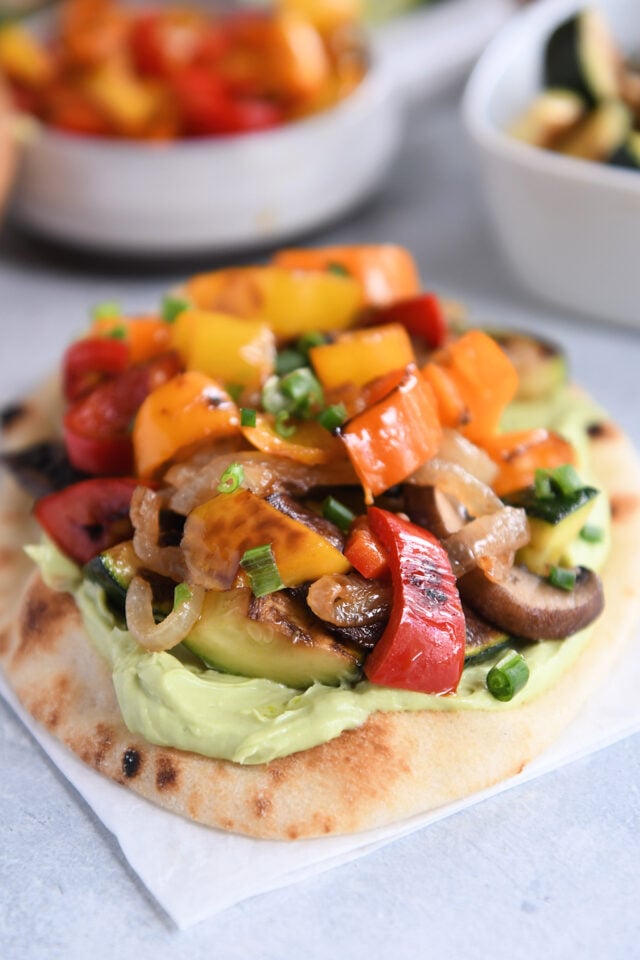 Avocado Cream Spread
The unique and winning element of this recipe is the avocado cream spread.
To be honest, the texture is more like a thick, creamy mousse, but "mousse" has dessert connotations in my brain, so we're going with "spread" here. You can call it whatever you want!
Ingredients:
milk
fresh lime juice
ripe avocados
cream cheese
salt and pepper
At first, your blender may resist the effort to process this thick mixture, but with a bit of perseverance and dedicated use of the tamper, it will come together.
Make sure to add the liquid to the blender first and use very ripe avocados and softened cream cheese.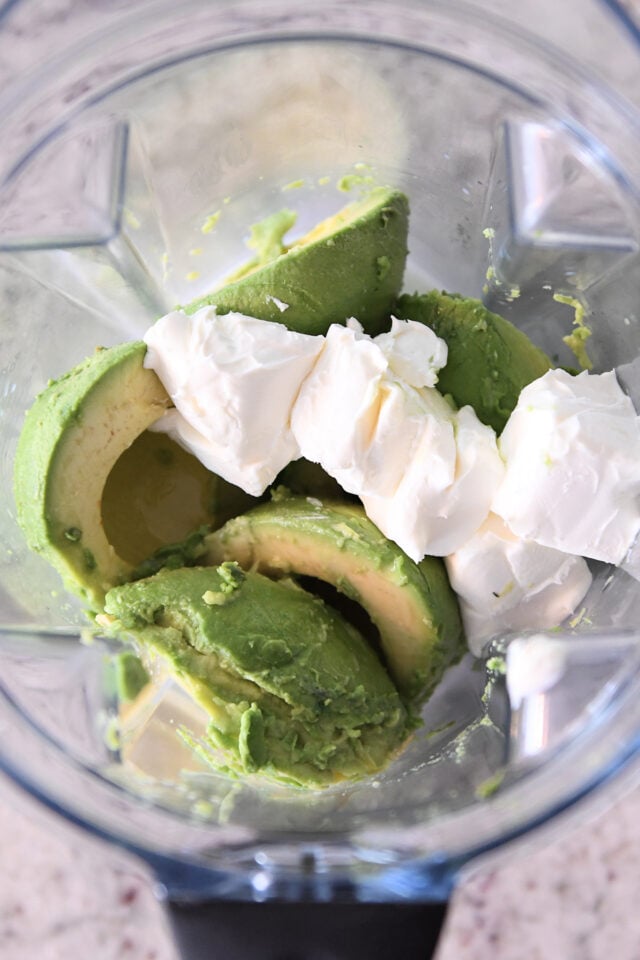 The avocados blend with the other ingredients to form the silkiest, creamiest sauce you've ever met. It is rich! And so delicious.
I highly recommend blending until very smooth. However, you can stop blending sooner if you want an avocado spread with a bit more texture.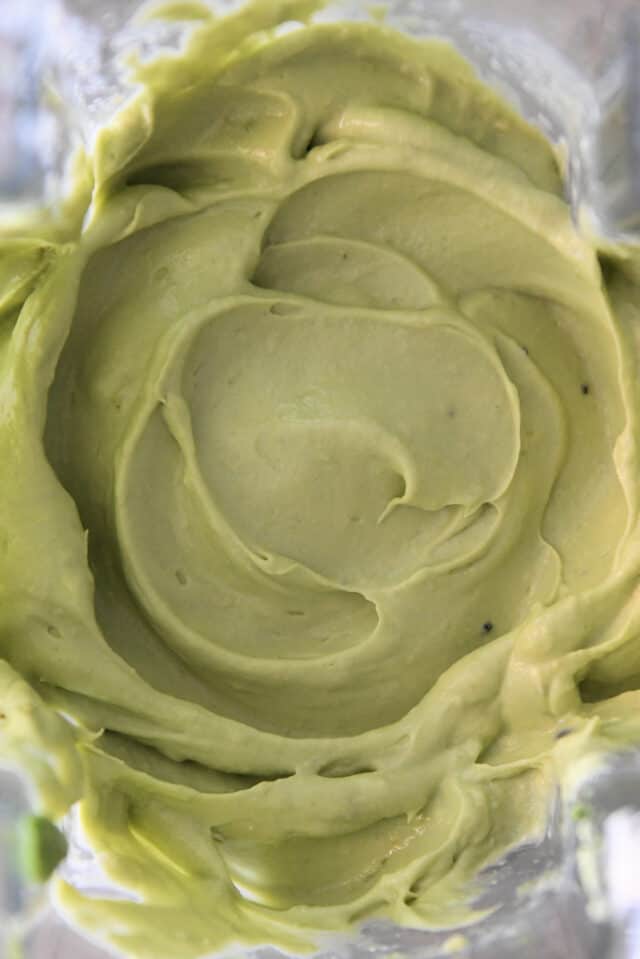 How to Cook the Vegetables
The easiest way to get the vegetables perfectly cooked for these avocado flatbreads is to pile 6 to 7 cups of vegetables on a sheet pan, drizzle with olive oil, salt and pepper, and roast in the oven until sizzling.
However, you can also grill the vegetables using a grill basket aff. link. Or the veggies can be sautéed in a bit of olive oil in a skillet on the stovetop.
But wait, there's more! You can skip the cooked vegetables altogether and go for 100% fresh, crunchy veggies.
For a delicious variation, toss the cooked vegetables with a bit of pesto before assembling the flatbreads. 😍
It goes without saying that the vegetable options are nearly endless. I've given lots of options in the recipe below; I can't wait to see the variations you come up with!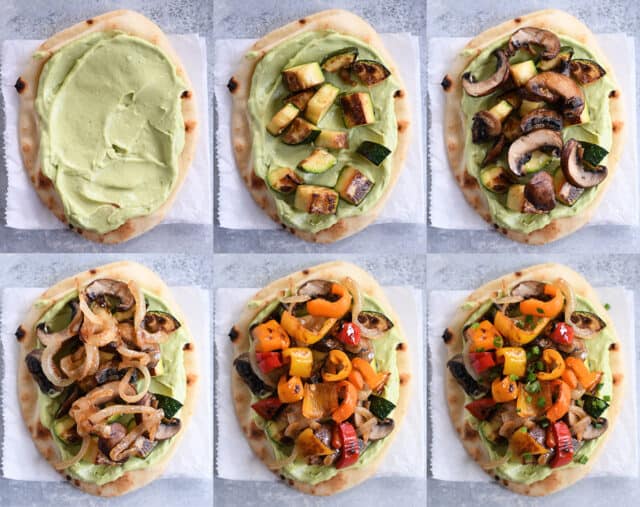 Flatbread + Avocado Spread + Veggies
For the flatbread, I usually grab the stone-fired naan from Costco. Any type of naan bread or flatbread will work here.
You can also use a wrap or tortilla and roll everything up for a different approach!
To assemble:
Lightly warm the flatbread until soft and pliable
Spread a layer of avocado cream spread on the flatbread
Top with a heaping pile of roasted vegetables
Garnish with chopped chives, green onions, parsley or cilantro, if desired
Serve warm or at room temperature. YUMMY!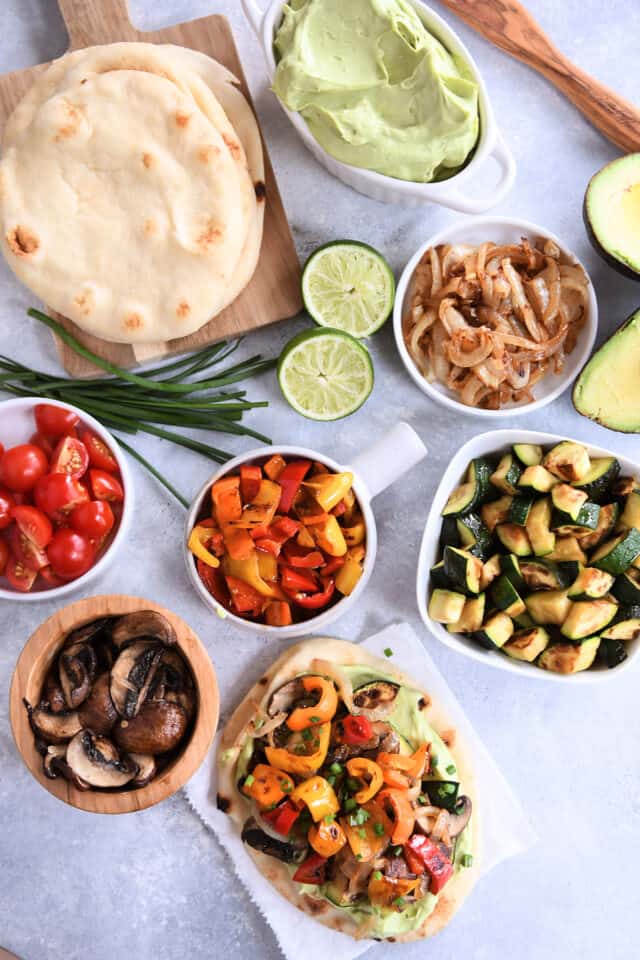 Make it a Chicken Avocado Veggie Flatbread
While this recipe is hearty and delicious as a meatless meal, it is easy to incorporate chicken (or another protein).
I've served this with cooked, shredded rotisserie chicken added with the veggies. Leftover, grilled chicken would also be fantastic.
The flatbread can be eaten with a knife and fork or folded up taco-style, and if it gets a little messy, no worries! I can promise you, the intense deliciousness is worth it.
A Reader Recipe
One of my most treasured experiences as a food blogger is when you guys send me YOUR favorite recipes.
This avocado flatbread recipe was sent to me by a longtime reader, Jessica. She explained to me via email that she had a meal like this while on vacation in Cancun, ate it every day while she was there (don't blame her!), and immediately recreated it upon returning home.
She sent me the recipe to play around with, and it has become a favorite of mine, too. I can see why all-inclusive resorts are serving something like this. It is a showstopper! And so simple to make at home. Thank you, Jessica – you are right, this flatbread is life changingly yummy!
I adore bright, fresh, delicious recipes like this. I hope you love it, as well!
One Year Ago: Roasted Asparagus Lemon Orzo Salad with Fresh Mozzarella
Two Years Ago: Heavenly Raspberry Cream Angel Food Cake Dessert 
Three Years Ago: Chocolate Chip Banana Bread Scones 
Four Years Ago: Soft and Chewy Oatmeal Chocolate Chip Coconut Cookies My Favorite Cookie 
Five Years Ago: Fudgy Brownie Cupcakes with The Best Peanut Butter Frosting 
Six Years Ago: Simple Homemade Lemonade
Seven Years Ago: Divine 1-Hour Homemade Breadsticks
Eight Years Ago: Whole Grain Pumpkin Blueberry Muffins
Nine Years Ago: Slow Cooker Chicken Philly Sandwiches
Ten Years Ago: Garlic Shrimp in Coconut Lime Tomato Sauce Quick and Healthy Dinner!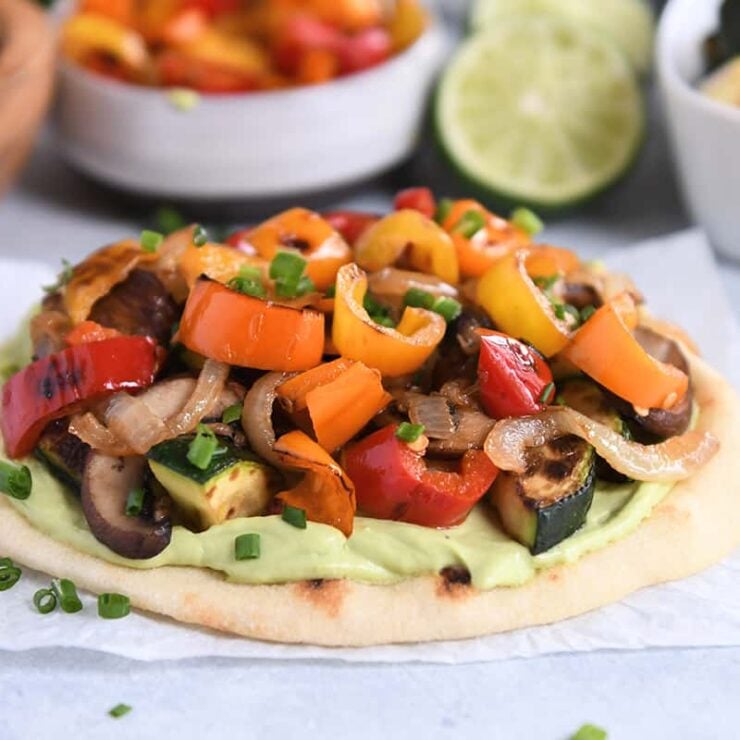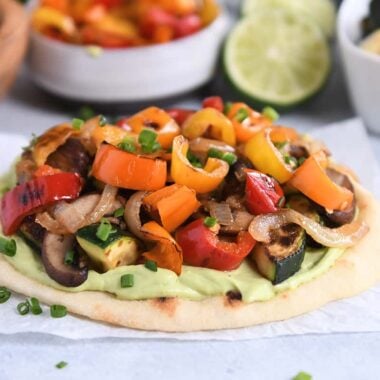 Creamy Avocado Roasted Vegetable Flatbread
Roasted Vegetables:
6

cups

chopped vegetables, your choice, like zucchini, onions, mushrooms, bell peppers, tomatoes, etc.

2

tablespoons

olive oil

½

teaspoon

coarse kosher salt

¼

teaspoon

coarsely ground black pepper

¼

cup

prepared basil pesto (optional)
Creamy Avocado Layer:
¼

cup

milk

1 to 2

tablespoons

fresh lime juice

3

medium

avocados, skin and pit removed

4

ounces

cream cheese, softened

Pinch of salt and pepper
Flatbread:
6 to 8

pieces naan bread or flatbread

Freshly chopped chives, green onions, cilantro or parsley for garnish
For the roasted vegetables, preheat the oven to 425 degrees F. Add chopped veggies to a rimmed half sheet pan. Drizzle with olive oil and sprinkle with salt and pepper. Toss. Roast for 10-15 minutes. Give the veggies a stir or toss and roast for 5-10 minutes longer until crisp-tender and sizzling. Stir pesto into the veggies until evenly coated, if using.

For the avocado cream, add the milk and lime juice to a blender, followed by the avocados, cream cheese, salt and pepper. Blend on low speed, using the tamper to help combine the thick ingredients. Process until very smooth and creamy. (Blend for less time if you want the mixture with more texture.)

Add milk or water, a tablespoon at a time, if the mixture is struggling to come together. Try not to add too much liquid. It should be very thick and spreadable.

Warm the flatbread in the oven or microwave until soft and pliable.

Top the flatbread with a layer of avocado cream followed by a heap of roasted vegetables. Garnish with chopped chives, green onions, parsley or cilantro, if desired. Serve immediately (tasty served warm or at room temperature).
Adding Chicken: cooked chicken is delicious added to the flatbread. I've served it with chopped rotisserie chicken as well as leftover grilled chicken. 
Vegetables: the vegetables can be changed up according to taste preferences and/or what is in season: green beans, yellow squash, broccoli, cauliflower. The options are endless. Chickpeas can also be added to the tray of roasted veggies. Instead of roasting the vegetables, they can be cooked in a grill basket on the grill or sautéed in a skillet on the stove with a bit of olive oil. You can skip cooking the veggies altogether and use fresh, crunchy veggies as well!
Avocado Cream: store leftover avocado cream by spreading into an even layer in a container, pressing plastic wrap directly on the surface, and covering with a lid. Refrigerate. It's normal for the outer layer to darken a bit – either scrape it off before serving again or stir to recombine.
Serving: 1 flatbread with toppings, Calories: 341kcal, Carbohydrates: 42g, Protein: 8g, Fat: 16g, Saturated Fat: 3g, Cholesterol: 9mg, Sodium: 656mg, Fiber: 5g, Sugar: 5g
Follow @MelsKitchenCafe on Instagram and show me the recipes you are making from my blog using the hashtag #melskitchencafe. I love seeing all the goodness you are whipping up in your kitchens!
Recipe Source: adapted from a recipe sent to me by a reader, Jessica P. – she had this dish on a trip to Cancun, ate it every day and came home and recreated it (thanks, Jessica!)
Disclaimer: I am a participant in the Amazon Services LLC Associates Program, an affiliate advertising program designed to provide a means for me to earn fees by linking to Amazon.com and affiliated sites. As an Amazon Associate I earn from qualifying purchases.