A cheese ball is a classic appetizer that has been a crowd-pleaser for decades. It's an easy and convenient dish that can be made ahead of time and served with crackers, bread, or vegetables.
If you're looking for a unique twist on the traditional cheese ball, try making my Corned Beef and Cheddar Cheese Ball recipe.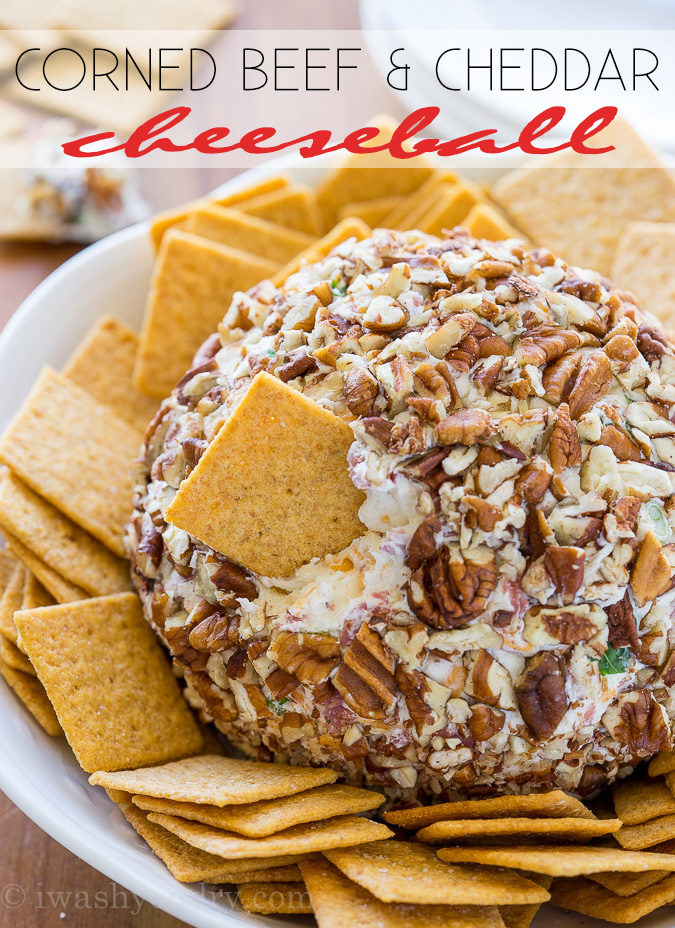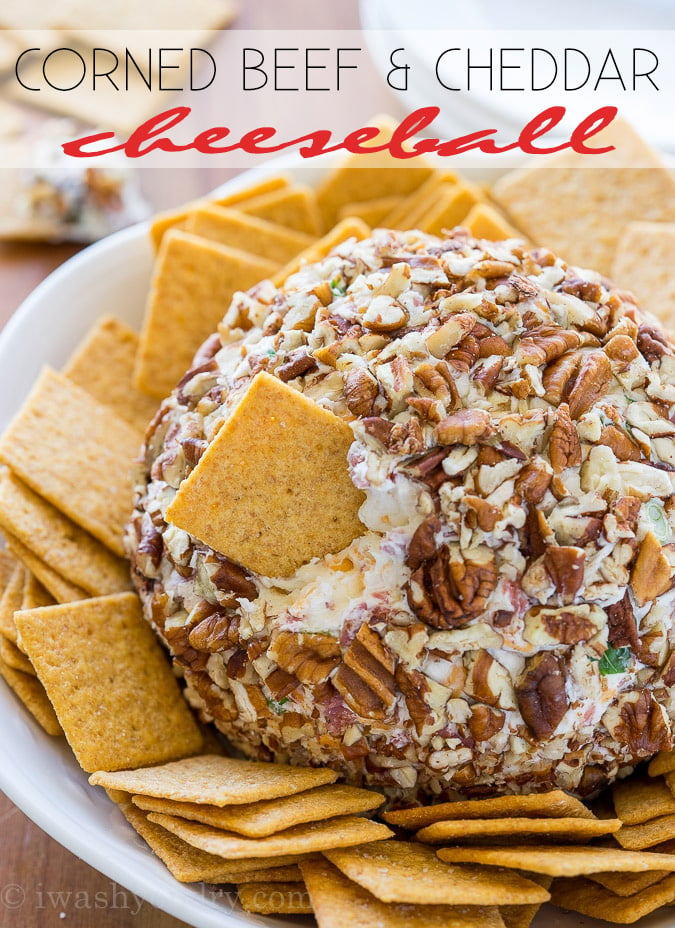 Corned Beef and Cheddar Cheese Ball
Whenever I bring this delicious cheese ball to a party it's always the star of the show. Everyone loves the salty, creamy and nutty flavors! 
Ingredients for Corned Beef and Cheddar Cheeseball
The key to making a delicious corned beef and cheddar cheeseball is to use high-quality ingredients. Here are the ingredients you'll need to make this appetizer:
Cream cheese
Garlic salt
Shredded sharp cheddar cheese
Green onions
Finely diced corned beef – you can use leftover corned beef or store bought from the deli!
Chopped pecans
Wheat crackers – such as wheat thins or triscuts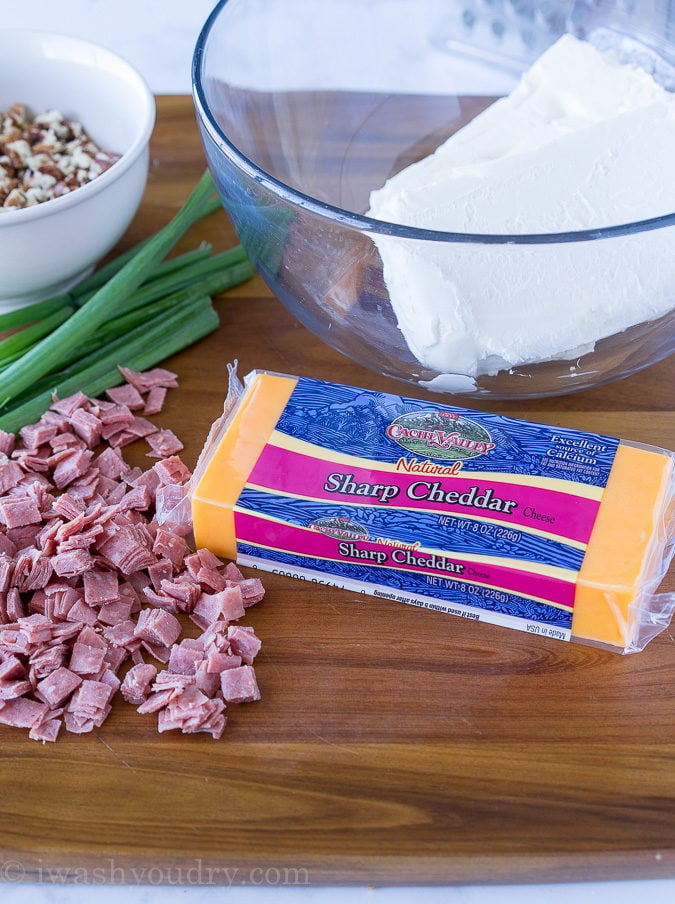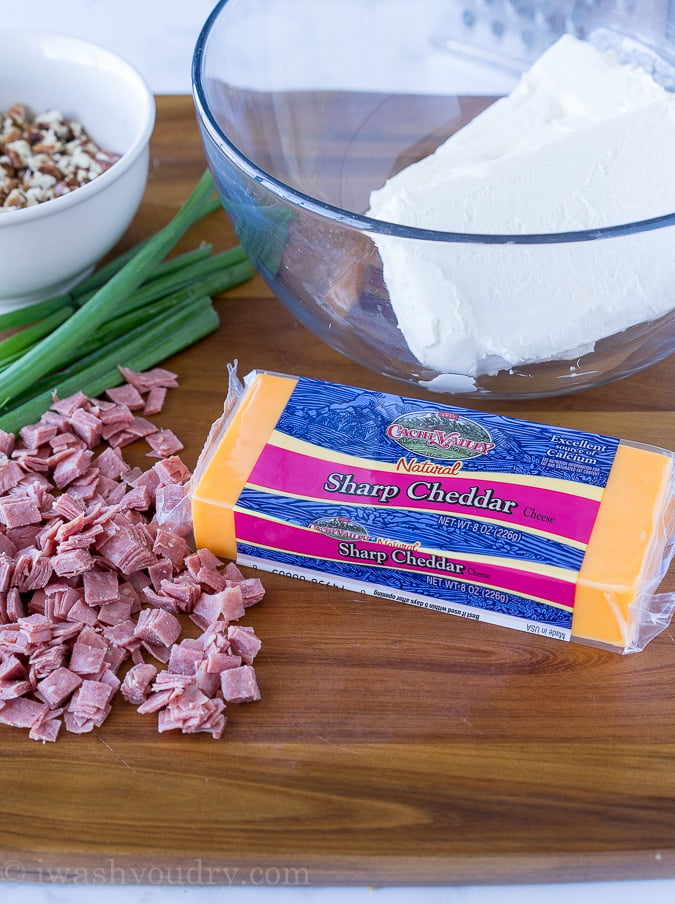 How to make Corned Beef and Cheddar Cheese ball
Combine cream cheese and garlic salt and mix with a hand mixer, stand mixer, or spoon.

Add shredded cheese, green onions, and chopped corned beef then mix.

Lay the mixture on top of a sheet of plastic wrap and cover, using your hands to form the mixture into a ball.

Place chopped pecans on a plate or bowl, remove the plastic wrap from the cheese ball, and roll in the chopped pecans.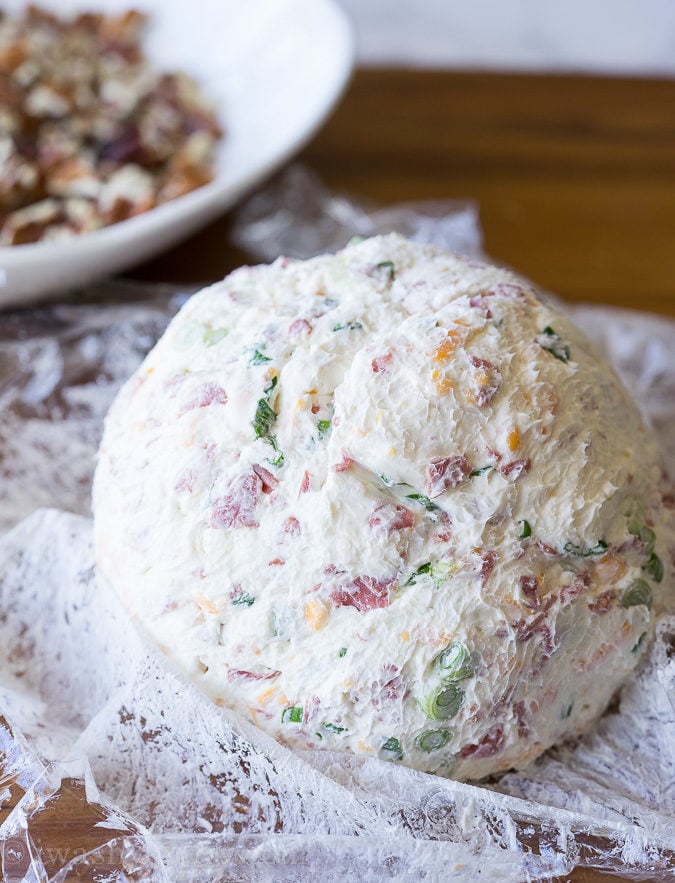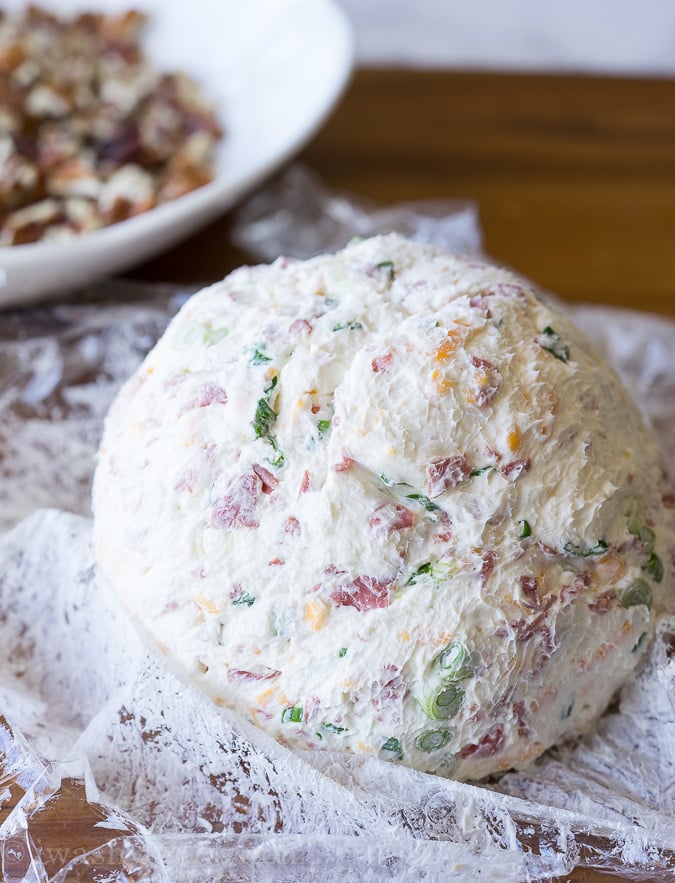 Tips and Tricks for Making the Best Corned Beef Cheddar Cheese ball
Soften the cream cheese – The cream cheese should be at room temperature before you start mixing it. This will ensure that it blends easily with the other ingredients and creates a smooth texture.
Use sharp cheddar cheese – The sharp cheddar cheese gives the cheeseball a bold and tangy flavor.
Finely chop the corned beef – It's important to finely chop the corned beef so that it is evenly distributed throughout the cheeseball.
Chill the cheeseball before rolling it in pecans – The cheeseball should be chilled for at least 30 minutes before you roll it in chopped pecans. This will help the pecans stick to the cheeseball, while also keeping it's nice round shape.
Make it ahead of time – The corned beef and cheddar cheeseball can be made a day or two in advance and stored in the refrigerator until you're ready to serve it.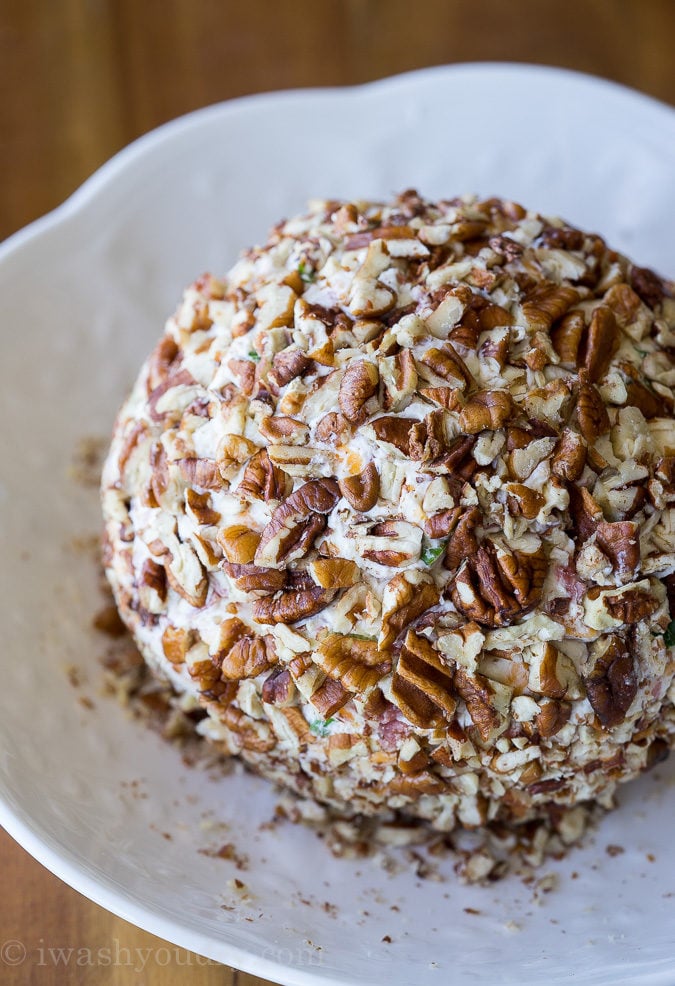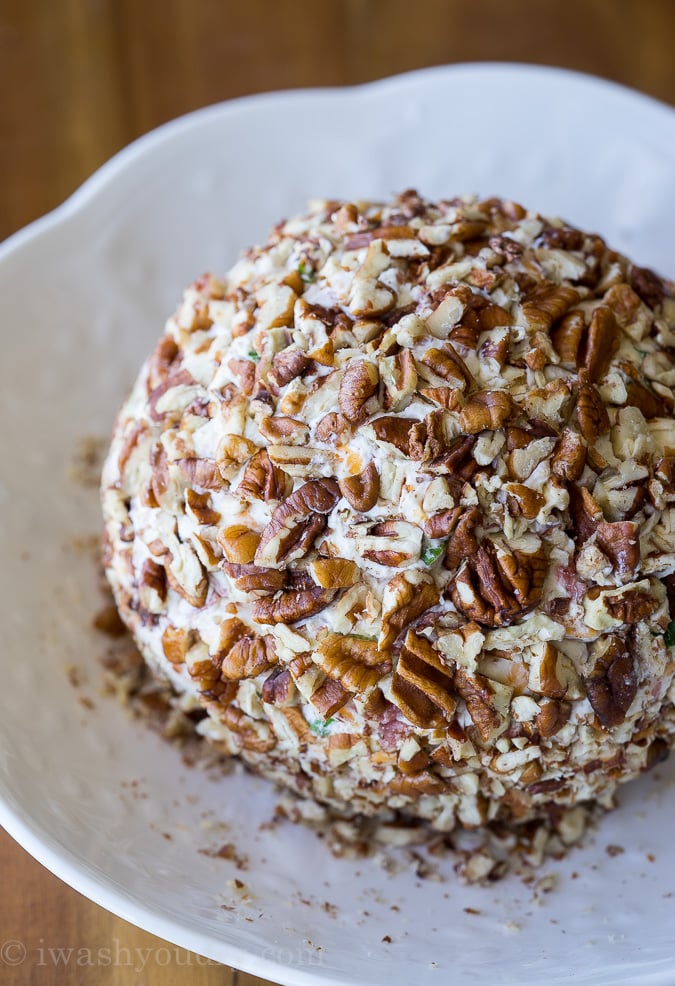 How to Make Your Cheese ball Stand Out at Parties
When it comes to party appetizers, you want your dish to stand out and be the talk of the event. One way to do this is by making a delicious and visually appealing corned beef cheddar cheese ball.
To make your cheese ball stand out, consider adding some extra flavors and textures to the recipe.
For example, try mixing in some chopped jalapenos or red pepper flakes for a spicy kick, or add some chopped herbs like parsley or chives for an extra pop of color and freshness!
You can also experiment with different coatings, like crushed pretzels or crispy bacon bits, for added crunch and flavor.
Additionally, consider serving your cheeseball on a decorative platter with fresh veggies, crackers, and fruits for a beautiful and inviting display. With these tips, your corned beef cheddar cheese ball is sure to be a hit at any party or gathering!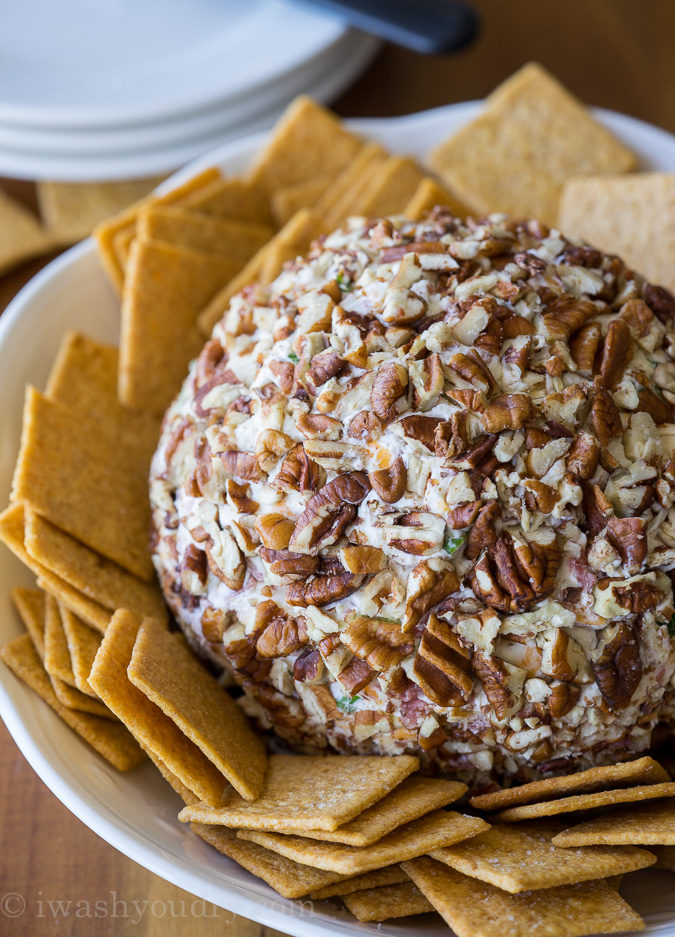 Frequently Asked Questions
How do I store the Corned Beef and Cheddar Cheese ball?
This recipe will last nicely in the refrigerator for 3-4 days! Just cover the top with saran wrap and it's ready to store!
Can the Cheese Ball be frozen?
Yes! Just shape cream cheese mixture into a ball and cover it, you can pop it into the freezer. Defrost in the refrigerator and it is ready to be served!
What pairs well with Corned Beef Cheddar Cheese balls?
Aside from crackers, there's plenty of foods that pair well with this delicious appetizer! Pear and Apple Slices, Crostini, Crudité, Halved and Toasted Mini Bagels, Pretzels, Roasted Potato Wedges, and Pita Triangles will all go well with this dish.
What does not pair well with Corned Beef Cheddar Cheese balls?
Avoid really spicy pickled items, spicy meats, hot jellies, mustards, or chutneys, and even crackers with black peppercorns. These can all take away from the delicious flavor of the cheese ball.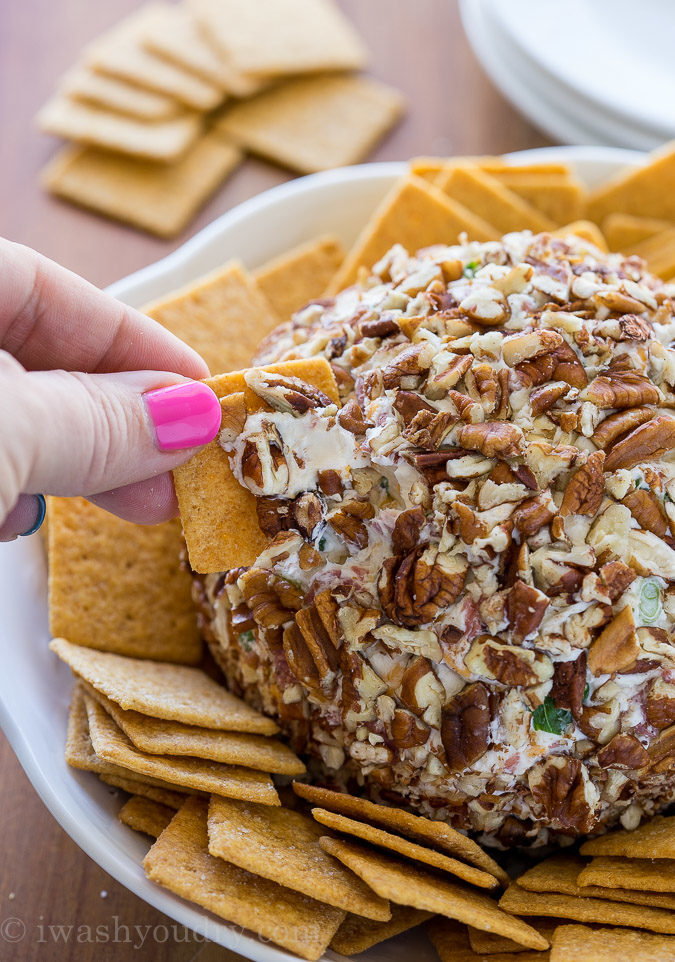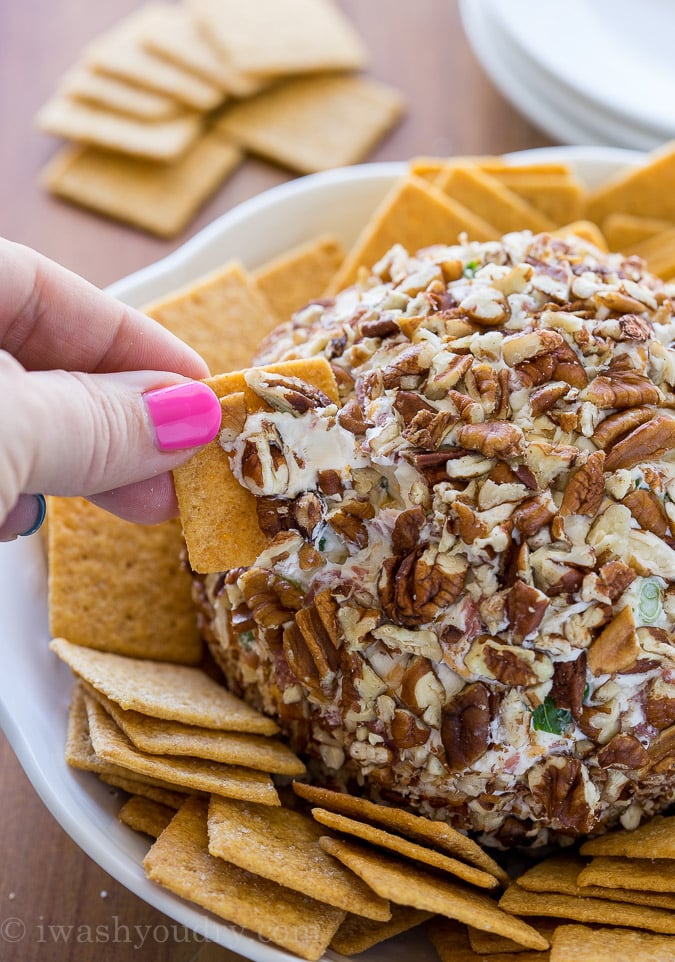 Serving Suggestions for Corned Beef Cheddar Cheese Balls
My corned beef and cheddar cheese ball is a versatile dish that can be served with a variety of foods. Here are some serving suggestions:
Crackers – Wheat crackers are a classic choice for serving with cheeseballs, but you can also try serving them with pita chips or toasted baguette slices.
Vegetables – Raw vegetables like carrot sticks, celery, or bell pepper strips can be a healthy and colorful addition to your cheeseball platter.
Fruits – Sliced apples or pears can provide a sweet contrast to the savory flavor of the cheeseball.
Nuts – Additional nuts like almonds or walnuts can be added to the platter to provide some extra crunch and flavor.
More Cheese Ball Appetizer Recipes
A party is never complete without a cheese Ball present. Here are a few more tasty recipes I think you should definitely try…
I can't wait for you to give this easy cheese ball recipe a try! I think you're really going to enjoy it!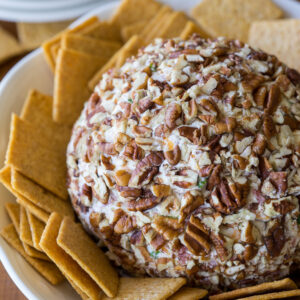 Print Recipe
Pin Recipe
Rate this Recipe
Corned Beef and Cheddar Cheese Ball
This Corned Beef and Cheddar Cheese ball is filled with cream cheese, shredded cheddar cheese, finely diced corned beef and rolled in chopped pecans.
Course: Appetizer
Cuisine: American
Servings: 12
Calories: 105 kcal
Author: Shawn
Ingredients
16

oz

cream cheese

,

room temperature

1

tsp

garlic salt

1

cup

Sharp cheddar cheese

,

shredded

3

green onions

,

diced small

3

oz.

corned beef lunch meat

,

about 1/2 cup (diced small)

3/4

cup

pecans

,

finely chopped

wheat crackers

,

for serving
Instructions
Combine the cream cheese and garlic salt in a medium size bowl and use a hand mixer or sturdy spoon to combine.

Add the shredded cheese, green onions and chopped corned beef, mix to fully combine.

Lay mixture on top of a sheet of plastic wrap and cover, using your hands to form a ball.

Place chopped pecans on a shallow plate or shallow bowl, unwrap the cheeseball and roll in the chopped pecans, coating it completely. Place the crackers around the cheeseball and serve. Store in the fridge, covered. Enjoy!
Nutrition
Calories: 105kcal | Carbohydrates: 2g | Protein: 4g | Fat: 10g | Saturated Fat: 3g | Cholesterol: 15mg | Sodium: 353mg | Potassium: 72mg | Fiber: 1g | Sugar: 1g | Vitamin A: 124IU | Vitamin C: 1mg | Calcium: 74mg | Iron: 1mg
Keywords: cheddar, cheese ball, corned beef, Cream Cheese, pecans