Owner and chef at San Antonio's Pharm Table, Elizabeth Johnson doubles this recipe when she entertains or needs to prepare an eye-catching, crowd-pleasing entrée for a buffet.
"Every time I prepare this dish, people ask me for the recipe!" Johnson says. She prefers to serve it at room temperature, which allows the sweet, sour and briny complexity to come through.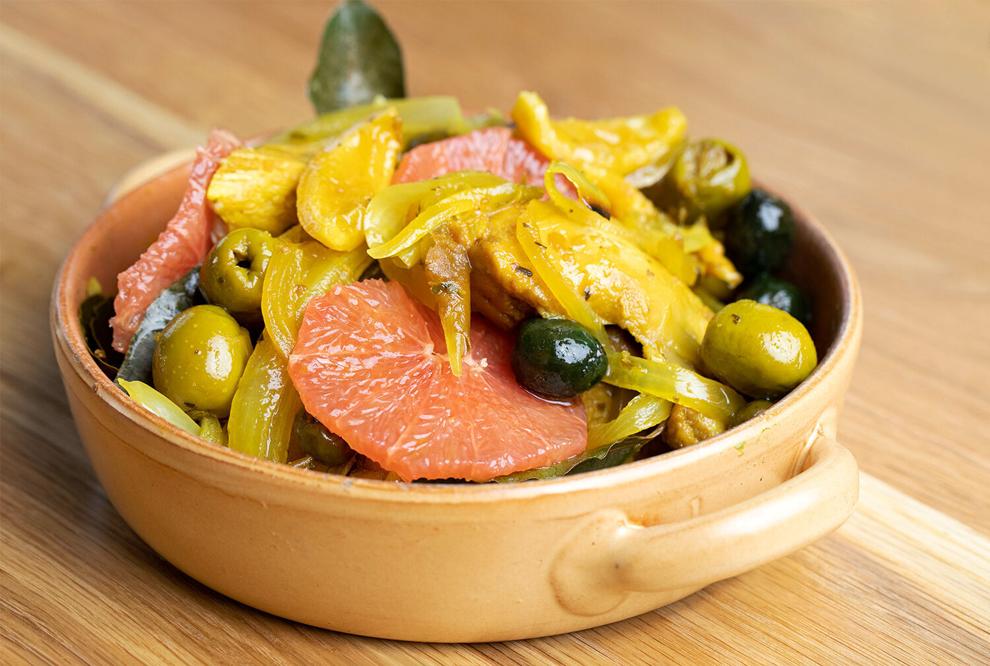 Chicken Marbella with Grapefruit
6 fresh bay leaves
6 large garlic cloves, pressed with side of chef's knife into a paste
2 saffron threads
1 preserved lemon, quartered and white pith removed
½ large onion, cut in half and thinly sliced
1 cup pitted dried plums or dates
¼ cup capers, with some reserved brine
¼ cup extra virgin olive oil
¼ cup Spanish green olives with pits
2 Tbsp dried oregano, preferably Mediterranean
2 Tbsp fresh lemon juice
2 Tbsp red wine vinegar
1½ tsp ground turmeric
1 tsp freshly ground black pepper
1 tsp Himalayan salt
6 bone-in chicken breasts and/or large chicken thighs, skin removed
½ cup packed dark brown sugar or dark honey
½ cup dry white wine
1 package (10 ounces) couscous
2 Tbsp finely chopped fresh parsley leaves
2 pink or red grapefruit
In roasting pan, add all marinade ingredients and stir until well combined. Add chicken and toss to coat. Cover and refrigerate at least 6 hours or up to 12 hours.
Preheat oven to 350ºF. Sprinkle chicken with brown sugar and drizzle with wine; bake 50 minutes, basting chicken frequently with pan juices. Allow chicken to cool in its pan juices at least 1 hour or until it reaches room temperature. 
Meanwhile, cut ends off grapefruit; stand grapefruit on cutting board and cut off peel and white pith. Slice grapefruit crosswise; remove any seeds if necessary. Prepare couscous as label directs. Arrange chicken over bed of couscous; generously top chicken with sauce in pan and garnish with grapefruit. Sprinkle with parsley to serve.