Campanelle is the technical Italian term for the pasta shape Sfoglini colloquially calls "trumpets." The bell-shaped pasta is perfect for use in casseroles, but it works well in dishes that have small vegetables or pieces of meat. Try using trumpets in pasta primavera with chopped asparagus, spring peas and strips of bell pepper.
The funnel-like shape nestles tomatoes and diced eggplant in a Sicilian-inspired recipe from Cafe Capriccio chef and owner, Franco Rua. This recipe comes together in mere minutes. Heat up the pasta water just before cooking the eggplant, which will become jammy and soft, coating the ruffles of the trumpet for maximum flavor in each bite.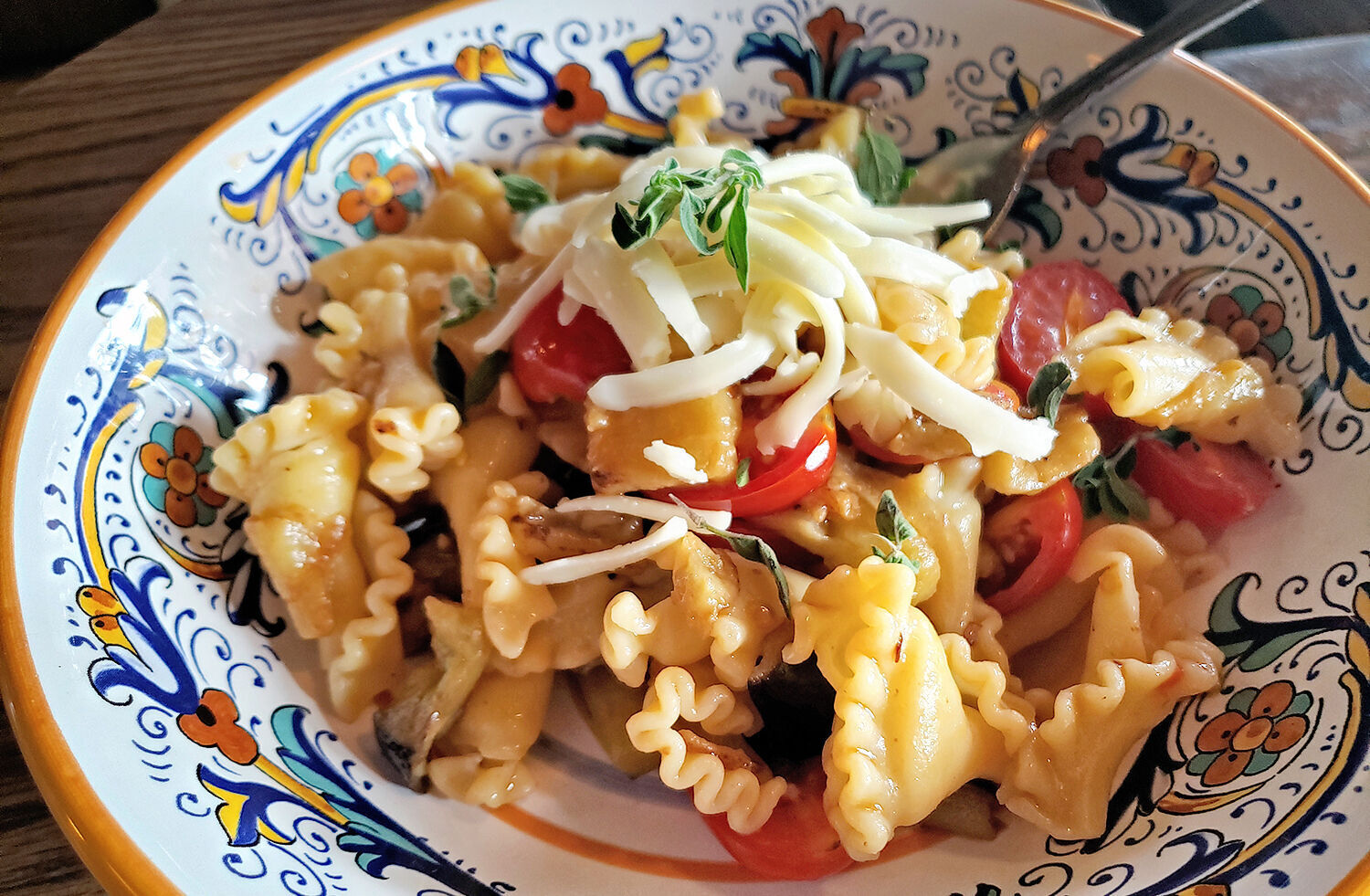 Campanelle with Eggplant, Fontina & Cherry Tomatoes
1 lb Sfoglini trumpets or campanelle pasta
¼ cup extra virgin olive oil
4 garlic cloves, sliced
1 medium eggplant, cut into ½-inch pieces
½ small onion, thinly sliced
1 lb cherry tomatoes, each cut in half
pinch crushed red pepper flakes
salt and freshly ground black pepper, to taste
8 oz Fontina cheese, shredded (2 cups), divided
1 cup loosely packed fresh Italian parsley leaves, chopped (about ½ cup), divided
Meanwhile, in 12-inch skillet, heat oil over medium heat. Add garlic, eggplant and onion and cook until soft, stirring frequently. Add tomatoes and crushed red pepper flakes and cook just until tomatoes begin to soften. Add salt and black pepper to taste. 
Drain pasta, then return to saucepot. Add eggplant mixture, 1 cup cheese and ¼ cup parsley to pasta. Toss until cheese melts and pasta is coated with sauce, warming on low heat, if necessary. Divide pasta between dinner plates. Sprinkle with remaining cheese and parsley to serve.
Suggested wine pairing: Barbera d'Asti such as Vietti Tre Vigne Barbera d'Asti
"Because this dish is made with fresh cherry tomatoes, the sauce has a lighter mouthfeel and requires a lighter wine," says Joe Armstrong, wine consultant for Cafe Capriccio. "I am selecting a Barbera from the Piedmont region in northwestern Italy. The grape, which is the third-most-planted grape in Italy behind Sangiovese and Montepulciano, is bright and lively with balance throughout."  
Armstrong adds, "This Barbera is a vibrant red wine teeming with energy and electricity. The berry tones of cassis, cranberry and black currant pop from the glass. The vibrancy in this wine keeps it fresh and lighter than most reds, which will balance nicely with this lighter pasta dish. Its fruit will mingle with the earthy sweetness of the eggplant and onions, too."