I used to be skinny. Not to say I had an hourglass shape, but I was thin and always felt like a million bucks. 3 kids later, I still have a petite frame, but my stomach area earned itself an extension pack. I held on to the fantasy that my body would return to a closer version of its former self for nearly a decade.
Enter my new best friend: flattering shirts to hide a belly. These game-changers put the spotlight on your best features while downplaying the so-called "mummy tummy". I can't be the only person who want to hide belly fat, so it's time to share. You might not even have belly fat — maybe you just aren't ready to share with the world your new little joy. Or, you just have leftover skin postpartum that refuses to shrink. So, what makes a top flattering for those of us sporting a little extra around the middle? Let's find out how to find fabulous clothes with a flattering shape for your body and what shirts hide a muffin top!
Tips for Hiding a Belly
Unless you're carrying around a six-pack (instead of drinking them on a daily basis), you might have tried to underplay that tummy area at some point. Here are some tips for getting rid of unwanted attention towards your upper body.
Choose the Right Fit
Avoid tops that are too tight or too loose. Wearing clothes that cling to your body might highlight your belly, while overly loose clothes can make you look larger than you actually are. Find a middle ground with tops that skim your body without clinging. You're looking for a slightly relaxed fit that draws attention to the areas you want.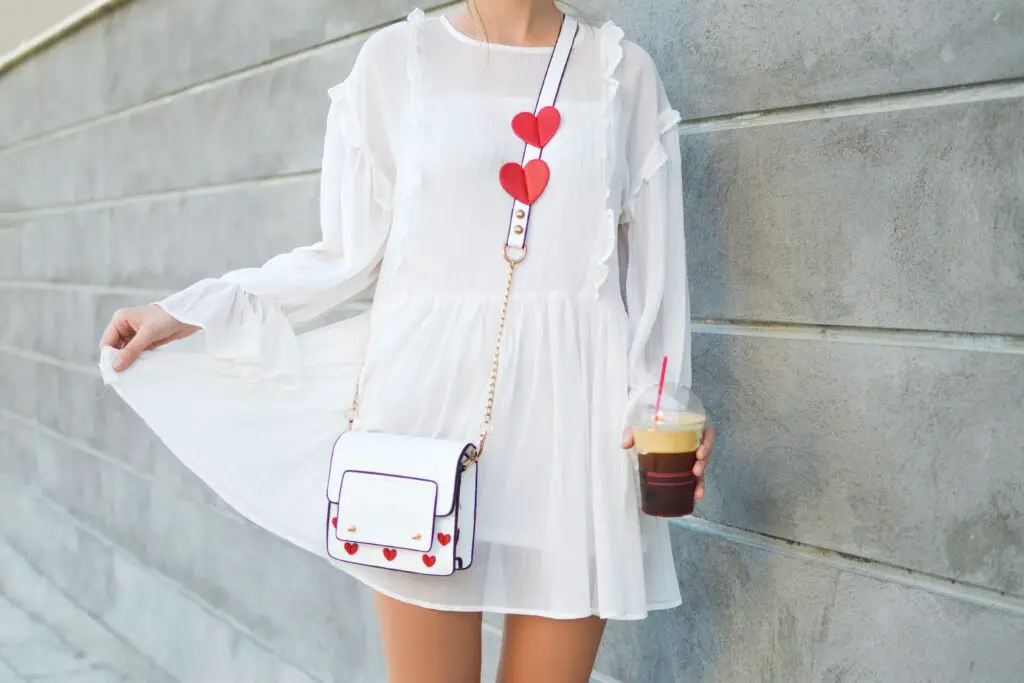 Opt for Longer Tops
Longer length tops help elongate your torso and draw attention away from your belly area. Tops that end just below your hip bone are usually a good choice.
Consider the Fabric
Opt for materials that have a bit of structure and don't cling to your body. For example, cotton, denim, and other firm fabrics can provide a flattering silhouette.
Ruching and Draping
Tops with ruching or draping can be great at disguising a tummy. The extra fabric creates an illusion and can help hide any bulges.
Wear Select Styles
For example, empire waist outfits or peplum tops can be incredibly flattering. The fitted upper part highlights the smallest part of your waist, while the flared part helps cover the belly.
Layering
Layering your clothes can help create multiple points of interest, drawing attention away from your belly. For example, a tank top under a cardigan provides two vertical lines down your torso, which can have a slimming effect.
We earn a commission if you make a purchase, at no additional cost to you.
Bold Prints and Dark Colors
Bold prints can distract the eye while dark colors can give you a slimmer silhouette. Just make sure the print isn't too large, which can have the opposite effect.
Necklines Matter
A V-neck or scoop neck can draw the eye upwards towards your face and away from your stomach. A classic button-down shirt with a few top buttons undone can have the same effect.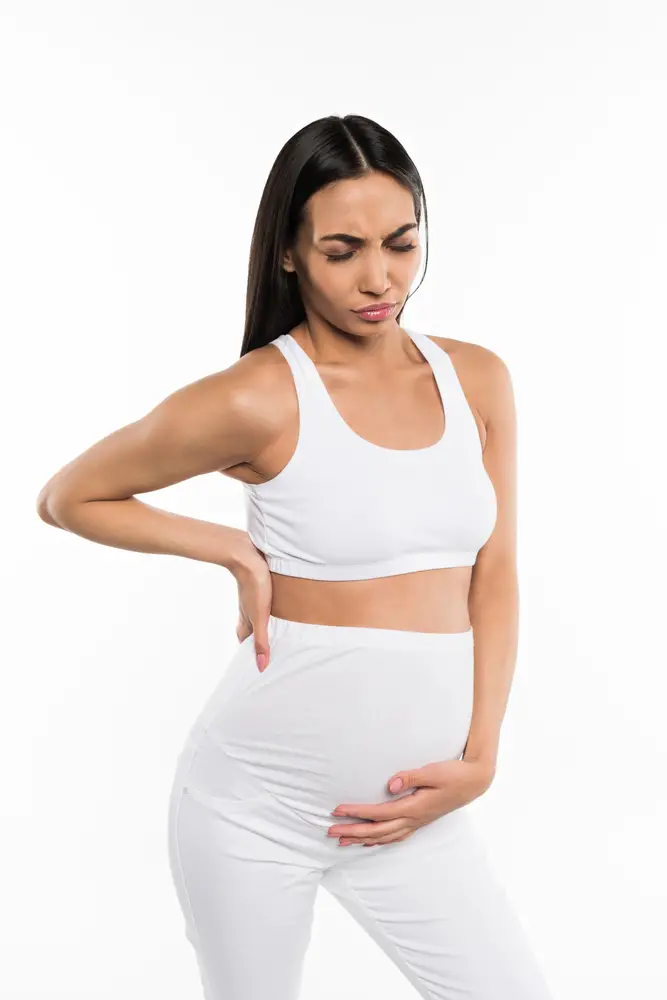 Wear High Waisted Jeans
Remember, the goal isn't to hide your body, but to dress in a way that makes you feel comfortable and confident. Regardless of size or shape, everyone deserves to feel beautiful in their own skin.
Hiding Belly Fat for Petite Women
Petite women can hide belly fat effectively by employing some specific fashion strategies. The key is to create a balanced silhouette that accentuates your best features. Here are some crucial tips:
Asymmetrical Tops: Tops with asymmetrical hemlines provide an illusion of length. They draw the eye downwards and away from the midsection, camouflaging any protrusion in the belly area.
Structured Blazers: A well-fitted blazer can make a world of difference. It nips in at the waist, creating a flattering hourglass shape. Choose a longer blazer that hits around the hips to cover your stomach area.
Strategic Accessories: Accessories like long necklaces or scarves can help draw the eye vertically, thereby creating a long, lean line that minimizes attention to the stomach.
High-Waisted Bottoms: High-waisted jeans, skirts, or pants are excellent for tucking in the tummy and creating a streamlined silhouette. They help in drawing attention to the narrowest part of your waist and away from the belly.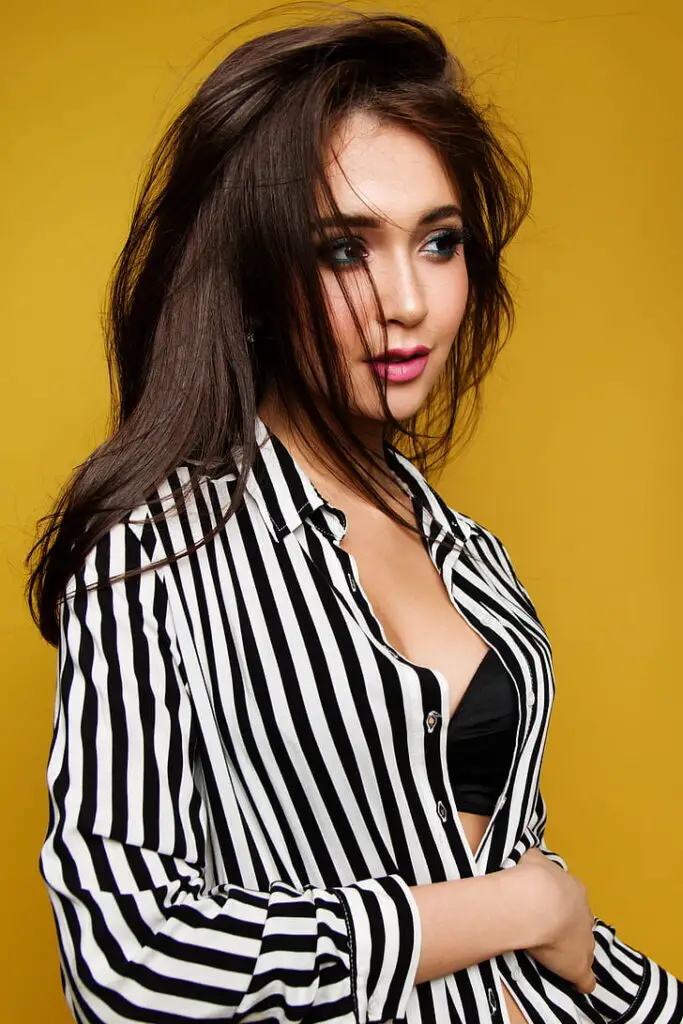 Vertical Stripes: Clothing with vertical stripes can create an illusion of height and slimness, drawing the eye up and down rather than across your body.
Flattering Dresses: Opt for dresses that cinch in at your natural waist or just under the bust. A-line dresses and wrap dresses are perfect examples. They draw attention to the smallest part of your torso and flare out over the stomach, camouflaging any belly fat.
Shapewear: While not a necessity, shapewear can be a lifesaver for those special occasions when you want a little extra smoothing and shaping under your outfit.
By integrating these tips into your wardrobe, you can enhance your style while feeling comfortable and confident. Remember, the goal is not to hide, but to flaunt your features in the most flattering way.
How to Shop Online for the Best Tops to Hide a Belly
When shopping online for tops to hide a belly, there are a few specific things to look for. Start by filtering your search based on your specific needs. Most online clothing retailers will allow you to search for specific styles, such as peplum tops, empire waist outfits, or tops with ruching or draping.
Also, look for online stores that provide detailed descriptions of their products. This is where you can find out about the fabric, the fit, and the length of the tops. It's also beneficial if they offer customer reviews, as these can give you an idea of how the tops fit on different body shapes and how effective they are at concealing a tummy.
Pay attention to the size guides provided by the online store. Each brand may have slight differences in sizing, so taking your measurements and comparing them to the size guide can save you a lot of time and hassle. Remember, you're looking for tops that are not too tight, but not too loose.
Lastly, have a look at the return and exchange policy before you make a purchase. Even with all the right information and careful selection, there's always a chance that the top might not fit as expected. Shopping at stores with a good return policy gives you the peace of mind that you can easily exchange or return the item if it doesn't meet your expectations.
Many women opt for certain styles of shirts to flatter their figure and help camouflage areas they may be self-conscious about. If you're looking to downplay the belly area, here are some styles of women's tops you can search for to find what you need:
We earn a commission if you make a purchase, at no additional cost to you.
Tunic Tops: A tunic top is longer than regular tops and often falls around the hip or thigh area. Their length and slightly loose fit make them great for hiding a tummy.
Peplum Tops: A peplum top is fitted at the bust and waist and then flares out at the hips. This creates an illusion of a smaller waist while the flare helps cover the belly area.
Ruched or Shirred Tops: Shirts with ruching or shirring around the waist or side seams can camouflage the tummy by creating a draped or gathered effect.
Empire Waist Tops: These tops have a raised waistline that starts right below the bust. The rest of the fabric falls loosely, which helps hide the midsection.
Blouson Tops: These tops look as if they've been 'bloused' over a waistband. The blousing effect can help camouflage the tummy.
Cardigan for a Layered Look: Wearing a camisole or tank top underneath an open cardigan, jacket, or blazer can create vertical lines that are slimming. Plus, the layers can help hide the tummy.
Wrap Tops: These create a diagonal line across the body, which can be very flattering and can help to pull the eye away from the belly.
Asymmetrical Hem Tops: An asymmetrical hem can draw the eye downward, distracting from the midsection.
Pleated Blouses: It might depend on the material, but some pleated blouses also have a looser waist and remove the focal point from your middle.
V Neck Tunic
We earn a commission if you make a purchase, at no additional cost to you.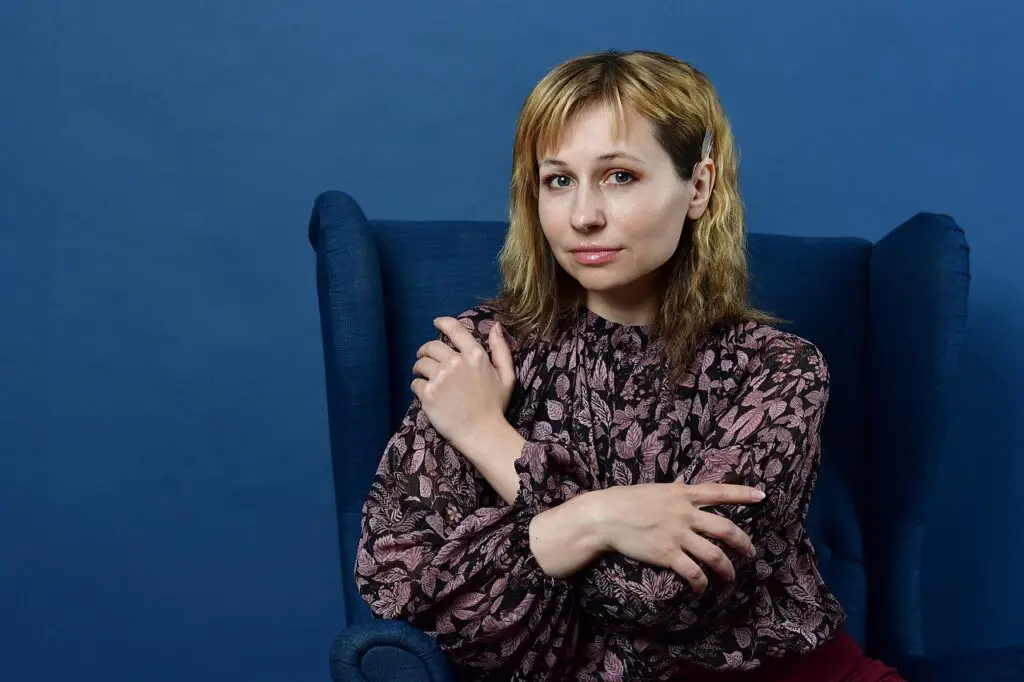 Vertical Stripes: Tops with vertical stripes can elongate the figure, creating an illusion of height and slenderness.
Dark, Solid Colors: Dark colors, especially black and navy, can be slimming.
Structured Fabrics: Tops made of more structured fabrics can help smooth out the stomach area.
Avoid Clingy Materials: Light, flowing materials won't cling to your tummy like some tighter, stretchy fabrics can.
Avoid Embellishments in the Tummy Area: Shirts with ruffles, large prints, or pockets in the middle can draw attention there.

V neck tops: V or scoop necktops can draw attention upwards, creating a thinner look.
Remember, confidence is key. Everyone's body is different, and it's essential to find what makes you feel good. It might take a bit of trial and error, but once you discover the styles and fits that make you feel great, it becomes easier to shop and dress with confidence.
Shirts to Hide Belly Fat
It's hard not to feel self conscious as your body changes, but many of these shirts have a versatile nature that will keep them relevant even as your personal style changes. Don't despair — You can find shirts for warmer weather or cooler with ample coverage over your belly that are figure flattering.
V Neck
We earn a commission if you make a purchase, at no additional cost to you.
We earn a commission if you make a purchase, at no additional cost to you.
We earn a commission if you make a purchase, at no additional cost to you.
We earn a commission if you make a purchase, at no additional cost to you.