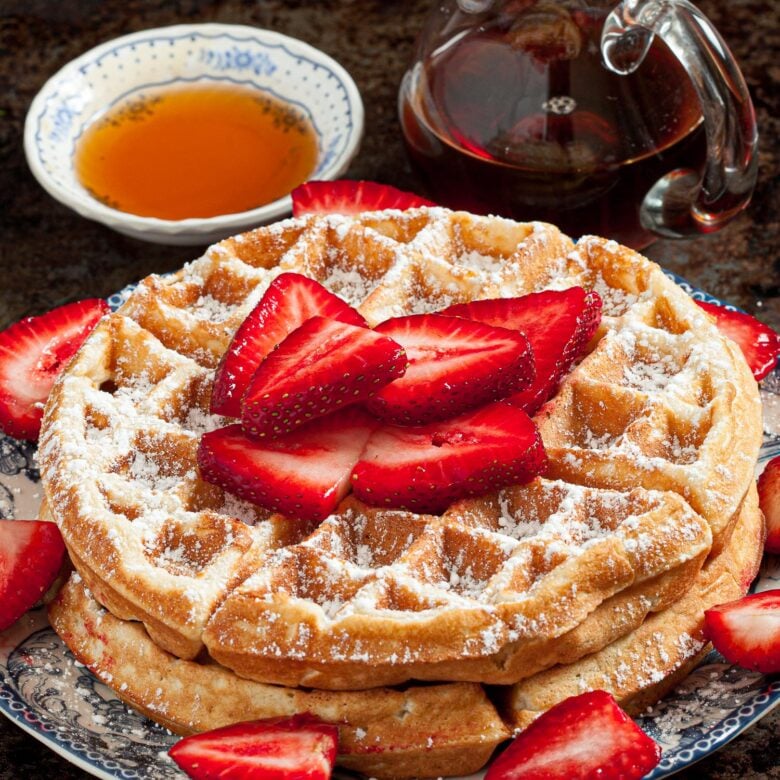 Why You'll Love this Fluffy Belgian Waffles Recipe
Just 7 ingredients are all you need to create the best Belgian waffles you'll ever taste. 
One batch makes 10 large waffles, meaning this easy Belgian waffles recipe is the perfect option for a hungry crowd. 
You can easily mix and match all your favorite toppings to satisfy all your cravings. 
Whisked together in a bowl and cooked on a waffle iron, this recipe is virtually fail-proof. 
A nice change from oatmeal or savory breakfast casserole, this is a sweet breakfast the whole family will be excited to eat.
What's the Difference Between a Belgian Waffle and a Regular Waffle?
Although both delicious, Belgian waffles and regular or American waffles are not quite the same. The main difference between the two is their size. For example, Belgian waffles are much larger and thicker than regular American waffles. They also have deeper pockets and tend to be slightly sweeter in taste and fluffier in texture. 
In addition, Belgian waffle recipes are typically yeast-based and use less baking powder than regular waffle recipes. Meanwhile, traditional waffles are made with buttermilk and often lack the egg whites found in Belgian waffles. As a result, they're denser and more similar to pancakes.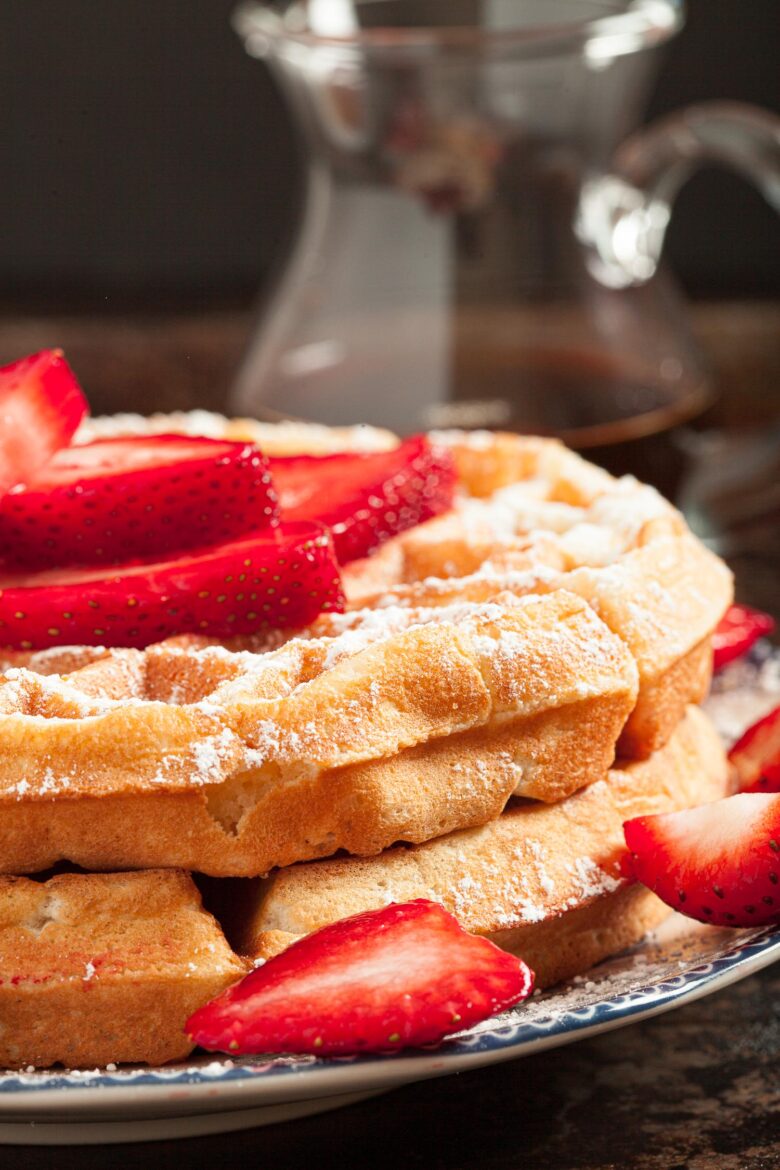 Pro-Tips​​
This fluffy Belgian waffles recipe is virtually fail-proof. However, we've got a few extra tips to make sure it turns out perfect every single time. 
Avoid Overmixing. Use a rubber spatula to gently fold the whipped egg whites into the rest of the batter, stopping as soon as the ingredients are well combined and smooth. Continuing to mix will result in dense, tough waffles, which we definitely don't want! 
Let the Batter Rest. This allows the gluten enough time to relax which helps the batter fluff up, becoming light and delicious. 
Preheat Your Waffle Iron. You want to make sure your waffle iron is super hot before you add the batter. This will ensure that the waffles cook quickly and evenly and that they don't stick to the machine. 
Use a Measuring Cup. Use a ¼ cup measuring cup with spout to pour the batter onto the waffle maker, using about ¾ cup of batter for each waffle. Not only does this method help achieve equal-sized waffles, but it also helps you avoid making a mess trying to transfer batter from the bowl to the iron. 
Let the Waffles Cool. We know it's hard to wait, but we highly recommend letting the waffles cool a couple minutes before you dig in. This helps the exterior crisp up, ensuring they're crunchy on the outside and perfectly soft and fluffy on the inside. 
Topping Ideas
Of course, this fluffy Belgian waffles recipe is incredible when served on its own, but you can never go wrong with extra toppings! Some of our favorite options include: 
How to Store and Reheat
Although they tend to disappear fast, this easy Belgian waffles recipe is a great option for meal prep! Leftovers store well and can be heated up for quick breakfasts throughout the week. 
Refrigerator: Once fully cooled, leftovers can be transferred to a sealable bag or airtight container and stored in the fridge for up to 4 days. 
Freezer: Transfer the waffles to a sealable bag, and place a sheet of wax paper in between each. Then, squeeze out as much air as you can, and keep them frozen for up to 2 months. 
To Reheat: When you're ready to eat, warm your waffles either thawed or frozen. The microwave will work. However, for the best results, we recommend opting for the toaster or placing them under the broiler to keep them crisp.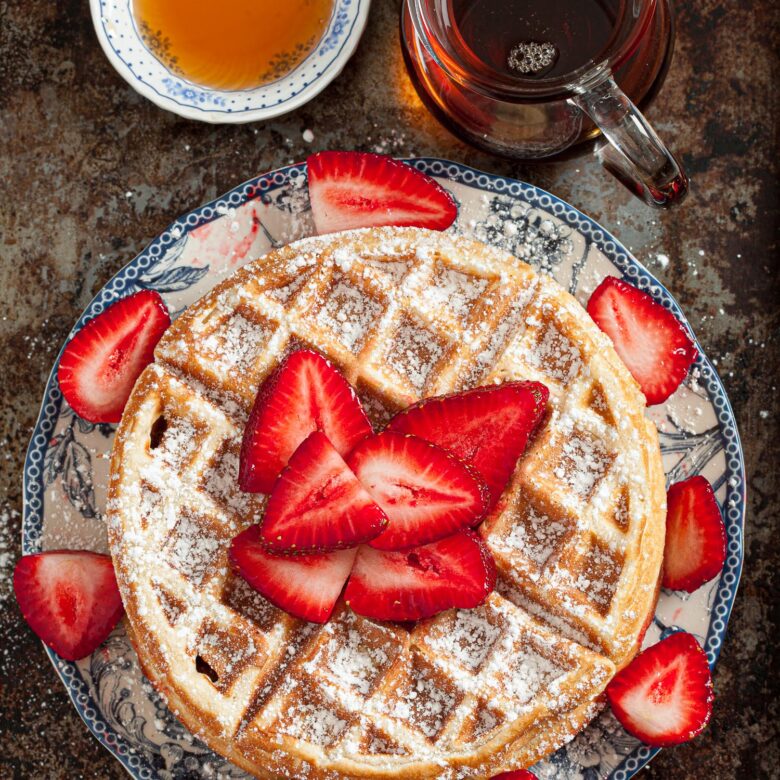 Belgian Waffles Recipe Common Questions
Should the batter for this easy Belgian waffles recipe be thick or thin? 
You want the batter for this Belgian waffles recipe to be thin enough to be pourable but not too runny.
Can I use a regular waffle maker to make this fluffy Belgian waffle recipe?
Technically, you can use a regular waffle maker to make this easy Belgian waffle recipe. However, the results won't be quite the same as regular waffle makers won't create the big, deep pockets Belgian waffles are known for. Try a waffle iron with deep grooves.
Can I make this Belgian waffles recipe gluten-free? 
Yes, simply swap out the all-purpose flour with a 1:1 gluten-free all-purpose flour alternative, and follow the directions as stated.  
---
More to Cook and Eat
Funfetti Pancakes – Fluffy, moist, and colorful, these festive pancakes are simple to make from scratch and taste like a party in your mouth.  
Texas French Toast Bake – Big, hearty, and easy to prepare in advance, this is our go-to breakfast recipe for feeding a crowd. 
Make-Ahead French Toast Casserole – Fluffy, sweet, and topped with a scrumptious cinnamon streusel topping, this make-ahead casserole is truly a showstopping recipe. 
Fluffy Pumpkin Pancakes – This is one fall-inspired breakfast that's so scrumptious you'll find yourself making it all year round! 
Easiest Overnight French Toast Casserole – Not only does this sweet breakfast taste like a dream but it can be prepared ahead of time to make your mornings a breeze. 
---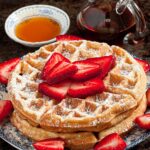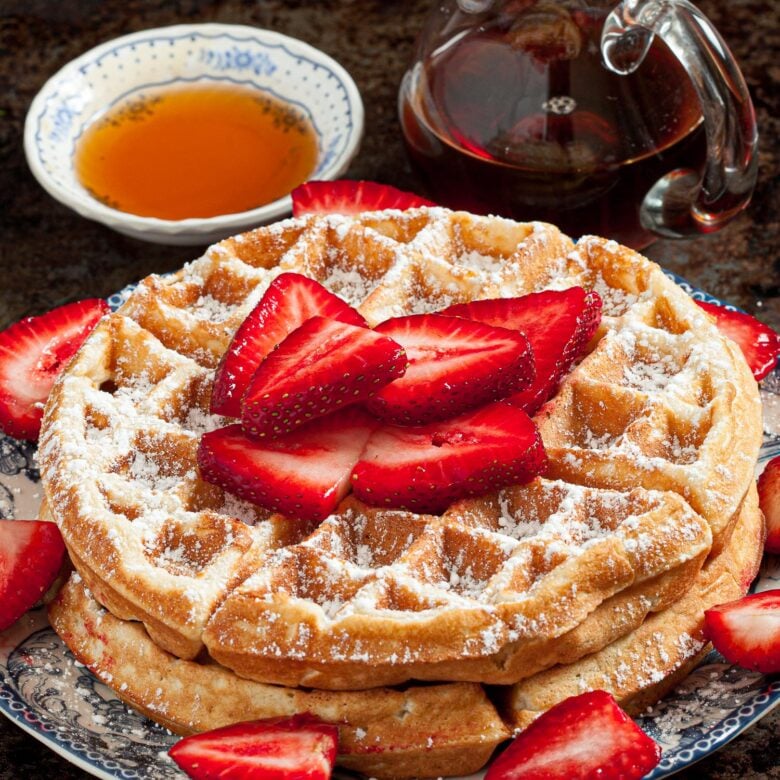 Fluffy Belgian Waffles Recipe
This fluffy Belgian waffles recipe yields perfectly golden waffles that are crisp on the outside, soft on the inside, and pure heaven in every bite!
Servings: 10 waffles
In a bowl, whisk together the flour, sugar, and baking powder.

In a second bowl, lightly beat the egg yolks. Add the milk, butter, and vanilla to the yolks. Mix well until combined.

Stir the yolk mixture into the flour mixture with a rubber spatula, just until combined.

In a separate, clean bowl, use an electric mixer to beat the egg whites until stiff peaks form. Use a rubber spatula to gently fold the egg whites into the waffle batter until just combined. Do not overmix!

Let the batter rest for 10 minutes while you preheat the waffle iron.

Cook the batter in the heated waffle iron according to the manufacturer's instructions, until the waffles are golden.

Serve with fresh strawberries, powdered sugar, or maple syrup.
If you enjoyed this recipe, please come back and give it a rating ♡
Serving: 1serving | Calories: 337kcal | Carbohydrates: 35g | Protein: 5g | Fat: 21g | Saturated Fat: 13g | Polyunsaturated Fat: 1g | Monounsaturated Fat: 5g | Trans Fat: 1g | Cholesterol: 86mg | Sodium: 321mg | Potassium: 74mg | Fiber: 2g | Sugar: 18g | Vitamin A: 674IU | Calcium: 154mg | Iron: 1mg
Did you make this?
Leave a comment below and tag @chewoutloud on Instagram