About 200 disaster relief personnel have been at the site using drilling equipment and excavators in the rescue operation, with the plan being to push 80-centimeter-wide steel pipes through an opening of excavated debris.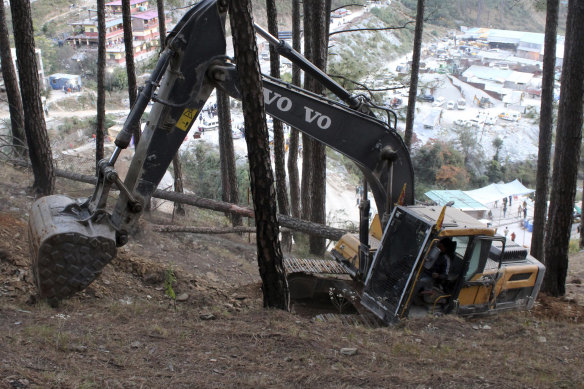 Anshu Manish Khalkho, director at NHIDCL, said that after they paused the drilling on Saturday experts became concerned the drilling machine's high-intensity vibrations could cause more debris to fall and hinder efforts. The machine has a drilling capacity of up to 5 metres per hour and is equipped with a 99-centimetre diameter pipe to clear debris.
Khalko said drilling vertically from the top of the hill could also cause additional debris, but that they would opt for a specific technique designed for drilling through overburdened soil conditions where unstable ground make traditional methods more difficult. This method, experts hope, would lead to less debris falling.
One challenge, however, is that drilling from the top means they would need to dig 103 metres to reach the trapped workers — nearly double than if they carried on digging from the front.
Authorities were also contemplating drilling from the sides and the ends of the tunnel, Khulbe said.
Vijay Singh, an official at the control room, said they had also extended the pipe installed inside the tunnel through which the trapped workers were receiving food like nuts, roasted chickpeas, popcorn, and other essential items. Oxygen supply is being administered through a separate pipe.
Doctors, officials and relatives were in constant touch with the workers, said Patwal, the disaster management official. He said two doctors at the disaster site were ensuring the workers' physical and mental well-being and that they have supplied them with vitamins and tablets to treat anxiety.
But as the rescue operation stretches into its eighth day, families of those stuck underground are growing more worried, frustrated and angry.
"I am losing my patience," said Maharaj Singh Negi, whose brother Gabbar Singh is among the trapped workers. "The officials have not even briefed us about the future plans."
AP
Get a note directly from our foreign correspondents on what's making headlines around the world. Sign up for the weekly What in the World newsletter here.