The leaders said they "highlighted the human suffering and negative added impacts of the war in Ukraine" but added "there were different views and assessments of the situation".
Loading
Russia was only named directly in reference to its deliveries of grain and fertiliser supplies.
"We call on all states to uphold the principles of international law including territorial integrity and sovereignty, international humanitarian law, and the multilateral system that safeguards peace and stability," the statement said.
The final G20 leaders' declaration followed fears that no declaration would be issued during this year's summit and came a day ahead of schedule before US President Joe Biden and Albanese fly out early on Sunday.
While Indian Prime Minister Narendra Modi avoided the embarrassment of presiding over the first G20 summit not to issue a joint declaration, the statement was condemned by Ukrainian human rights groups for failing to criticise Putin's invasion of Ukraine.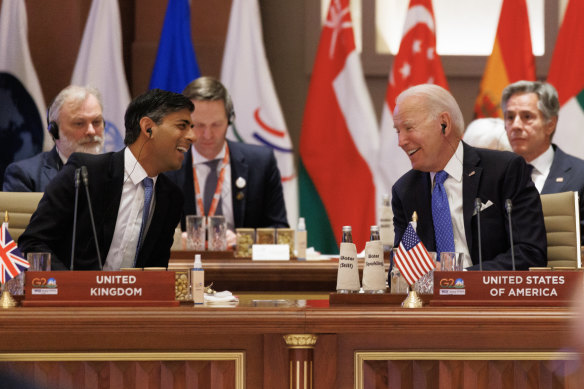 "This weak G20 statement is not only cowardly by not even mentioning Russia or its ongoing war crimes but completely fails to address the responsibility the G20 should have to stop Russia and its geopolitical weapons," said Svitlana Romanko, the director of Ukrainian advocacy group Razom We Stand.
India, which relies on Russia for military supplies, has attempted to shift the spotlight of the G20 away from Ukraine and towards trade, infrastructure investment and climate change.
Indian external affairs minister Subrahmanyam Jaishankar defended the statement, saying: "Regarding the change in language on the Russia-Ukraine conflict from the Bali Declaration: Bali was Bali, this is Delhi. Many things have happened since the Bali Declaration."
Albanese said he discussed free trade negotiations with French President Emmanuel Macron on Saturday night and an encounter the previous night with European Union commissioner Ursula von der Leyen.
"I would like to see the Australia- EU free trade agreement settled as soon as possible," Albanese said.
"It's quite clear, with the timetables that are there, that the prospects of that being done are much greater this year than next year because it does run into elections."
The G20 leaders warned in their declaration that the path ahead was unpredictable as the world struggled to recover from COVID-19. "Global economic growth is below its long-run average and remains uneven," the statement said.
The leaders of the world's largest emitters committed to "urgently accelerate our actions to address environmental crises and challenges including climate change" despite climate scientists warning deeper cuts were needed to stop the increase in the global average temperature to well below 2 degrees above preindustrial levels.