Ocean Edge Resort provides a luxurious escape from the daily grind regardless of season. From exquisite dining to inspring activities and grand vistas, it is a soothing experience for all senses.
I revel in the winter. Watching a majestic fire crackling in a 19th-century stone fireplace—the smoky sweet smell and warmth it radiates create such an easeful haven. Playing board games on thick woolen carpets with friends, bundling up, and taking walks on trails whose tree branches are dipping from the weight of the snow. Reading a book that's been on my nightstand for months in a big comfy chair and eating rich and decadent food.
My time at Ocean Edge Resort and Golf Club provided the wintery setting I craved to unwind, reflect, and "Stop." It has become my favorite winter treat on the Cape
The Back Story:
Located in Brewster, MA. and built-in 1890 by Samuel Mayo Nickerson for his son, Roland, and his family, the former Fieldstone Hall residence was built on a 1,800-acre estate. Furthermore,  in 1906, 16 years after it came to life, Fieldstone Hall's reign ended with a tragic fire. Devastated by this fire, Roland Nickerson died two weeks later, leaving his wife, Addie, and his father, Samuel, to rebuild. In 1912, the new Fieldstone Hall was completed.
How Ocean Resort Became What it is Today:
Throughout the years, the property was sold and served as a Seminary until 1980, when Corcoran Jenson, a real estate developer, purchased it. In 1986, Ocean Edge Resort and Golf Club opened its doors. Today, The Mansion and The Villages host families, serving as their primary getaway year-round.
Put it on your "To Do" list:
Item number one: Relax. The winter is a fantastic time to relax and take in all of the beauty of your surroundings. First…slow down, take deep breaths, and explore the sanctuary Ocean Edge Resort and Golf Club offers you during the winter lull. The grounds are beautiful—massive and open, with endless trails for a slow pace walk.  Besides walking, bikes are also available.

Item number two: Get a Spa Treatment. The Beach House Spa at Ocean Edge offers a menu of treatments for men and women that are guaranteed to restore your body and mind. From the Ultimate Zen Ritual to the Sea Scape Men's Facial, the Spa is the place to relax and rejuvenate your body and mind, spirit, and overall well-being.
Item number three: Workout. If you miss working out, head to the fully-equipped gym to keep your routine going. I didn't miss it, but it was nice to know a great gym was easily accessible. I got my workout from swimming in Ocean Edge's indoor swimming pool. Spacious and warm enough to make swimming in the middle of February a wonderful experience.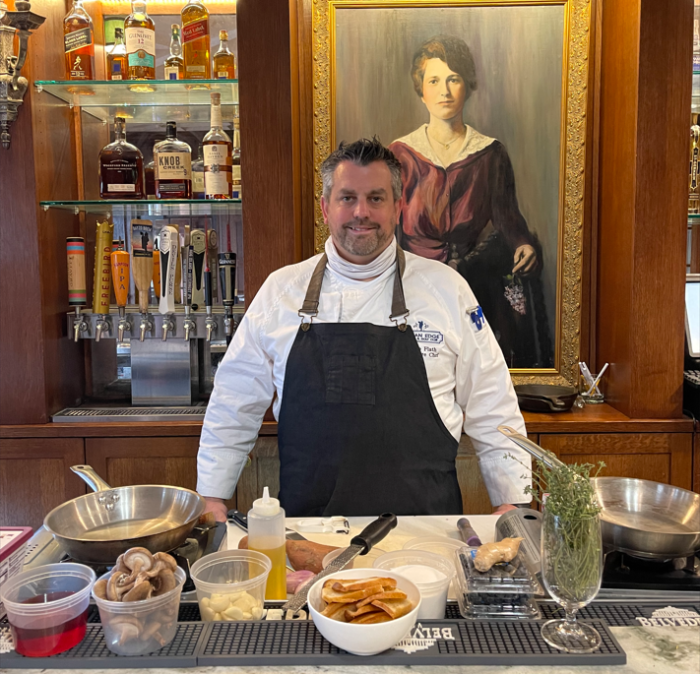 Item number four: Newly added to the roster of things to do at Ocean Edge, Sous Chef Tim Kramer outdid himself by creating high-end bites to eat at the Resort's Winter Bounty Series.  I was amazed by the preparation and presentation of freshly picked oysters from the Resort's own waters, duck cooked to perfection, and shaved Brussels sprouts with Duck Confettis and Truffle Oil.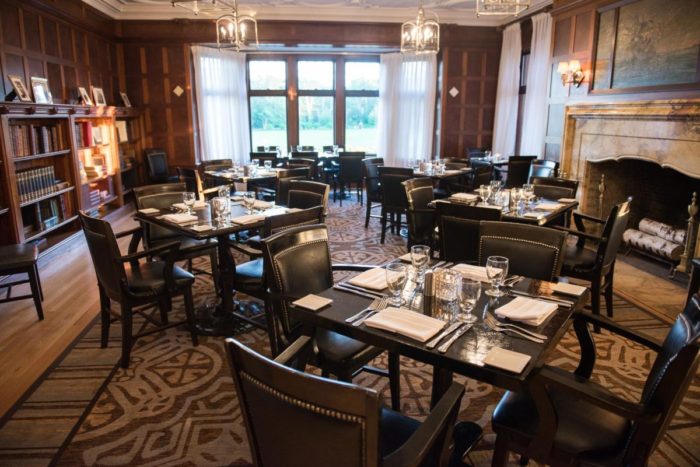 Hungry? Let's Eat:
My first dinner at the Resort was in The Roscommon Room before a large wood-burning fireplace. While the crackling of the embers sang out, I ordered  Baby Lettuces and Squash with Sun-Dried Cranberries, Toasted Pepitas, and Goat Cheese. For Dinner? Proscuitto Wrapped Chicken with Sage Butter and Wine Sauce over Parmesan Risotto with Charred Broccolini.  Each creamy, salty, and crispy bite played off each other and, in the end, came together effortlessly. Following dinner, I selected donuts for dessert. Sous Chef Tim channeled into the mind of this dessert geek and served Raspberry Stuffed Donuts with a side of Chocolate sauce. Let me explain—you know what? I can't. They were indescribably delicious. The next day I was back in The Roscommon Room for a lite breakfast of Yogurt, Fresh Fruit, and Granola.

The next evening, I moved downstairs to Bayzo's Pub. Conversations from visitors and locals alike filled the room with life. The laid-back atmosphere called for food to fit the vibe. Ever had a deconstructed Chicken Pot Pie? More like a stew but holding on to the traditional Pot Pie ingredients, this bowl of warmth was served with the strips of biscuits on top because what's the best thing about a Pot Pie other than its flaky, buttery crust? Bravo, Sou Chef Tim.
This winter break came at the perfect time for me.  I needed to reconnect while having a piping hot Ginger Hot Toddy at the Frost Bar, put down the phone, and surround myself with nature, good food (and drink…the Hot Toddy was delicious), and wonderful people.  I never associated the Ocean Edge Resort and Gold Club with a winter getaway, but I was utterly mistaken. It was such a relaxing, rejuvenating experience. I'm looking forward to seeing what the Ocean Edge Resort and Golf Club has in store for the Spring and Summer. I can't wait to return if this little holiday was any indication.
Ocean Edge Resort
2907 Main St, Brewster, MA 02631
Website