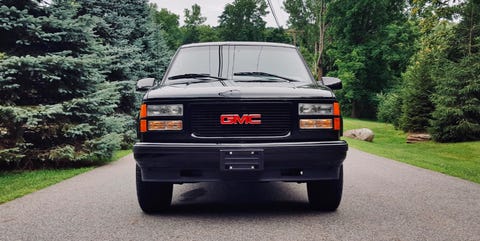 Bring a Trailer
It wasn't that long ago that all mass-market cars, trucks and SUVs from the decade of the 1990s were thought of simply as used vehicles. Indeed, the field looked particularly unpromising unless you had picked up a 964 Porsche during the dot-com crash and then sat on it until 2015 when you could cash in. But let's face it: Few people did that, and 964s had dipped into affordability only for a brief time before rocketing upward.
But not all hope is lost when it comes to cars, trucks and SUVs of the 1990s. Those who were teenagers in the 1990s are now lusting after the cars of their youth, seeking some vehicle they wanted but could not buy back then. Others are looking to cosplay construction workers or forest rangers and are seeking out rare trucks and SUVs—it's not just the tuner crowd that's crazy about cars from that decade.
Here are five cars, trucks and SUVs of the 1990s to grab if you see a mint one for sale, before it's too late.
Advertisement – Continue Reading Below
1
Toyota Land Cruiser J80/Lexus LX450
TLC wasn't just a prominent pop group of the early 1990s—it was also a popular SUV. The Toyota Land Cruiser of the 1990s can still seem like a used suburban SUV with the mandatory lacrosse stickers on the back window, but the truth is that the nicest examples have been bringing solid money in 4×4 circles for years. The J80 oozed quality, and while there are seemingly plenty of examples out there today, the very best ones are rare, and when they do come up for sale they tend to change hands quickly and for amounts that may surprise some.
Obviously, it takes some looking to locate the best examples, but there are still plenty of one-owner TLCs out there that have been garaged in summer homes and used sparingly. Optioned in an attractive color and with low miles, they can easily break the $20,000 barrier. Yes, we're still talking about the 1990s Land Cruiser and its Lexus LX450 twin that, by the way, was offered for a grand total of two model years: 1996 and 1997. There are now some cosplayers with money seeking to relive their 1990s childhoods, and they've been throwing cash at clean examples of the TLC and the LX450. They're not scarce yet, but give it another five years and only the best examples will be left on the road. Then it will be too late to land cruise in one.
2
GMC Yukon GT 4×4
Remember these two-door Yukons? Never plentiful, along with their two-door Chevrolet Tahoe twins, these Shorty Suburbans were the automotive equivalent of the Boeing 747SP. Indeed, you had to really want the two-door version in order to end up in one of these new, over a four-door Tahoe or Suburban. And buyers back then were comically greedy when it came to SUV sizes. This left the 5.7-liter V8-engined GMC Yukon 4×4, whether in GT or SLE trim, something of a secret menu item.
Fast-forward 25 years, and it's not so easy to find one without rust visible from half a mile away. Indeed, a tidy Yukon with low miles and little to no rust is usually the product of some seasonal vacation home in Sun Valley or Park City. That's a narrow demographic, to put it mildly, but it's one of the few ways that these Yukons could end up with under 50,000 miles by the year 2020.
How much are these bringing at auction? Tidy, low-mileage examples can generate well over $20,000, and nice trucks with under 100,000 miles and with no needs usually trade just north of $15,000. That's for a 25-year-old GM sport-utility. Obviously, condition dictates much of the price as rust was not kind to these machines, so the Pacific Northwest is once again one of the most obvious places to look for these, despite the reputation for greenish mildew, pine needles rotting in panel gaps and perpetual rain. But it was this climate that also preserved a lot of these machines, and tidy ones are not as easy to find as you'd think. The Yukon GT in this very photo sold for $29,250 on Bring a Trailer two years ago. (Bring a Trailer is also owned by Autoweek's parent company, Hearst Autos)
3
Toyota Tacoma
There are two Toyota trucks on this list, and the reason for it is very simple: It's become very expensive to snatch a clean Tacoma from the early model years. The only places still producing these are the states of Washington, Oregon and Idaho. And that's it. Driving the demand for Tacomas are, of course, people frequenting Bring a Trailer, who have pushed the values of used Tacomas with low miles hailing from the late 1990s and early 2000s almost into new Toyota pickup territory. This is a trend that has solidified over the past five years, so the days of being able to land a mint Tacoma from the late 1990s for just a few grand have been over for some time.
What's even more worrying is that the past three years have seen record prices paid for minty Tacomas in all trim levels with buyers valuing original paint, a stock appearance, Pacific Northwest provenance and low miles. Indeed, it would be a tall order to secure a fresh Tacoma from the salty midwestern states or from less than hospitable places like the humid and sunny southeast, which tends to do a real number on paint and interiors.
If you'd started looking for gently-used Tacomas 10 years ago, we'd say you were right on time. At this point, it's almost too late to go looking for mint examples because most current owners know what they've got.
4
Porsche 968
The ship may have sailed on air-cooled Porsches, but the supply of all other Porsche models of the 1990s isn't getting any larger with each passing year. This means that well-kept examples of the 968, once dismissed with a yawn, are already starting to attract serious sums of money. As much as we'd like to blame the Air-Cooled Industrial Complex for this state of affairs, the simple fact is that these cars have been rare from new and this turn of events was inevitable, as with all periods of rapid Porsche appreciation.
The key with the 968 is that the worst examples are all gone, and what remains on the market are the nicer driver-grade cars, as well as the very best examples that rarely venture outside of collections. The driver-grade examples can still be found in the $10,000 to $20,000 range, while the best but still non-concours examples can crack the $40,000 mark. There are also plenty of examples below $15,000 than can be brought up a few notches and flipped for some quick profit, if done properly.
The 968 has not become unaffordable like the 993, but we suspect that in another five years the price of entry into a nice example will not be as modest as it is today.
5
BMW 8-Series Six-Speed
The E31 8-Series was never a big seller back when it was new—blame the economy of the early 1990s for that. And it was never a big seller also because it was expensive when new as well as a bit of a maintenance queen, with all the bills of the 7-Series and then some. By the early 2000s these cars could barely be given away, alongside S-Class coupes of similar vintage, and expensive gasoline didn't help matters.
Now, some 30 years later, the 8-Series is getting a second look, and bidders are willing to spend plenty on low-mileage examples optioned with a six-speed manual transmission.
How much are we talking about? 8-Series cars with six-speed manuals are reliably landing north of the $20,000 mark on auction sites, and low-mileage examples can reach double that number.
What's driving the surge in interest in this model?
For one thing, the design is getting a second look from serious collectors, and these are now starting to appear at major concours events. Second, there is a good supply of low-mileage examples because these were never really daily drivers even among those who bought them new. Finally, just about all rare BMWs from 30 years ago are seeing a surge in interest in recent days, and the 8-Series was one of the rarer BMW models of the 1990s.
This content is created and maintained by a third party, and imported onto this page to help users provide their email addresses. You may be able to find more information about this and similar content at piano.io
This commenting section is created and maintained by a third party, and imported onto this page. You may be able to find more information on their web site.
Advertisement – Continue Reading Below