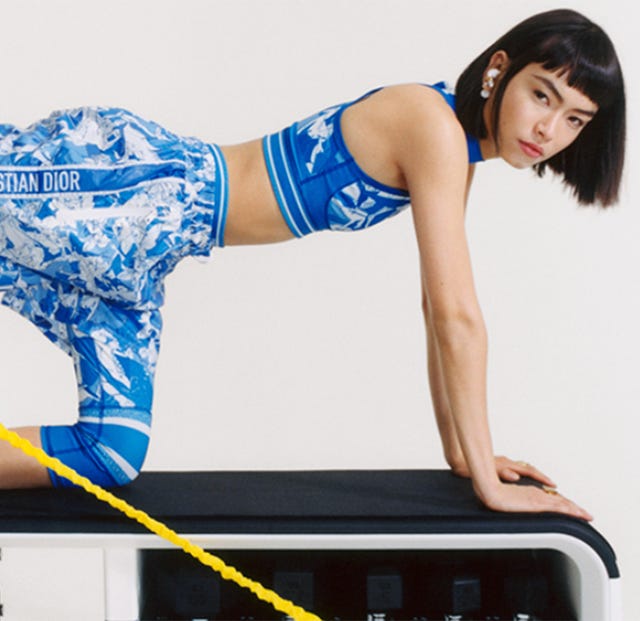 Images courtesy of Dior/Technogym
It's sometimes a challenge to surprise a fitness-loving friend or family member with an excellent gift, since chances are they have their entire routine down to a science, are in the process of tricking out their home gyms, and have a number of extensive playlists saved on their phone. Whether they never skip a workout or prefer alternating their classes throughout the week, receiving one of the best fitness gifts can be a major help in keeping your favorite fitness enthusiasts motivated.
Elevated essentials from brands like Bala and Lululemon plus, gear from Gucci, Apple, and more will not only be appreciated by the giftee, but also help enhance their go-to workouts. And since a well rounded routine doesn't stop at the actual workout, there are also a treasure trove of worthwhile items available on the market to guide their recovery and self-care, too. Here, we've rounded up the best fitness gifts that are also the most fabulous, from the stylish fitness gear to gadgets and soaks that help you recover after a tough workout. These 45 picks are sure to impress even the most dedicated exercise devotee.
---
Advertisement – Continue Reading Below
Cotton Performance Band Set
We previously covered the launch of Gucci and Adidas' recent collaboration, which includes a range sporty pieces, like this sweat-wicking headband and wrist set.
Working out at home makes it even easier to sneak in a skincare routine while breaking a sweat. These sticks are motion-activated so the ingredients penetrate skin and become even more effective during cardio.
They'll seamlessly block the sun during outdoor jogs with these performance sunglasses that feature an adjustable and hypoallergenic rubber nose pad for supreme comfort.
Help them de-puff and calm a flushed complexion with this gilded cryo freeze tool set that's ideal to use in warmer months.
Watch Series 7 With Nike Sport Band
This Apple Watch is chock-full of cool fitness features—including the built-in Nike Run Club app—to enhance any workout, and uses a special Twilight Mode setting for added visibility on night runs.
One of the biggest issues with reusable water bottles is that they can get really dirty, since they are often hard to clean. This version from LARQ is self-sanitizing which makes it ideal to replace a friend or family member's go-to bottle.
The Easiest At-Home Infrared Mat
Get infrared benefits without committing to a full-body sweat session. The new pulsed electromagnetic field mat from HigherDOSE creates the perfect setup for deep stretching by promoting increased circulation and relaxation.
What sore muscles? This CBD-infused roll-on feels as soothing and cooling on tired limbs as a bag of ice, but is loads more practical. Give one to everyone you know, and keep one for yourself too.
All Gender Hurricane XLT2
DJs Coco and Breezy teamed up with the footwear aficionados at Teva to create these earth-toned, gender-neutral sandals. Not only are they stylish, but the sandals also contain a durable, waterproof sole that's ideal for casual hikes.
Upgrade their home gym experience with this high-tech training device that combines the benefits of cardio and strength training all-in-one. It also contains a range of Lululemon equipment, like their Lift & Lengthen Yoga Block and reversible mat, to enhance a friend or family member's workout of choice.
Rituals for Radiance Edit
Westman Atelier x Sakara Life
If your favorite fitness lover also happens to be a makeup enthusiast, consider gifting them this bundle from Westman Atelier and Sakara Life. In addition to Sakara's signature Beauty Water Drops, Youth + Beauty Tea, and Beauty Protein Super Bars, they'll also receive three of makeup artist Gucci Westman's highlight, blush, and contour products.
They'll push themselves even harder during a workout while listening to a running playlist with these noise-cancelling earbuds, which over 36,000 Amazon customers are raving about.
These highly giftable goggles from Fendi are perfect for swimming laps in style. You may even be tempted to keep them for yourself.
365 Large Landon Water-Resistant Neoprene Carryall Duffle Bag
We spotted this beloved and water-resistant duffle bag on markdown at the Nordstrom Anniversary Sale. As one shopper says, "High quality and stylish fabric. Well thought-out design and organizational pockets. I plan to use this as my everyday gym bag, and for travel if I need to."
Kosasport Full Collection Set
They'll stay fresh and hydrated thanks to this set of AHA and hyaluronic acid-infused body care products from Kosas. It includes their exfoliating body wash, moisturizing lip balm, and coveted AHA deodorant for good measure.
Nüobell 2-Piece Adjustable Weight Set (80 lbs.)
These aren't just any regular weights: This handy pair of dumbbells adjusts between five and 80 pounds for customizable strength training at home.
Here's an elevated take on a traditional backpack that won't get in their way during an outside run or hike, since it's designed to be worn across the body.
Sense Advanced Smartwatch
Here's another fitness tracker from Fitbit that keeps tabs on their well-being in addition to counting their steps. It features an electrodermal scan app that detects their body's stress response to help keep them grounded.
Snapdragon Inhale Exhale Crew Sock
These vibrant, eco-friendly crew socks are made from recycled water bottles, and serve as a friendly reminder to take things slow, especially during a tough workout.
The Complete Home Gym Kit
Bala makes some of the most coveted fitness tools available, and this all-inclusive set of their top-rated staples can be mixed and matched depending on their color preferences.
Schwinn Fitness IC3 Indoor Cycling Bike
If you missed the Prime Day markdown on this best-selling bike, you can still snag it for a friend or loved one's home gym for 19 percent off.
Sweaty scalps everywhere can appreciate the oil absorbing benefits of Oribe's culty Gold Lust Dry shampoo (plus, it's nose-pleasing, signature scent only adds to the gift's appeal).
This double roller is like the gift that keeps on giving, since it uses a separate internal and external roller to massage your back, arms, and legs.
Beast Blender & Hydration System Set
This Instagram-friendly, professional-grade blender doesn't just look nice on a countertop, but also is clutch for a delectable post-workout smoothie.
Sunshine Yellow Duffel Bag
Whether they choose to go from the office to a workout class or vice versa, this roomy duffel from Glossier can hold everything from a change of clothes to an extra pair of shoes.
Here's a cheery set of scrunchies to keep hair out of their face mid-workout without leaving unsightly lines behind.
They can stop sweat before it starts with this bundle of Megababe's talc-free powder and body puff to help control moisture.
Just think of how picturesque this stability ball will look next to their rest of a friend's gym equipment. Plus, since it has a non-slip base, they won't have to worry about accidentally toppling over mid-stretch.
Pop Grapefruit Scented Candle
Gyms aren't often known for smelling good, but Soulcycle is the rare exception thanks to this grapefruit candle. Recreate the vibe at home anytime you can't make it to the studio for spin class.
Natural Mineral Water Facial Spray (Pack of 3)
For a quick hydration boost after an intensive class, this set of three facial sprays can easily be divided up and tossed in their gym bag, car, or carry-on.
This sleek weighted jump rope can slowly help a family member build toward their strength and endurance goals, and contains a row of LED lights that displays their fitness data in mid-air.
If yoga is their workout of choice, consider gifting them with this professional-level mat from the experts at Manduka that's made with plenty of cushioning to support their knees.
Sport Detergent and Spray Duo
This fragrant detergent and freshening spray bundle from The Laundress will keep any fitness devotee's activewear in tip-top shape, since their formulas lift perspiration, body odor, and stains from fabric.
And speaking of laundry, they can easily keep their sweaty gym clothes separated from the rest of their wash with this see-through webbed bag that zips at the top.
Their hands won't get sweaty while wearing these vegan leather kickboxing gloves that are designed with mesh palms for supreme breathability.
Designed to strengthen the lower body—particularly targeting the inner thighs, abs, glutes, and pelvic floor muscles—this fitness essential is a must-have for any equipment collection.
Any outdoor workout requires ultimate broad-spectrum sun protection, and this seven-piece bundle from Supergoop contains a bevy of staples (plus a cute makeup bag) to fend off the effects of UV rays.
We've reviewed this facial device before and know it's one of the best on the market, since it contains eight different treatment options—from LED light therapy to percussive massage—in a single tool.
ASUNA Space Saving Treadmill
Here's a compact, fold-up treadmill that's ideal for small spaces as it can seamlessly be slipped under their couch or bed.
Phys. Ed. Recovery Bath Soak
This decadent bath soak from goop features a blend of apple cider vinegar, Epsom salt, and tumeric to relax and soothe sore muscles.
ClassPass is the go-to app for booking fitness classes around the world with some of the most in-demand instructors which makes this gift card an extra thoughtful idea for fitness lovers.
Since it's been said that abs are made in the kitchen, this handsome wellness journal—which was designed by a nutritionist—is ideal for those looking to stay healthy. The journal makes it easy to track their meals, sleep, exercise, and mindfulness practices to keep their habits on track.
This eye-catching water bottle features a combination of amethyst, rose, and clear quartz which aims to stimulate and soothe the mind while fostering tranquility.
Protein Bar Fan Favorite Variety (Pack of 12)
If you know someone who doesn't go a day without eating an RXBAR first, gift them with this box some of brand's best-selling flavors. We're betting they'll thank you every day from now until they finish out the pack.
If a friend or family member has extra outdoor space, this cushy trampoline can come in handy to add extra intensity to a streamed cardio or HIIT class.
This content is created and maintained by a third party, and imported onto this page to help users provide their email addresses. You may be able to find more information about this and similar content at piano.io
Advertisement – Continue Reading Below