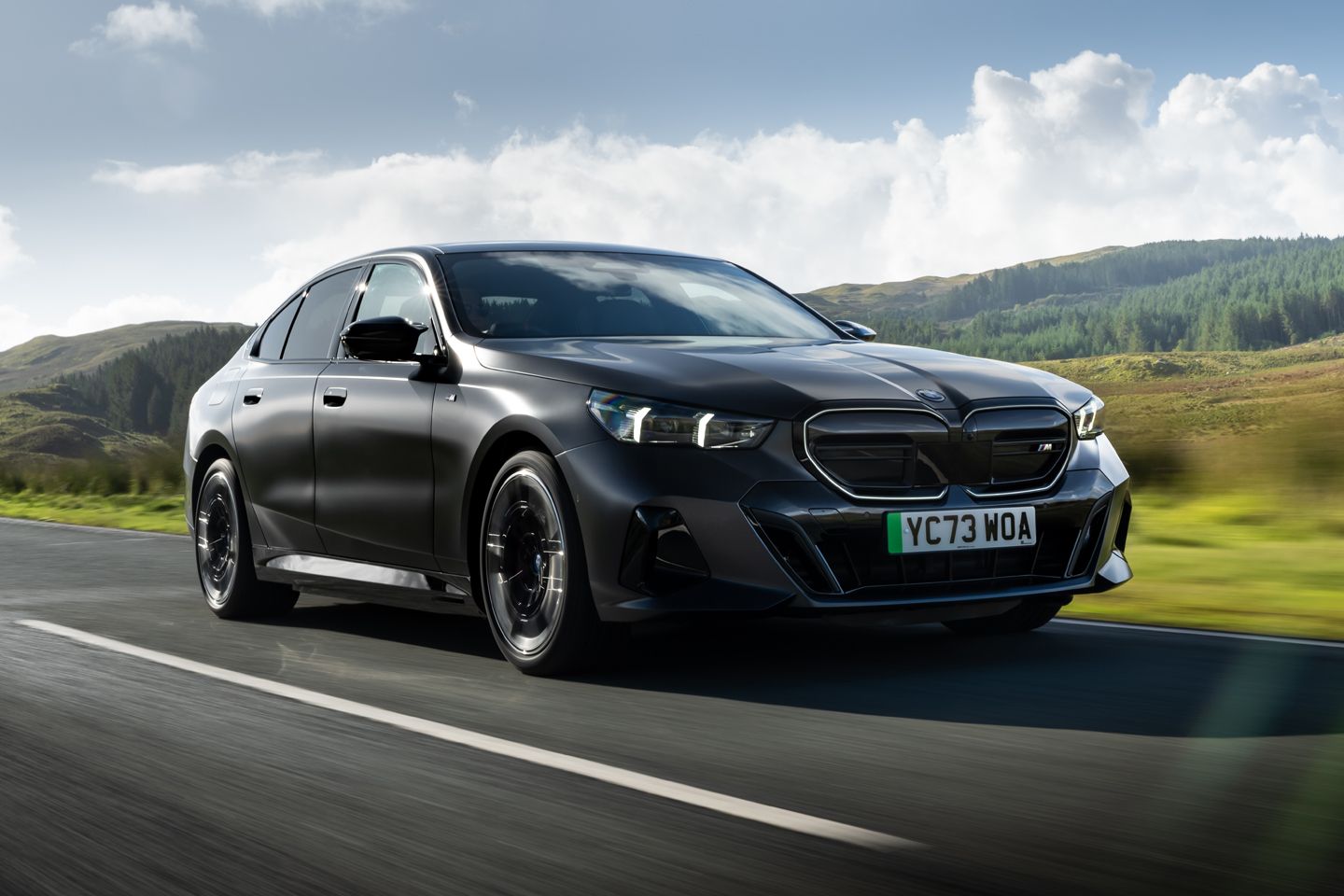 Despite everything else currently offered by the behemoth that is 21st-century BMW, the four-doors remain vitally important. They're not going anywhere, either, with concepts like the Neue Klasse previewing what will happen to the 3 Series in years to come. For now, the most significant BMW saloon is the eighth generation 5 Series, or G60; there's been a 5 in the lineup for more than 50 years. Seldom has the core model evolved so radically from one generation to the next, with an electric i5 now on sale alongside the combustion equivalents from the start. Last time around the M Performance 5 Series was an M550i with a twin-turbo V8; just a few years later the equivalent model is the i5 you see here, an M60 that's powered by a pair of motors (261hp and 340hp), an 81.2kWh battery, and the most technology a mid-size BMW has ever seen. 
Not that you'd know it. Credit to BMW, it attempted to design genuinely groundbreaking electrified cars a decade ago with the i3 and i8. But mass-market buyers weren't feeling so courageous – those cars ended up being for the early adopters. Now BMW is set on a more conventional design path for its mainstream EVs, with the SUVs seemingly on a looser leash. It's easy to understand the logic: plenty of people just want an EV that doesn't scream about it – see the popularity of the i4, for example – but the result here is a £100,000 M Performance BMW that looks a tad plain. Can't win, can they? The new model is well proportioned and nicely turned out, of course, but neither classically handsome nor brimming with attitude. Remember this sort of money buys something like an Audi e-tron GT as well. Perhaps the more generous among us would say the M60 works brilliantly as a Q-car, like various V8-powered 5 Series of days gone by. 
You'd imagine there will be fewer complaints about the interior, at least – assuming you're not dissuaded by the one-piece screen. The latest BMW Operating System 8.5 is intuitive, the displays are crystal clear and features like the Interaction Bar – a customisable strip running across the dash – add something different. Mercifully, there's still a dial for the iDrive, and, being a BMW, the wheel still comes out to your chest and the seat drops rump right down to the road. As an amalgamation of tech and tradition, the i5's interior is a fantastic compromise. Whether familiar with an older BMW or a box-fresh EV from elsewhere, you'll feel right at home. Hours on the motorway ought to melt away. And what is a 5 Series for if not that?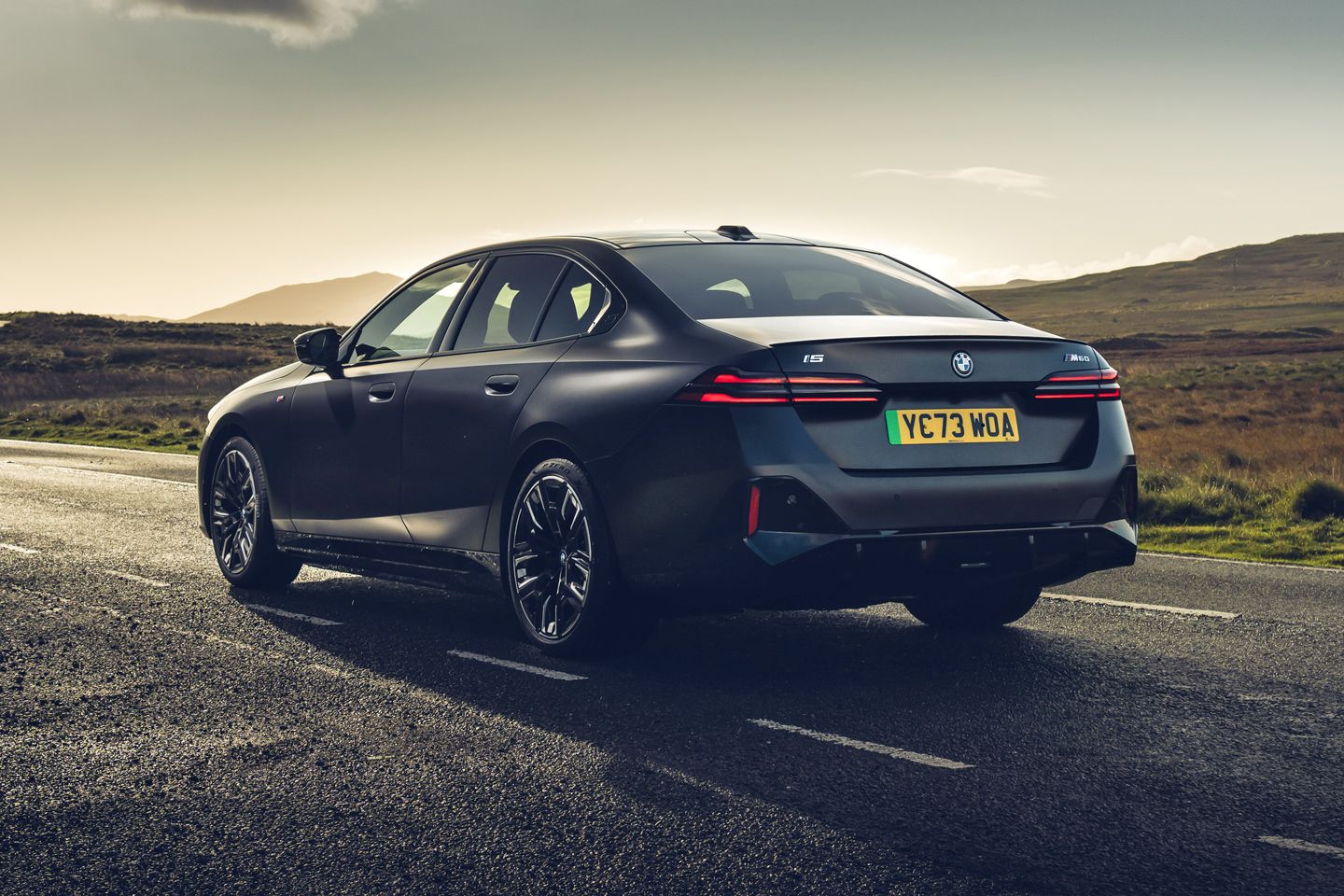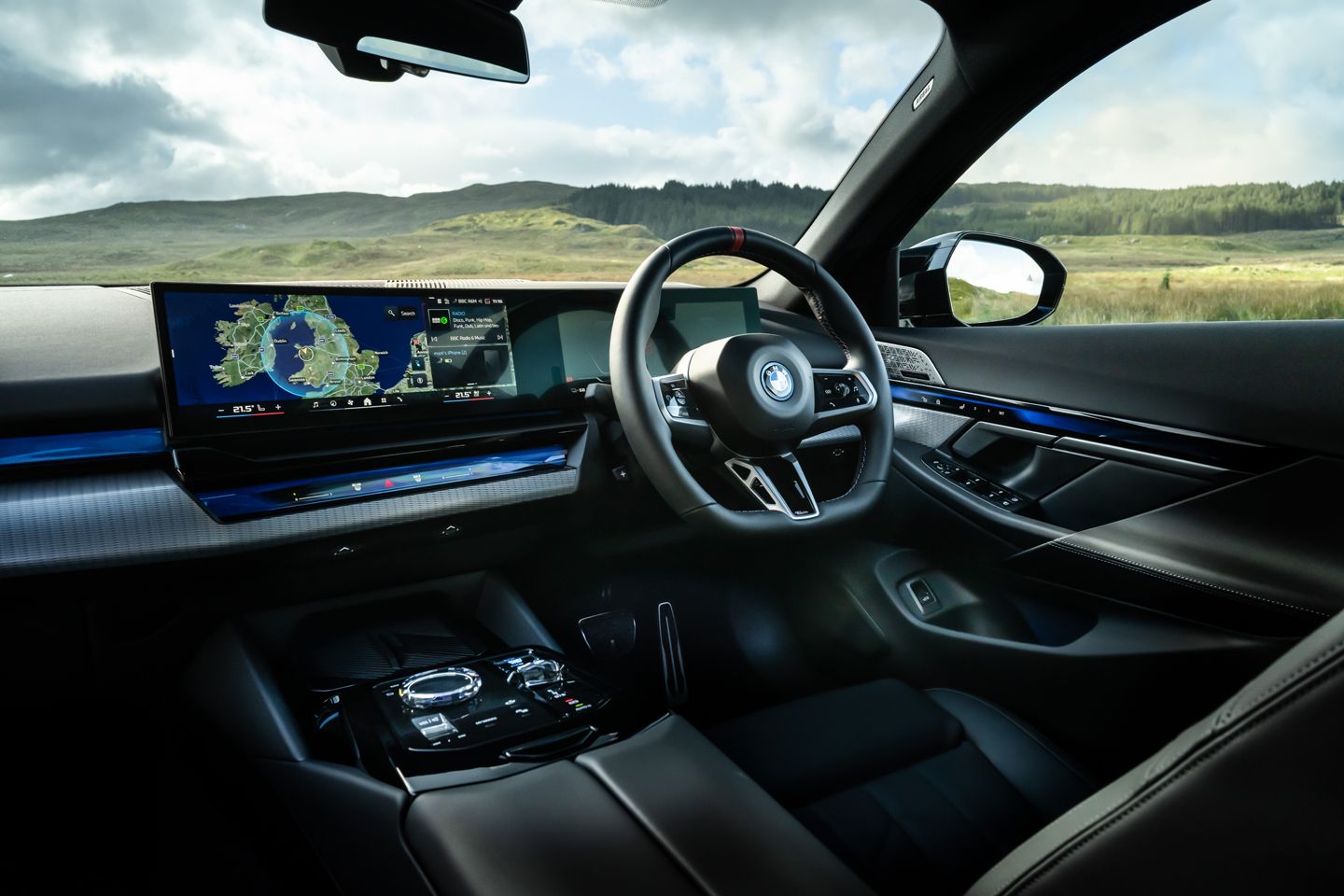 That said, on 21-inch wheels all-round, the M60 isn't at its happiest at urban speeds. Arguably nothing is. Sat a little lower and firmer than a regular 5 (as an M Performance model should be) does create a taut-riding car when bimbling about, if never an actively uncomfortable one. Lashing down 2,305kg and 600hp of 5 Series was always going to incur a sacrifice somewhere, and – much like the aforementioned Audi e-tron GT – its buyers will need to accept the absence of a magic carpet around town. 
Up the pace just a little, however, and the M60 reveals itself to be what we'd always hoped it would be: a 5 Series. Only the best sorted one yet. This isn't a car for barrelling into corners with no regard for entry speed (where maybe something like a Porsche Taycan might be) instead, it's one that rewards going in a tiny bit slower to take advantage of great balance through the bend and monster traction on the way out. BMW has already established a knack for transitioning that famously sorted relationship between throttle pedal and rear axle from ICE power to EV, and it's clearly in evidence here. Not in a lurid sense, more that power can be used to subtly help a big BMW corner as well as the chunky steering wheel. As on every other occasion, it feels great when it happens.
Moreover, despite the size and performance on offer, the M60 can most certainly do finesse and nuance. Obviously it's monstrously fast, but you'll only ever be travelling as fast as intended – the throttle pedal isn't a switch, and it's easy to modulate as required. While the brakes could perhaps do with a little more feel and initial bite, they're seldom required thanks to a very impressive one-pedal drive mode. With the selector in 'B', every other road user on their best behaviour and a bit of looking ahead, there are miles and miles to be travelled in the i5 without touching the left pedal. Then, with those other road users not looking, a whole heap of fun can be had with the Boost paddle. The dash lights up like a spaceship, the acceleration goes into warp drive and the Hans Zimmer 'IconicSounds' noise goes to its spookiest – yes, it's kind of a gimmick, but BMW's way of going fast in an EV does raise a smile.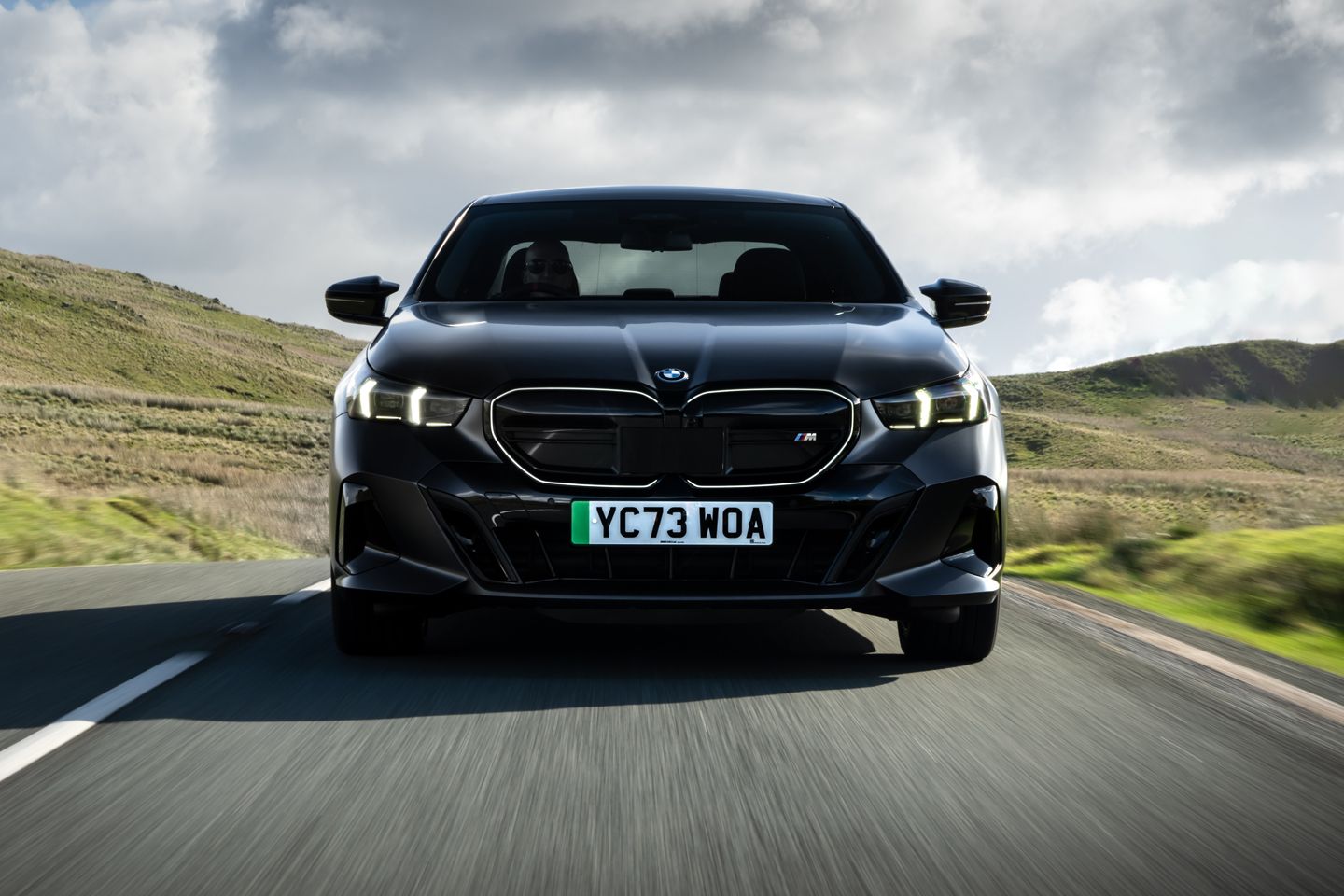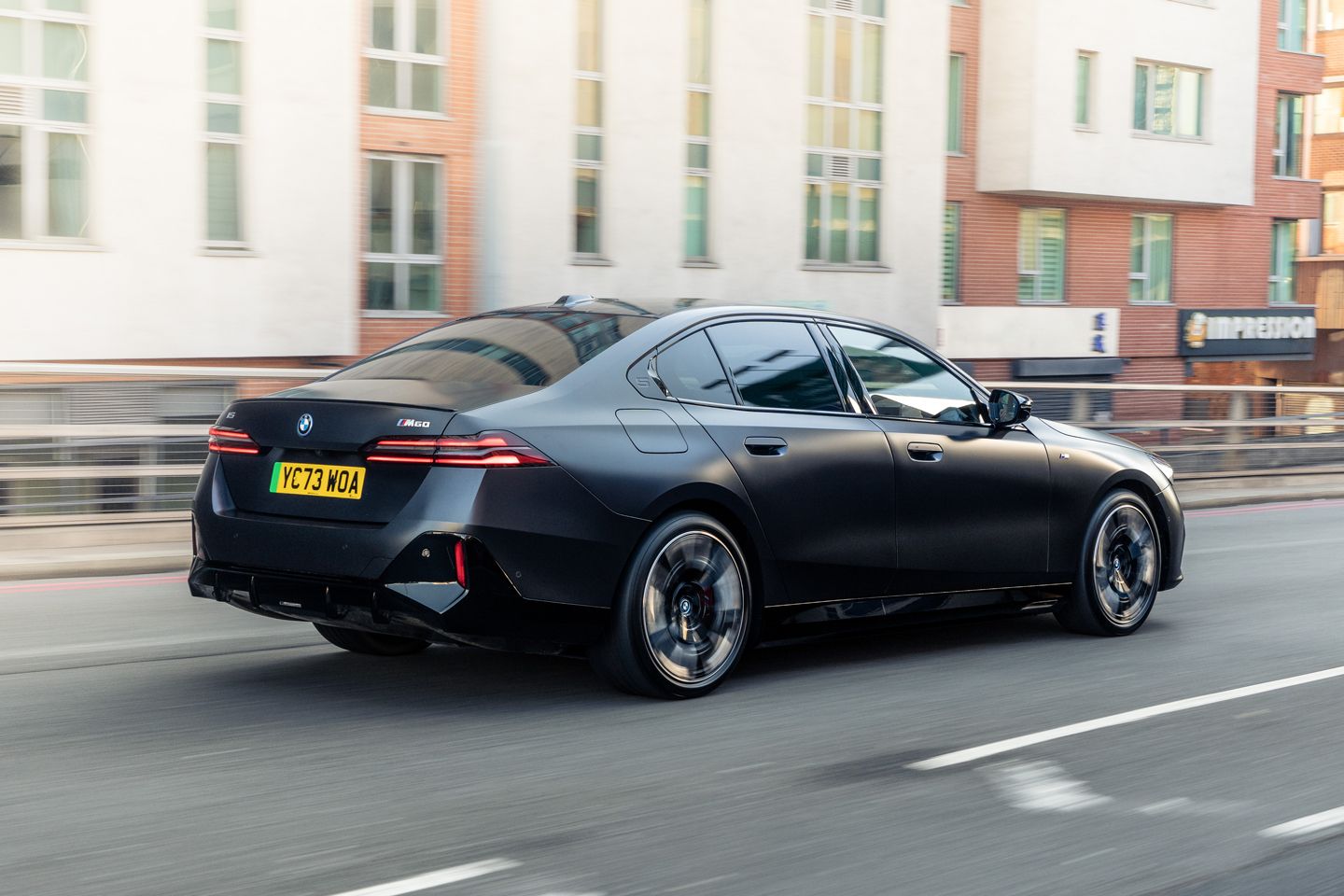 On the motorway, appropriately enough, the i5 is supreme. In the best tradition of big German cars, it wants to cosset you. Naturally, it can overtake without hesitation, and there seems precious little wind or tyre noise, and the seats are superb. Good news, surely, for anyone destined to spend lots of miles trekking up and down the country in any kind of G60 BMW. For those doing it in an electric one, the fifth-generation eDrive battery technology prioritises the start of a charge and cramming in a chunk of range as fast as possible – making the most of the 205kW max for a few minutes rather than plodding along at a lower rate, if the charger allows. When the Ionity stars align, 97 miles in 10 minutes is possible. But even if not, a car optimised for the electric equivalent of a splash and dash – a volt and bolt perhaps – sounds like good news for anyone who spends their working life on the road.
A chance to drive the eDrive 40 (the other i5 model available from launch) highlighted what had been achieved with the M60  – the latter is not merely the faster one. There's more bite to it, a willingness to get into a corner that eludes the ordinary model. Again, as it should be. Despite carrying an extra 175kg thanks to its dual motor configuration, the M60 manages its mass at least as well as the 40, if not a tad better, making that occasionally brusque slow-speed ride a price worth paying. Both inevitably feel a little heavy when braking hard, but for those who actively enjoy actually driving, there is certainly more to take from the M60 than just going even faster in a straight line. Which is heartening.
The i5 is immediately and undoubtedly very, very impressive. Rather than attempting to reinvent the wheel when it comes to electric cars (as BMW might have attempted in the past), it's chosen instead to try and reset the current bar. There's nothing that the i5 does that hasn't been attempted by electric saloons already, yet in executing everything required with such aplomb it's hard not to be won over. There's no getting away from it: the M60 drives and feels like a great BMW M Performance saloon ought to – the fact it's powered by electricity doesn't really come into that consideration. Which bodes very well for the future of M cars in all shapes and sizes.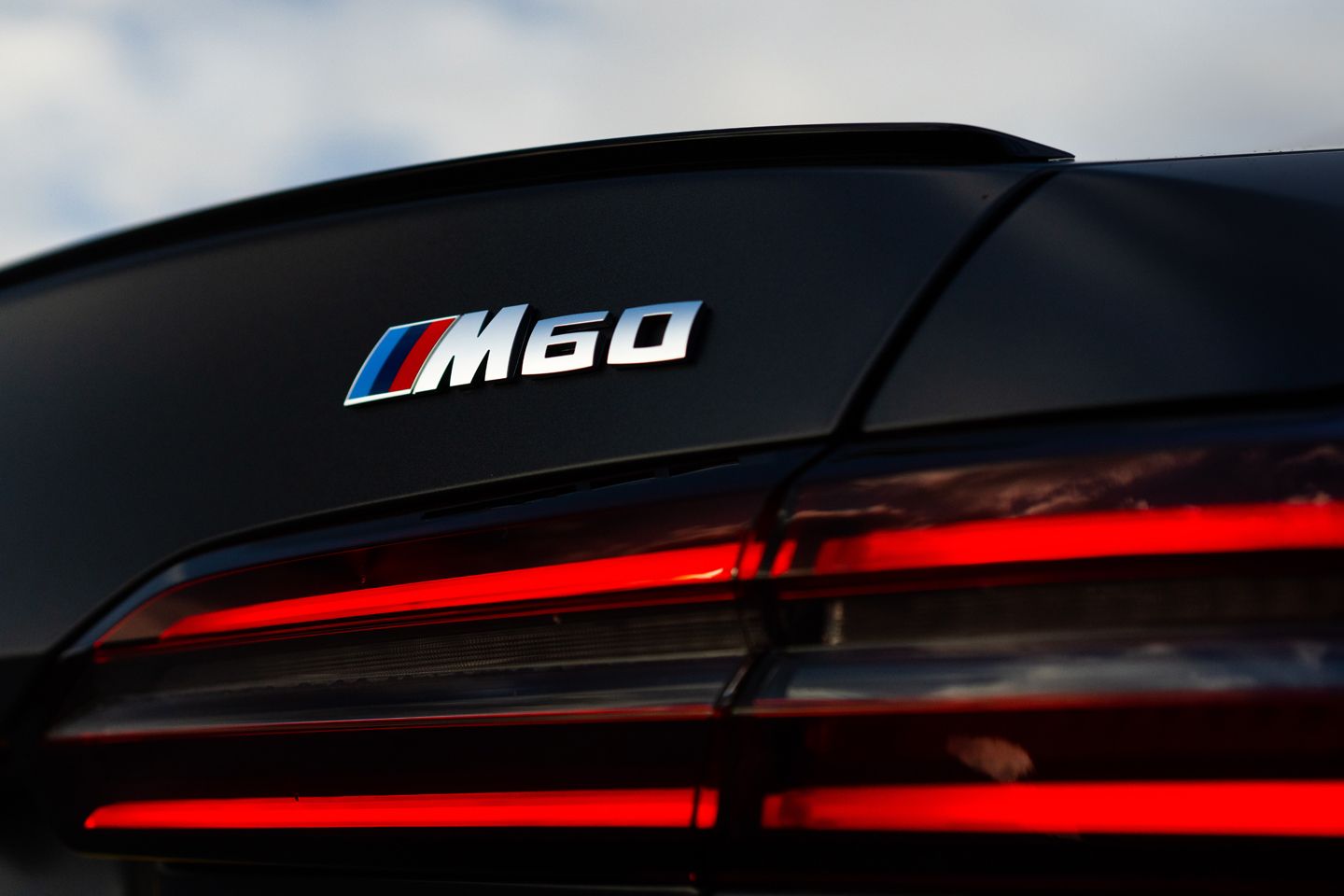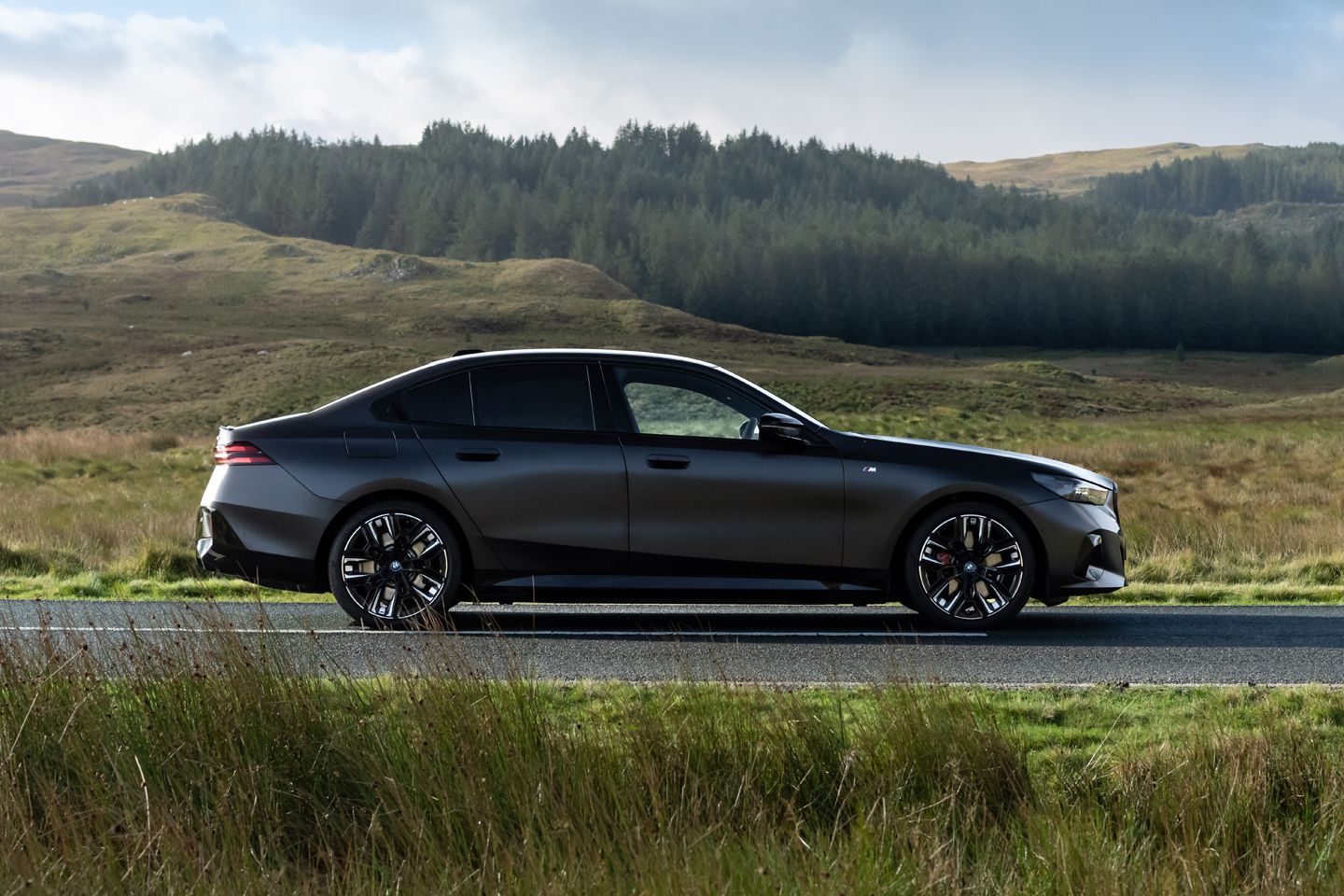 There are a couple of caveats to that verdict, though. The first was a healthy options spend on the test car, which has been known to have a significant influence on BMWs in the past. It'd be interesting to know what an M60 is like without £4,000 of M Adaptive Suspension Pro, for example. There's also only so much to learn about an hour on a carefully crafted route – tougher tests will surely follow. Not least some involving the established competition, because £117,000 as tested buys an awful lot of, say, Porsche Taycan. On this experience, the BMW's new interior is superior, but don't be surprised if the famously supple Taycan turns out to be the more satisfying car to drive. However, the fact that we're already gauging the i5's close proximity to arguably the best EV made so far says much about how good the almost-M5 version really is. Certainly, we look forward to spending more time in one – and that's extremely encouraging, too. 
SPECIFICATION | 2023 BMW I5 M60 XDRIVE
Engine: 81.2kWh lithium-ion battery, twin current excited synchronous electric motors (192kW front, 250kW rear)
Transmission: single-stage fixed ratio auto, all-wheel drive
Power (hp): 601 (My Mode Sport, otherwise 517hp)
Torque (lb ft): 605 (M Launch Control, otherwise 586lb ft)
0-62mph: 3.8secs
Top speed: 143mph (limited)
Weight: 2,305kg (DIN)
MPG: 3.02-3.41 mi/kWh, range 284.6-315.7 miles
CO2: 0g/km driving
Price: £ 97,745 (price as standard; price as tested £117,345, comprised of 21-inch 954 Individual BiColour alloy wheels for £1,500, BMW Individual Merino Leather in Black and Atlas Grey for £2,100, Dark Silver M Accent combined with Carbon Fibre and high-gloss silver threads for £400, Comfort Plus Pack (Comfort Access, Electric Bootlid, Front Comfort Seats, Heated steering wheel, Automatic tailgate, Heated seats front and rear, Active seat ventilation) for £3,750, Technology Plus Pack (BMW Natural Interaction, Driving Assistant Professional, Interior Camera, Live Cockpit Pro with Head-up display, Technology Pack) for £3,300, Crafted Clarity Controls for £600, Roller sunblinds for £600, Panoramic roof for £1,600, M Carbon Exterior Styling for £1,750, M Adaptive Suspension Pro for £4,000)